Few things indulge the sense of wonder and amp up that delicious holiday anticipation like a beautifully wrapped package.
Festive news flash: with the heightened focus on all things visual that social media has inspired, it's never been easier to see your packages made spectacular. Gorgeous embellishments and fun trappings that'll see your gifts looking as if a pro dressed them in holiday finery—think gift tags that hide gift cards to glittery monogram letters—are readily available in stores and online.
Professional stylists know repetition is the key to engaging the eye. So take their lead and begin then by choosing a theme like a classic motif (snowmen, Santa or 3D stars) or playful twist (festive gnomes or shiny cars topped with a holiday tree) along with complimentary color palette. Relying on gift wrap and trims—please don't scrimp on the ribbon!—in the same color family is a foolproof hack for producing great-looking gifts.
Here are a few playful ideas to magnify the merry!
Gnome-in-the-home wine bottle topper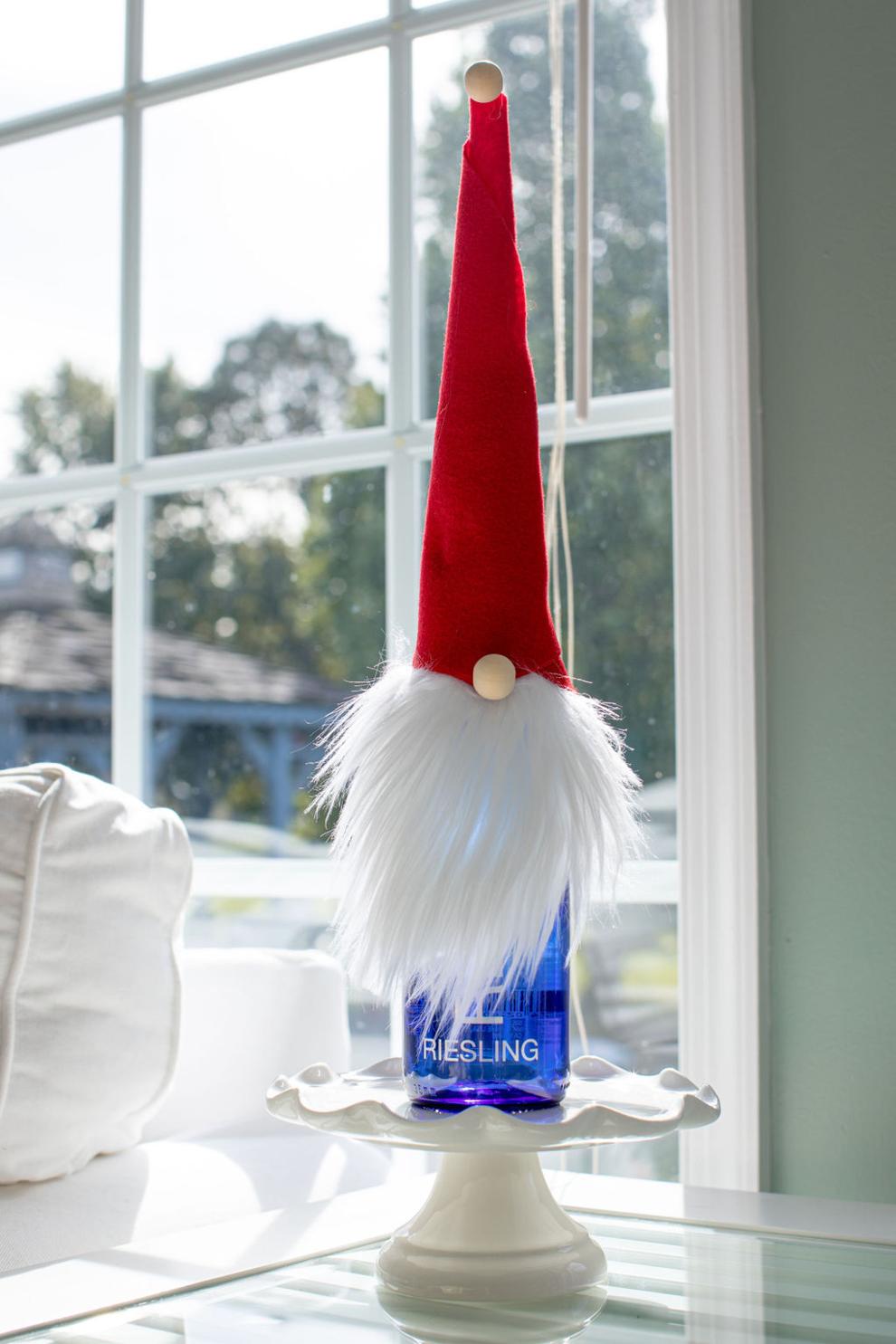 9-by-12-inch felt square
Wooden beads
Swatch of fake fur
Hot glue gun
Bottle of wine
Roll the felt into a cone and slip over the top of the wine bottle, totally covering the neck. Tighten the felt but leave room for the beard. Hot glue the back seam.
Turn the faux fur over and using a straight-edge blade to cut the backing rather than cutting the fur, cut a piece slightly wider than the front width of the hat and long enough to cover most of the bottle. Hot glue the front of the beard (fur side to the glue) to the inside of the hat.
Finish by hot gluing a wooden bead for the nose and another one to the peak of the hat.
Wrapped in books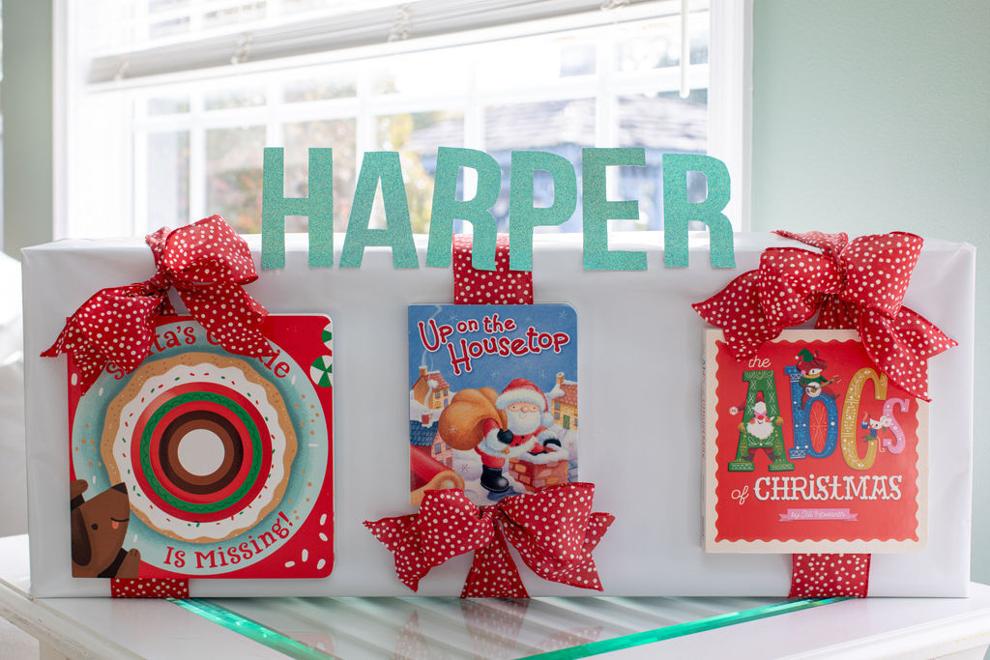 Board books
Solid wrapping paper
Coordinating ribbon
Glittery cardstock
Letter stencils
Double-sided tape
Wrap medium- to large-sized child's gift in solid paper. Use ribbon to attach holiday-themed board books to front of the box, anchoring the books in place with double-sided tape.
Trace and cut out letters to spell name of the recipient and glue to top of box.
Santa gift container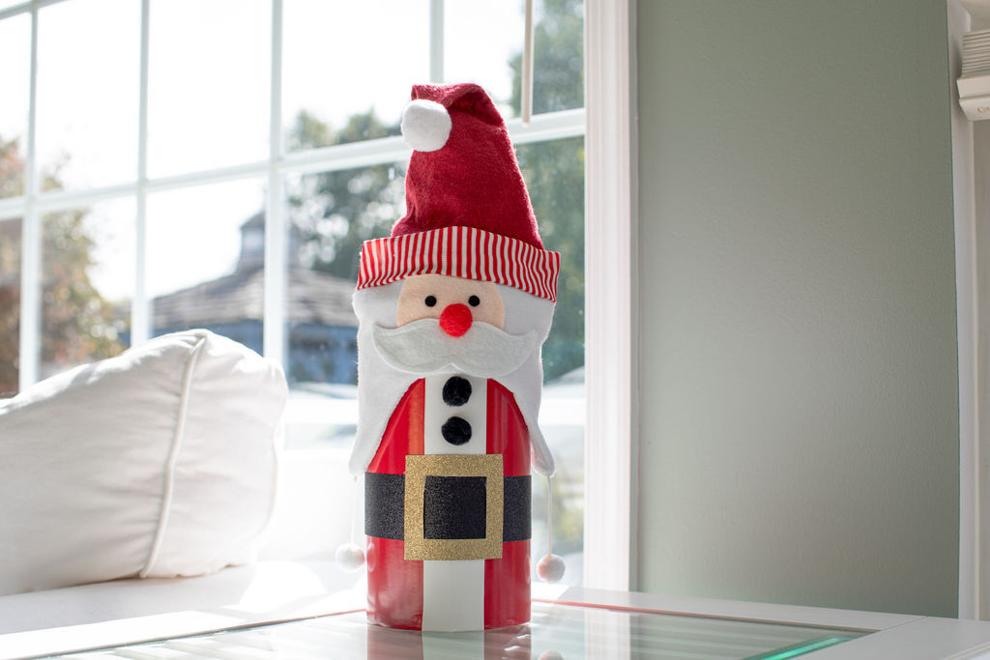 Oatmeal container
Red wrapping paper
White wrapping paper
Black pom poms
Gold glitter cardstock
Black glitter cardstock
Santa hat
Hot glue gun
Wrap the container in the red gift wrap, slightly overlapping the seam. (Do not wrap the lip at the top/bottom.)
Cut a 1½-inch strip of white wrap and glue vertically to the cylinder. Cut a 2½-by-2-inch rectangle of gold glitter cardstock for the belt buckle. Cut a 1-by-12-inch strip and a 1-by-1½-inch rectangle from black cardstock for the belt.
Glue on the belt followed by the gold glitter buckle, adding the small black rectangle to the center of it. Glue black pom poms for buttons on the white strip.
Add a Santa hat, Santa felt ornament or large bow on the top of the cannister.
Snowman standout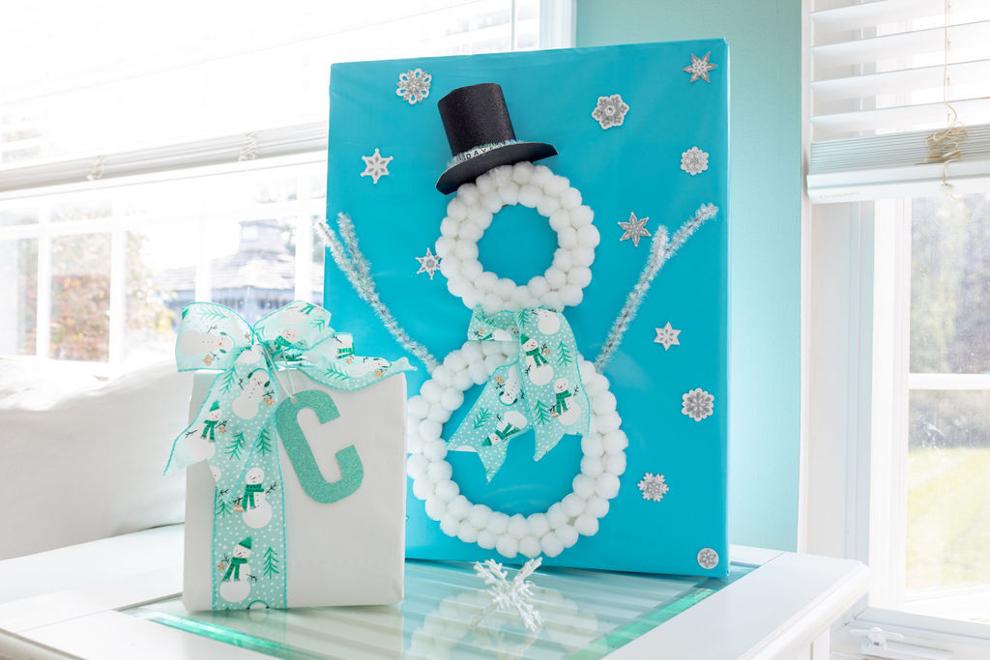 12-inch cardboard circle
Approx. 80 white poms
Black cardstock
Monogram beads
Large iridescent pipe cleaners
White craft paint
Modge Podge glue
Twigs
Hot glue gun
Straight-edge knife
Sponge paintbrush
Scrapbooking snowflakes
Trace four plates of decreasing size to make two hollow circles for the body and head of the snowman. Use a straight-edge blade to cut the two hollow circles with an approximately 2-inch edge. Paint the top side of the circles white and allow to dry.
Cover the circles in pom poms by painting the cardboard with Modge Podge then dabbing each pom pom before placing.
Make arms by rapping twigs in iridescent pipe cleaners, then glue to the snowman.
Buy or make a snowman hat (cover a cardboard roll with black glitter cardstock/cut and fold a black glitter circle in half then use for the hat brim).
Thread monogram beads on pipe cleaner with recipient's name then carefully glue where hat meets brim. Add scrapbooking snowflakes as backdrop.
Driving home for Christmas: a showstopping seasonal vignette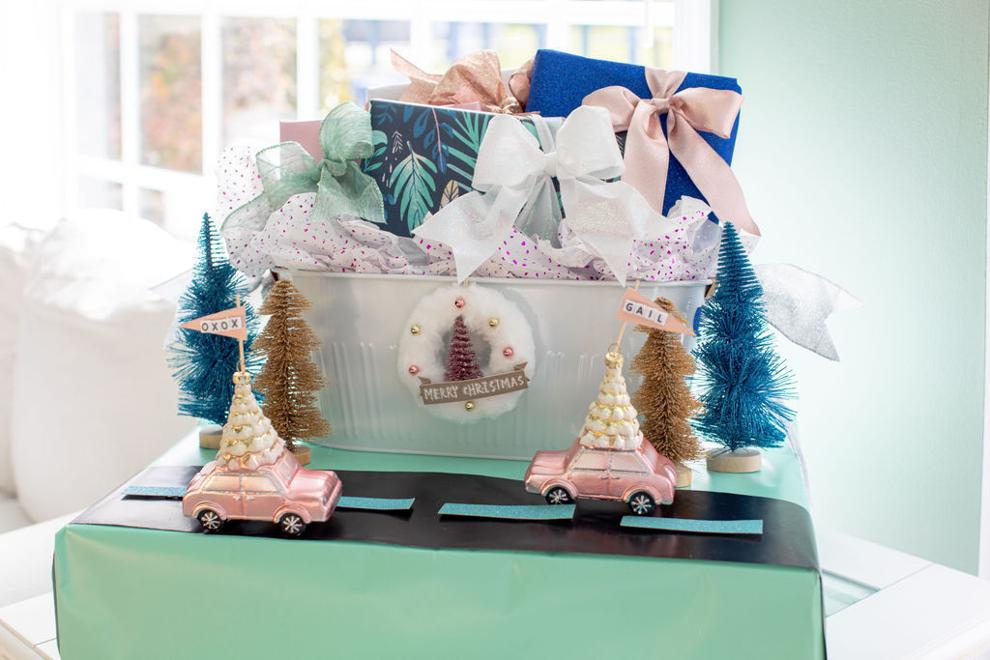 Larger wrapped gift for base
Small wrapped presents
Container for grouping smaller wrapped gifts
Bottle bush trees
Floral foam
Cardboard
Solid color wrapping paper
Black cardstock
White paint marker
Toy cars
Wrap individual presents and tie each with a bow. Paper and ribbon should be different on each box. Arrange smaller gifts in container so coordinating bows are visible.
Stand container with presents atop larger package, using wide ribbon to anchor container to large base.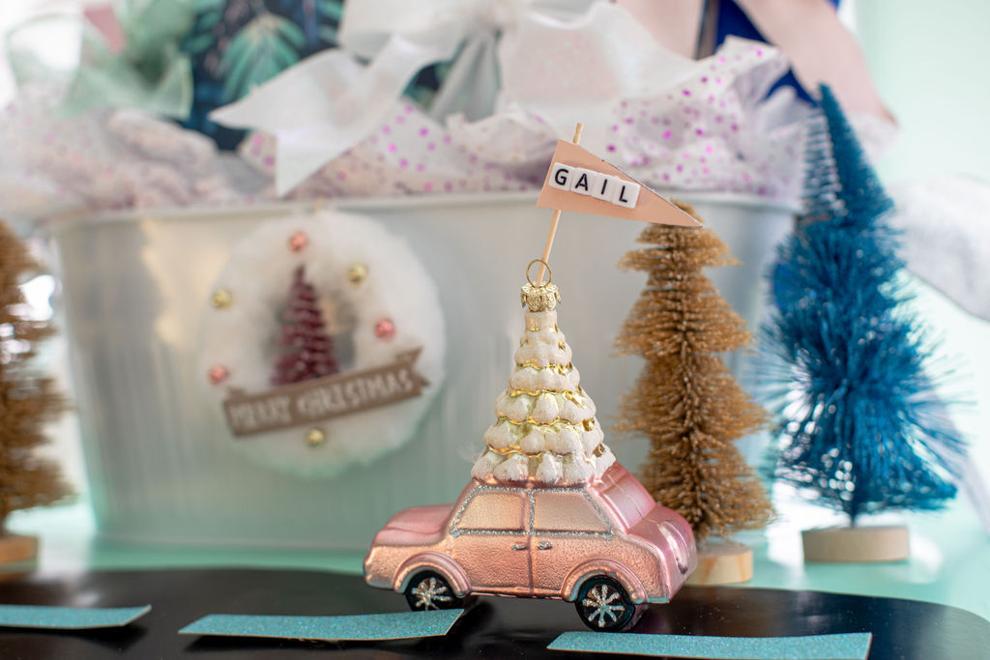 Cut a 4-inch-wide strip of black glitter cardstock then glue white glitter cardstock down the center of the strip to mimic lines on road. Embellish 'roadside' with bottle brush trees and add banner with recipient's name. Glue cars to the road.
For the lucky recipient, an extravagantly wrapped package is often as appreciated as the gift it conceals. Good to know, then…all you need to create fabulous Insta-ready gifts is bit of inspiration, a minimum of creativity and an array of festive ornamentation. Combine these elements with some very basic crafting skills and poof…suddenly your presentation is next-level.
Last minute wrapping hacks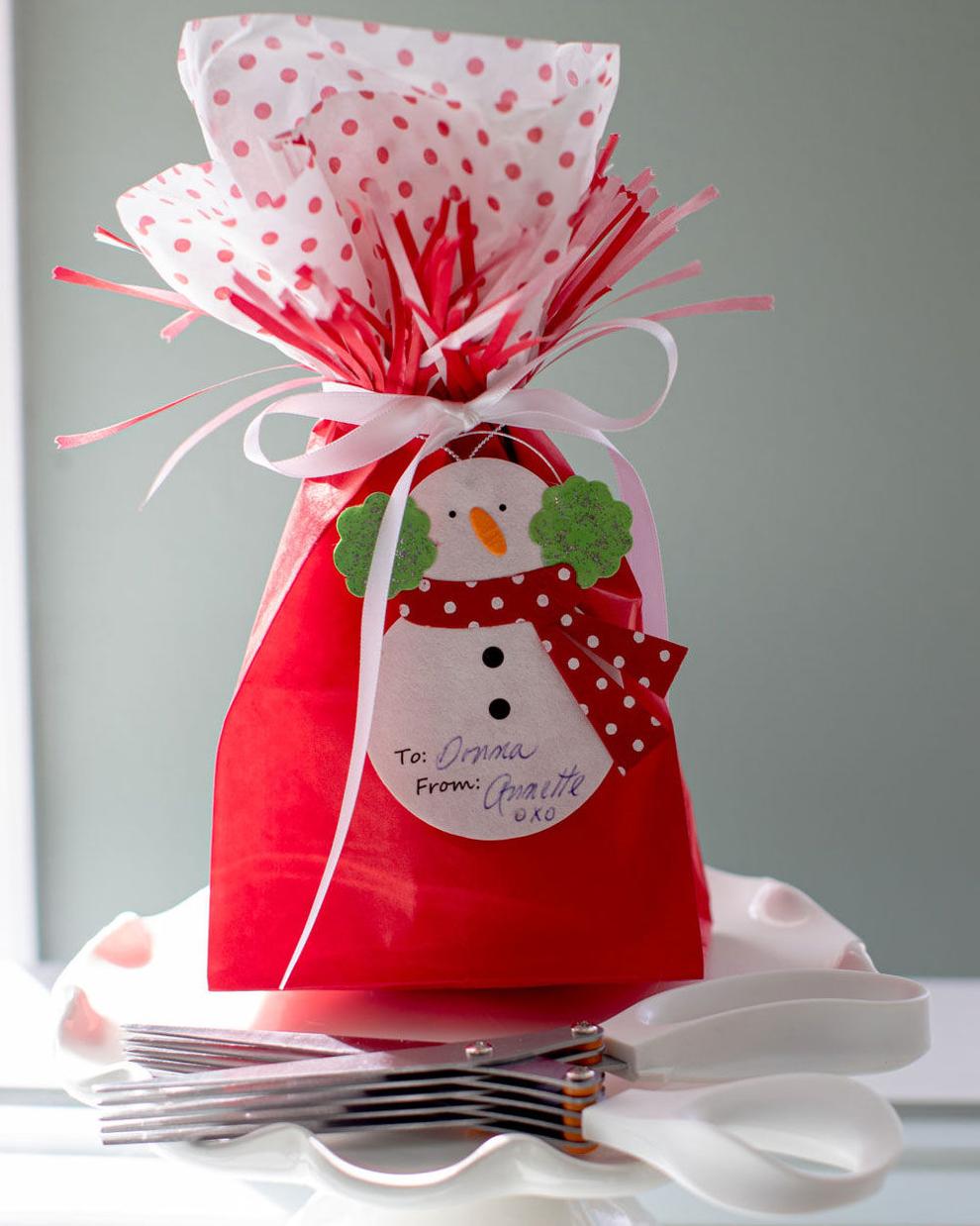 A colored lunch bag look its seasonal best in frilly ruffles, courtesy of simple fringe scissors, matching tissue and coordinating tag.
A Dollar Store box goes from ho-hum to holiday with a length of ribbon and a tiny wreath made from mini poms and ornaments.
Skip the gift wrap but still be all in on the holiday magic with a seasonally-themed basket where the contents are neatly disguised by masses of cheery tissue paper.
Combine solid wrapping, patterned ribbon and glittery initial for a look that couldn't be any simpler or more eye-catching!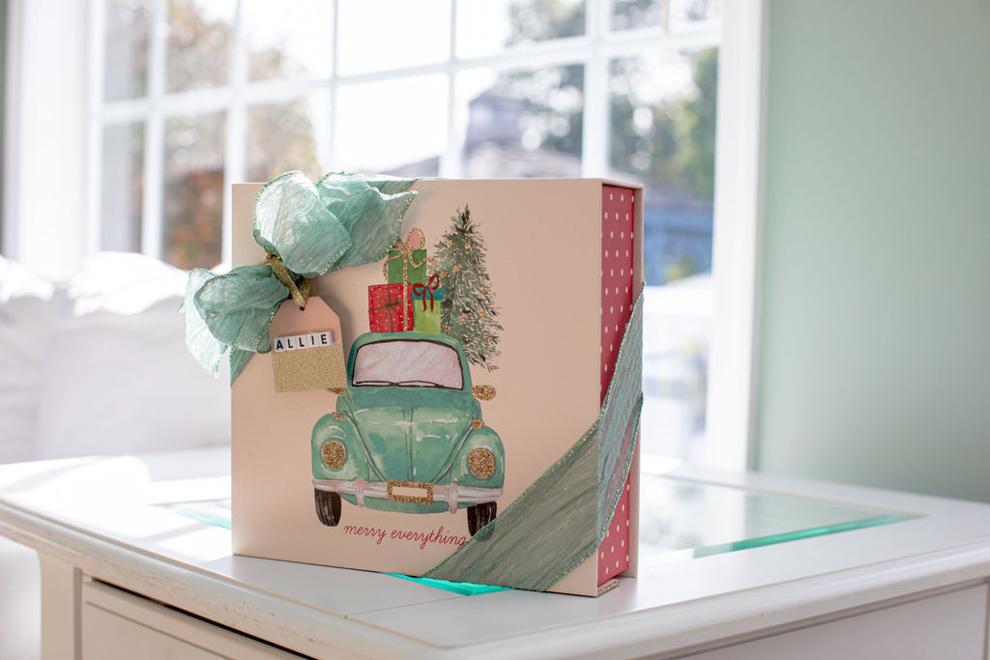 For tons of visual impact with a minimum of actual effort, pop a gift in a store-bought magnetic closure box that harmonizes with the overall theme. Accent with a wired ribbon tied to best showcase the box's motif. Finish with a gift tag personalized with monogram beads.