If there is waiting to be done, you'd be hard pressed to find a better place to do it than Cafe Godot.
Gracing a quirky corner on Buffalo's West Side, the cozy cafe provides the kind of soul-soothing nourishment one could easily soak in for hours.
Chef Kevin Thurston and business partner, front-of-house manager Roy Bakos, aim to serve the fastest slow food from what they lovingly refer to as their "food truck without wheels."
Slow food is a philosophy that focuses on thoughtful, local whenever possible and seasonal cuisine. Roy and Kevin, both veterans of the restaurant and bar industry, noticed there was a lack of that kind of food that could be acquired quickly—and took it upon themselves to fill that void. The resulting menu is filled with items like vegan Polish soup, overnight oats and an egg and cheese sandwich that has quickly garnered favor among bleary eyed Buffalonians in search of satisfaction on a roll.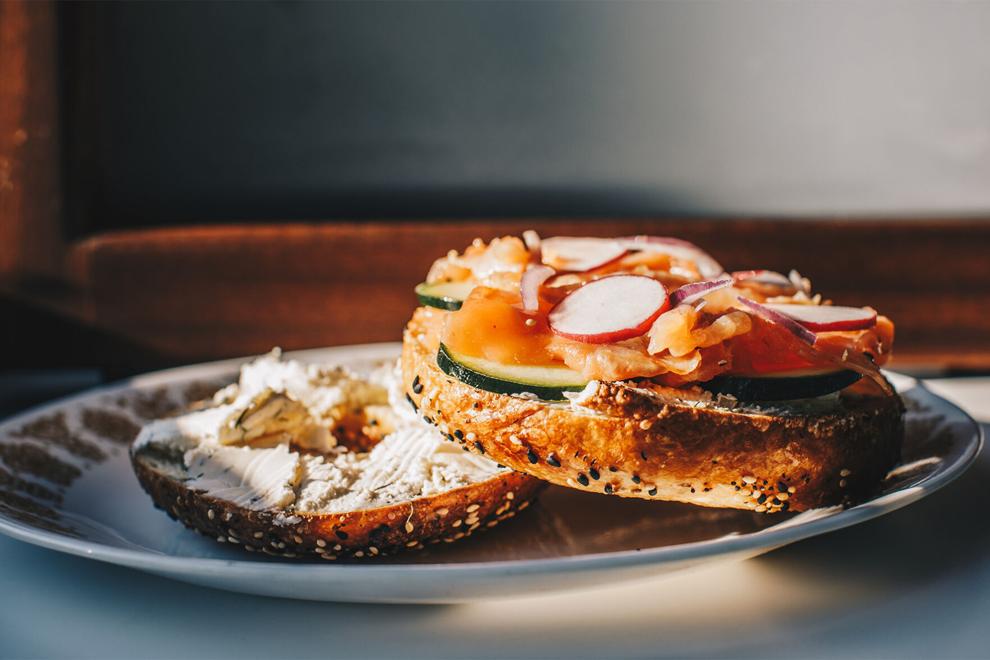 Attention is paid to every detail, even preserving their own lemons.
"Tell me that doesn't smell like the platonic ideal of a lemon," Kevin says, holding a container filled with the dazzling yellow orbs. It did—and it's clear that the platonic ideal was the objective for each menu item.
After waiting nine years for the right space, the hearts and minds shaping the food at Cafe Godot are sure to keep Western New Yorkers enjoying slow food, fast.
Preserved lemons
Cafe Godot uses preserved lemons in its Godot Cream Cheese. Combine softened cream cheese with minced preserved lemon rinds—make sure to remove the fruit and rinse—and chopped dill. They also sliver preserved lemons for a bright burst in salads.
When stored in an airtight jar, preserved lemons will last in your fridge for a year.
6 lemons
1 bay leaf
Enough kosher salt to cover lemons
Fresh lemon juice
Wash lemons and cut off the nubs on each end. Stand lemon on one end and cut as far down the lemon as possible without bisecting it. Turn lemon ninety degrees and repeat cut.
Place a bay leaf and a copious amount of kosher salt in the bottom of a vessel that'll hold the lemons comfortably stacked vertically. Push lemon, cut side down, into the salt. Repeat this process, alternating lots of salt and the cut lemons until you have no more lemons.
Wait 24 hours to see how much juice the lemons let out, and then top with additional lemon juice to cover.
Place lemons in the fridge. They will be preserved in about a month.