Annette Redican's passion for pastry was unleashed Christmas Day around 20 years ago.
With cut-outs of Santa and his reindeer flying across a golden flaky pie crust with "Twas the Night Before Christmas" scripted in baked-in lettering, the pie was a bit of holiday magic for her two young kids.
She's baked many more since, from Easter and Independence Day themed pies to Christmas showstoppers like her first. She tweaked and perfected her game, creating Pinterest-worthy pies before Pinterest existed, collecting dough cutters for every conceivable holiday or seasonal theme.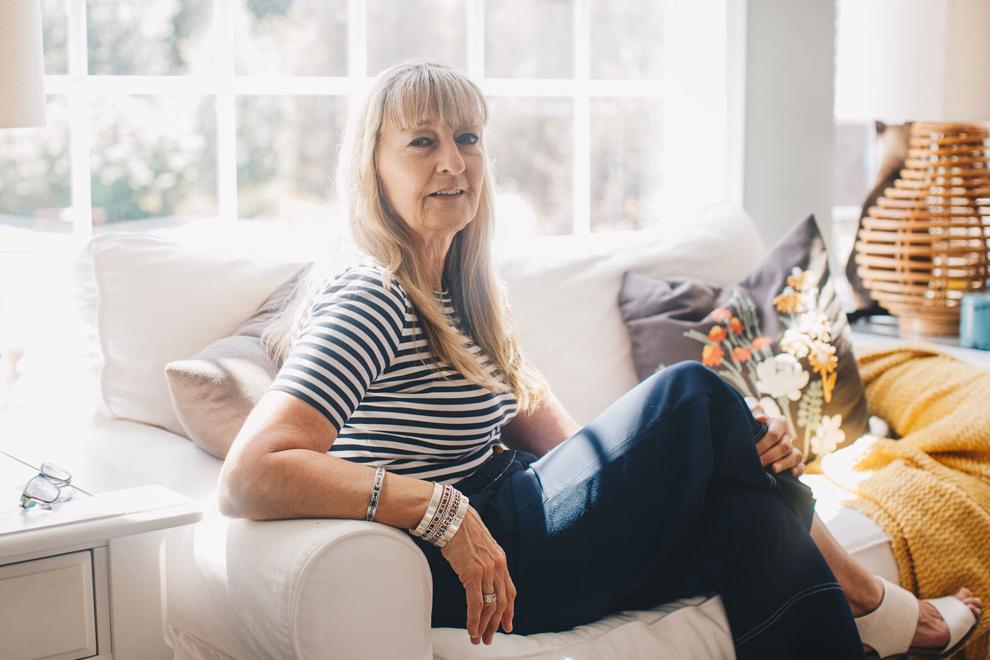 Her favorites are fall-themed with pumpkin, leaf and vine motifs. She makes dozens of peach and apple pies in early fall to freeze for winter-long giving, rewarding friends and family who make the biggest fuss.
Her pies are also healthy, she explains. Or healthy-ish. From the start, she modified her recipe to accommodate relatives with heart issues, omitting most added sugar. To make up for it, she overstuffs her pies with the ripest locally grown fruit.
For beginners to pie decorating, Annette recommends using premade pie crust available at the grocery store. They'll yield better cut-outs, she says, and eliminate frustration. She herself uses Martha Stewart's classic "perfect pie crust" recipe if you're feeling ambitious.
Old Fashioned Peach Pie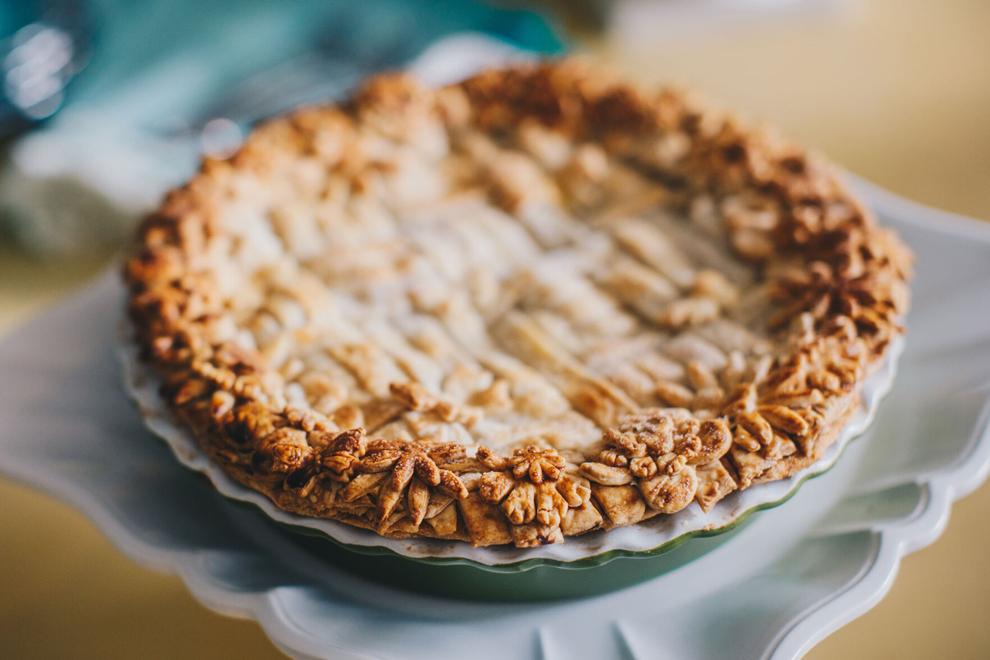 The perfect peach for a pie should be soft when gently squeezed but preferably not super ripe. Peaches can be peeled with a sharp paring knife. Or carefully immerse in boiling water for roughly 20 seconds. Immediately plunge into ice water to prevent cooking. Use fingers to slide skins off.
1 cup sugar
¼ cup all-purpose flour
4 lb. peaches (about a dozen medium), cut into wedges 'til you have 9-10 cups
1 tbsp. lemon juice
1 egg
1 tsp. milk
3 premade pie crusts (in a box, not pan)
In a large bowl, mix the sugar and flour. Add peaches, and sprinkle with lemon juice. Gently toss peaches until evenly coated with sugar mixture.
Spray the bottom of a 9-inch pie plate, preferably with a rim, with non-stick baking spray with flour. Fit bottom crust into pie plate.
Spoon in the peach filling.
Place prepared pie on a baking sheet (to catch spills) and refrigerate while working on any cut-outs for decorated top crust.
About 10 minutes before completing crust design, preheat oven to 375° F.
Bake for 50-75 minutes—checking at 50 minutes and every 10 after—until crust is golden and fruit is bubbling.
Let cool for an hour before serving. Sit back and enjoy the oohs and aahs!
Decorating pie crust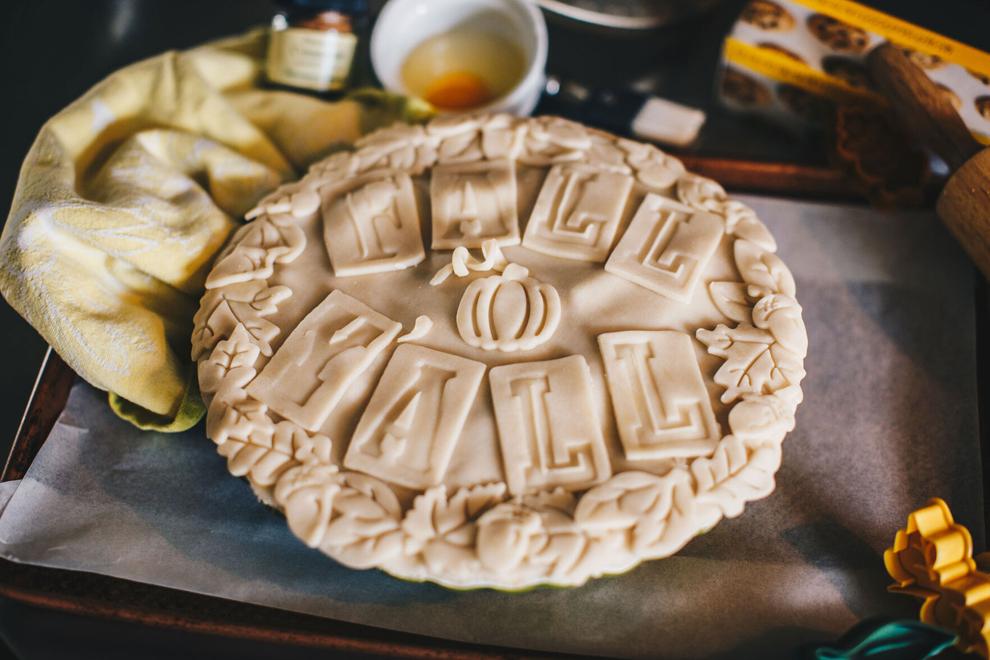 Annette says cookie cutters can work for simpler shapes like stars but swears by plunger cutters—made for fondant or pie dough—for more sophisticated shapes like flowers or pumpkins.
You'll need two pie crusts—one as the base for your pastry embellishments, the other for the cutouts.
Create the base top crust. Place a pie crust on parchment paper and roll out to roughly 10 inches. It should be thinner than what you'd normally use.
Decide on design. Then grab your second pie crust. Using plunger cutters or cookie cutters, cut out shapes.
Mix 1 egg with 1 tsp. of water. Using a pastry brush, affix pastry cutouts to rolled-out crust using egg wash.
When your design is complete, brush edge of the bottom crust of the prepared pie with egg wash. Then very carefully layer decorated crust on top of prepared pie.
Remember to vent, so steam can escape while baking: Use a paring knife to cut holes in the pastry, along the edge of an embellishment if there are large cutouts.
Now it's time to crimp the edges or decorate as desired (like braided pie edging).
Brush whole pie with egg wash then sprinkle with sugar.