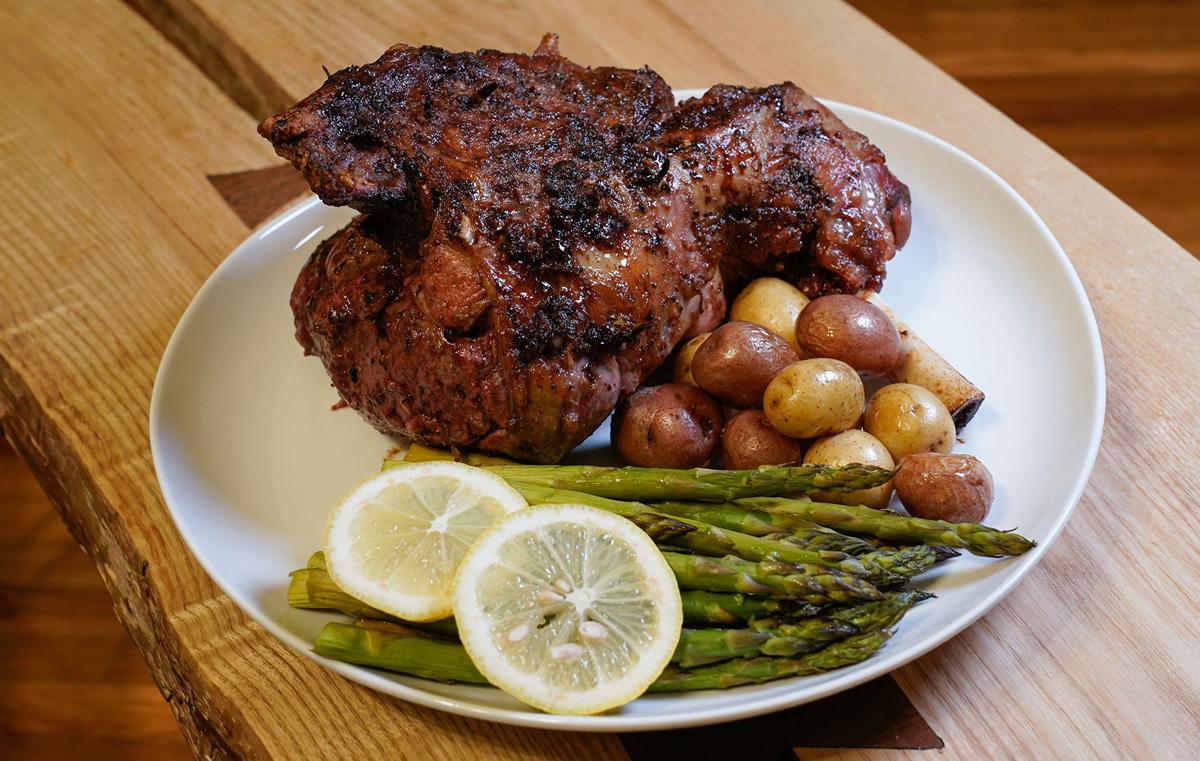 Like many Western New Yorkers fortunate enough to grow up with family nearby, Sunday dinner was a big part of Karle Norman's upbringing. His grandparents met at Cornell University, where their hotel management studies may have influenced their exceptional hosting skills at decades' worth of family suppers. His dad continued the tradition, teaching Karle how to cook the family's German essentials like homemade sauerkraut and slow-cooked meats, which often included hunted game like rabbit and deer.
Karle's family no longer gathers weekly, so now he creates his own crowd for whom to cook communal meals. The get-togethers often feature a dish that feels like it could've been taken from his dad's recipe book, but instead came from the pages of the New York Times: roast leg of lamb with anchovy, garlic and rosemary. He makes this entree when he's looking for something special but not fancy—it's not a basic Tuesday night roast chicken for two, but it's also not a pricey Christmas standing rib roast for 12, either.
With just seven ingredients, quick preparation and largely hands-off cooking, it yields an impressive supper centerpiece that makes the house smell incredibly warm and nostalgic, but lets the cook enjoy a cocktail with guests rather than juggling several pans solo in the kitchen for hours.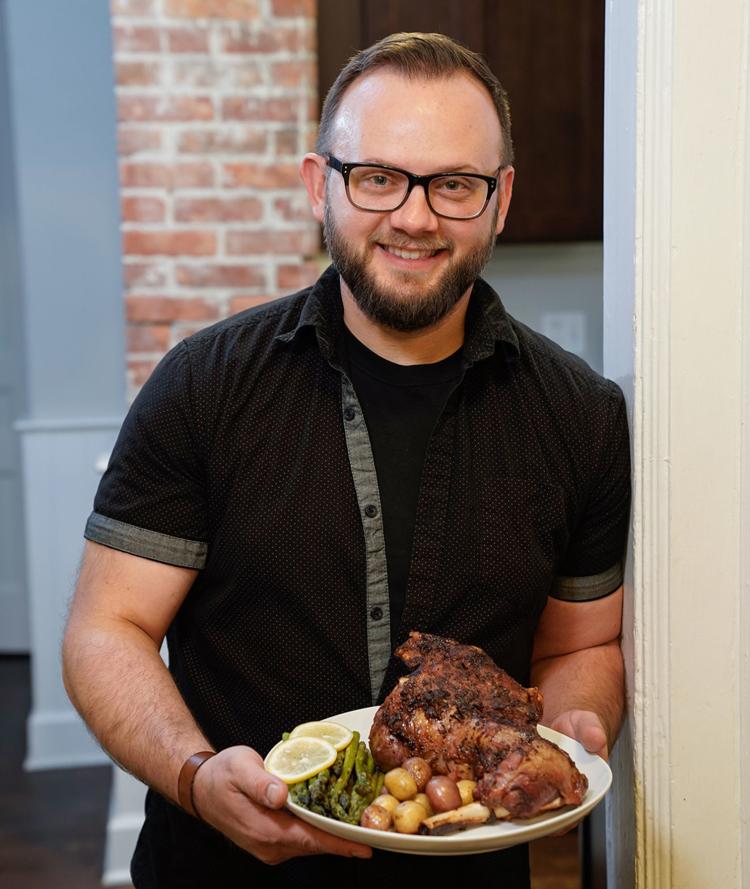 With a background as a sous chef under Chef Pat Koch at the former Buffalo Street Grill in Hamburg (now Carte Blanche), Karle's current job as a property manager and personal assistant at a vacation home in Ellicottville often includes preparing meals for his client's Southern family when they're in town. He's made the roasted lamb for house parties hosted by the family he works for (and once had a guest ask him why the hell he was making mutton, lamb's older, tougher, gamier cousin); he'll use the thinly sliced leftover meat in sandwiches with horseradish mayo for the family's lunch the next day. Last fall, he doubled the recipe and made two lamb roasts for an annual guys' trip to the Finger Lakes, a sojourn that centers around good food, good liquor and good conversation.
The lamb itself distinguishes the entree from the typical poultry, beef and pork commonly found at potlucks and holiday tables, with a rich flavor Karle describes as "similar to the good part of a roasted tenderloin that's next to the fat." The anchovy doesn't come across as fishy at all, but rather lends salt and an umami depth that ties together and heightens the rich butter and roasted garlic flavors, the bright lemon and wine, and the fragrant, piney fresh rosemary.
To serve, Karle usually carves the lamb on the bone and sets it out family-style, along with a potato side (mashed, salt or roasted) and a simple dressed bitter green like arugula, collards or broccoli rabe. The pan gravy is passed separately to pour over the sliced lamb and the potatoes. To toast a gathering of family, blood or chosen, opt for a big red wine like cabernet sauvignon or a nice bourbon on the rocks.
Roast Leg of Lamb with Anchovy, Garlic & Rosemary
Bone-in leg of lamb is almost always available at Wegmans, and locally sourced options can be ordered ahead of time from Moriarty Meats on Grant Street. The roast may be tied but doesn't need to be; just remember to remove the strings from a tied roast before carving.
• 1 4-pound bone-in leg of lamb
• 4 large garlic cloves, peeled and sliced lengthwise into thirds
• 20 anchovy fillets in oil, drained
• 6 tablespoons butter, softened
• Freshly ground black pepper
Preheat the oven to 425 F. With a small, sharp knife, make 12 incisions 2-inches deep into the fleshy side of the leg. Insert a piece of garlic, half an anchovy and a small sprig of rosemary into each incision. Push them in with your little finger.
Cream the butter with the remaining anchovies and smear it all over the meat. Sprinkle the meat generously with black pepper, place in a roasting pan with side walls and pour the wine around it.
Tuck in any leftover sprigs of rosemary and pour the lemon juice over the meat.
Roast in the oven for 15 minutes at 425 F to brown, then lower the oven temperature to 350 F and roast for 1 hour more, basting from time to time with the juices. (Cook slightly longer depending on how well-done you like your meat.) Let rest in a warm place for at least 15 minutes before carving.
Meanwhile, taste the juices, adding salt as needed. (It shouldn't need much because of the anchovies.) Simmer the juices in a skillet to thicken into a pan gravy.
Karle's tip: Use a meat thermometer to determine doneness: 125 F for medium rare, or 135 F for medium; you don't want lamb well-done. Karle heeds the saying, "Cooking without a thermometer is like driving without a speedometer," and adds that a decent meat thermometer costs around $12 and takes the mystery out of cooking meat in the oven, on the stovetop or out on the grill.
Be the first to know
Get local news delivered to your inbox!