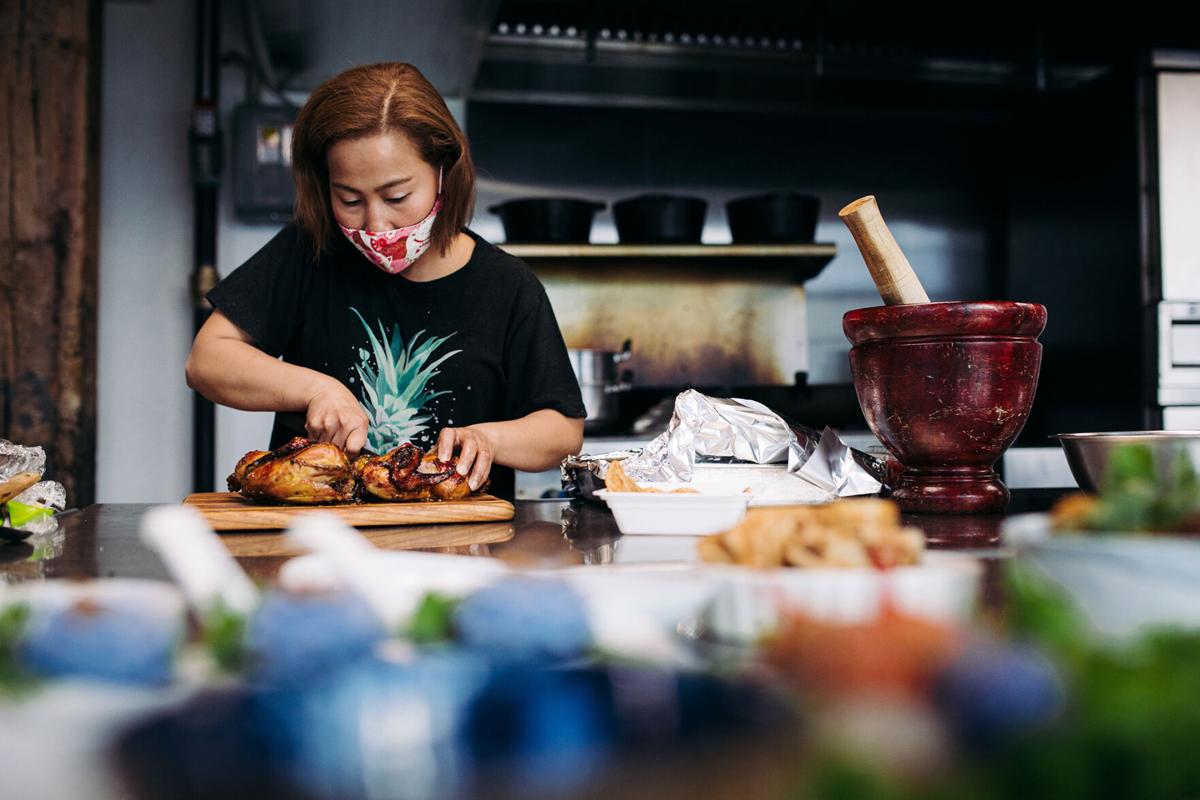 Most days in the kitchen, Annie Henry is a one-woman show. Working out of a commissary prep space on Chenango Street, the Middle Sister Sandwiches co-owner grocery shops, cooks, cleans, coordinates order pickups and makes deliveries to hungry, appreciative customers around the area.
But she's not really alone. Her sister, partner and creative mastermind, Jacque Henry (pronounced "Jackie"), is equally, if differently, invested. A full-time oncology nurse at Roswell Park Comprehensive Cancer Center, Jacque simply can't be in the kitchen with Annie most shifts (though she is when she can). But it was Jacque who came up with the idea for the business, aimed at making global food less intimidating to westernized palates, and it was Jacque who jumped at the opportunity to get the fledgling business up and running.
"There's never been an open door I haven't walked through," she said.
"Jacque tends to be the risk taker out of the two of us," Annie agreed. "It was nice that she walked through that door, and I followed right behind her."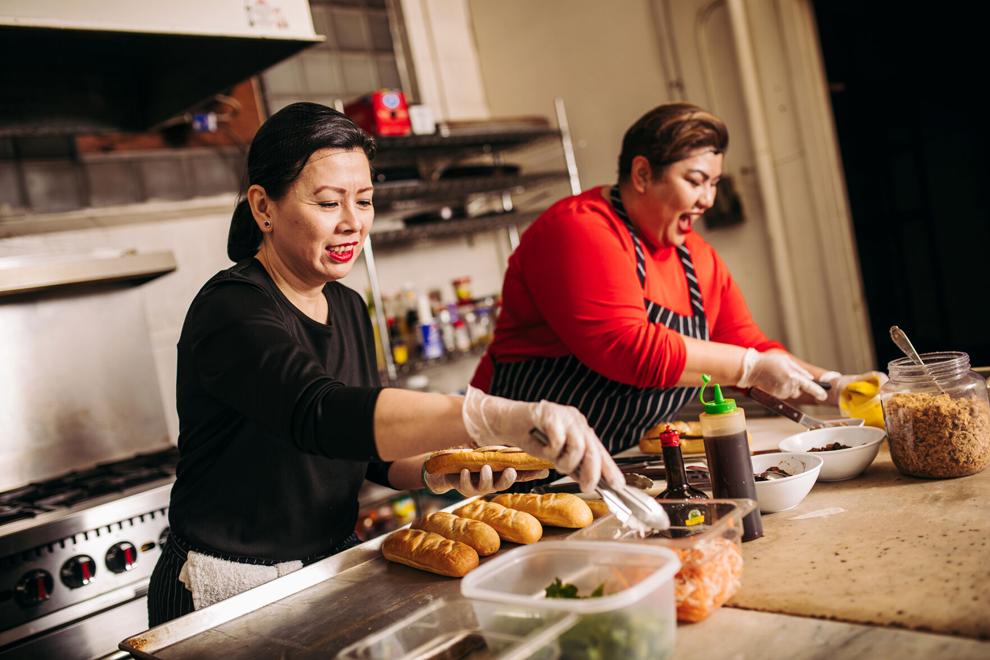 One of those doors was an invitation to sell Middle Sister's fare, anchored by a menu of Vietnamese banh mi sandwiches, at Roswell Park's weekly farmers market in 2019. From there, Middle Sister moved on to pop-up events at local businesses like Buffalo Cider Hall in Black Rock before finding its current groove as a text-or-call-to-order, takeout-only food purveyor.
Given Annie's and Jacque's other professional commitments (Annie is a part-time education consultant), Middle Sister's service schedule is limited, so staying attuned to the company's Facebook and Instagram updates is essential to securing a taste of the everchanging menu.
In addition to offering a traditional banh mi made from pork roll, pâté, cilantro, jalapenos and a crunchy slaw of pickled daikon and carrots, Middle Sister sells variations on the classic, swapping in proteins like soy-and-lemongrass-marinated chicken, garlicky tofu and even Spam to give customers a bevy of Asian-inflected options.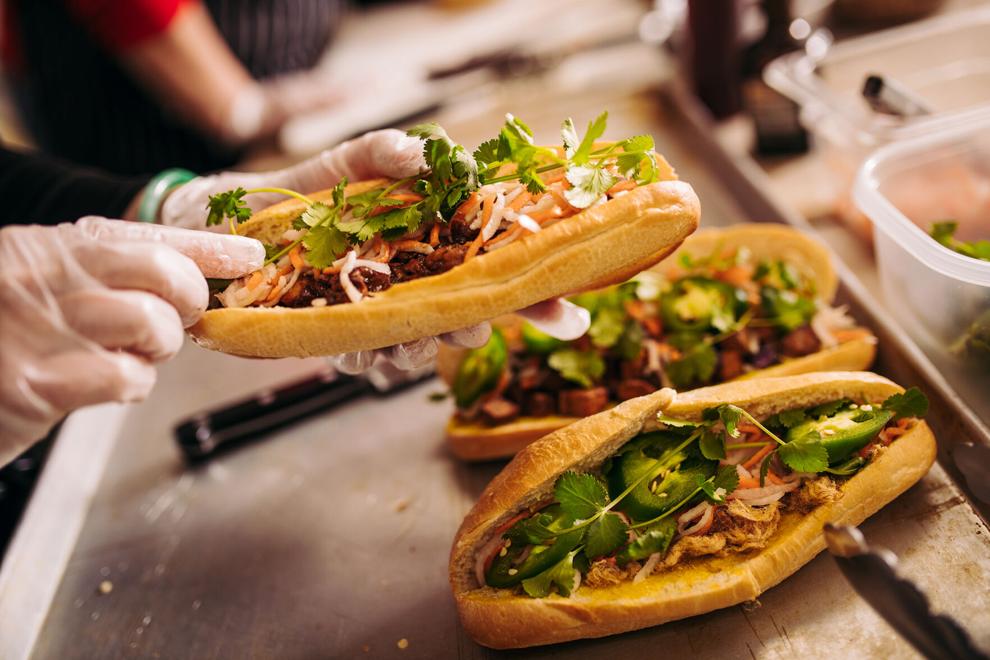 In addition to banh mi, Annie and Jacque rotate in specials inspired, in part, by foods they ate growing up. Their mother left Vietnam in 1975 after the Fall of Saigon, making her way first to Yemen, where she, Annie, Jacque and their three sisters lived until 1984, when they all moved to Western New York to live with their mother's new husband and their adoptive father, an East Aurora native. Their time in the Middle East exposed them to authentic Yemeni, Ethiopian and Indian food, among other cuisines, in addition to the culinary heritage their mother carried with her from her home country.
"We have this wealth of experiences with using spices and different ingredients," said Jacque.
Their travels as adults and the diverse food traditions of their inner circles also fuel their menu ideas. Past specials have included cháo (Vietnam's answer to congee) topped with a choice of thousand-year egg, shrimp and stone crab, pork or mushrooms; thit bò lúc lắc (Vietnamese shaking beef) wrapped in cabbage leaves; char siu, or sweet-and-savory Cantonese-style barbecue pork; and Yemeni sambusas (akin to samosas) with a Middle Sister twist: rice paper shells in place of traditional flour dough wrappers. Last year, a friend from Puerto Rico taught them to make pernil, which graced a limited-edition banh mi.
For Annie and Jacque, there's no immediate goal to open a traditional restaurant. In fact, they feel fortunate that they haven't had to figure out how to keep a brick-and-mortar operational through the pandemic. A restaurant also requires a tremendous devotion of time, and they enjoy their other professional pursuits too much to give them up right now.
Financially and logistically speaking, a food truck is much more feasible in the short term. They even have a vehicle lined up for the next phase of Middle Sister's evolution, but it needs a little work before it's road ready.
Jacque, who has aspired to owning a food truck for going on 10 years, can't think of a more perfect next stop on their scrappy, self-made journey.
"I want to fill my life with doing things that I love," she said. "If I can be out there every Saturday feeding somebody some sandwiches, I'm going to be happy. I mean, what's better? I'm living the dream."
A taste of home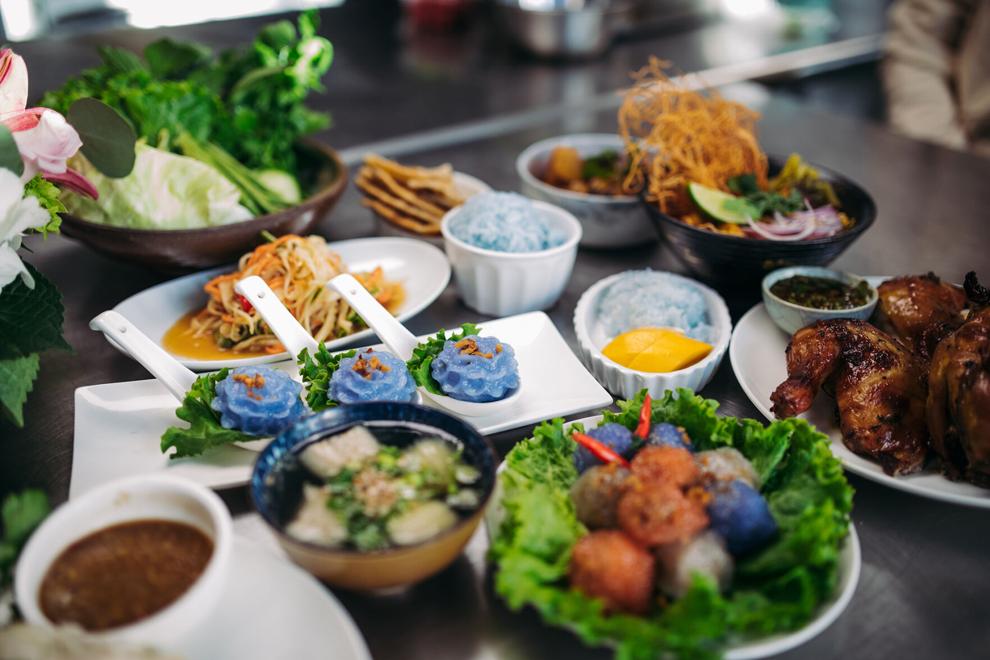 Meanwhile, in a leased kitchen on Chandler Street, Wanthureerat Baramee (who goes by the nickname Kae) is hustling equally hard to bring her dream—a food truck called Tiny Thai—to fruition.
Like Middle Sister, she has taken a self-starter's approach, working hard to build her brand and generate community buzz through catering and pop-up events held in partnership with longer established local businesses like Buffalo Bike Tours, owned by her husband Marc Moscato, and Southern Junction, a Tex-ish barbeque joint with a loyal following.
Beyond her immediate business goals, Baramee is driven by a loftier desire to bring a true taste of her homeland to the City of Good Neighbors.
"I want to make authentic Thai food and share it with the Buffalo community," she said.
For Baramee, that means focusing on Thai dishes not typically seen outside of international cities like Toronto or New York, like chor muang—hand-formed, blossom-shaped rice flour dumplings made vividly purple with the addition of butterfly pea flowers. Hers are filled with a savory mélange of peanuts, chicken, pickled radish, onion, garlic and soy sauce.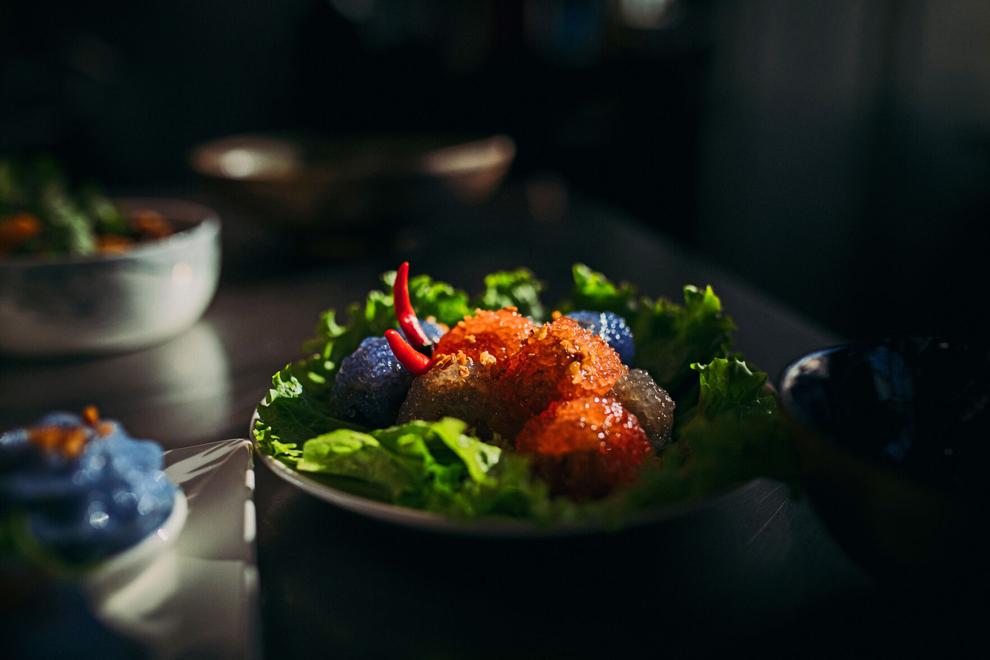 Massaman curry, a Thai dish of Indian and Muslim influence, is another of Baramee's specialties. She makes her version with a dozen or so aromatic herbs and spices, including cumin, lemongrass, galangal and cinnamon cooked slowly and extensively before being served with paratha, a flaky flatbread.
But one of her favorite menu offerings might be khao man gai, a dish of poached chicken over rice with a ginger-chile sauce. It's served with a sidecar of savory broth suffused with winter melon, cilantro and garlic. Baramee suggests eating the soup separately from—not mixed together with—the chicken and rice, as she would have done in growing up in Thailand.
"When I was young, my mom opened a restaurant, but I never wanted to eat my mom's food; I wanted to go eat khao man gai from the street vendors every day," she laughed.
Still, Baramee credits her mother as well as her aunt for teaching her to cook from scratch—an interest she eventually parlayed into a restaurant career in Bangkok. There, she worked her way up to a manager position at Yayoi, a popular chain of Japanese eateries owned by MK Restaurants. Baramee says that restaurant managers perform a more extensive variety of tasks in Thailand than they do in the United States, and she credits the experience with teaching her the ropes of the kitchen as well as front-of-the-house operations.
Wanting to gain more culinary experience, Baramee eventually left Bangkok for Portland, Oregon, where a friend was able to get her a job as a cook. There, she met Moscato, and the two eventually made their way to Buffalo.
Since moving to the area, she has worked in the kitchens at Yummy Thai, The Grange and 100 Acres. Her ambition to expose Western New York to a greater variety of Thai cooking quickly grew from there, but starting a restaurant is an expensive and notoriously risky endeavor. To make her dream accessible, Baramee got creative with her approach, officially launching Tiny Thai catering in June 2020.
"Her goal has always been to be more intentional and refined, with a carefully thought through menu executed really well," Moscato said.
Baramee's efforts have paid off. She reports that she has secured financing for her food truck through Good Neighbors Credit Union and expects to be on the streets slinging her small but mighty menu at outdoor events and well-trafficked roadsides by late spring or summer.