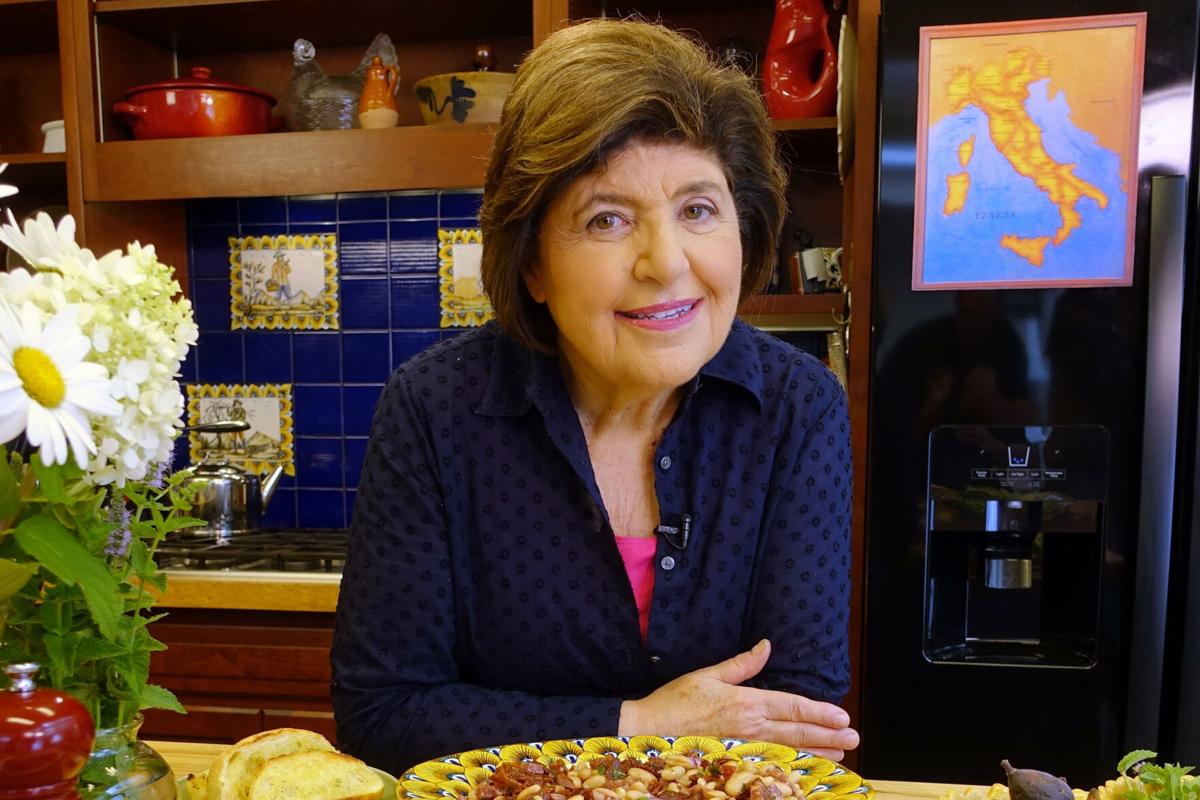 In 1990, Mary Ann Esposito, the creator and host of America's longest-running television cooking series, "Ciao Italia with Mary Ann Esposito," visited Buffalo's Clinton-Bailey produce market to film a segment for the show's second season. As cameras rolled, she admired the summer's bounty with her mother, the late Louisa Saporito, who appeared on several episodes.
It's a happy memory of her Italian heritage, but Esposito didn't share that sentiment as a child. 
In an interview with The Buffalo News during the visit, she said, "I see how beautiful it is now, but back then I didn't. I was dreading all the work we'd have to do when we took the produce home."
The eldest of seven siblings, Mary Ann Saporito grew up in Lancaster, cooking Neapolitan food in her mother's basement kitchen. (Traditional Italian homes had a kitchen for formal occasions and another for cooking.)
Her grandmothers emigrated to the United States in the 1890s and were professional cooks; her maternal grandmother ran a boarding house in Buffalo while her Sicilian paternal grandmother, "Nonna" Saporito, ran a butcher shop in Fairport, outside Rochester.
Esposito didn't attend culinary school, but she did learn volumes at home, helping roll sheets of lasagna, form bread dough for the daily baking or steam and peel endless bushels of tomatoes her father brought home from local markets.
She likes to joke that if she'd known then how she would later cook her family's food on television for a living, "I would have choked on two meatballs." Like many first- and second-generation Italian Americans trying to assimilate in the 1950s, she wanted peanut butter and jelly, not leftover frittata sandwiches.
"I hated garden season. My father would take all of us to Lockport to pick peaches and cherries, but I just wanted to read Nancy Drew," she recalls. "One year I hid in my closet with my book, and they left without me."
She laughs at herself now, recalling her father's parting line, "The plum doesn't fall far from the tree."
Today Esposito is a trusted authority on regional Italian cuisines, with a weekly show aired nationally to more than a million American viewers. She's the author of 13 cookbooks and received a 2015 James Beard Award for outstanding cooking series, as well as several national honors in Italy for her dedication to its 20 distinct cultural regions.
Her goal, she told The Buffalo News, is to "dispel the notion that Italian food is all spaghetti. I want to go back to the old traditional ways of doing things, emphasizing good, fast, economical food."
Esposito lives in Durham, New Hampshire, with her husband, Gaetano "Guy" Esposito, a surgeon, and returns to Western New York regularly. Last October she was the special guest of her alma mater, St. Mary's High School in Lancaster—where she first met Guy—for a public cooking demonstration with local chefs. She took the opportunity to prepare a few recipes from her childhood and from a forthcoming cookbook, "Plant, Harvest, Cook," due out this fall.
Recipes for success
A natural-born teacher with a passion for history, Esposito had an epiphany about Italian cooking well after leaving home.
After earning an education degree from Daemen College, then called Rosary Hill, she taught elementary school in Buffalo and Rochester while Guy studied medicine. They eventually settled in Durham and had two children, Elizabeth and Christopher.
The couple first visited Italy in the early 1980s to see his family and take cooking classes together.
In many ways, Esposito's journey resembles that of America's famous ambassador of French home cooking, Julia Child: both were married women in their 40s when trips to Europe revealed traditional cuisines that changed their lives—and the lives of their future television fans.
"The entire place clicked for me: the food, the history!" Esposito says. "But at the first class, the chef's lasagna sheets were too thick, and I knew it was wrong. My mother and grandmothers gave me the real essence of how to make pasta."
Years earlier, she'd packed away the pasta machine her mother gave her when she and Guy married. It came out when she returned from her travels.
Esposito continued touring Italy, studying its regional cuisines and lecturing at universities and cooking schools while launching a local catering business back home.
Then Guy encouraged Esposito to teach adult courses in Italian cooking at the University of New Hampshire, where she earned a master's in history. He also nudged her to pitch a cooking show to New Hampshire Public Television, then headquartered in Durham.
"I thought he was crazy," she says, but she sent the proposal anyway. A year later, in 1989, a pilot was green-lit.
She vividly recalls the "blazing hot" day when a film crew came to her suburban home kitchen, which would soon be transformed into the well-loved television set with her trademark map of Italy on the refrigerator. Reviews were good, and "Ciao Italia's" began producing its first 13 episodes.
The rest is, appropriately, all history.
Esposito's legendary mix of approachability and unabashed food geek works well for public television, which she credits with helping her reclaim her culinary roots and pass them along to other home cooks.
"It's my classroom, only I get to teach millions of people," she says. "I can tell an uninterrupted story from my viewpoint, and that allows me to be me."
Now 78, Esposito's own story "has gone by in a flash, but it's a hell of a lot of work." She still spends long hours at the studio, filming multiple episodes a day that are thoroughly researched and mostly unscripted.
During the lockdowns in 2020, her studio moved from a Rhode Island PBS affiliate to a more socially distanced facility at UNH. Last year, it returned to her Durham home kitchen to film the show's 30th season, which airs this spring.
Next chapters
While other food celebrities launch product lines and restaurants, Esposito focuses on preserving Italian cuisine, wherever it originates. She hosts food tours in Italy, films on-location segments of "Ciao Italia" featuring local food producers in New England and teaches an online course at Boston University.
She hopes to establish an Italian heritage and education resource center at a major American university that will house "Ciao Italia's" entire catalog and support students interested in Italian gastronomy.
"I get so many messages from people about identifying missing or old recipes," she says. "I think one of the things keeping 'Ciao' on TV is its familiarity with things people can find."
Meanwhile, Guy Esposito, now a second-level sommelier and his wife's de facto master gardener, tends to Italian vegetables growing outside their home that are often used on the show. Like he did years ago, he suggested her latest project—a cookbook about the food they grew together during the pandemic.
"It asks timely questions: Where are we in food culture these days, where does our food come from?" she says. "It's about how and why to plant, not just what to make."
"Plant, Harvest, Cook" embraces common or overlooked ingredients, like fava beans and Swiss chard. As usual, history lessons accompany the recipes.
"Interesting stories around favas," she says as an example. "Ancient Romans used them as ballots to elect officials, and people believed that the souls of the dead lived inside them. And Swiss chard, who eats it? But especially Northern Italian cuisine, like in the Emilia-Romagna region, they make erbazzone, chard pie with herbs and all of those wonderful alpine cheeses."
Esposito spends as much time away from her grandparents' cast-iron pans and pizzelle irons as she does with them these days, but she signs off every episode with the same message: true Italian cooking always belongs nella cucina—in the kitchen.