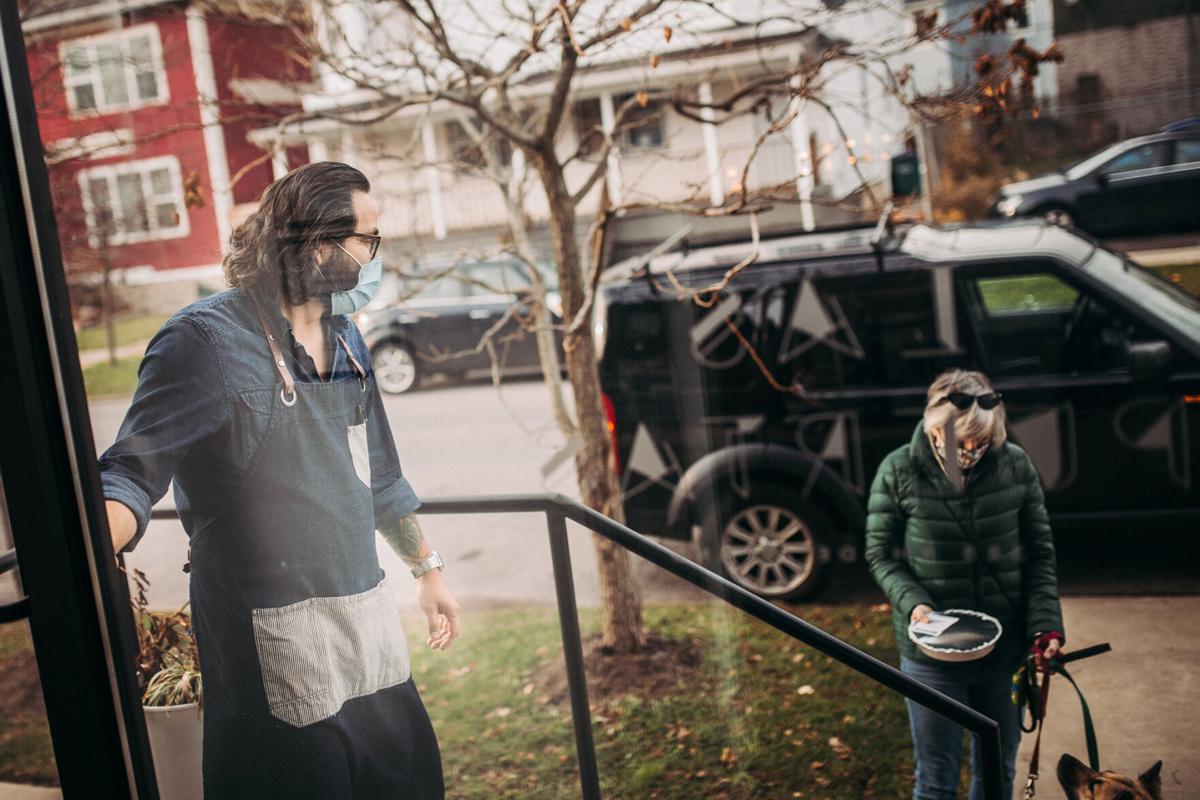 Last spring, Victor Parra Gonzalez didn't know if Las Puertas, his small, sprightly Mexican restaurant in Buffalo's Five Points neighborhood, would survive an all-takeout model.
Prohibited from opening to in-person dining during the pandemic's first deadly wave, Las Puertas, like many upscale restaurants, strained to turn a profit in the face of declining revenue—tasting menus and lucrative add-ons like cocktails don't sell as well to-go—and rising operating costs (disposable flatware and serving containers don't come cheap).
But Parra Gonzalez, a James Beard-nominated chef with a history of scrappy fresh starts, wasn't keen on barely getting by. The name Las Puertas, which translates to "the doors," is a nod to the challenges he faced securing a business loan in the restaurant's infancy and the options available to him as his explored different paths to bringing the restaurant to life.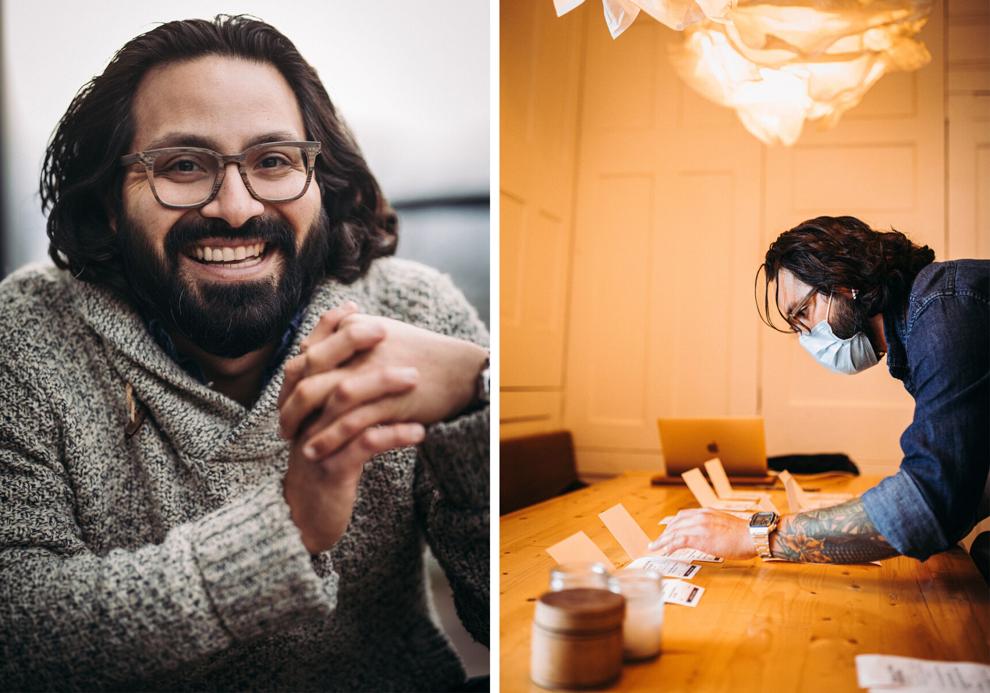 So, when fall's third wave of Covid-19 community spread came (as promised) to fruition, he knew he would have to once again get creative and reimagine his approach. In that envisaging, La Bodega Project by LP—"pantry items to make your life easier"—was born.
With restaurants closed to in-person dining for the foreseeable future, Las Puertas has assumed the guise of provisions purveyor, allowing guests to order chef-prepared, restaurant-quality products to fill their larders and complement or supplement their home cooking (as well as select heat-and-eat complete dishes).
"I figured with an economic crisis that could potentially affect us for many, many months, people may not want just one, ready-to-eat dish," Parra Gonzalez said. "I realized people were more interested in buying things they could have multiple times."
According to Parra Gonzalez, the finances of prepping larger batches of products his kitchen is already making and selling them for home use is "pretty astonishing" compared to the profit margins of a traditional takeout menu.
Pantry items also support the needs of customers who aren't just looking for a value but also a way to expend their pent-up energies and anxieties in the kitchen. Purchasing meticulously prepared ingredients from a source like Las Puertas is a way for customers to unlock new streams of culinary ingenuity and elevate the cooking they are doing at home.
On the menu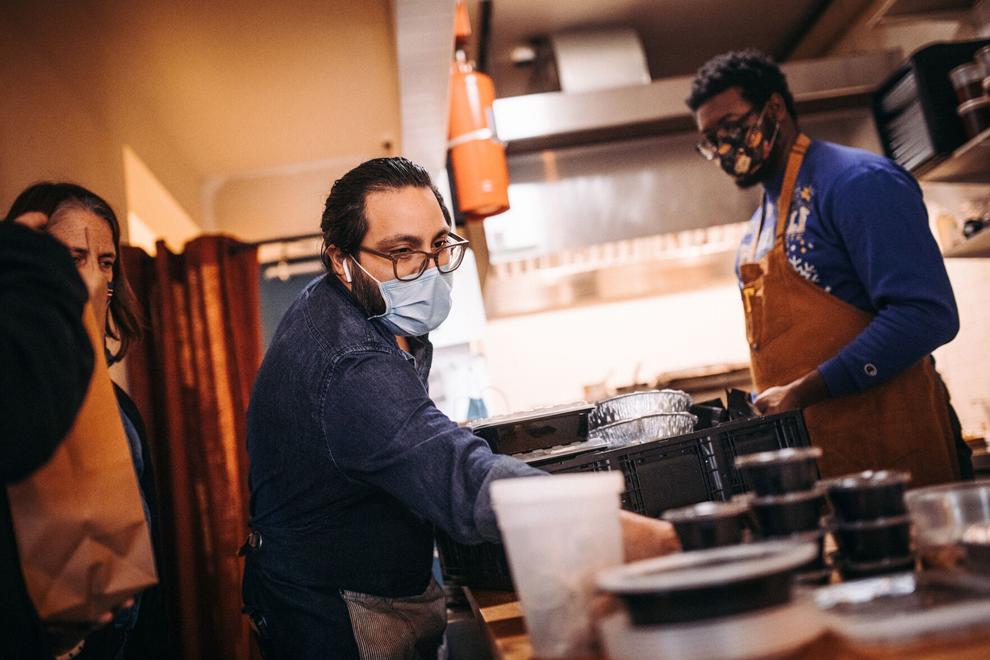 Quarts of broth infused with the flavors of Guadalajara, pints of carnitas with orange confit and logs of spicy, sweet and punchy compound butters are just some of the items customers can choose from at La Bodega Project. The menu includes sections for broths and ready-to-cook proteins, preserves (think: beets in escabeche and hibiscus-marinated onions) and versatile salsas that go way beyond chip-dipping.
One of Parra Gonzalez's favorite menu items is the salsa verde made from roasted tomatillos, macerated black garlic, citrus and vinegar-preserved serrano peppers for heat and additional pucker. It's a product he always keeps on hand in Las Puertas' kitchen, where he likes to loosen it with coconut water for a ceviche marinade. When customers ask how they can use the salsa verde at home, he advises them to do the same using thinly sliced wild fish if possible (Las Puertas has had a lot of success with halibut) or scallops for a little sweetness. The acidity in tomatillos naturally breaks down the protein in the seafood, so a quick bath—no more than a minute or two—is advised to preserve the integrity of the dish.
Achiote oil, another darling of the menu, is made from tiny achiote seeds (also known as annatto), which Parra Gonzalez gently heats with Tunisian olive oil to extract their brilliant orange-red hue and floral, citrus-tinged flavor. In the Yucatán, achiote is traditionally ground into a paste and rubbed into pork, which is then wrapped in banana leaves and slow-roasted for many hours underground—a cooking method known as pibil.
"It's part of the ritual of sending meat underground, hopefully to be given back to you in a beautiful form," Parra Gonzalez said. "The color of the achiote mimics the idea that this item still is full of life."
Parra Gonzalez says the achiote oil from LP La Bodega Project could be used to marinate fatty cuts of pork like shoulder or neck. He also likes to brush it on fish just before grilling and drizzling it as a finishing oil over just about anything. The color, he notes, makes for a striking visual.
Southern staples
At Toutant, a country-cuisine mainstay with Southern Louisiana roots, chef and owner James Roberts also recognized a need to find novel ways to get his products into people's homes. After closing temporarily last spring to strategize and organize, Toutant reopened with a "2Geaux" menu heavy on multiuse, scratch-made items customers can introduce into their cooking repertoires (in addition to plenty of ready-to-eat items like fried chicken, gumbo and charred ribeye).
Highlights of the Toutant pantry program include a bake-from-home version of the restaurant's famed Southern-style biscuits, which he advises eating warm from the oven and slathered with Toutant's house-made jelly or pimento cheese. Resourceful customers might even be inclined to use the biscuits for breakfast sandwiches, in fruit cobbler, as pot pie toppers or as a sauce-sopping foundation to chicken à la king or sausage gravy.
Speaking of sausage, Toutant's got customers covered there, too, offering a rotating selection of proprietary links, sold cold for at-home use. Andouille and cheddar-jalapeno are often available, as are provisions like Toutant-smoked bacon, Nashville hot sauce and flavor-dusted pork rinds—perfect for snacking while you cook with a little help from your friendly neighborhood restaurants.
Here's how a few other Buffalo eateries are changing course:
With its taproom closed, Community Beer Works has opened a retail operation where customers can get their hands on six-packs of CBW favorites as well as a rotating selection of limited-release beers like the brewery's popular seasonal salted sour series. The shop also plans to carry local foodstuffs, Blackbird Cider products and a new canned coffee from Tipico. Orders can be placed online for curbside pickup as well as for delivery within 20 miles of their Westside location.
Recognizing that many customers can't visit their neighborhood coffee shop as often as they used to, Tipico has made a foray into the ready-to-drink market as a way of making it more convenient to enjoy Tipico coffee at home. Their new Snapchilled iced coffee starts with hot brewed coffee, which is flash cooled with liquid nitrogen before canning. The first run is in Tipico's flagship Coordinates espresso blend, named after the close relationships owner Jesse Crouse has forged with growers, roasters and exporters around the world. It tastes of chocolate and raspberries with a creamy finish, he says. Limited runs of special single-origin blends are planned for the future.