It's a common Buffalo story: A beautifully designed turn-of-the-20th-century building is modernized in the 1950s and '60s with "innovations" like carpets, linoleum and drop ceilings.
Many of those buildings have remained that way. Some, sadly demolished. A lucky few have managed to escape their mid-century fate, saved by a developer with vision to see past fiberglass ceiling tiles—and the means to do something about it.
The latest such restoration is at the Bank of East Aurora, where the soaring ceiling and skylights are exposed for the first time in 50 years; new, historically accurate cathedral windows coax in sunlight; and original hardwood floors are about to experience a new type of foot traffic: event guests and Airbnb visitors.
Developer Todd Stine, retired from a career in banking, has turned his attention to a more classic interpretation of the American institution. Stine saw both the architectural and economic potential of converting the drably renovated bank into functional modern space.
Dubbed Beneath the Bank, the Airbnb portion of the building consists of five units on the sub ground-floor level, plus an ADA-compliant unit on the main floor and a unit on the loft level, all of which will be themed after a notorious Prohibition-era bank robber (think Pretty Boy Floyd, Bonnie and Clyde). The remaining main floor and loft will be used for events—weddings have already been booked, and renovations should be complete this spring.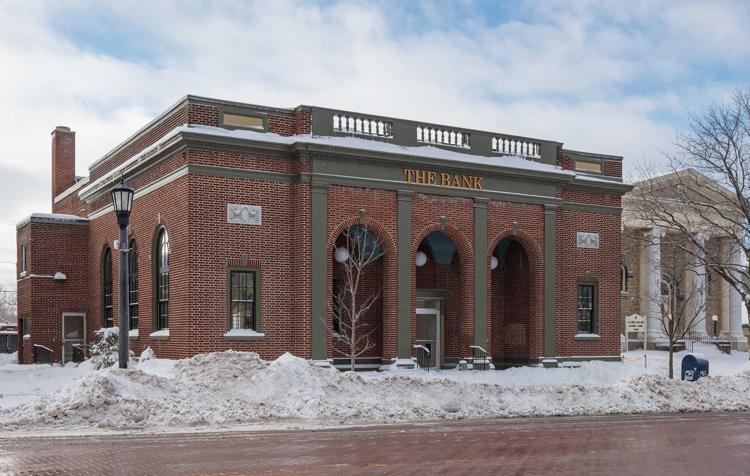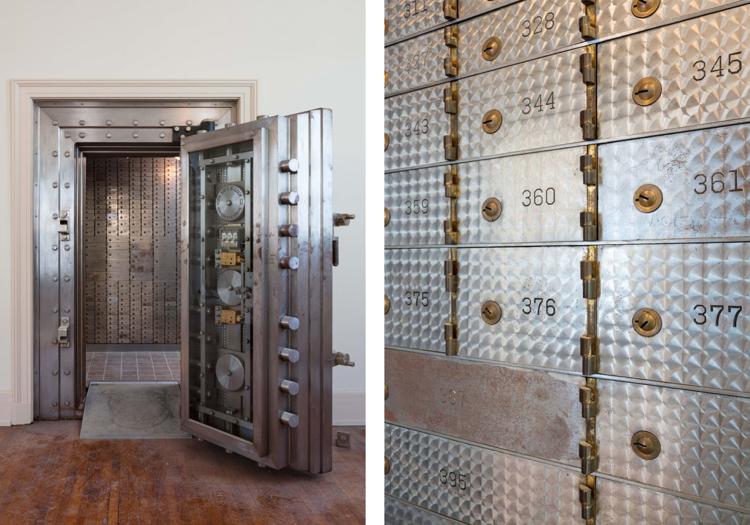 Bank-inspired architectural follies are sprinkled throughout the space. Tiles made from real pennies line the bank vault floor, a room which will be used for social gatherings. Holes in the original hardwood will be patched with coins from around the world, serving as a scavenger hunt for visiting children. And a vault door will be repurposed as a coffee table for a common area. In the upstairs vault, visitors will be invited to crack the safe, with combinations provided.
It was a careful, deliberate restoration. Terra cotta tiles were imported from Wales when no match was available in the U.S. Walls and crown moldings were restored to pristine condition. Vintage-feel milk glass chandeliers and pendant lights punctuate the space.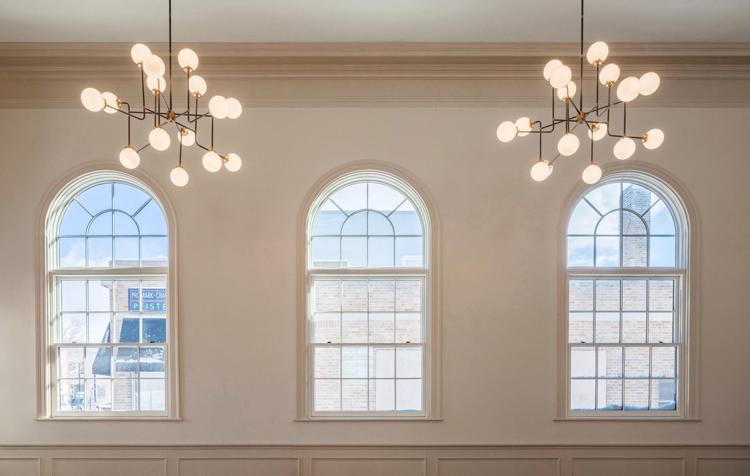 "I had two guiding principles. To preserve the integrity of the building—the bank feel of it—and to honor the time frame in which it was originally built, the early 1920s," said Stine.
The result is a clean, bright open space with loads of natural light.
With its prominent position on the heart of cobblestoned Main Street in East Aurora, it's a happy outcome for a building that's remained vacant since 2016, when the First Niagara bank branch closed for good.
"We found a grand total of $14.81 during renovations—including a five-dollar bill and coins scattered in various crevices," joked Stine. "We put it toward the renovation."
Another town, another repurposed bank
Forty-five minutes south, another old bank is seeing new life—this one as a cocktail bar and event venue.
The bar, which opened in December, channels an art deco-inspired jazz club, with its deep emerald-hued walls from floor to ceiling, gold accents on the walls and furniture, and sofas, overstuffed chairs and a 12-foot bar filling the warm, swanky space.
Like the Bank of EA, owner Dina DiPasqualle relied on the bank's history for design inspiration. Old bank advertisements from 1924 were discovered during the renovation, said manager James Czora, and 16 of them have been framed to line the walls. An original tin ceiling was found hiding under the drop ceiling and is now exposed. The old vault is now a coat room. And safety deposit boxes will be repurposed for a bourbon club—customers who become members will be afforded their own key to access their hidden hooch.
In addition to being open for cocktail and food service four nights a week, the space, which opened in December, is also being used for event rentals—Czora said themed dinner nights and parties are also in the works. Bonus: the Airbnb upstairs is a quick walk if you'd like to extend your visit into a weekend getaway. The Banq's cocktail program, which includes carefully curated classics (and smoked drinks) plus 35+ bourbons may justify a stay.