There is perhaps no sight more emblematic of January than seeing Christmas trees tossed out to the curb. Let's Goat Buffalo is herding Western New Yorkers in a different direction.
This is the second consecutive year that the goatscaping business and its sister care farm and sanctuary are welcoming folks to donate, not dispose of, their trees.
Why goat grazing?
Let the record show that Let's Goat Buffalo owner Jennifer Zeitler accepts the title "goat lady" good-naturedly. All jokes aside, there's some serious impact when it comes to her goats' grazing.
"This is an environmentally friendly way to address invasive species or problematic environments," Jen says. "It's also an alternative form of landscaping that doesn't utilize pesticides or diesel-powered equipment."
Instead, the 30+ rescue goats trim terrain by munching their way around private homes, local parks, nature preserves and more. Goats possess a digestive enzyme that sterilizes invasive species, so not only do they produce fertilizer as waste, but also limit plant reproduction that threatens the surrounding ecosystem.
These goats were all previously relied on to produce milk or meat, or to breed. When production animals encounter illness, injury or age, they are often sold off or euthanized. Think of Let's Goat Buffalo as the world's best retirement job—the goats can live out their life span in their natural state: grazing and being part of a herd.
Why Christmas trees?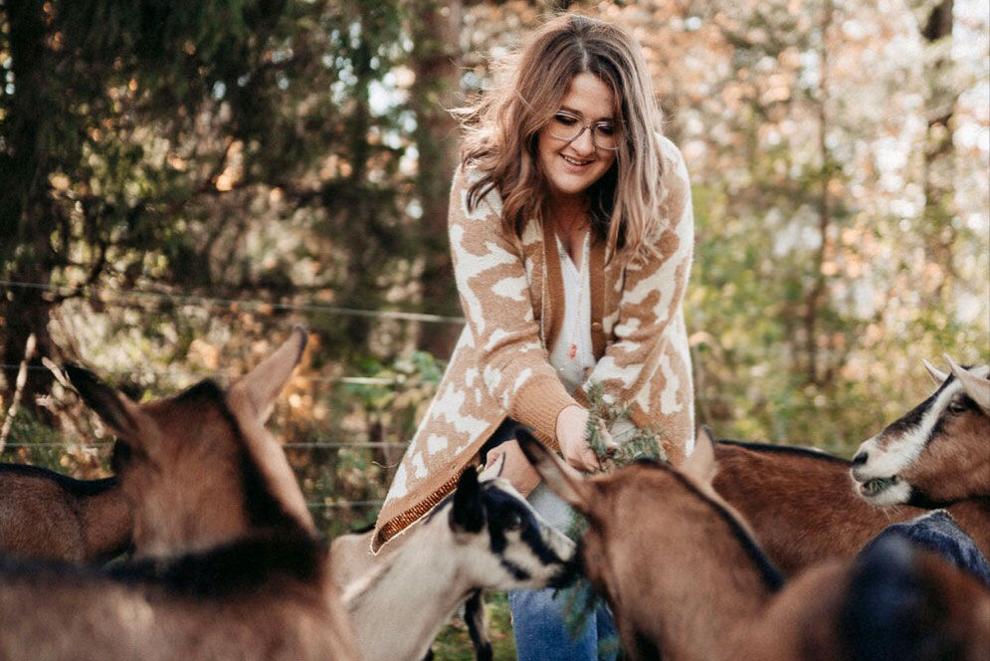 Jen got the idea for a Christmas tree drive after learning that goats love pine. "Because our goats are so used to grazing, they really crave that green material in the winter," she says.
Close to 30 million real Christmas trees are bought and disposed of in the United States each year. When tossed to the curb, they end up in a landfill, where they take longer to break down due to the lack of oxygen and sunlight. Let's Goat Buffalo's alternative is better for the environment, feeds the goats and utilizes all parts of the tree.
"Our farm practices are regenerative in nature, so everything on the farm has a purpose—from the kittens here for rodent control, the donkeys to deter coyote and fox and the chickens to eat parasites that can be deadly to the goats," Jen says.
Running with that theme, skeletons of donated trees will be used for firewood or upcycled into fence posts or other garden features. Other tree remains can be composted.
Understandably, there are some parameters for trees that can be donated to the cause. The trees cannot be sprayed (with glitter, color or fake frost), and all tinsel, ornaments and hooks must be removed. Yew pines, a specific variety of pine uncommon in Western New York, are not accepted. Farm staff will also inspect all trees before feeding them to the goats.
Let's Goat Buffalo Christmas tree drive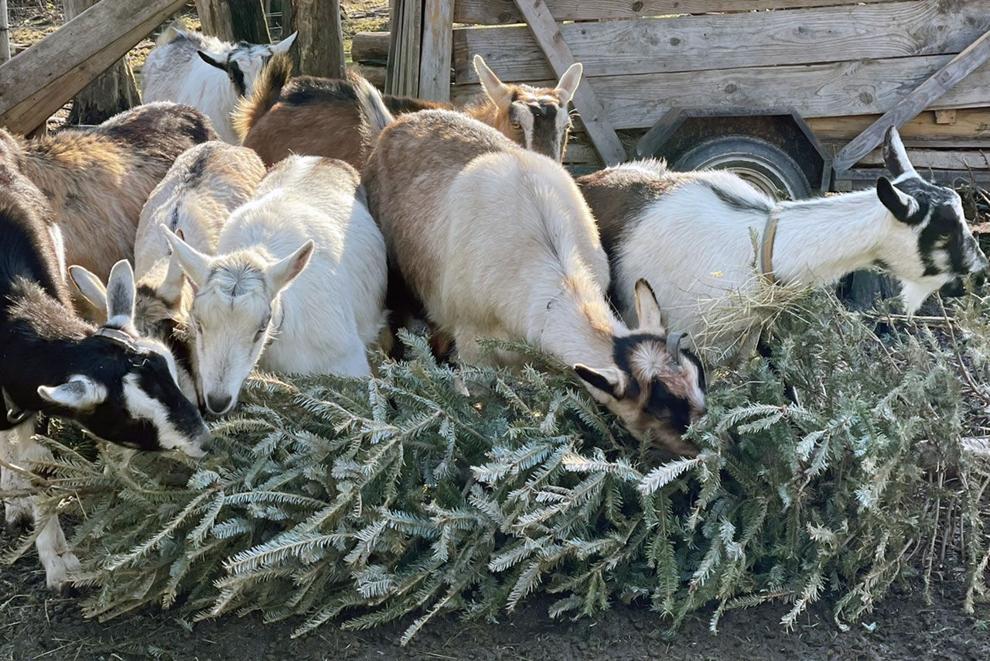 Trees can be dropped off in designated areas at the front of the farm throughout the week. Folks who want to get up close and personal with the goats are invited to bring their trees on January 7.