When planning a wedding, there's no shortage of decision-making. From selecting the date and venue to finalizing the guest list, soon-to-be newlyweds easily wrack up a busy pre-nuptials schedule.
For the recently engaged, an engagement photoshoot may seem like a low priority on the growing to-do list—not to mention budget. But for many couples, the session ends up being one of the most worthwhile wedding investments.
"Our engagement photos are all these little moments that are standing the test of time…moments (that are) personal to us," says Delany Wintermeyer, who married her wife, Brittany, in the fall of 2018. "At the end of the day, there is so much pressure on weddings from the second the ring hits your finger. The most amazing moments now that we look back are the ones where we were allowed to just be ourselves, together."
Secretly, your wedding photographer may agree: Most find an engagement session a more intimate representation of the couple than the photos from their actual wedding day.
"I love to do weddings, but engagement sessions are definitely my favorite," says Erica Eichelkraut Zilbauer, owner of City Lights Studio who worked with Delany and Brittany. "It's really just about who they are as a couple without all of the other people and all the other fanfare."
It's also a great way to become more comfortable in front of the camera, and with your photographer, before the big day.
"The biggest part is that you get to know the photographer and they get to know you," says Christina Shaw, who co-owns Shaw Photography Co. with her husband Brian. "It also can help you figure out what works and what doesn't work, and we can pick up on that."
Alicia Supernault, who worked with RJZ Photography for her summer 2019 wedding, echoes the benefits of warming up to the camera.
"Having an engagement photo session allowed us to get to know our photographers better and feel more comfortable in front of the camera," she says. "Not to mention we have been so glad we have had such gorgeous photos to use for our invites and wedding website."
4 engagement sessions to inspire
Considering capturing your love story? These recently-wed Western New York couples open up about their own engagement sessions and why the investment is one you truly won't regret—plus their photographers share a few insider tips.
Winter
Tifft Nature Preserve & the West Side
"Even though it was winter in Buffalo, we knew that we wanted outdoor shots for our engagement shoot. Brian had suggested Tifft Nature Preserve, which ended up being such a beautiful backdrop, especially as the sun was setting." – Simone
Photographer tip: "Wear colors found in nature. We'll always say red does not photograph great because it reflects on your face. Neutral, earthy tones photograph really well and look good indoor and outdoor." – Christina Shaw
Spring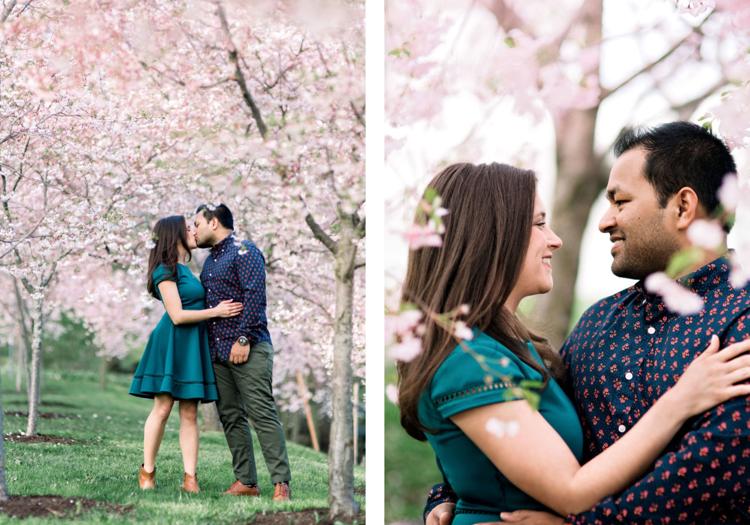 "When we thought about our engagement session, we wanted to find a location that was beautiful in the Delaware Park region. We actually originally planned our photoshoot for a different day that ended up being cold and rainy, but Bob and Liz recommended rescheduling and we are so glad we did. Everything fell into place perfectly and we got so lucky with the cherry blossom season." – Alicia
Photographer tip: "Communication with your photographer is number one. Let them know your vision and who you are as a couple and what you appreciate most from photos so they can make that dream come true." – Liz
Summer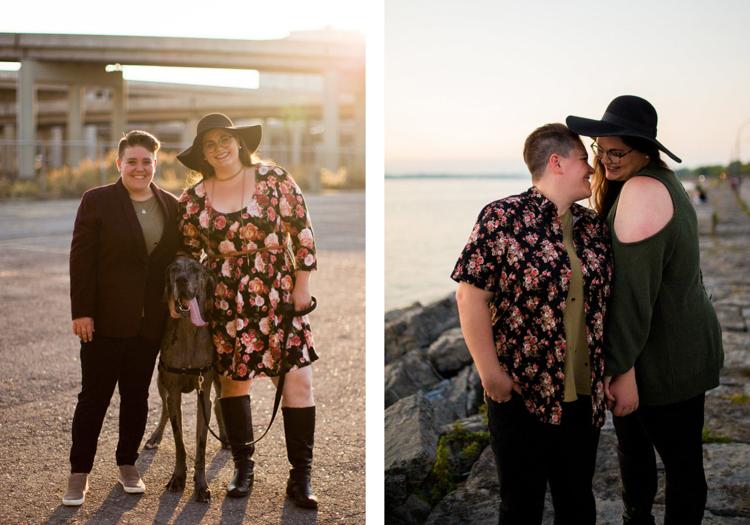 "We really do have to attribute our photoshoot to Erica, our photographer. No joke. Instantly she got the vibe we were going for and, to be honest, she just made us feel comfortable. Posing for photos that have such high expectations adds just a little stress to the wedding planning process. However, we really feel like we could not have asked for anything more than choosing a photographer that made us just be ourselves—no frills, no tacky signs, just us." – Delaney
Photographer tip: "Be you. What are the parts of your life that really define who you guys are as a couple? The engagement session is your chance to do you and be 100 percent yourself." – Erica
Fall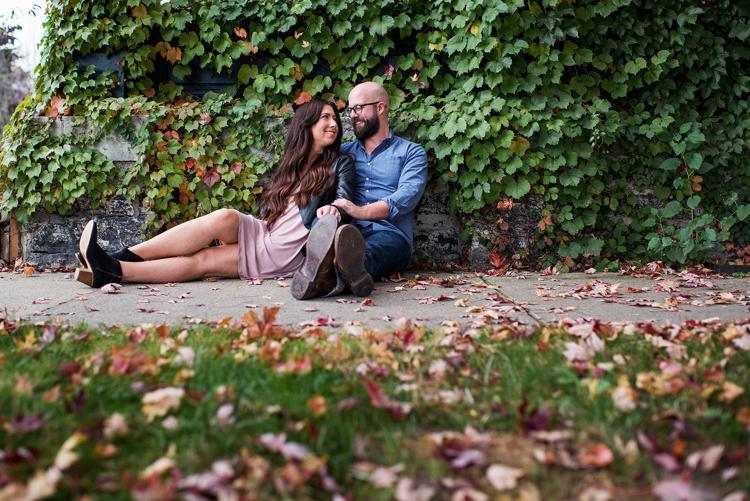 "We had gotten along with Dawn so well when we first met her, we were excited to just hang out with her again! Also, we were using the day as an opportunity to get comfortable in front of a camera before our wedding day. We wanted to look and feel authentically ourselves while showcasing our beautiful Elmwood Village neighborhood in autumn. Some of our favorite photos from our shoot are steps away from our apartment. Dawn also knew the style we were going for the minute she met us and took us to some beautiful secret spots around the city. We took photos on an unseasonably warm late October day. It started to rain for a bit, which actually worked in our favor because we were able to take cover in our favorite neighborhood bar, Aroma on Bryant. Dawn snapped a few pictures of us there, and I don't think you can get much more authentic than that." – Natalie
Photographer tip: "Include locations that are significant to you. Where did you have your first date? Are there places you go often together? Those are often the best places to shoot." – Dawn
Be the first to know
Get local news delivered to your inbox!