Giving your wedding flowers the gift of time: It's a classic notion that Madina Besolova is happily reinventing.
A law clerk by day, Besolova is also the founder and owner of two design-centric businesses. Ever Events, specializing in luxury balloons and backdrops, while its new sister company, Ever in Bloom, is her floral preservation studio. Her fresh take on floral preservation is in pursuit of not only her entrepreneurial spirit, but also her long-harbored passion for blooms.
Using the glass-like quality of resin casting, Besolova preserves flowers in elegant blocks designed with the perfect combination of her client's vision and her creative instincts.
"There's a lot of people doing shadow boxes, pressing flowers or air drying, which are all super beautiful as well," says Besolova, "But it was nice to add something new to the marketplace."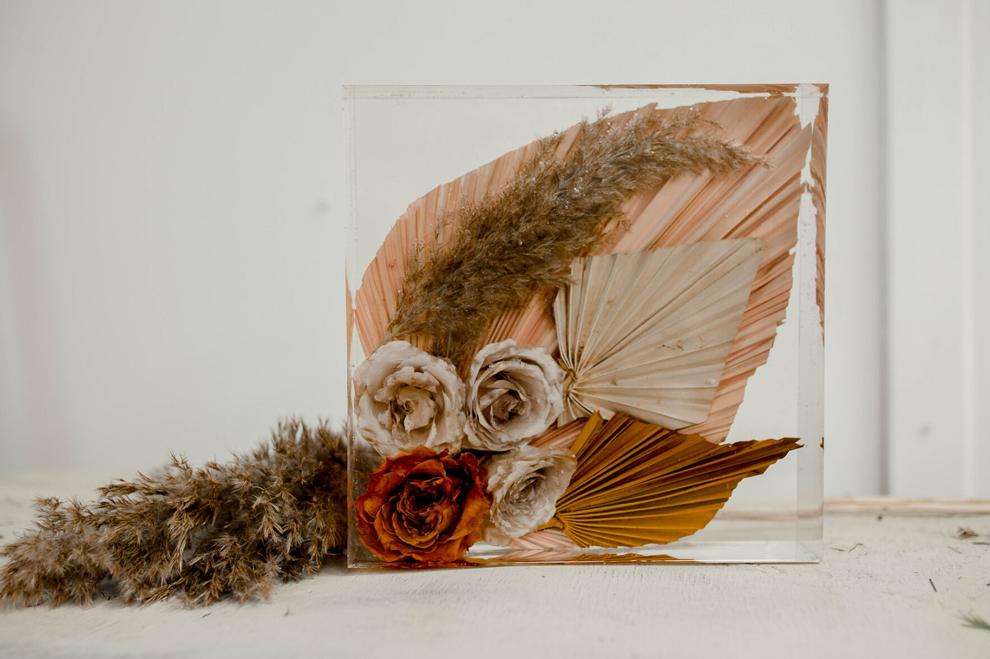 Unlike these more familiar options, resin better preserves the true color of blooms and avoids the fragility that comes with age.
"It's the modern take on flower preservation and it's been incredibly unique," says Besolova, who crafts her creations from a studio space in her Niagara, Ontario, home.
Depending on the size and style a couple is looking for, Besolova can cast everything from individual flowers to entire bouquets—even if they've already been dried. She creates her designs using molds as tiny as keychain letters, ring holders and blocks that measure in as large as 10-by-10-inches.
"Some people like it super packed, where you just see all the flowers and very little resin," says Besolova. "I personally love the pieces that are a little more abstract, where you have a bit of flowers but a lot of resin shining through it."
At the center of the process that turns fleeting flowers into life-long mementos is Besolova's keen eye for detail and artistic touch.
"Once I see the bouquet, and I know what flowers I'm drying, I already have a vision in my head," she says.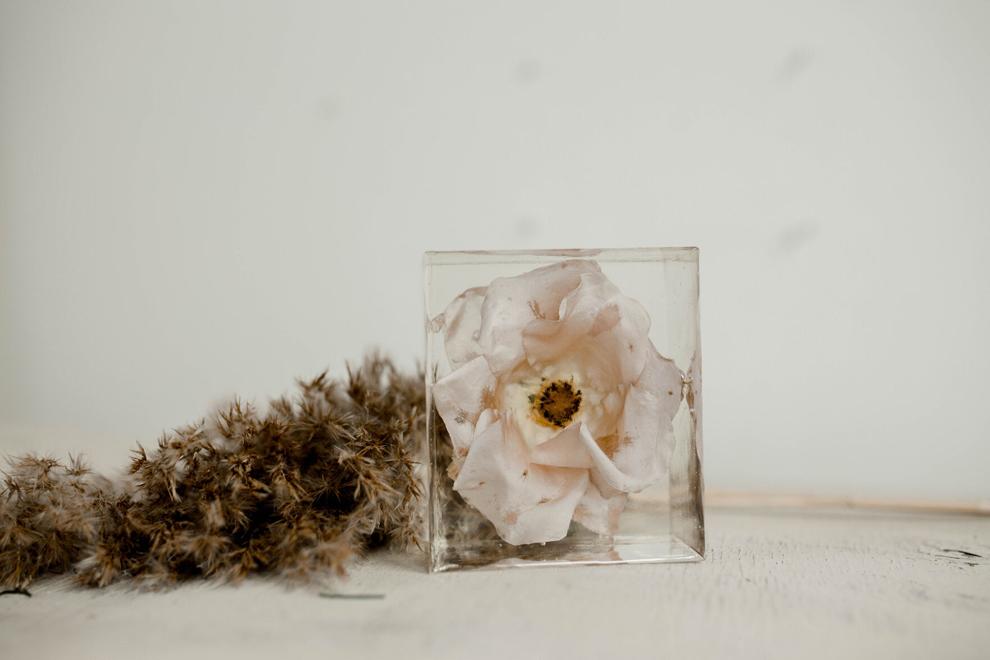 Beyond the creative aspect, the process requires patience, time and the right safety gear, including a full-face respirator mask. (Resin is toxic while curing but completely safe once dry.)
Using a silica gel, Besolova completely dries the flowers while protecting their shape and color. From there, she finalizes the design with her client and begins to meticulously cast the flowers, pouring and drying a single layer of resin at a time.
The process takes between four to six weeks from start to finish—but the result is timeless.
"It's something you can pass on to generations," she says.