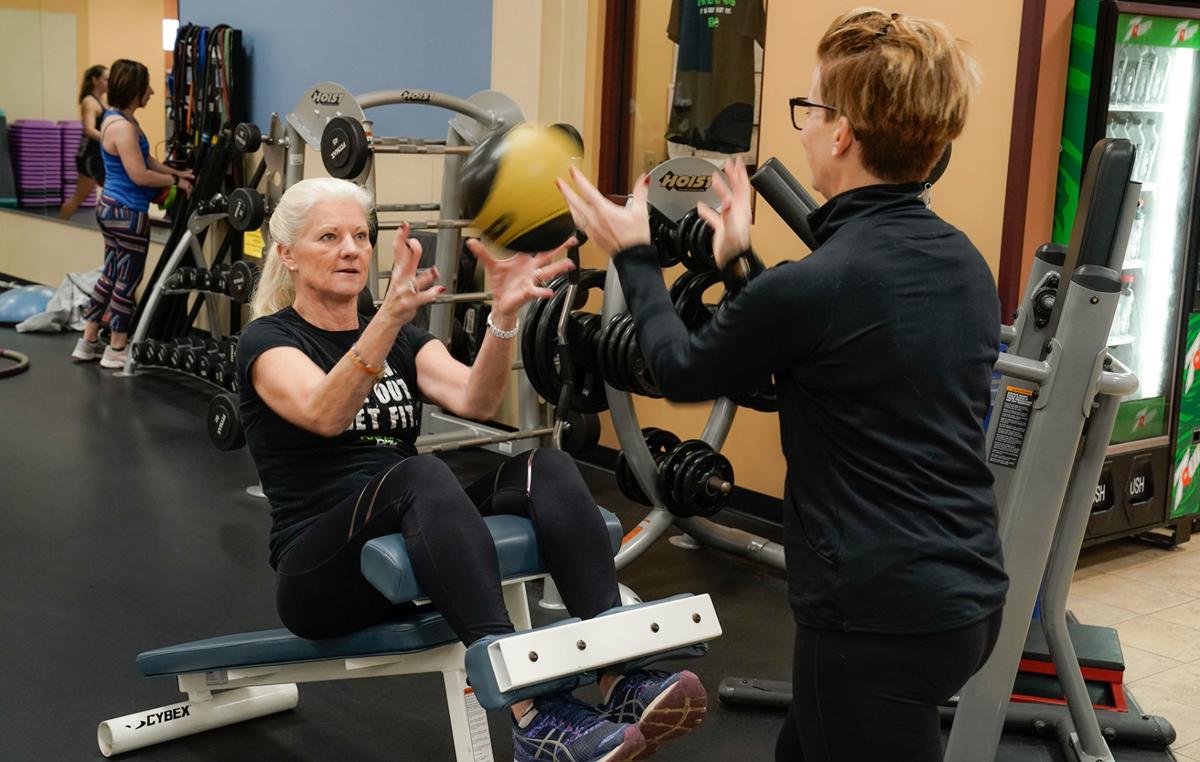 Five years ago, Cheektowaga resident John Maher's idea of exercise was doing household chores. "Regular exercise was pretty nonexistent," he admits.
Now, you can find the 60-year-old salesman at the Independent Health Family Branch YMCA at least five days a week doing strength-training, cycling or taking a Pilates class. He initially went to the Y after winning a free 12-week membership through his health insurance. What's kept him motivated is the array of fitness classes, including a relatively new offering called BOOM.
Divided into three 30-minute classes that members can take together or separately, BOOM Move, BOOM Muscle and BOOM Mind provide a mix of cardio, strengthening, and stretching and mindfulness designed primarily for baby boomers. More intense than Silver Sneakers classes, which are geared toward seniors, these classes are also less strenuous than the high-impact classes that tend to attract millennials and Gen Zers.
"I've had everyone from people in their 50s to people in their 70s who feel like they can handle more than Silver Sneakers," said Annette Alston, who teaches BOOM along with other classes at the Independent Health Y. "They want the intensity of a gym and they also want the camaraderie."
Maher likes the focus on mindfulness in BOOM Mind, a combination of yoga and Pilates that he takes on Sunday mornings, followed by BOOM Muscle.
"Unless the Bills are playing, I'm there," said Maher, who also participates in Body Pump, Pilates and cycling classes designed for all fitness levels in the evening after work.
His dedication has paid off. Since joining the Y, he's lost 50 pounds and both his blood pressure and cholesterol levels have dropped significantly.
While you can find plenty of young fitness fanatics at commercial gyms, nonprofits and boutique fitness centers, they are joined by a healthy cohort in their 40s through early 70s who recognize the physical and emotional benefits of group exercise.
According to a 2018 report conducted by the International Health Racquet & Sportsclub Association (IHRSA), Gen Xers (35-54 years old) constituted 33 percent of fitness facility membership nationwide, and baby boomers (55 and older) make up 23 percent. And more fitness facilities are catering to the older demographics.
Alston said gyms are definitely seeing a wave of older members, who are partaking in everything from specialized senior classes to regular Zumba, though sometimes with modifications when necessary.
"I get a lot of people with knee and shoulder issues," she said. "I tell them, if you can't do a lunge, do a squat or a half-squat. There's a lot of modifications you can do."
Jill Seguin, director of small group training and group exercise for the BAC for Women in Tonawanda, said she's seen more older clients over the last few years.
"Health insurance plans encouraged it, and for those members who are retired, coming to the gym provides a social outlet," she said.
BAC for Women notes on its schedule which classes are senior friendly or a little less rigorous than traditional offerings. Middle-age women also approach Seguin looking for workouts that provide the same rush of endorphins they found while exercising hard in their 20s and 30s.
"If they don't feel like they can handle running anymore, we'll suggest they try cycling, where they're still getting their heart rate up without beating up their joints," she said.
Mary Jane Hosmer, a 59-year-old financial adviser from Grand Island, is one BAC member who has found her groove with cycling classes.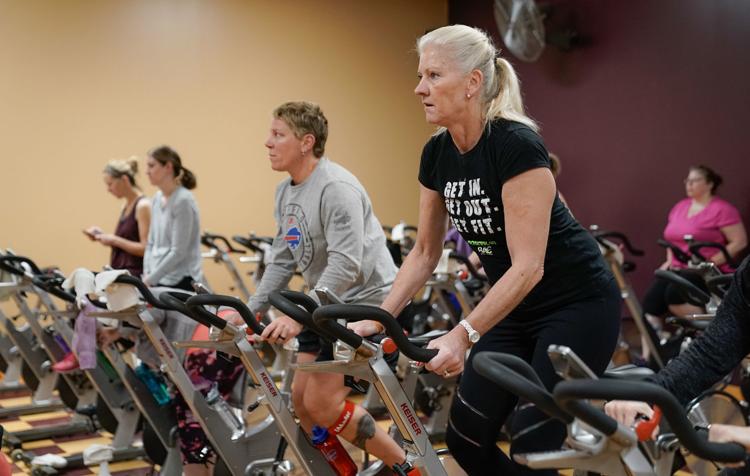 "I ran until my 40s and found that spinning works for me," said Hosmer, who joined the BAC more than 12 years ago and takes cycling classes five days a week. "I'm in the best shape of my life."
Chris Gagliardi, a certified personal trainer with the American Council on Exercise (ACE) based in San Diego, noted that many activities can be done safely regardless of age. However, he acknowledged that classes aimed at an older clientele get people in the door and build their confidence. Especially for someone who hasn't exercised in a while, having a class designed for his or her age group is attractive.
Carrie Jacobson, co-owner of East Meets West Yoga, said any of the studio's classes in the Buffalo and Williamsville locations is appropriate for all ages. But the studio offers a few that may appeal to older yogis, such as Wise Warriors, hatha and gentle/restorative yoga.
"Because many of our teachers with a strong following have been with us the 20 years we've been open, our students are getting older, too," Jacobson said. Most clients now range between 35 and 65 years old.
Since November 2018, East Meets West has offered Yoga Detour. Developed by Toronto yoga teacher Cecily Milne, it features movements not found in the typical vinyasa-style classes, but rather serve as a complement. It primarily attracts active women over 50 who recognize there are poses they once mastered that they can't do anymore.
Women who take Yoga Detour are surprised at the strength they can now bring to their regular yoga practices, Jacobson said. With any exercise, the goal is to apply fitness gains to your life outside the gym, Seguin pointed out.
"One woman told me she was working out consistently for eight months and discovered that when she's doing laundry or carrying groceries, she's isn't feeling as exhausted as she once did," Seguin said. "What you do for an hour in the gym will impact the other 23 hours in your day. That's what is amazing."
Likewise, people taking Alston's BOOM classes report that have more energy, can walk farther, have lowered their blood pressure and even improved their bone density.
They've also found a community. The added benefit of friendships developed by regularly participating in exercise classes is immeasurable.
"Mentally, being part of BAC has gotten me through some struggles in my life, including caring for my mom with Parkinson's disease," Hosmer said. "The women I've worked out with have been so wonderful. I told them once I retire, I want to work at BAC."
Tailored exercise options
The following is just a sampling of Western New York fitness facilities that include workouts designed for middle-age and older clients:
3157 Eggert Road, Tonawanda
1738 Elmwood Ave., Buffalo
162 Mill Street, Williamsville
Be the first to know
Get local news delivered to your inbox!