As the co-owner of Campus Wheelworks in the Elmwood Village, Alex Davies has been exposed to various forms of cycling over the years. But when he first ventured into the world of cyclocross, he really had no idea what to expect.
"The first race I did, I just kind of showed up on a random hybrid bike that I put knobby tires on," explains Davies. "I went and gave it a try and pretty much instantly fell in love with it."
If you've never heard of cyclocross, you're not alone. Initially created as a way for road cyclists to continue training in the fall and winter months, the sport morphed into a phenomenon in several parts of the country, including Western New York.
"Cyclocross in general is a huge sport in the United States, but it's kind of funny how it grows in pockets in different places. We have cultivated a really huge scene between Buffalo, Rochester and Syracuse," said Davies. "If you start going south, you won't find any races for hours. That's why we have racers from Ohio and Pennsylvania coming to our area for events."
Cyclocross races take place in park settings over a 1.8-mile closed course marked by barrier tape. The course lanes are generally 11 to 14 feet wide at every section and are designed to wind through the varied terrain of each location—pavement, grass, dirt paths, gravel paths and wooded areas.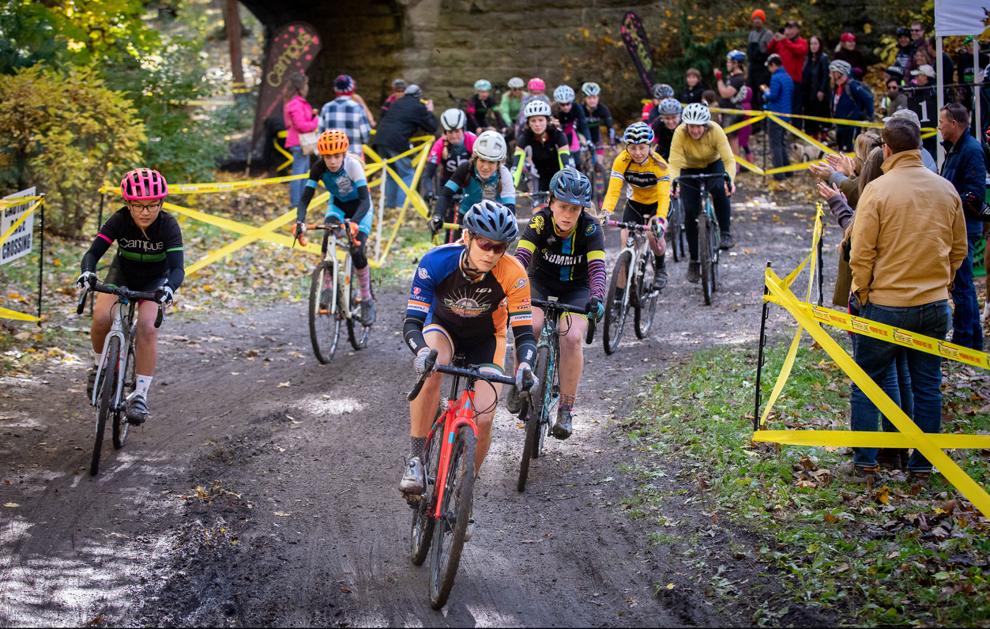 Races range from 45 to 60 minutes, depending on the skill level, and riders are timed through each lap. Speed isn't the key as much as maintaining momentum through the narrow lanes and tight turns.
The elements come into play as the season goes on, with riders battling rain, snow and dropping temperatures. It becomes as much about battling the elements as it does staring down the challenges of each specific course.
With much of the race being run on grass, it also adds another level of fitness and endurance to the equation.
"You don't think it would be hard to ride your bike around grass for 45 minutes, but it is surprisingly hard," Davies said. "It's basically like riding uphill the entire time. There's no place to coast, and no place to get a break and recover."
It all sounds simple enough, right? Not exactly.
The course also includes several barriers, both man-made and of the natural variety. Steep inclines and stairs are often present on the course, along with 16-inch tall hurdles placed in a few locations. These mandatory dismount sections require the rider to get off the bike and carry it, then remount once through to continue racing.
A typical cyclocross bike weighs anywhere between 16 to 22 pounds, but Davies said they aren't a requirement for anyone thinking of trying out the sport. "You don't need to have a specialty bike to do it, but it does make a difference. You can ride on a hybrid or a mountain bike, anything that can fit some knobby-ish tires that give you traction."
If you can get past the fact that you'll be carrying a 20-pound bike for part of your race, the park settings of most cyclocross courses offer somewhat of a safe haven to bikers used to dealing with angry motorists on city streets.
"Because it's a completely closed course, it's very safe; great for kids and families," says Davies. "It's really a collection of people from all walks of life, and that's what I really love about our cyclocross community. We have racers of all ages and all backgrounds."
Riders in the WNY Cyclocross Series accumulate points throughout the season based on their finish in each race. This year's schedule kicked off on August 25 and concludes December 1 in Honeoye Falls.
Davies did win a race in the 2018 season, but that's not the reason he still competes.
"I really cherish each event that I go to because I understand that it's only once a year. Every year when we get everybody back at the first race, it's like going to a family reunion. There's an amazing level of camaraderie. You've got 16-18 weekends of hanging out with these people. You create bonds that I haven't really experienced in many other things."
Cross in the Park 2019
Get a firsthand look at the WNY Cyclocross Series when Cross in the Park returns to Delaware Park Sunday, November 3. It features a junior race on a modified course, followed by the men's and women's category races, culminating with the open race featuring both men and women.
The race course is based on the Hoyt Lake side of Delaware Park, and this year will incorporate the newly paved pathway that runs from Shakespeare Hill to the soccer fields on Rumsey Road. (Most cyclocross races start and finish across a paved section, which allows for a cleaner start that naturally breaks the riders up and lets them go into the technical sections in a line, as opposed to a bottleneck situation.)
Davies describes race day as a "picnic in the park," complete with food trucks and tents. Spectators can wander the course perimeter to experience all aspects of the race. The course also laps back through multiple places, giving onlookers the ability to view numerous spots of the course.
The barriers and obstacles are also very crowd-pleasing locations. Last year's race featured a band playing near a set of man-made stairs on a steep incline, just as the riders were forced to dismount to run their bikes up.
And that sound you'll hear throughout race day? Cowbells, of course.
"They've become a way of cheering people on," said Davies. "Instead of clapping, spectators carry cowbells and ring them for riders they're excited to see. It's just another one of those things in 'cross."