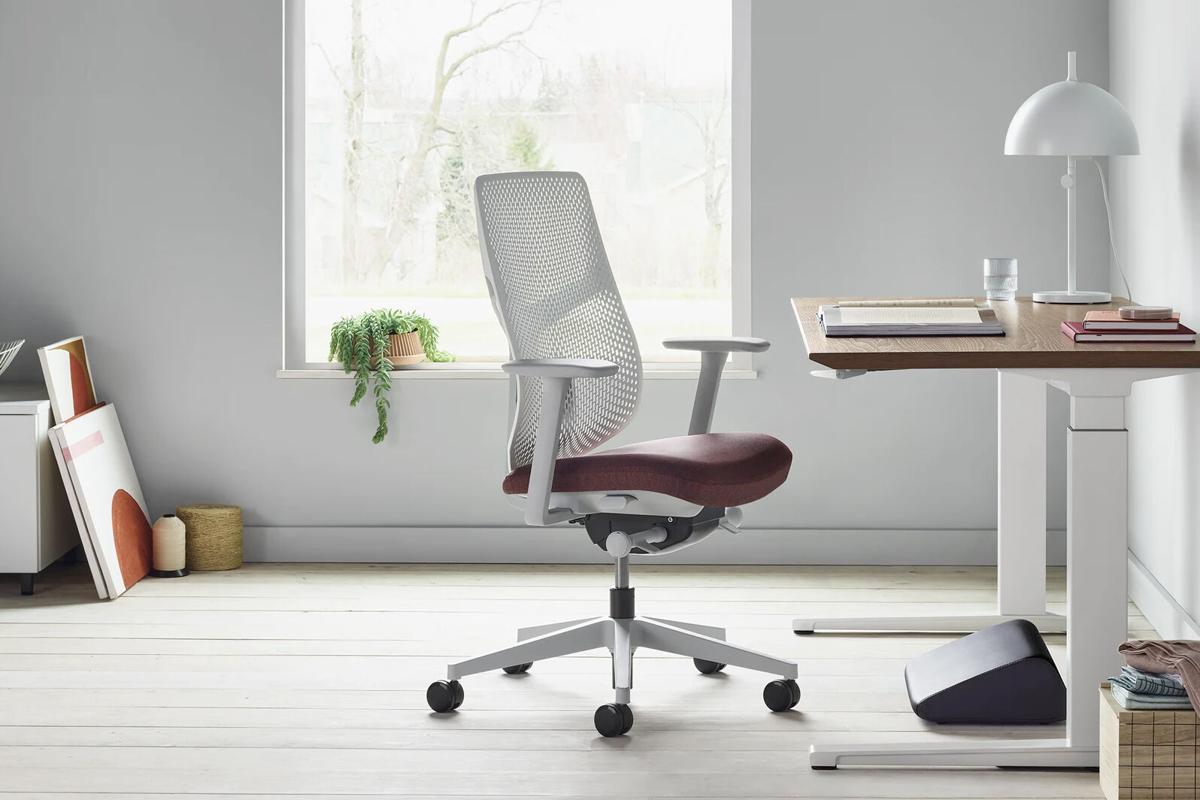 I overdid it during the basement clean-out. I must have slept funny. I'm just getting old.
Everyone has a theory about why their neck or back hurts, and they may be correct. But what's seldom on that list is one of the most common triggers of pain: spending the workday in a chair that does more harm than good. And as more people settle into months of working from home, those aches and pains are getting worse.
"So many people had good workstations in the office, and now they're at kitchen chairs or couches," says Dr. Graig Shapiro, owner of OPC Buffalo Chiropractic and Rehabilitation in Williamsville. "People are taking fewer breaks from work because they're at home. Typically, your workday had moving breaks built in—you walk to see someone at their desk, get a coffee, go to a conference room. At home you're not getting up and going anywhere. People are sitting longer, and they're not in a good ergonomic setup."
Dr. Shapiro says the effects of sub-par sitting are showing up more often in his patients.
"The things we're seeing now are more tension headaches," he says. "There's tightness in the neck and shoulders. We may start to see numbness or tingling in the hands, which usually appears at night in bed on your phone, not while you're sitting at the desk. There are more low back aches. We'll start to see some sciatica, or nerve pain."
Glenn Orser is president of ErgoWorks, an Orchard Park company that specializes in helping companies like Kodak and Upstate Farms retool their work environments to keep employees safe. He says sitting in a chair that's not designed to support the body for long periods of time is a recipe for pain.
"There are six causes of injury on the job," he explains. "Force, repetition, environment, duration, vibration and posture. Of those, four are hazards in sitting—force, repetition, posture and duration."
Choosing a workstation chair that aligns and supports the body can help counter the force and posture parts of that ache equation.
"In the optimal seated position your ear is over your shoulder; leaning your head forward even an inch takes the weight of your head and pulls the neck forward, which develops into headaches and shoulder issues," Orser explains. "The forearm and wrist should be parallel to the ground or tilted slightly downward. The elbow should be no more than 3 inches in front of the shoulder; ideally, it's right under it. The knee should be lower than the hip. Lumbar support is important. Shorter people whose chairs don't allow their bottom to slide back far enough need a shallower seated chair."
Millington Lockwood, experts in outfitting offices and one of Buffalo's oldest companies, tailored its inventory to offer work-from-home packages a few months into the pandemic. CEO Joseph Conely says the company's most popular office chairs are the ones that can be adjusted to provide that kind of positioning and support. He recommends that people look for good-quality chairs where the sitter can customize height, arm position, lumbar and seat tilt to fit their body.
While good chair can help prevent costly physical therapy appointments later, customers should expect to pay a few hundred dollars for a satisfactory seat.
Another way to reduce the ills of sitting all day? Don't. Both Orser and Shapiro suggest standing for some of the day if possible…but not for the whole day.
"Any one position for too long a period of time is not good," says Shapiro. "It's definitely better to have the option to do both sitting and standing at your desk. The most important thing is to change positions as often as you can. Get up and take a walk. I'm a big fan of interspersing exercise into the workday."
For those who are still taking video calls perched on a rickety stool from the garage, the body might be protesting—and it's important to listen before the problem gets worse.
"We have to literally rehab out these bad postures and habits, which takes more time and more doctor visits the longer people wait," says Shapiro. "If we can catch it right when it shows up, it's a much quicker relief."
Take a 5-minute stretch break
Dr. Graig Shapiro, owner of OPC Buffalo Chiropractic and Rehabilitation, recommends a few sets of the following stretches throughout the workday to help counter damage from time spent seated:
Step the right foot back about two feet and keep the right heel planted on the floor. Keeping the torso upright, gently bend the left knee and push the right hip forward and elongate the hip flexor; hold 20-30 seconds. Repeat on the other side.
In a seated position, plant the left foot firmly on the floor and place the right ankle on the left thigh just above the knee. Slowly lean forward to deepen the stretch; hold 20-30 seconds. Repeat on the other side.
Stand in an open doorway. Raise both arms up to be parallel with the floor, then bend elbows to make right angle "goal posts." Keeping the torso upright, press your palms on the door frame and gently step forward and hold 20-30 seconds.
Slide the right hand underneath your butt, and gently pull your head down toward the left shoulder to release tension in the trapezius muscle; hold for 20-30 seconds. Repeat on the other side.