White marble or quartz countertops. Soft-close doors and drawers. Glazed tile backsplashes. Shaker or flat-paneled cabinet doors in oak or white. Lighting under, inside and on top of cabinets. And center islands for eating, cooking and gathering around. These are among the kitchen trends evoking swoon-worthy design moments.
Whether building a new home or transforming an existing space, the designers at Modern Kitchens of Buffalo help homeowners make a seamless transition to update any look so that it's both functional and attractive, with a high-end feel and the durability to last for years at any budget. Think custom cabinetry, countertops and home appliances from some of the most recognized brands in the industry.
Uniquely yours
Founded by Ray Martino and his wife, Beverly, 65 years ago, Modern Kitchens provides high-end, high-quality cabinetry for generations of families—some are now repeat customers, coming back three or four times for new kitchen projects.
Their son, Mark, took over the company when his father passed away in 1992 and grandson Alex is now part of the team. With acute attention to detail and generational experience—many of the employees have been there anywhere from five to 35 years—Modern Kitchens continues to help owners create and design functional space that brings their dreams to life at their budget.
"We strive for that unique look that fits each homeowner's needs. We shy away from the cookie-cutter kitchen," said Kevin Thompson, manager of the Buffalo location. "We encourage you to create something you want, not what works for your friends, but what works for you."
Balancing design & functionality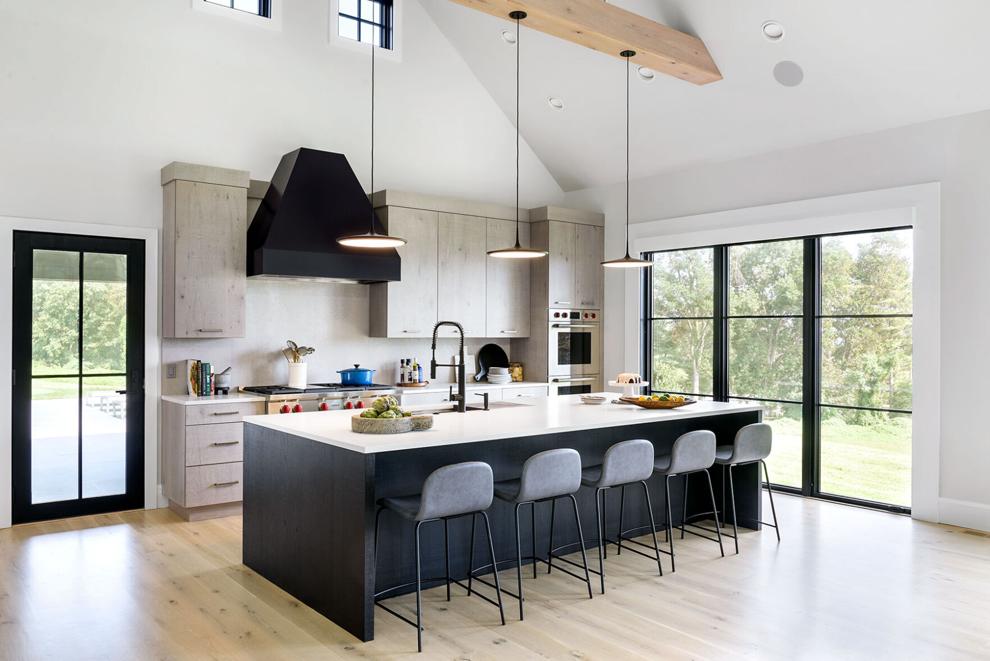 "During our initial consultations and design meetings, we try to create options that will improve the space, perhaps add a window for more natural lighting or build out a pantry space," Thompson said. "Maybe the idea is to design a larger center island that can be used for people working from home on their laptops just as much as it is for cooking."
During his 35 years with the company, Thompson has seen many trends come and go. Houses have grown in size, are more open and now include more tailored features that fit homeowners' specific needs. Some prefer their microwaves hidden in drawers, or a cluster of open shelving mixed with cabinets for more visual interest and artful space. Whites and grays are trending for cabinets and countertops. In laundry rooms, customers are choosing less cabinetry and adding more rails for drying clothes.
For homeowners who think the choices are too mindboggling to narrow down, Modern Kitchens' 5,000-square-foot showroom, with nearly 30 samples of fully built kitchens and a collection of lines across price points, help customers visualize and plan the kitchen of their dreams. There's even a sample home library that customers can browse.
What to expect
Designers meet with customers to discuss styles, colors and space. Measurements are then taken at the home and used to create a computer design of the recommended layout. Customers can make changes during the design process.
Orders usually take anywhere from two to four months. Work doesn't begin on a home until about a week before the materials are delivered. Thompson said the average downtime when a homeowner can't use their kitchen is about one month.
"And after that, they have a dream kitchen for years to come," he said.