There's a running joke between John's Pizza & Subs co-owners Gene Mongan and Kurt Raepple. Born in the same hospital one day apart, they didn't waste any time planting the seed for their eventual lifelong business.
But even after buying the original location on Niagara Falls Boulevard, Raepple says there was no grand vision for the pizzeria.
"We were just trying to survive," Raepple says. "There was a period of time when we couldn't pay our property taxes and we started selling Christmas trees outside on Niagara Falls Boulevard, and that generated enough money to float by."
Forty years—and three more locations—later, the childhood best friends from Grand Island still work with the same nose-to-the-grindstone attitude that if they don't do what's right today, John's won't be there tomorrow.
"Someone said a long time ago to find something you love to do, and you'll probably do it well," Mongan says. "Personally, that hit home with me at a young age, and this is something I've always enjoyed."
John's was purchased from its namesake in 1982—then just a small, narrow restaurant with four tables and PAC-MAN and Asteroids arcade games. Raepple, Mongan and the original partners decided to keep the name, but the original owner had one stipulation: Do not change the mayonnaise.
It was an oversimplification of a larger lesson to not lose sight of the fine details.
"In business for 40 years, one can lose sight of those details that make up that certain standard of quality," Mongan says. "Throughout our growth, we've kept our commitment to our customers. It's a game of a thousand details. You can't look the other way on any one of them."
That commitment—on top of the continued focus on discipline, quality and customer satisfaction—is what has allowed John's to outlast many of their local and fast-food chain competitors for four decades.
"I'm not saying we are better than everybody else," Raepple says, "but we strive every day to be better than everybody."
Mongan and Raepple realize they are not only in the food business, but the people business as well. They share the same philosophies about work ethic and life lessons that extend beyond the workplace, and their gratitude and success go to their loyal customers and dedicated employees.
"We are proud that we have been able to retain many employees for over 20 years," Mongan says. "Many of our long-term employees and past employees have their family members working for us today."
They also understand the importance of community and giving back. Wall murals in each John's location reflect each respective community, and they never hesitate to get involved with and support worthy charitable causes.
As the co-owners approach 60 years old, they are as involved in the day-to-day operations as they were in the early days of John's.
"It truly is a family atmosphere," Mongan says, "and we are proud to have family members and dedicated longtime employees that contribute to our continued success."
Raepple adds that the families, staff and customers keep them energized and looking for the next growth opportunities.
"Not sure about the next 40 years," Mongan says, "but today we are as invested as we were from day one and still love what we do."
The original chicken finger sub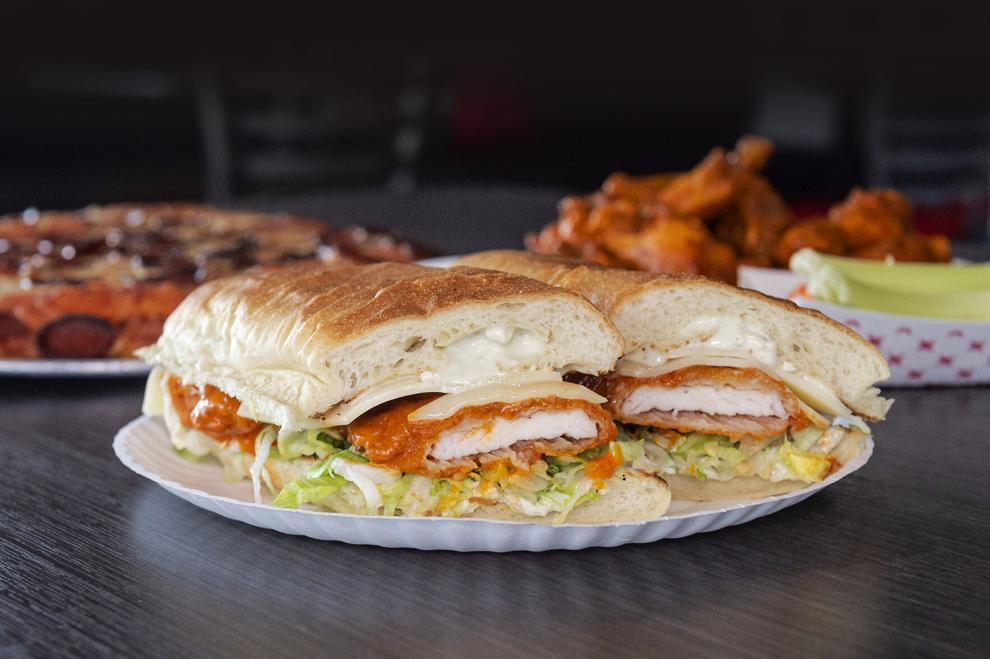 The chicken finger sub ranks right up there for Buffalo food staples—and John's Pizza & Subs lays claim to the original.
Co-owner Kurt Raepple says no one person created the sandwich, but it was a combination of himself, Gene Mongan and the original partners who invented it within the first year of owning the business in 1982.
They wrote up the sandwich on a paper plate and taped it near the order window at first, and people would come in asking, "What's the chicken finger sub?"
"Before we knew it, we had it handwritten in magic marker on the menu," Raepple says. "It's just kind of funny; it caught on quick and exploded."