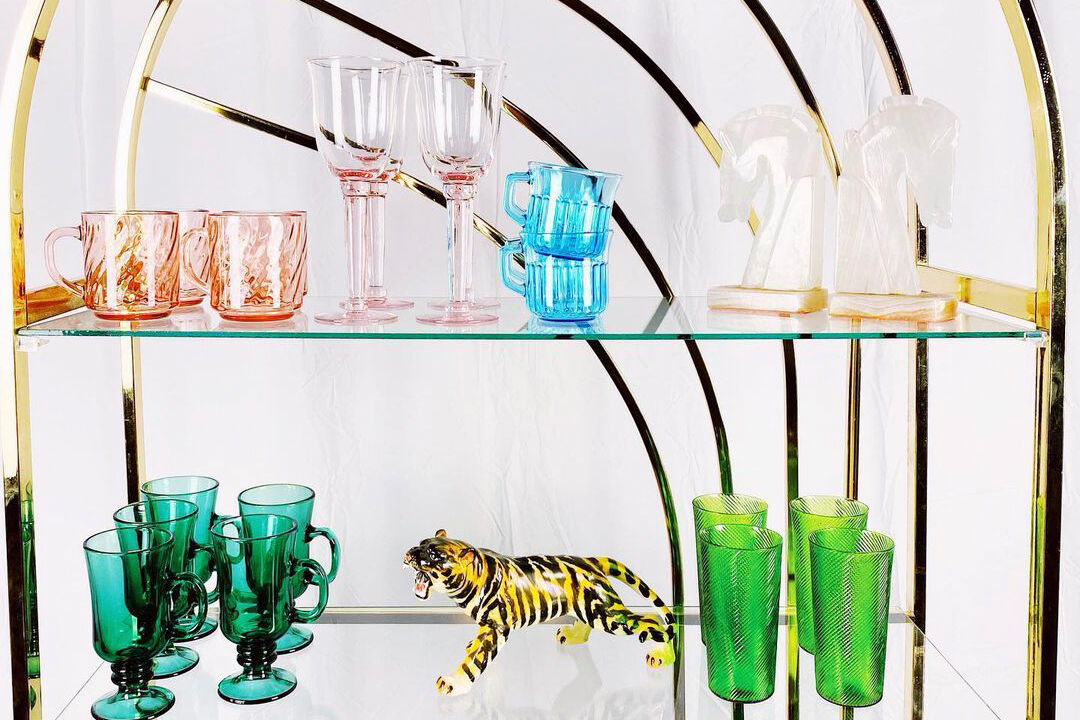 If you're interested in scoring relics of the past with nothing but your phone in hand, follow these other Instagram accounts—and may the vintage odds be in your favor.
For home decor
When it comes to house wares, you'll find the weird (seahorse salt and pepper shakers) and the wonderful (a gorgeous glass blown pink vase) spanning across decades on Shannon Polojac's account. And as a self-described over sharer, she often takes her followers on terrific tangents using the Stories feature.
Local pickup in Williamsville is available.
Vintage thrifted and modern housewares fill Anna Hartzell's immaculate page. The items are so beautifully displayed that you'll find yourself suddenly obsessing over a mid-century cranberry red serving bowl with a gold rim that you didn't know existed five minutes ago.
Local pick up in East Aurora and shipping for large items is available.
Unusual, unique and psychedelic finds. Curator Kati Caserta also forages for mushrooms in her free time, so you'll also see a fair share of fungi on her feed. A mushroom cheeseboard, stapler and soup bowls were all up for grabs.
Shipping, pickup in Clarence and local drop-off are available.
As seen on her winning run on Flea Market Flip, Mandi Marzec has a knack for refurbishing furniture. It started with selling pieces out of her parents' hardware store, Marzec Hardware, in Depew. When the refinished trunks, lamps and mirrors quickly sold, Marzec pursued this passion full-time.
Visit her showroom at 5026 Broadway in Depew or scoop up her recreations from Instagram and Facebook.
Thrifted goodies, like a Bohemian wine decanter, a Rattan wine caddy and a handheld vanity mirror. You can also purchase handmade wood decor including blanket ladders and cutting and charcuterie boards.
Local pickup in Kenmore or West Seneca are available.
Secondhand specialty finds including vintage books, basket wall sets and a 1960s Daisy and Dot Marcrest oven-proof stoneware carafe.
Local pickup in Buffalo and shipping are available.
If you have an affinity for all things brass, you can find mini brass incense burners, brass candle sconces and a trio of brass bells here.
Local pickup in Buffalo is available.
For thrifty threads
With nearly 5,000 followers, this account went big time and recently moved into a new storefront at 1478 Hertel Avenue. Their specialty is colorful clothes from the '80s and '90s with an emphasis on graphic tees and Buffalo sports teams. Owner Kai Mikolajzak tells me puffer jackets and Buffalo Bills and Sabres parkas will be highly sought after this time of year. You've been warned!
Mickey Mouse, Budweiser, Buffalo Bills apparel and so much more share the spotlight on this feed with the occasional photo of a '70s rocker to keep you on your toes. I've also spotted expertly tie-dyed wares, which can breathe new life into an otherwise ordinary crewneck or T-shirt.
All items ship from Buffalo.
A heavy dose of Buffalo sports gear with some mischief mixed in. At the time of writing, the account burned a New England Patriots hat live on the page to raise money for the American Cancer Society.
Local pickup in Buffalo is available.
Buffalo Bills gear including hats, hoodies and T-shirts are hand-bleached for a truly one-of-a-kind find.
Shipping and local pickup in Rochester is available.
Three words: Zubaz. Demin. Jacket. In addition to the Instagram account, the many finds are listed at alrightythenvintage.com for purchase.
All items ship from Buffalo.