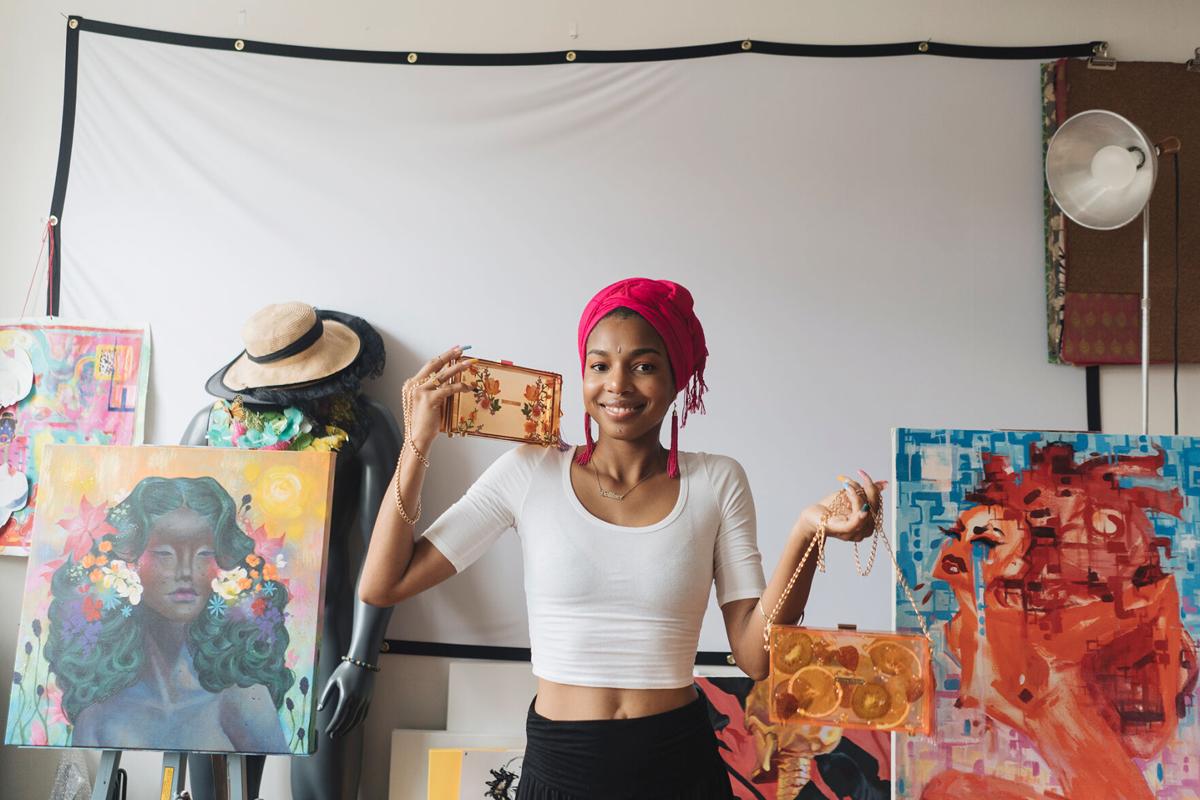 Imani XIII wanted to decorate her room with raindrops.
"I wanted to make crystal raindrops for my ceiling and didn't want to buy glass," she said. "That's when I found resin."
The 25-year-old is an artist of all mediums, from painting a mural across the street from the Niagara Falls Underground Railroad Heritage Center to digital painting and modeling. While looking for supplies for her raindrop project, she came across purse molds and decided to make one for herself. Now, she creates one-of-a-kind luxury clutches featuring striking, aberrant designs for her brand Human Error.
This hobby turned full-time gig is an extension of her childhood dream of becoming a fashion designer—and even the brand name itself is an ode to the creative process.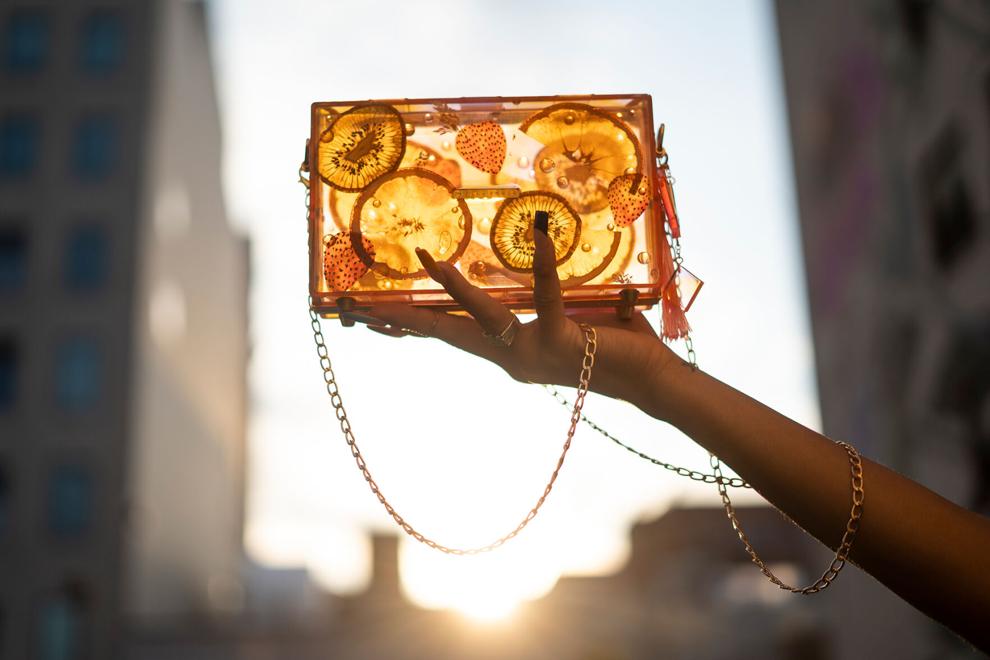 "Each one has a visible touch of someone making it since it is not factory made," she said. "Human touch makes them beautiful."
Imani starts each custom creation by laying out the design, playing around with the materials and elements she wants to include until the look is just right. She then mixes the resin and stirs in any colors, glitter, beads and the like she wants incorporated throughout the purse.
Once ready, the resin is poured into molds for each side of the purse, along with the strap charms. Then Imani layers on more colors, glitter and embellishments until the 24-hour resin drying process is complete.
Next comes the finishing touches: gold hardware. Imani drills into the resin to attach the purse clasp, feet, detachable chain strap and pieces for her signature strap charm—two square resin parts, a tassel and Human Error dog tag. The purse is then inspected, polished and ready for its debut.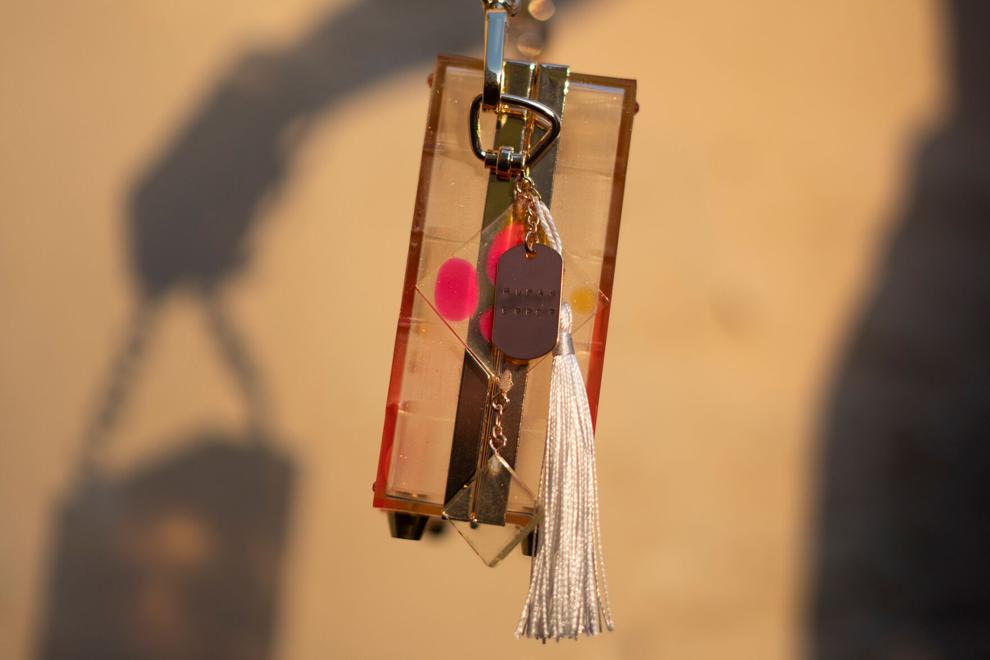 Imani designs collections for Human Error along with one-offs and custom orders—all sold exclusively on Instagram (and sold fast!). She shares videos of the purses shining in the sun, glitter resin swishing around and drawing people in. Collection pieces and one-off purses are around $200, depending on the design; custom orders are $300. No matter what they look like, each purse is uniquely its own—and never replicated again.
Past Human Error series include the Black Collection, with half of the proceeds of each purse benefitting various Black Lives Matter organizations. One of the pieces for it was Broken Promises, a shattered mirror glass-mosaic with a Mary Magdalene brooch resting in the center.
Original designs span everything from Heffa, a soft-touch pink cowhide print, to Blossom, a sky-blue marble resin with embroidered flowers. When shipped out, Imani pens a special note describing her intention behind the purse.
Whether it is a curated line or a single Lego-covered creation, Imani pulls her inspiration from everywhere.
"I'll get an idea of a feeling or vibe and make something that is based off of that," she said. "It's all very experimental, which is why I like it. Sometimes I just like the look of a whole collection, doing a shoot with a theme. Other times a pattern inspires me to make one."
One of her favorite designs to date is a Star Trek purse aptly named Enterprise, with swirling black glitter and a replica of the LCARS interface used by the space-faring organizations in the TV show on the back.
What people request for custom orders also sparks other ideas for Imani's never-ending list of designs to experiment with.
"I want the purses to expand," she said. "When I first seriously thought about making it into a business, I was always thinking big. I wanted to see them being worn throughout Buffalo and in other cities."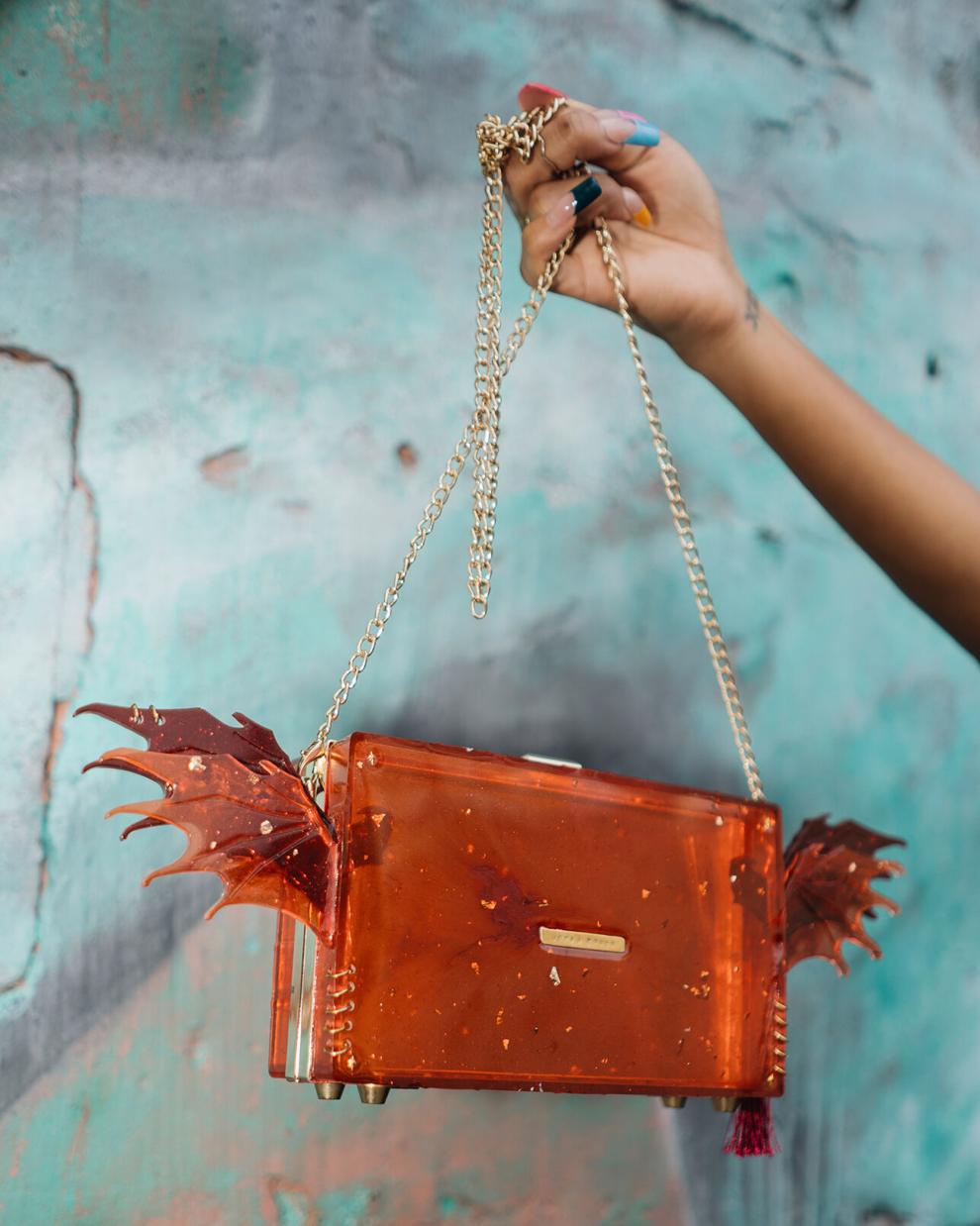 Her first step toward that endgame is creating a website to transition sales from Instagram and provide a broader outlet for her work.
The next? Crossing off designs on that to-create list.
"I cannot wait till someone is like 'Can I get an anime purse?' "
A peek at more Human Error creations