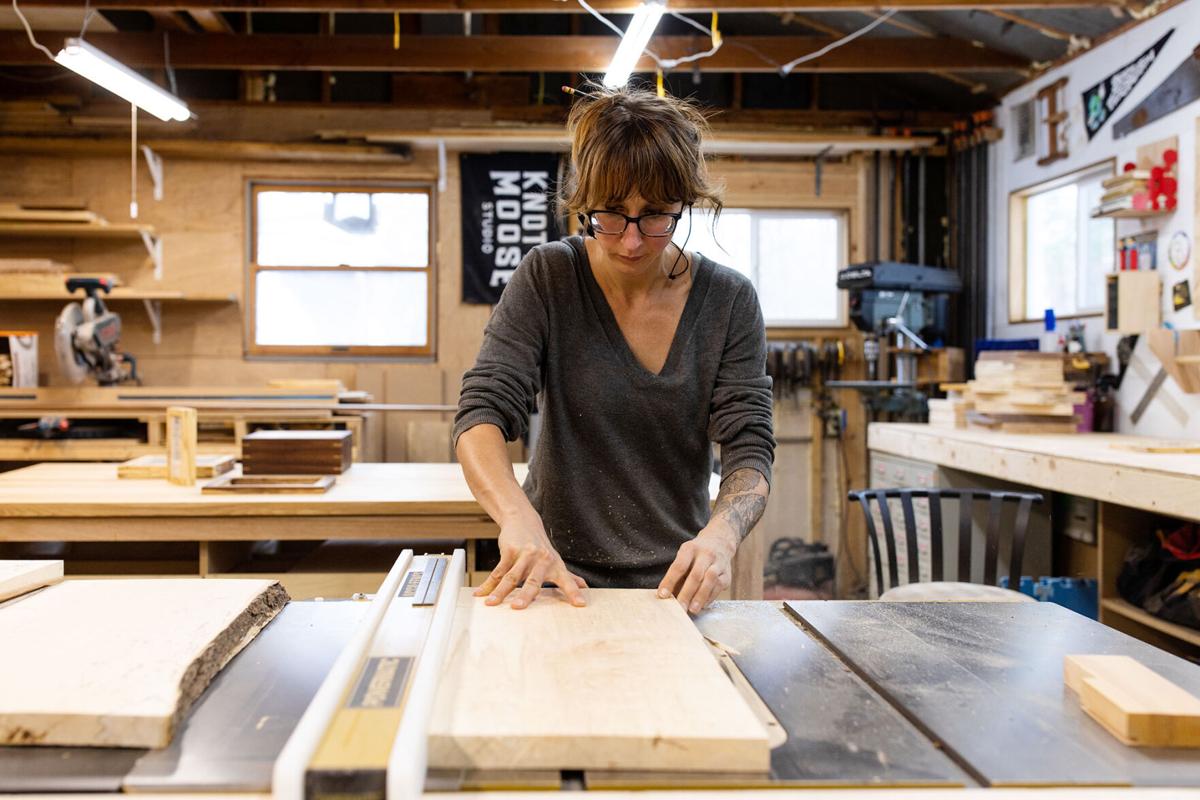 On the shelves of ShopCraft, an Elmwood Avenue gift shop and gallery specializing in all things local, an array of handmade wooden frames by Knotty Moose Studio adorn the walls.
Inside each custom frame, an insert card reads: "Made with WNY wood…Fill, hang, enjoy."
The fine-crafted artisan frames are the creations of local woodworker Viktoria Enright, who uses only Western New York wood in her one-of-a-kind pieces. A photographer and an avid hiker, she draws her inspiration from Buffalo's hills and hiking trails.
"The trees in Western New York inspire my work. We have amazing trees in this area," said Viktoria, noting Black Walnut, Cherry and Ash. "I source my wood from only local mills and handpick each board of lumber. I find wood that builders seeking uniform pieces do not want, where every piece is different, and I see beauty in this."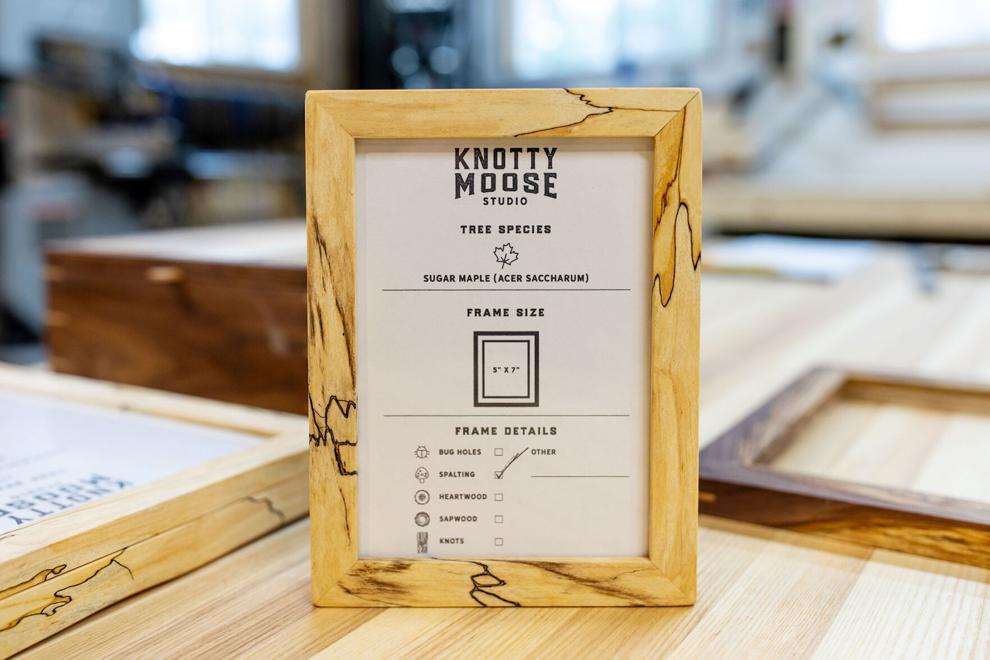 From her studio in the Boston Hills, Viktoria saws, sands and finishes each of her frames. Located 20 feet from the house in Boston that she shares with her husband, Knotty Moose Studio is a three-car garage which Viktoria converted into her workshop when the couple moved south of the city in 2019.
Working alongside an apprentice and her two dogs, Shadow and Abby, Viktoria hand produces her frames, which vary in size from inches to several feet in dimension. Currently, she sells her creations online, at local shops and markets and by appointment.
Viktoria also takes on large-scale commissions, providing customized pieces of woodwork for residential and commercial clients. She crafted tables and chairs for Buffalo's Community Beer Works, tables for Dapper Goose restaurant and tables and a counter for the new Paula's Donuts at Larkinville.
"I like working with clients to determine what they need, the function they need and how to bring their vision to life," Viktoria said. "I was raised by a single, immigrant mother who taught me how to DIY and how to be resourceful with what you have."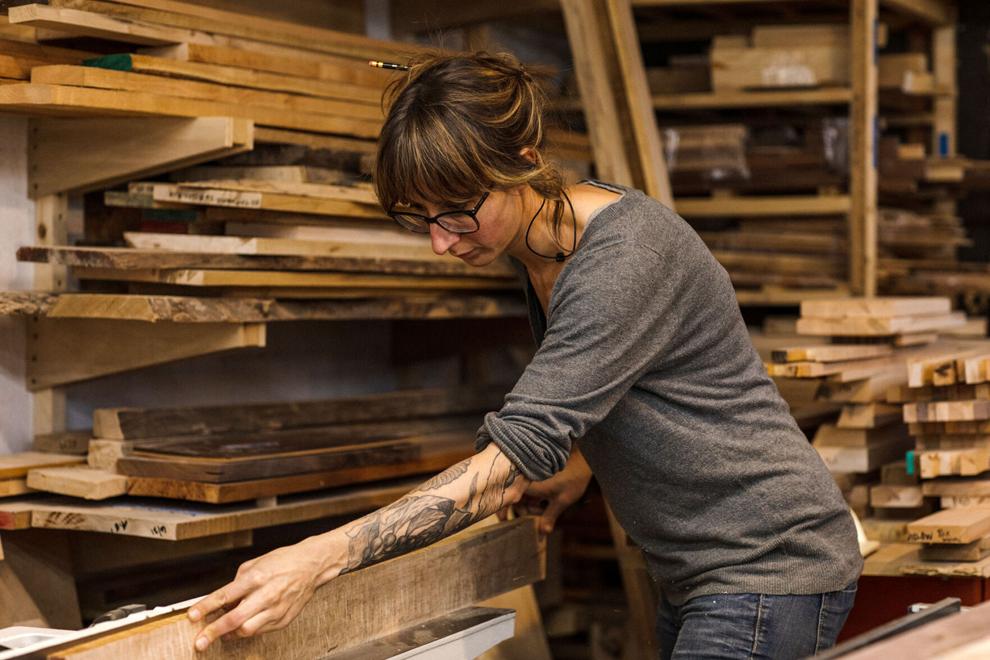 Born in Germany while her family made a brief stopover, Viktoria, whose maiden name is Ciostek, came to Buffalo as a baby after her parents fled then Communist Poland. Her parents had supported the anti-Communist Solidarity Movement, support which resulted in her father's imprisonment and her family's exile.
"I was a month old when we came here, and we are political refugees from Poland," Viktoria said. "When my dad was released, he was blacklisted, and he could not find any work. The International Institute here in Buffalo sponsored a lot of political refugees and so that is why we came here."
Raised in the city, Viktoria attended P.S. 156 Frederick Law Olmsted school, City Honors High School and graduated from University at Buffalo. Growing up, her mother taught her to use materials around the house to create a well-designed and comfortable home. After college, she pursued a career in photography, traveling the world capturing images of landscapes and the outdoors.
Upon returning to Buffalo, she developed an interest in woodworking and apprenticed under woodworker Matt Kantar. She fell in love with the craft and soon saw an opportunity in often-expensive frame making.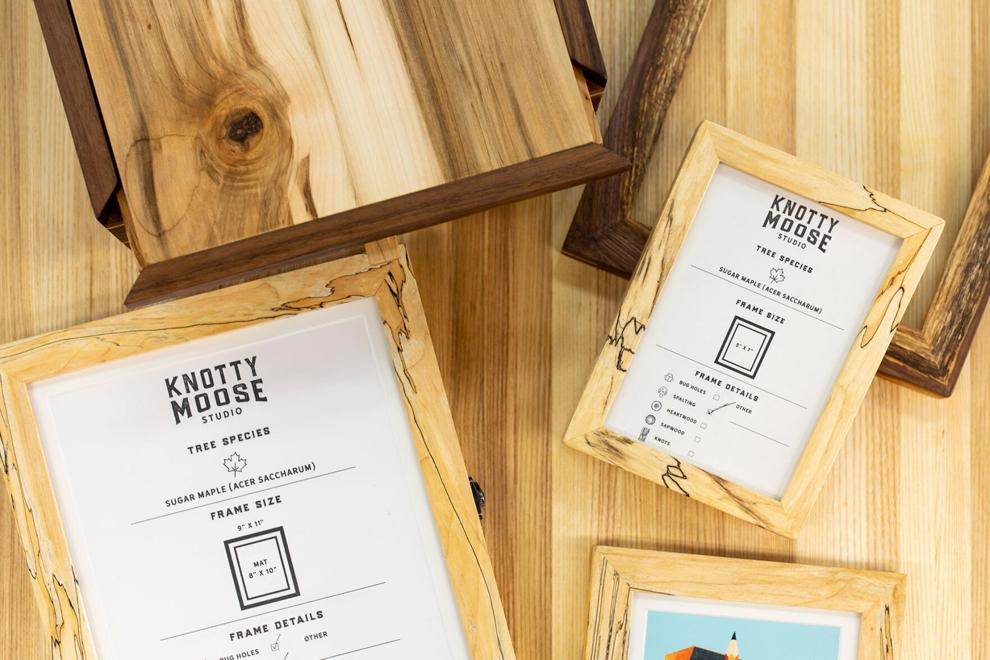 Combining her affinity for photography with a desire to break away from mass-produced frames, Viktoria started sourcing regional wood to create frames, which became the foundation of Knotty Moose.
Now in her sixth year in business, Viktoria's aspiration is to one day open her own boutique and wood studio featuring her frames and customized furnishings, as well as expanding her product line to include wooded lamps and planters.
"I fell in love with wood as a medium and fell in love with the craft itself," said Viktoria. "These frames and pieces, they tell the stories of our trees and when you pair it with a print, it creates something more dynamic. It is bringing nature and the outdoors inside your space."