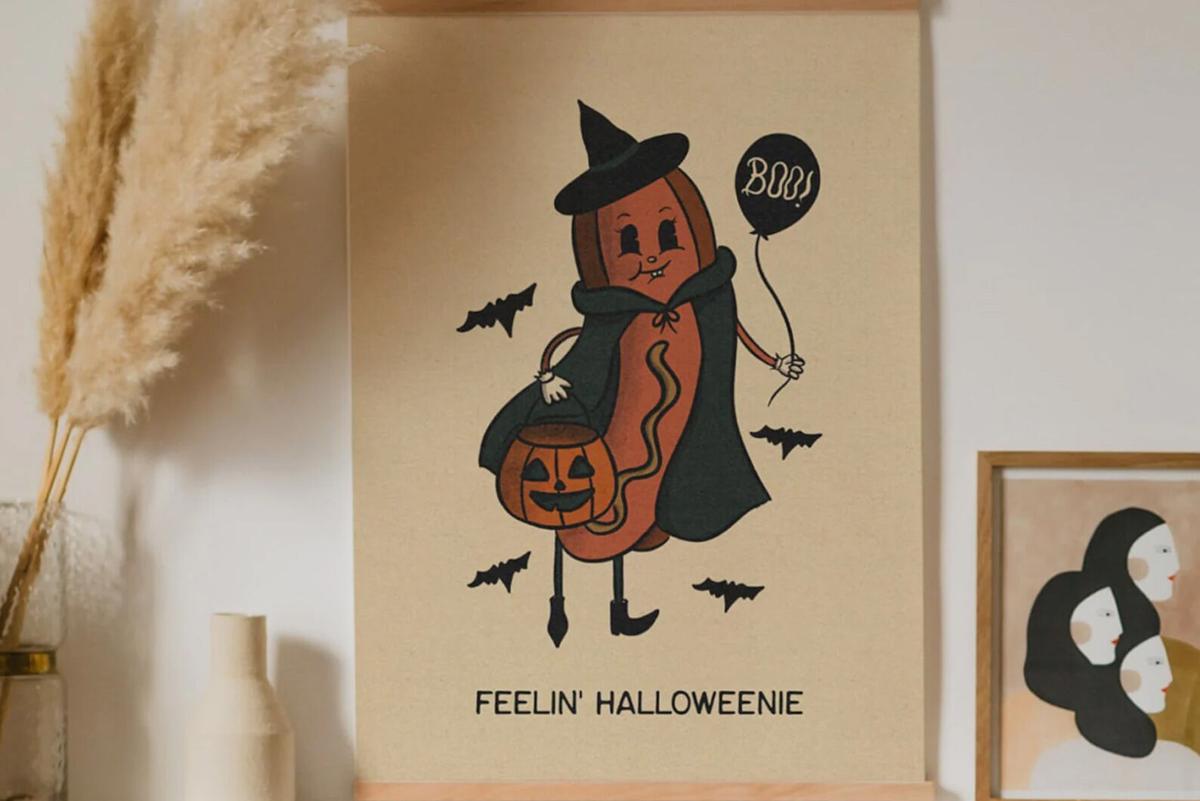 The holiday season is upon us. No, not the jolly red and green one. The eerie orange and black one. Are you ready for Halloween?
Here's a roundup of locally made products that so authentically embrace all things spooky you'll want to enjoy them well past October 31.
Felt Fuzzies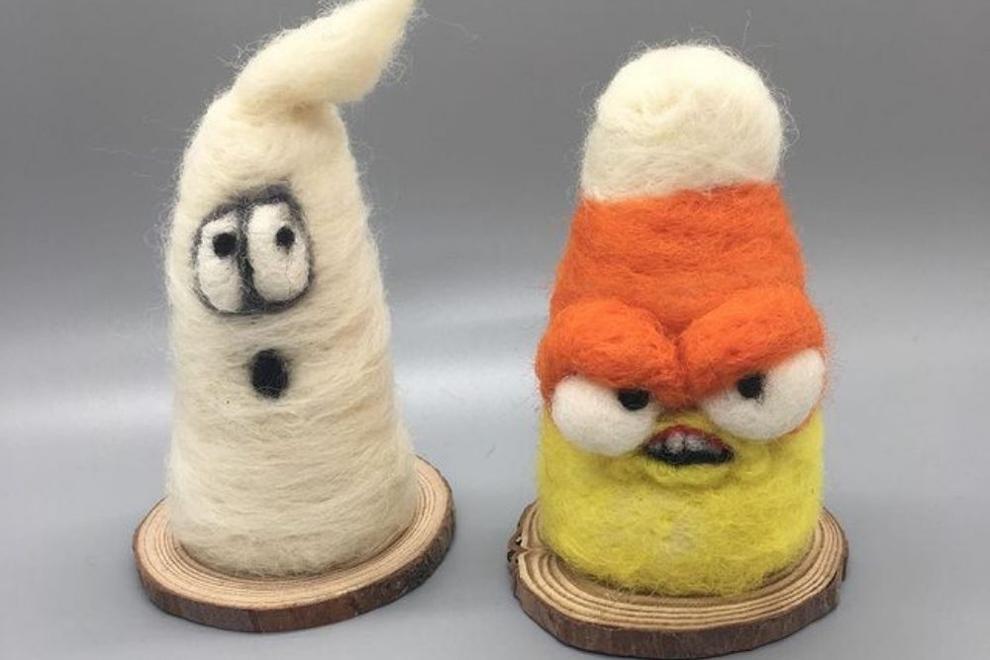 What exactly is it? Whimsical and fuzzy decor creations with a little edge.
The gory details: After being burnt out from the corporate world, Elena Mileva-Anderson took a leap of faith and turned her needle felting hobby into a full-time passion. Felt Fuzzies takes a ball of felt and a single needle and turns them into soft decorative creatures. There are angry candy corn, classic ghosts, zombies in a tea cup, dead house plants and so much more. At first, you will be drawn in by their fluffy charm, then you will notice a splash of darkness in them, which somehow makes them more adorable.
Feature frights: The angry candy corns are the perfect mix of sweet and sour. Plant Buddies, soft creatures on a stick for your planters, are also offered. You can find them in ghosts, pumpkins, owls and sugar skulls this time of year.
The Smell of Fear Candle Company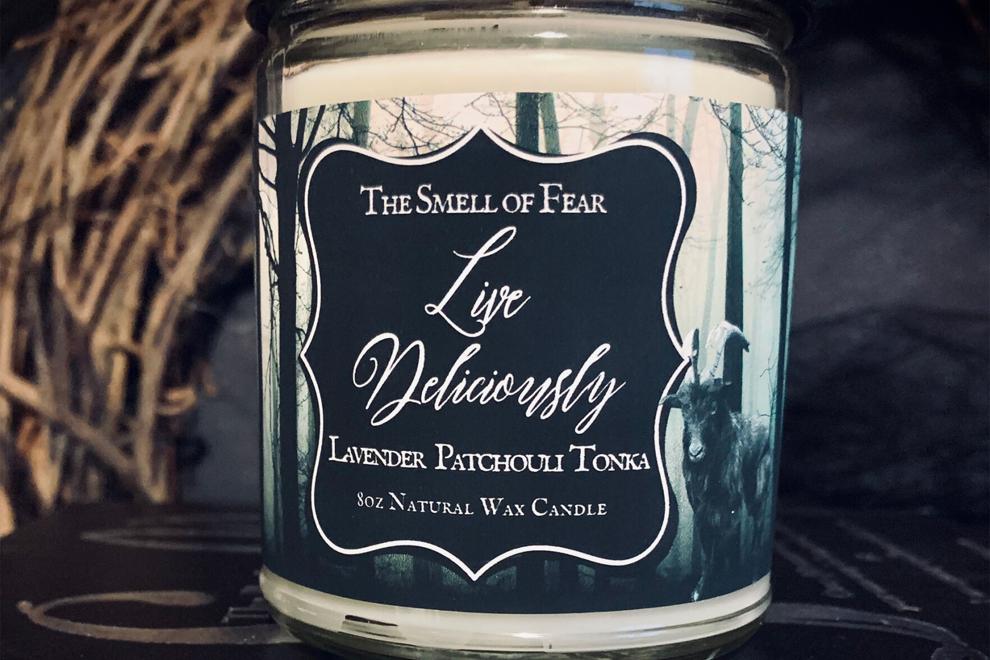 What exactly is it? Clean burning candles with sinister scents inspired by scary stories.
The gory details: When at a Horror Convention, Jillian Walkowiak stumbled on a vendor selling perfectly lovely soy candles...except that they had no connection to horror at all. The Smell of Fear was born in that moment. Jillian knew she could pour sustainable coconut wax blend candles with names and scents that transport people to very specific scenes of their favorite movies, tv shows and books. She's done Edgar Allan Poe's Cask of Amontillado, Friday the 13th, Stranger Things and everything in between.
BOOnus insight: "My Pet Sematery candle was inspired by a scene in which the main character wakes up from what he thought was a dream where he was walking outside, only to throw his bedsheets back to find his feet covered in mud and pine needles. The candle scent is evergreen with a hint of citrus blended with a realistic petrichor fragrance that smells exactly like potting soil in the spring or the air after a rain," said Walkowiak.
Feature frights: October's theme is "Howl at the Moon" with werewolves, cryptids and creatures. For those into scheduled scares, you can also subscribe to monthly themed subscription boxes that include two new release candles, wooden matches and other surprises that tie everything together for $40.
Mealy Monsters
What exactly is it: Polymer clay art sculptures—in monster form.
The gory details: Mealy Monsters combines everything Nicole Johnson loves: Halloween, horror, lowbrow art and figurative art. Each monster is hand sculpted from polymer clay, detailed in acrylic paint and pulled directly from Nicole's imagination. Their expressions vary—sometimes a couple of teeth are jutting out, sometimes a wiggly tongue is sticking out, but you can always count on big googly eyes.
Featured frights: Something Nicole calls "Creatures from the Black Tea." These take a beautiful, dainty tea cup and insert one of her signature monsters.
Evil Tea Company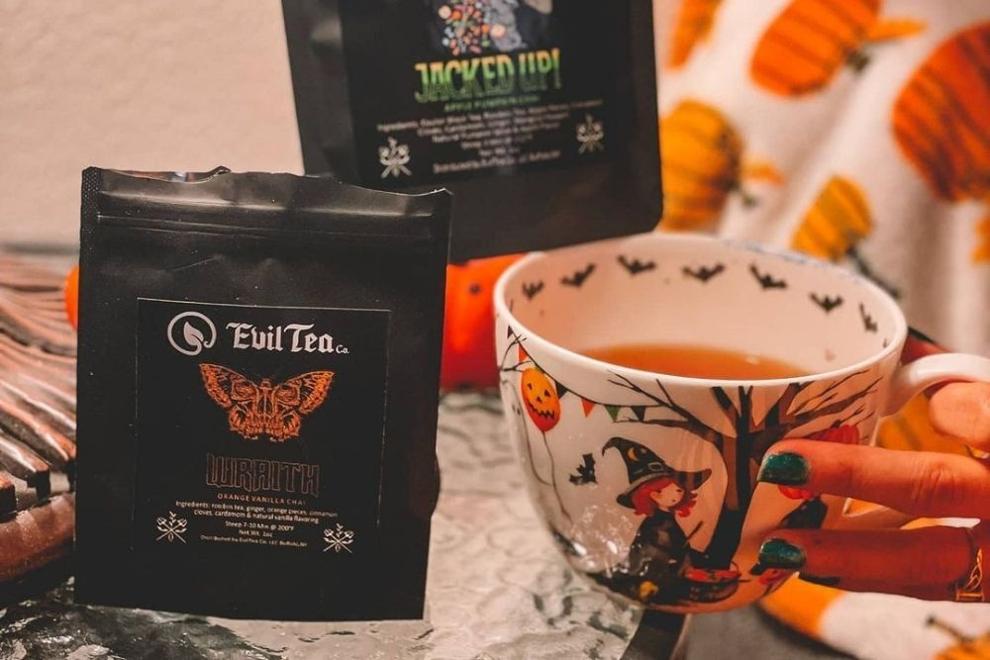 What exactly is it: Macabre loose leaf tea
The gory details: Lifelong friends, Nick Martinson and Russ Harvey, wanted to start a brand that was an extension of themselves. The tea-loving duo is heavily influenced by the horror, alternative and metal communities. Evil Tea Company offers delicious blends of tea with sinister packaging and menacing names like Screams of the Banshees and Necromancer and Cerberus (the three-headed dog that guards the gates of the Underworld). Each blend can be purchased in 1 or 4 oz. samples and with flavors like elderberry plum green tea and cupcake black tea, you'll want to try them all!
Featured frights: The fall seasonal releases are Blood Moon (Cranberry Cider Herbal Tea) and Jacked Up! (Apple Pumpkin Chai).
Molly Illustration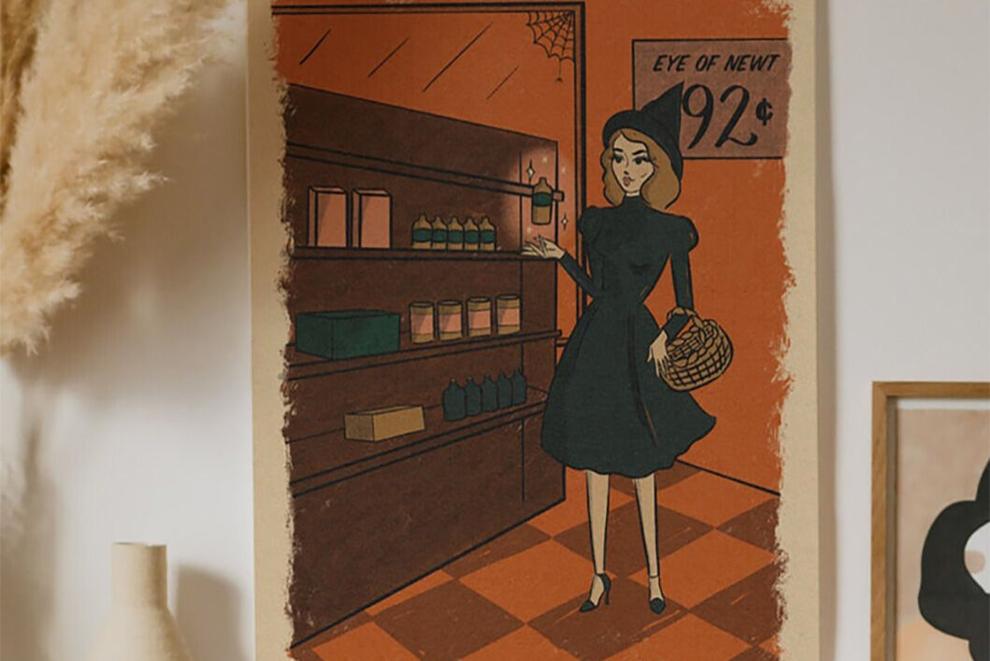 What exactly is it: Prints and stickers with Halloween highlights.
The gory details: A few years ago, Molly Beres decided to make a career out of art and went back to school for a degree in graphic design. After posting her work on social media as a way to catalog progress, Molly quickly saw the demand to sell her prints, stickers, tee shirts, pins and keychains. You'll notice nods to mid-century television, cartoons and advertisements in her illustrations. Bewitched and The Flinstones are among Molly's favorites.
Feature frights: Pin up-style witches, a skateboarding ghost, a Polish Skull and Crossbones (you gotta see it) and a Halloweenie (this one feels self-explanatory).
Nanny Goats Bizarre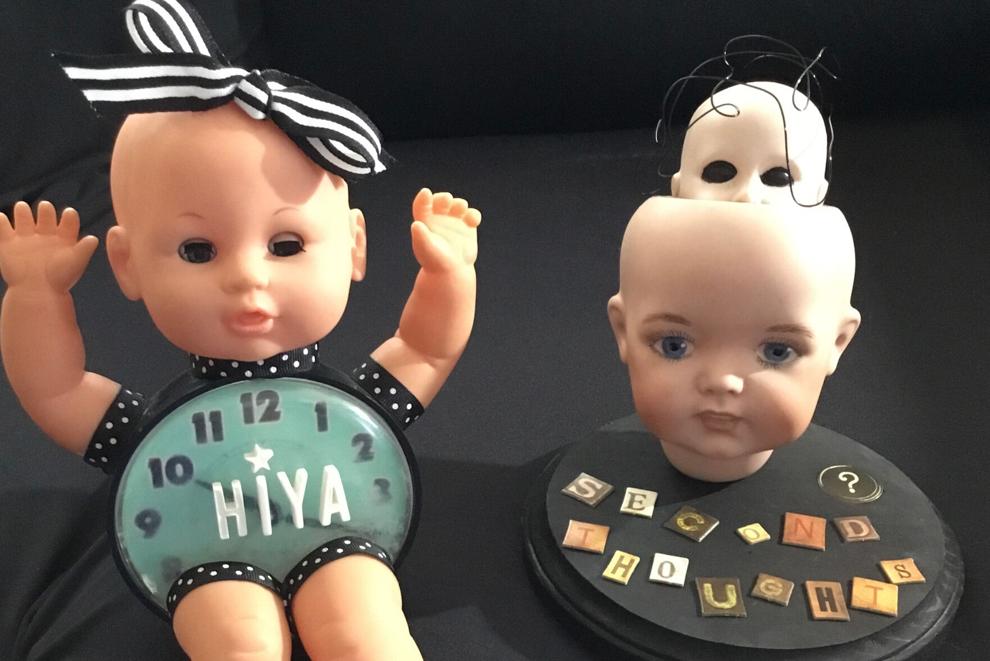 What exactly is it: Unusual art pieces that often features the heads of baby dolls.
The gory details: Nancy Moran combined two of her favorite things: art and shopping at antique shops for Nanny Goats Bizarre. She takes her findings, which are often old bits and pieces of trinkets, tins, tea cups and beautifully creepy baby dolls and gives them new life in her truly one-of-a-kind creations.
BOOnus insight: "The doll heads add a beautiful, macabre feeling. Delicate cracks and blinking eyes are only a couple reasons that make me feel like they still have a story to tell," said Moran.
Featured frights: You have to embrace the baby doll head here—in whatever art pieces you can find featuring them.
Kaleigh Day Fine Arts & Illustration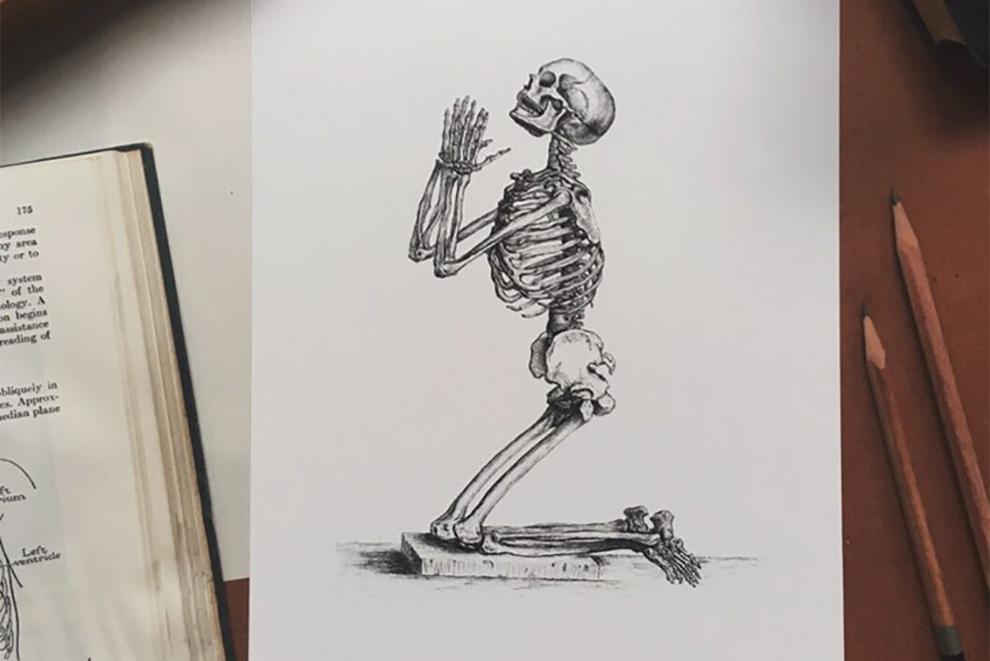 What exactly is it: Prints, stickers, mugs and totes inspired by the natural, mystical and magical.
The gory details: Growing up, Kaleigh would go fishing and birdwatching with her grandpa. She credits these outings with her interest in illustrating nature. Her work often features skeletons—delicately hand drawn with fine point pens or painted with watercolors.
BOOnus insight: "The skeleton is a haunting representation of our connection with nature. This simple foundation is shared by nearly all animals. From the beginning of life, the skeleton was present; in the end, it is all that remains. I find it to be a humbling symbol of unity," said Day.
Featured frights: A cat skull taxidermy, vampire bat and human skeleton print can bring a subtly spooky vibe to any room.
J.Savage Goods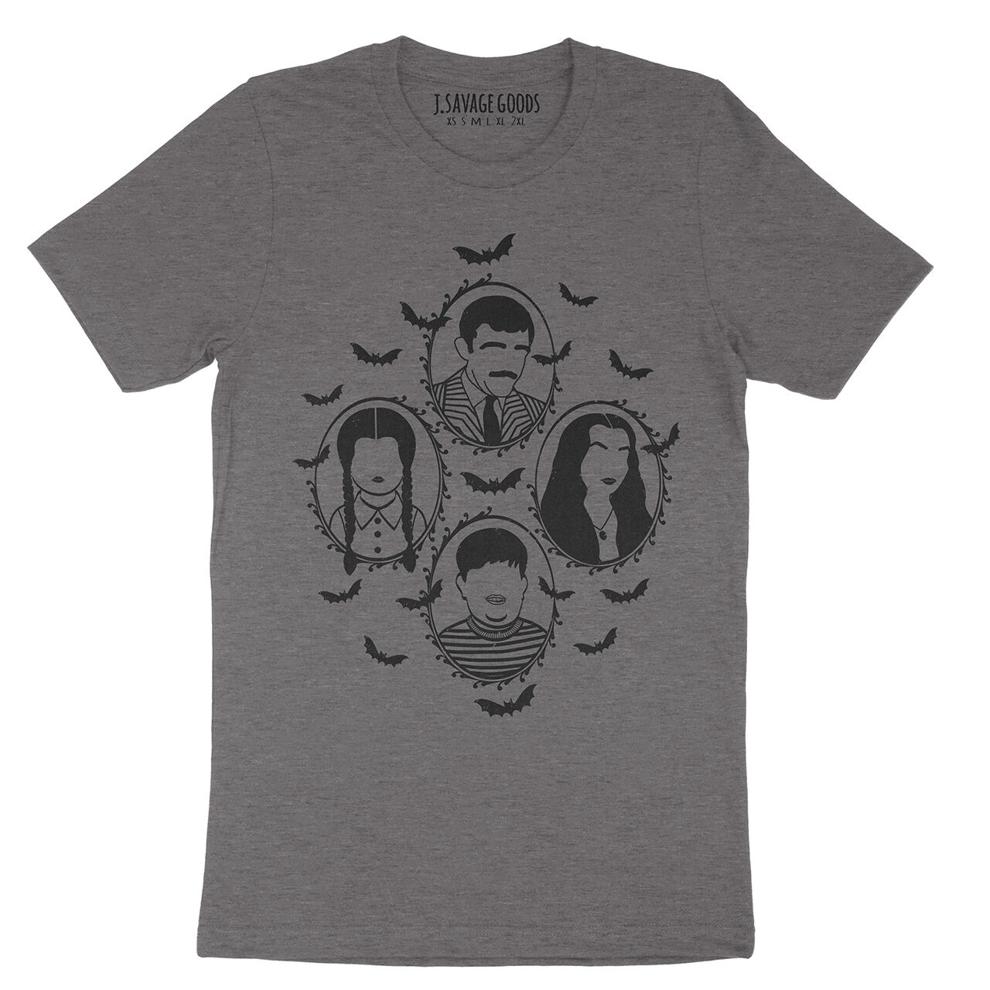 What exactly is it: Prints, mugs and shirts with spooky leanings.
The gory details: Julie Schworm is a certified product of the '80s. Her work for J. Savage Goods often embraces pop culture, classic horror films and TV from when she growing up. Labyrinth? The Addams Family? Hocus Pocus? You bet! Everything is illustrated digitally from the initial drawing to the final artwork and printed on a Color Inkjet in her own studio.
Featured frights: A plague doctor t-shirt feels particularly timely but there's also a Frankenstein and Bride of Frankenstein mug set, a print of Anjelica Huston in Witches and even an electrocuted Buffalo sweatshirt.
Rebel Rose Curiosities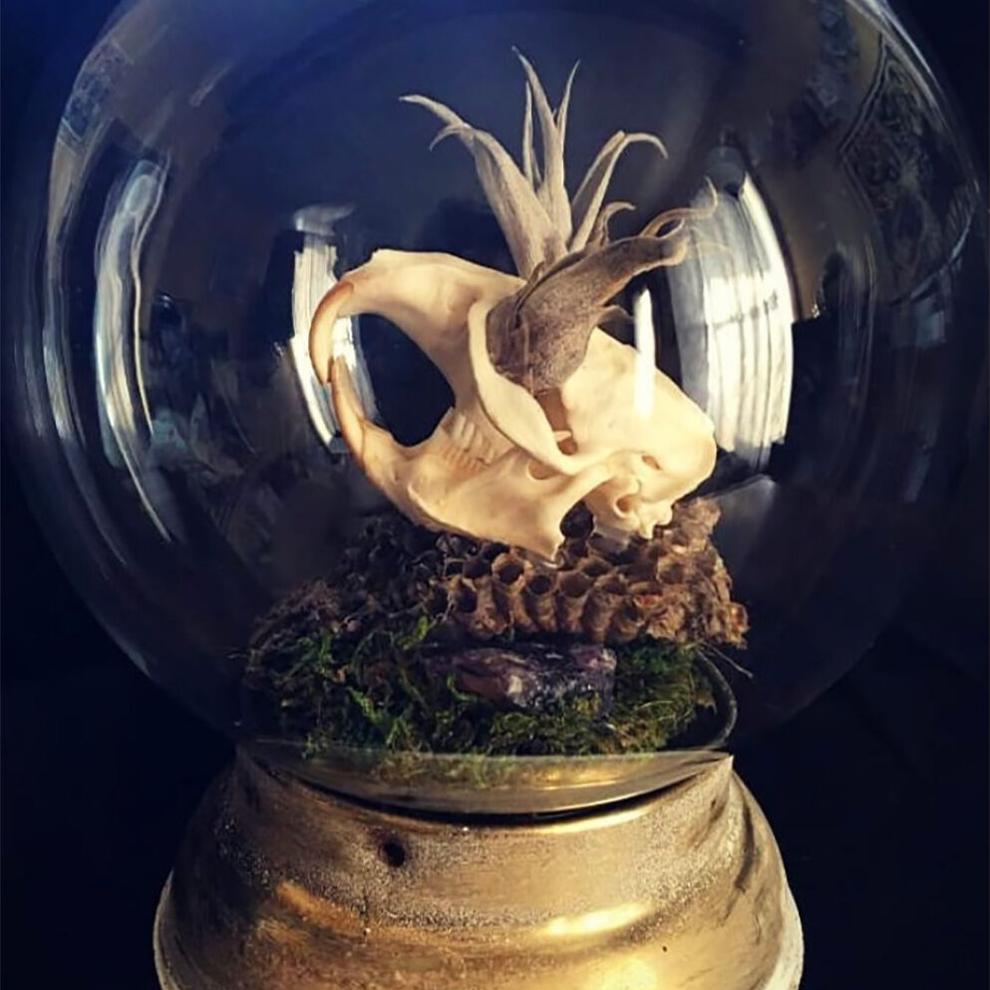 What exactly is it: Ethically sourced oddities and scavenged bone art.
The gory details: For Rebecca Frazier, it all started with a deer vertebrae. A friend found it while hiking and Rebecca was immediately struck by its beauty and the ways she could combine elements of life and death in her art. Now Rebel Rose Curiosities does air plant holders, jewelry, chimes, curiosity domes and so much more with bones as the main material.
BOOnus insight: "There is also something spiritual about working with bones. My hope is to make something that can be considered morbid or even taboo, into something beautiful and approachable," said Frazier.
Featured frights: The air plant holders may be a good entry purchase, but the framed art and curiosity domes would make beautiful conversation starters.
Unstrung Studios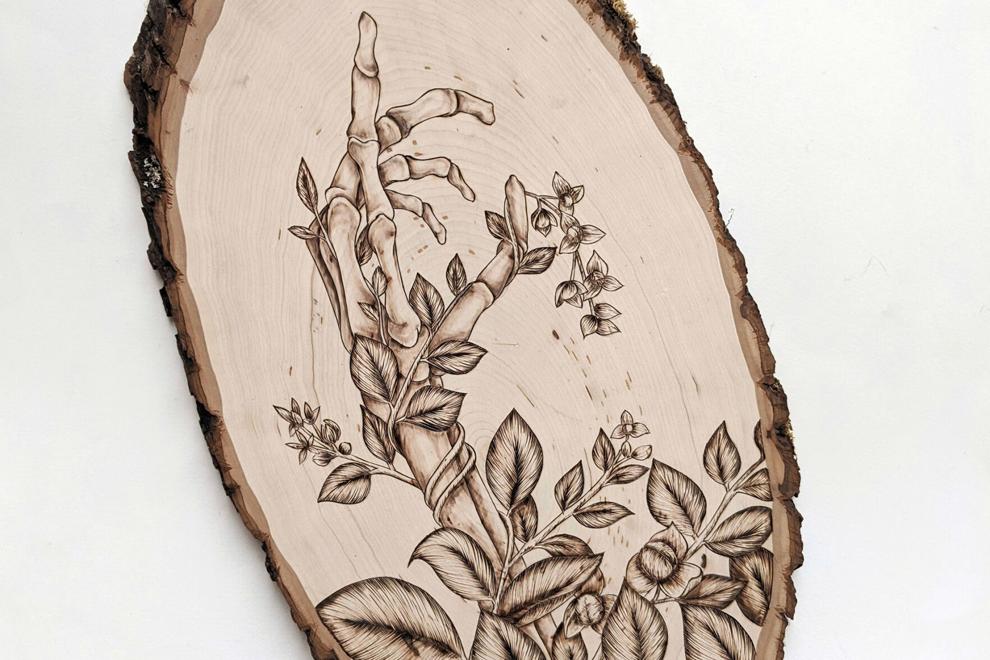 What exactly is it: Anatomy art with an emphasis on wood burned pieces.
The gory details: As someone living with Ehlers-Danlos Syndrome (a connective tissue disorder leading to overly flexible joints and easy bruising, among other co-occurring issues), Megan Farrell has always been on a mission to prove that anatomy is not gross. With Unstrung Studios, she creates art inspired by specific conditions and uses botany to represent the physiological processes of a given disorder. She also does general anatomy pieces of hearts, brains, eyeballs and the like.
Featured frights: You can't go wrong with the wood-burned pieces, which are a mix of traditional line work and shading in beautiful black and white detail. A skull wooden spoon is a good call for this time of year.
Black Sheep Market
You may have noticed many of these creators sell their products at Black Sheep Market in North Tonawanda. That's because the adorable shop, which opened in February of 2021, specializes in off-the-beaten path oddities made by local artisans.
Owners Elena Mileva-Anderson and Samantha Leigh aren't the types to follow the leader. They wanted to create a space that celebrates the darker side of life with artists who shared their vision. Black Sheep Market is that place.
These aren't your standard Jack-O-Lanterns and witches' brooms either. They're products that truly embody the spooky spirit in unique ways. The shop is quirky and cute and filled to the absolute brim with finds that you'll want to display in your home year-round.