Lay of the land
The Adirondacks area is the largest protected space in the United States. The mountains feature over 3,000 lakes and 1,200 miles of river.
Glens Falls and Queensbury sit between Saratoga Springs to the south and the town of Lake George within Adirondack Park to the north. Make either town your home base for enjoying the festival. Saratoga offers shops and chic dining. Lake George, a relaxing Adirondack lake experience.
Where to stay
Two Saratoga splurges are the newly restored Adelphi Hotel along Broadway, Saratoga's main drag, or the historic Gideon Putnam, opened in 1935 in Saratoga Spa State Park. Originally opened in 1877, the Adelphi has returned to its former glory.
In Lake George, Scotty's Lakeside is situated on the waterfront with spectacular views. It's also a short walk into town. Rent kayaks or simply sit in an Adirondack chair. Fort William Henry Hotel & Conference Center is on the lake and next to the Fort William Henry Museum, which played a role in the French and Indian war.
Places to eat
For breakfast, Saratoga's Sweet Mimi's is the spot. Locally sourced eggs create fluffy omelets. The signature Roman eggs is roasted asparagus topped with two over-easy eggs, prosciutto and heirloom cherry tomatoes. Cinnamon roll pancakes are a house specialty.
Hattie's Chicken Shack serves fantastic fried chicken along with soul food specialties like fried green tomatoes and collards. Druthers Brewing on Broadway has a large patio and gastro pub fare. For something more upscale, Longfellows offers classic American dishes in a re-purposed 1915 dairy farm. Take advantage of the great three course dinner for just $24, Sunday-Friday.
The Adirondack Pub & Brewery in the heart of Lake George serves good beer and pub staples, like burgers. Family owned Mario's has served classic Italian food since 1954, including beef braciola. Bistro LeRoux is a hidden gem that features French inspired food in a very casual atmosphere. If you just want to hang outside with a beer, Pizza Jerk's makes super NY style pizzas, and they deliver.
Regardless of where you stay, Martha's Dandee Crème in Queensbury is a must. A giant rooster sign is your beacon to rich creamy ice cream custard that comes in gazillion flavors. Martha's serves grilled items too.
What to do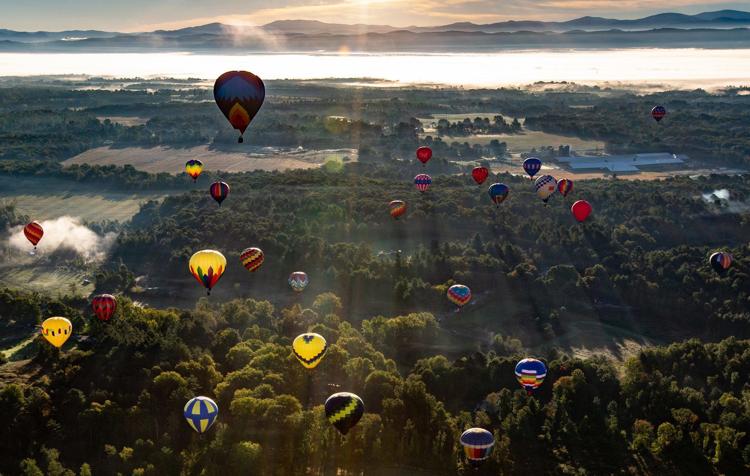 The free Adirondack Balloon Festival runs Sept. 19-22, with events at Floyd Bennett Memorial Airport in Queenbury and Crandall Park, Glens Falls. Watch balloons take off or book a ride. (Balloon flights only happen just after sunrise or close to sunset.) Events happen early morning, 5-10 a.m., followed by a break before the afternoon happenings, with 2-3 p.m. start times.
In Saratoga, the historic yearly horse "meet" will be done, but there is plenty to do. The National Museum of Racing tells the story of thoroughbred horse racing in the United States. A new special exhibit, "The Midsummer Derby," celebrates this year's 150th anniversary of the Travers Stakes, the racetrack's premier event.
Yaddo Gardens are free and open to the public. The gardens were a beautiful gift to Katrina Trask from her husband Spencer in 1899. The couple planned and designed much of the gardens. Saratoga Spa State Park is a National Historic Landmark. Known for its natural mineral waters, it was a popular health draw during the 1800s. A guide helps you explore the 12 springs located in the park. Or shop the multitude of Saratoga's shops, including the fabulous Northshire Bookstore.
In Lake George, it's all about the water, so take a boat cruise on one of Lake George Steamboat Company's boats. For a challenge, hike Prospect Mountain's well-marked trail. Or drive up along the Veterans Memorial Highway. Cost is $10 per carload. Either way you'll see the 100-mile view from the top, and reminders of the Old Cable Railway incline (once the world's largest) that brought passengers to the long-gone Prospect Mountain House hotel.
Be the first to know
Get local news delivered to your inbox!