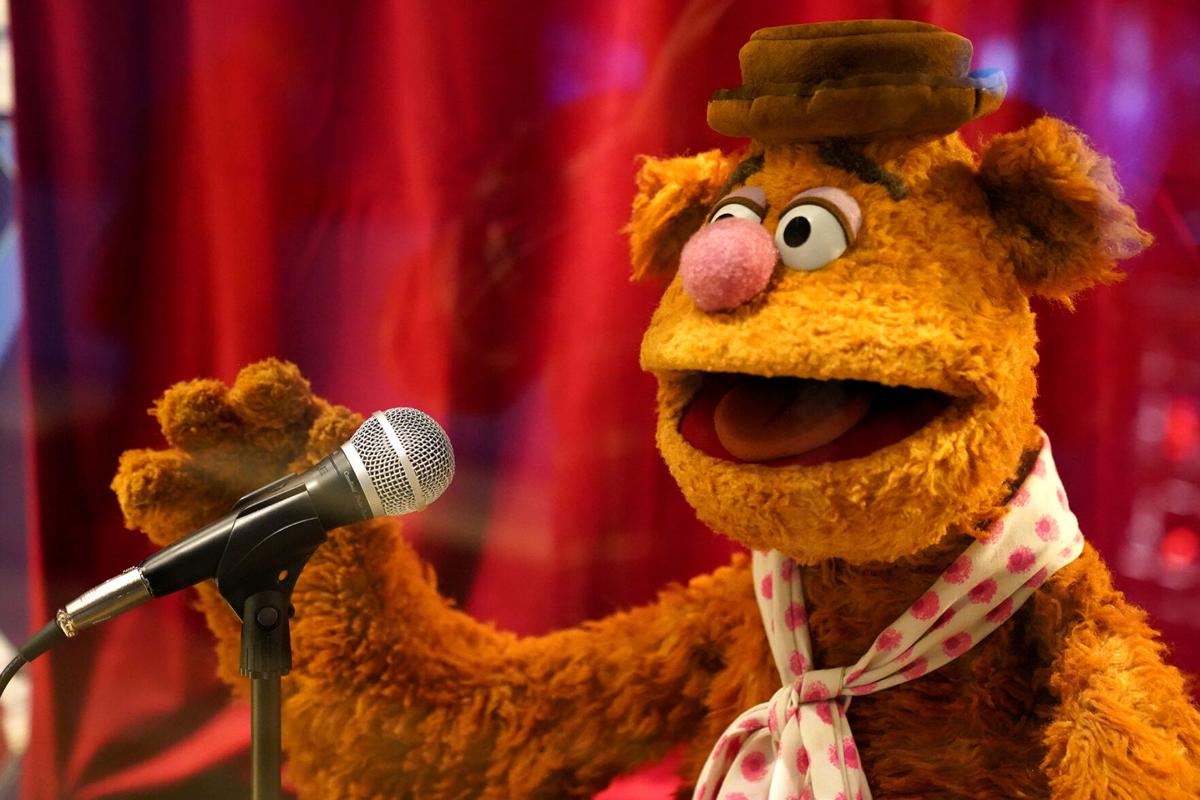 Making his debut appearance on Jim Henson's "The Muppet Show" in 1976, Fozzie has become an comedy icon with his never-give-up attitude and catchphrase "Wocka wocka!" The puppet now on display at the Center is the original, featured on the show as well as on countless other TV shows and movies until 1981.
"He is the Muppets' resident stand-up comedian, so what better representative for the Muppets than Fozzie," said Gary Hahn, vice president of marketing and communications at The National Comedy Center.
Fozzie's exhibit opened in February, coinciding with the release of the original Muppet show on Disney+. Frank Oz, the creator and performer of Fozzie, visited the Center to see the display for himself.
"It's wonderful that The National Comedy Center, which I love, is highlighting Fozzie in the context of comedy's heritage," said Oz in the press release. "Fozzie is very close to my heart. A part of me is in him – the part of me that as a young boy loved show business, or as Fozzie would put it, 'The Show Business.'"
The puppet fits right in with the other rare memorabilia on display at the national hub of all things funny, perfectly encapsulating how comedy spans so many different genres and forms.
Fozzie will be on display through summer until he heads back home to the Center for Puppetry Arts in Atlanta. Although he hasn't been in Western New York for long, he is already a huge hit.
"He is loved across generations, from adults who grew up on Fozzie to young kids just getting to know him," said Hahn. "Everyone stops to spend time with him during their visit."
The National Comedy Center is open Thursdays through Mondays from 10 a.m. to 5 p.m. Tickets can be reserved online. Their LaughSafe program lists all the safety measures they are taking to keep you safe during your visit.
More laughs to have
Make a Meme Exhibit. Once you've said hello to Fozzie, take a peek at the history of the meme—created in the early days of the internet—see creations from other visitors and then make your own masterpiece.
Lucille Ball Desi Arnaz Museum. A Jamestown native, Lucille Ball and her husband Desi Arnaz's impact on the world of television is chronicled at the Lucille Ball Desi Arnaz Museum just around the corner from the National Comedy Center. You'll find costumes and awards they received on display—even exact replications of the studio sets from "I Love Lucy", including one from the Viteameatagegamin commercial episode!
Lucille Ball Memorial Park. Located right on Chautauqua Lake, the Lucille Ball Memorial Park is a great scenic stop before you head back up to Buffalo. There's a statue of Lucy in her famous polka-dot dress perfect for a photo-op, along with a boat launch and playground.