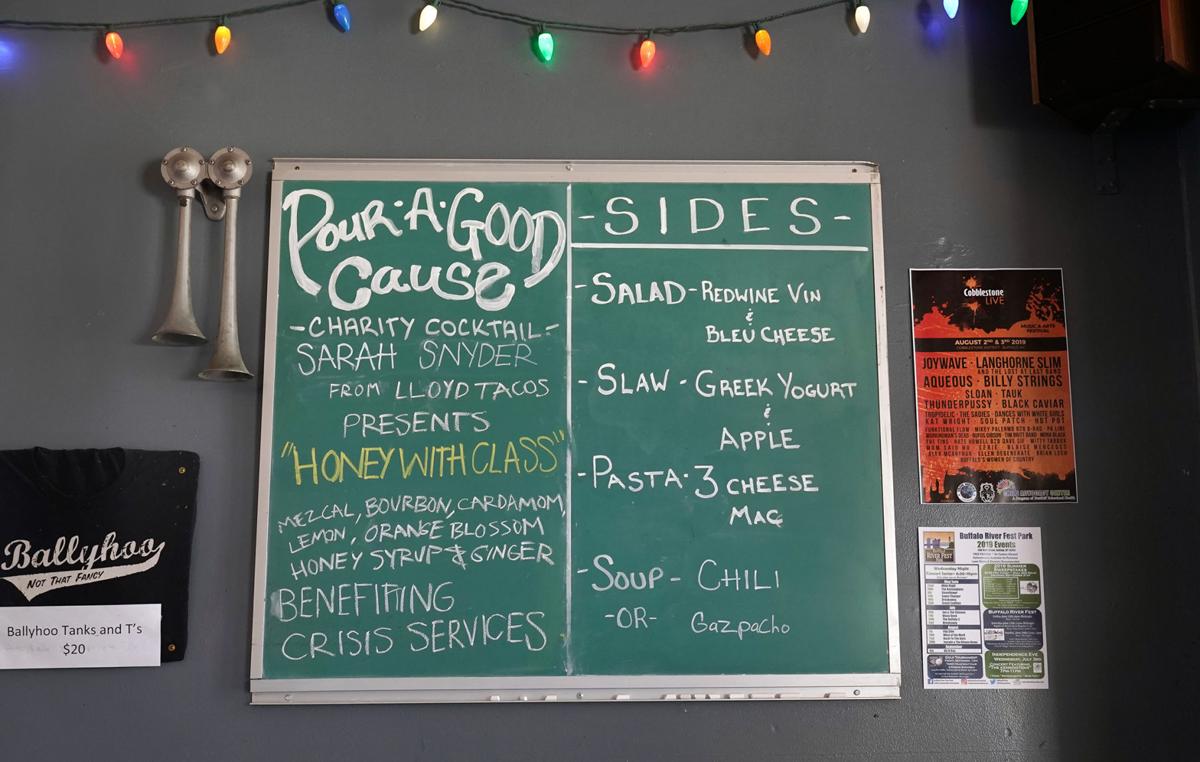 A strong sense of community courses through the City of Good Neighbors. Our pride in supporting local businesses, and each other, is immeasurable. And now you can turn your calendar into another way to support causes you care about—and we're not talking black-tie galas. Here are some of our favorite ideas for giving back to charity in creative ways, whether out for drinks with friends or testing out a new workout class.
Sip craft cocktails at Ballyhoo
211 South Park Ave., Buffalo
This cozy Cobblestone District spot features Pour a Good Cause—a rotating cocktail displayed on their chalkboard menu. Ballyhoo collaborates with a local bartended to craft that month's special drink and select the charity it will benefit, with $1 of every cocktail sold donated to the featured cause. For example, June's Pour a Good Cause, created by Sarah from Lloyd, supports crises services.
Go for a spin at Rebel Ride
6449 Transit Rd., East Amherst
You can turn your sweat session into a way to give back. The spinning studio offers sporadic classes throughout the year that support an organization or individuals raising money for a cause, with room for up to 37 people to sign up to participate. Keep an eye on when Rebel Ride has these charity rides on the calendar by checking their social media or calling. These special classes are usually also followed by an after party, an optional add-on for the organization or individual planning the event.
Cool off with ice cream-inspired brews at New York Beer Project
6933 S. Transit Rd., Lockport
Throughout the year, New York Beer Project works with Perry's Ice Cream to create a beer based on one of their ice-cream flavors—like Panda Paws, a minty White Christmas flavor around the holidays, and the wildly popular Superhero Sour they now aim to bring back regularly. A dollar of each beer sold goes to Oishei Children's Hospital. The partnership has already hit its goal of $20,000 since they started a few years ago and there's no intention of slowing down now!
Indulge in artful chocolates from Blue Table
Eating chocolate for charity? Now that sounds like a win-win for everyone. Not only are Blue Table Chocolates gorgeous and delicious, with out-of-the-box flavor selections and vegan options, but they also partake in a fair share of fundraising partnerships. This spring, for example, the chocolatiers created a Japanese Garden Collection box inspired by, and benefiting, the Buffalo History Museum and its annual Olmsted Conservancy Cherry Blossom Festival at the Japanese Garden. The box featured two different types of truffles featuring prominent Japanese flavors like cherry blossom petal conserve and green tea. This is an ongoing effort that happens organically: To buy chocolate for a cause, check the fundraising partnerships section of their website to see what's current.
Score a limited-edition hat from New Era
160 Delaware Ave., Buffalo
Josh Allen, quarterback for the Buffalo Bills, partnered with New Era to create a one-off hat set to be released this fall as a fundraiser for Oishei Children's Hospital. Its design is still being finalized by Allen and his team, which includes patients and parents, but when it drops, you're sure to hear about it.
Raise your paddle at local meat raffles
These charity events, which give you the chance to win a freezer full of steaks during an out-of-the-ordinary night out, have earned quite the cult following in Western New York—to the point where there's even an entire website dedicated to it. Meat raffles pop up throughout the region to benefit causes from local school districts and fire departments to the Buffalo Bisons, who host one annually each summer to fund their kids event tickets. At the end of August, bid to help the Lancaster marching band reach their fundraising goal, or head over to East Aurora come mid-September for the Aurora Ice Association meat raffle.
Be the first to know
Get local news delivered to your inbox!