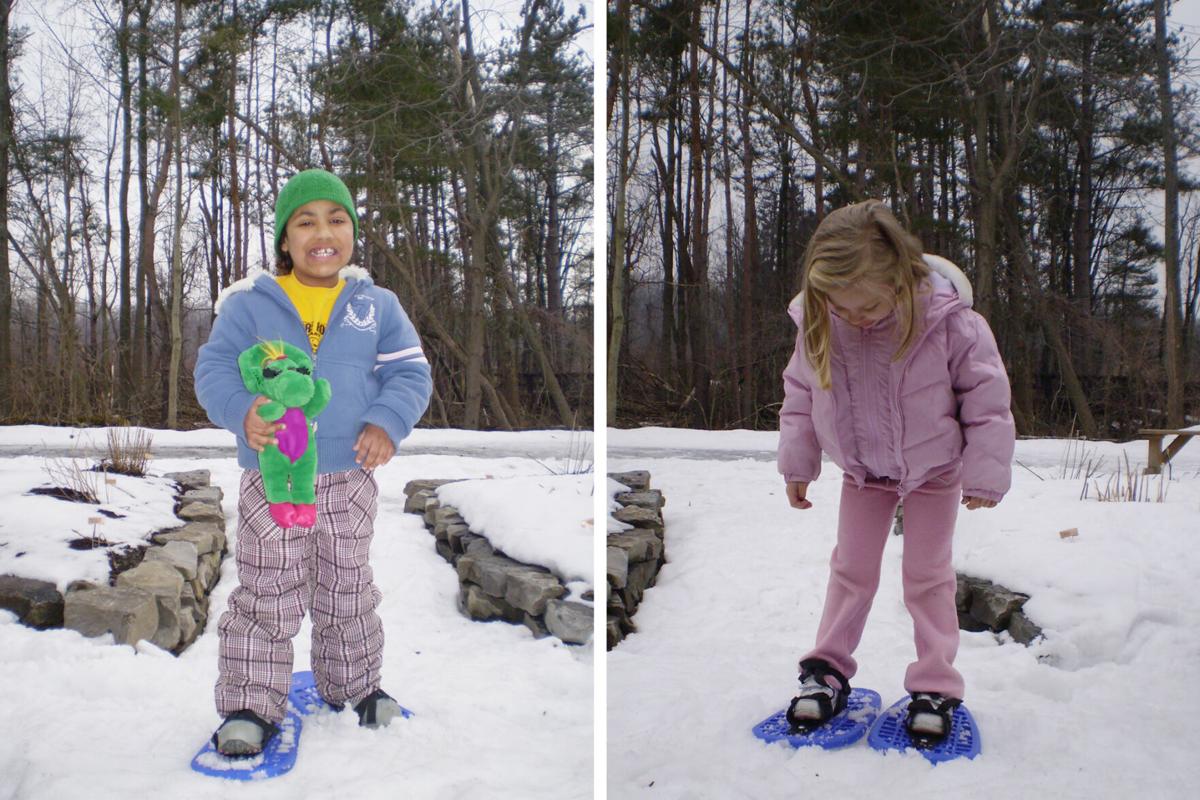 I have a rule that you're only allowed to complain about one season. Mine is summer. Humidity, ugh. But right now, we're all knee-deep in the season that many dread most.
You don't have to, though. The trick is to own these snowy months. As summer slanderers like me will tell you, it's easier—and more socially acceptable—to put on another sweater (jacket, hat or pair of socks…) to fight the frost than it is to shed layers.
Just bundle up and get out there. There's plenty to do, with no travel required unless you want. Among the most accessible of the lot? Snowshoeing.
If you've never tried it, there's good news: You can practice close to home (your yard, a neighborhood park) before venturing out; it's less expensive than skiing; there are beginner trails for newbies; and, like everything else, you can learn a thing or two on YouTube.
"A lot of people have the perception that it's walking made harder," says Alex Davies, co-owner of Campus Wheelworks on Elmwood Avenue. "But it's really an adventure you can't experience without those platforms on your feet."
Davies, who's been at it for 25 or more years, adds, "You can make it as exciting as you want it to be. The benefit is that snowshoes give you access to terrain you can't get to on foot."
It's also a low-impact aerobic sport that's pretty pandemic-friendly. The snowshoe frame (aluminum or composite) distributes your weight evenly to help you stay atop of the snow, outfitted with various crampons for traction.
"It's something you can do solo or with one or two people. You can have a blast without getting too close," he said, noting that Campus Wheelworks has bulked up its inventory this winter in preparation for people needing a safe outlet for exercise during a stressful time. They also rent snowshoes for $25 for 24 hours.
Davies enjoys taking groups out and showing them places he likes to snowshoe, but Covid-19 has made that riskier, so they're not offering their usual schedule of events this winter.
Still, finding a place to snowshoe in the Buffalo area isn't hard. Many people like the three miles of wetland and forest trails at Reinstein Woods Nature Preserve in Depew, which Center Director Meaghan Boice-Green says is "relatively wide and flat, which makes them a great place to learn how to snowshoe."
The trails are free and open sunrise to sunset; no equipment rental is available right now because of the pandemic, but there are some scheduled snowshoeing programs. Details can be found at reinsteinwoods.org.
For the more adventurous, Davies' favorite five are:
1. Hunters Creek in East Aurora
2. Chestnut Ridge Park in Orchard Park
3. Sprague Brook Park in Glenwood
5. Delaware Park in Buffalo
If you've never snowshoed, you probably have a lot of good questions including, "Do I have to buy special boots, too, like skiing and snowboarding?"
Snowshoes are designed to work with any footwear—consider grabbing your winter boots for insulation. There are snowshoe design differences for men and women, mostly because men tend to wear bigger, heavier boots.
It's important to buy (or rent) snowshoes made for your weight, including whatever you're carrying; the heavier you are, the longer they'll be. Snowshoe poles for greater stability and snow gaiters to keep the snow out of your boots are accessories worth considering.
Indoor outlets
If you really can't get excited about snow and cold, you can still get your exercise in this winter without venturing outdoors. Local fitness centers continue to offer a wide array of streaming exercise classes. A few to check out:
Barre: Studios with barres running the length of mirrored walls aren't just for ballet class anymore. Barre Centric in Clarence and East Aurora offers dozens of on-demand workouts at virtualbarrecentric.com. "Barre classes appeal to our members because they are effective, low-impact workouts that all ages and fitness levels can do," said co-owner Rachael Jarosz. "Little-to-no equipment is required for our workouts, which is why it is a great option for an at-home workout."
Get Stretched: JCC Buffalo in Amherst has joined the latest craze of stretch studios. "Everybody needs to stretch every day," said Kathy D'Ostroph, group fitness manager, calling JCC's class phenomenal. Email kdostroph@jccbuffalo.org for details.
Pilates Reformer: If you have your own reformer, this one's for you. Long & Lean's live, in-studio classes combine classical and contemporary Pilates. Owner Hayley Sullivan said they're "designed to improve alignment, posture, strength and mobility." More at longandleanpilates.com.
Spin: Rebel Ride on Transit has reimagined their in-studio spin classes to keep you sweating on your bike at home. Book live Zoom rides inspired by their traditional offerings or merge spin with strength and try their combo spin, core and arms class. More at rebelride.com.