We were slated to close on our first-ever house in a week, and then move into it mere days later. This would culminate a whirlwind two months that sped by in a blur, and I didn't want our we're-finally-homeowners moment to get lost in the haze of crazed excitement and stress my husband and I were stuck in.
We needed a breather. A perspective reset so we could properly appreciate the week ahead. So we ignored what felt like the responsible choice (to spend the weekend tackling to-do lists), and instead packed a non-moving related suitcase and set off on a quick getaway into the woods.
Our destination: The Tri-Lakes region of the Adirondacks, the blanket term for the neighboring Saranac Lake, Tupper Lake and Lake Placid. I harbor a dislike of long car rides, which this five-and-half hour trip definitely qualified...so why there, specifically, when Western New York is home to beautiful parks? Simple: The Wild Walk.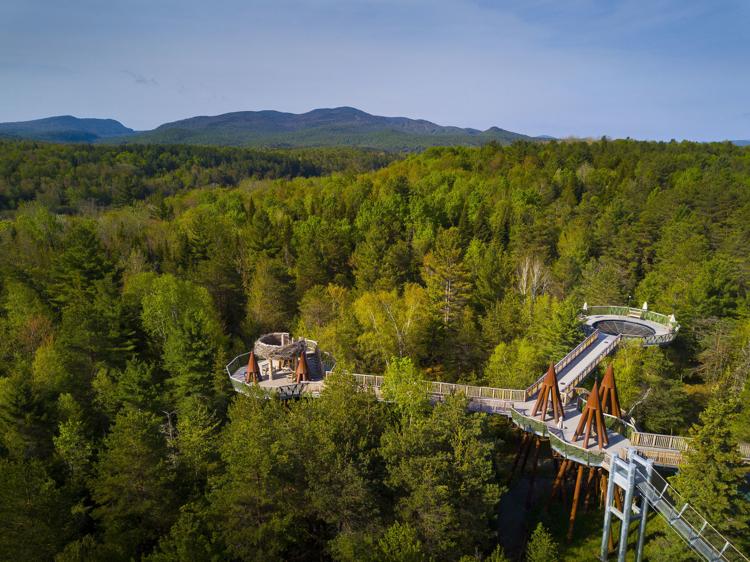 A defining feature of The Wild Center, a natural history destination occupying 115 scenic acres in Tupper Lake, the Wild Walk perches you amidst the forest—up to 40 feet, to be exact, the max that local building codes allow. Billed as a "trail across the treetops," I was hooked at first cursory google.
Its imaginative way of interacting with nature. Its playful treehouse vibe, with bouncy suspension bridges connecting towers. The giant birds nest marking the highest point in the gently sloping, accessible-to-all path. And, on top of it all, truly panoramic views of the Adirondacks. We had to go.
We pulled into our two-night homebase in Saranac Lake, Amanda's Village, halfway through a thrilling Agatha Christie audiobook; the ride surprisingly nice and unsurprisingly beautiful. We settled into the no-frills comfort after a good chat with the owner (a Buffalo transplant!) and a round of margaritas nearby, the best way to kick off a weekend of unwinding.
A cornucopia of ways to connect with nature awaited us the next day. First up: forest bathing, our first experience with the Japanese practice now gaining popularity stateside. Founded in the 1980s in response to tolls modern life can take, these guided walks encourage you to slow down, be present in nature and engage your five senses for a meditative-like result. (No actual bathing involved: It's the short translation of the Japanese term shinrin-yoku, or bathing in the atmosphere of the forest.)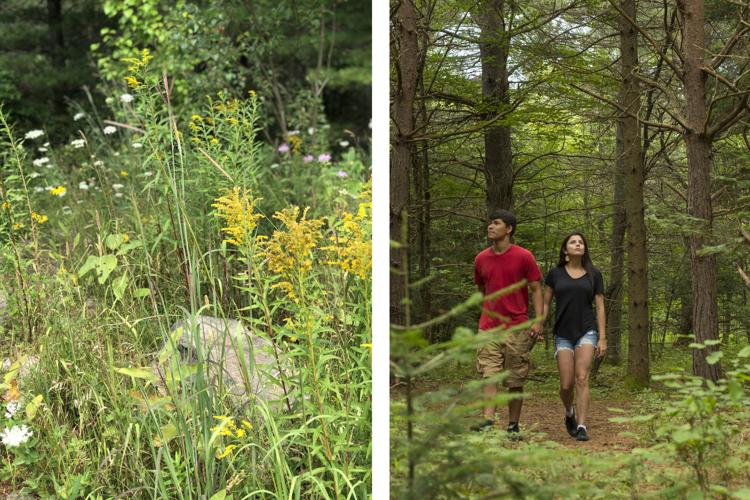 For two-and-a-half hours on an idyllic late-summer morning, we silently meandered through a patch of woods on The Wild Center grounds, following the "invitations" of our host Suzanne, a certified Forest Therapy Guide from Adirondack Riverwalking. These activities—like "I invite you to notice the movement of the forest"—tick through the senses one by one, and in between you regroup to share what you've noticed with your fellow bathers.
As typical New York power walkers, the idea of aimless ambling took a minute to adjust to—we didn't even cover a mile of trail throughout the walk and were encouraged to venture off the path. But by the end, we both felt the calming impact of this approach to nature. It's not like hiking, where you set out with an end goal. This time, the point was to have no mission, no end destination, but simply the experience itself. And it was rejuvenating.
Our forest bathing ended riverside with 20 minutes to sit and soak it all in (called a sitspot), followed by a tiny cup of fresh-brewed tea made from steeping foraged balsam and white pine from our forest path. Our parting gift: A handy card with tips for bringing the experience home with you, with easy ideas for connecting with nature daily and wild tea suggestions.
Then it was back to reality—and to The Wild Center to explore. We lapped the indoors, which is packed with engaging exhibits that cover a wide scope of nature topics, many of which feature a local bent, all set at kids' height.
We spotted a massive block of ice meant to mimic a glacier (of course we touched it), otters frolicking for a crowd and vibrant works of American Indian art on display around a spot where children can craft their own works. It was a kid paradise, everything thoughtfully tailored not only to be educational but accessible and inspiring, too.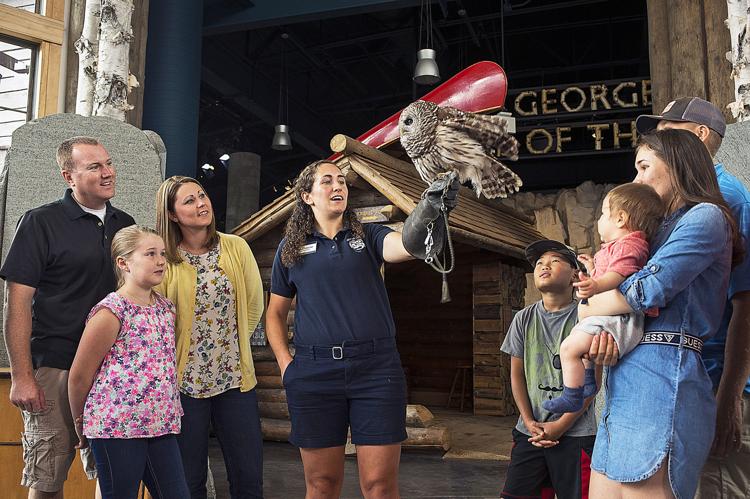 We snuck behind the scenes, with supervision, to say hi to a few of the rescued animals that now star in their aptly named Animal Encounters daily programming. All the ones we met—Luna the owl, Stickley the porcupine, a chatty blue jay and stoic raven—couldn't be reintroduced to the wild post-rescue. Between their exhibits and these special up-close appearances, The Wild Center features more than 900 animals that all call the Adirondacks home.
Out on the grounds, a series of walking paths cut through the lush wooded acreage that's spiked from 31 when the center first opened in 2006 to its current 115. It's grown through a series of generous donations and a calculated acquisition, the latest expansion affording the Center direct access to Raquette River, which they now make the most of with canoe and paddleboard excursions.
Whimsical touches are tucked throughout trails, waiting to be discovered as you make your way from place to place. Benches are set at especially pleasing vantage points, some delightfully overgrown with wildflowers. There's a playground comprised entirely of forest elements (think planks of wood, boulders and a tipped-over tree trunk). And a large wood swing hanging between two towering trees, marking the imminent arrival at the main draw.
Cue the giddy excitement: We finally arrived at the Wild Walk. Your first steps are at ground level, the incline so subtle you don't notice it until you register just how elevated you are. With every step, there's an unforced opportunity to connect with your surroundings. There's a stretch designed for birdwatching, a viewpoint that guides the eye to knots in trees where animals nest and hilarious white plastic ear horns for amplifying the sounds.
There's a two-story tower carefully crafted to look like a carved-out tree trunk and an impressive three-story treehouse, each accented with thoughtful, hands-on educational moments. And those suspension bridges that connect them were somehow even more fun to bounce across than I'd imagined. The hanging chairs tucked inside supports an idyllic resting spot. And the birds nest a truly perfect, uninterrupted vantage point for taking in the famed Adirondack landscape—and finding perspective.
Don't leave Tupper Lake without…

Hiking Coney Mountain Trailhead
At just over a mile each way, it's an easy hike with a big payoff. The summit affords 360-degree views of dense forests blanketing rolling mountains and the crystal-clear river that cuts through it. We set off first thing in the morning and didn't spot another hiker for most of the trek. This trail is one of six that make up the Saranac Lake 6er—hike them all, keep record and the village will give you a "6er" patch and sticker to mark the accomplishment.
Grabbing a bite at Well Dressed Provisions
Between the tasteful decor and welcoming vibe, this spot charms from the moment you set eyes on it. Its creative menu spotlights fresh, seasonal ingredients in a wide variety of dishes, including those sandwiched between their house-baked breads.
Sampling the beers at Raquette River Brewing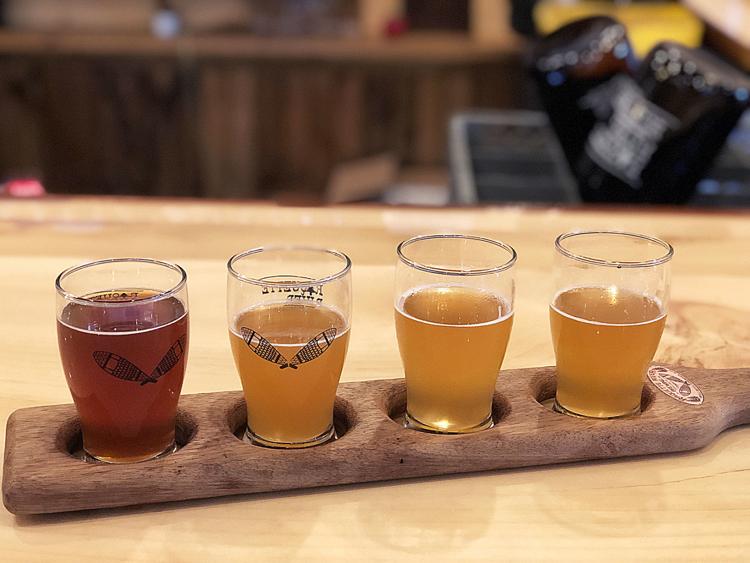 The massive tasting barn is never wanting buzz—it's consistently packed with locals and visitors alike, yet there's always a place to settle in, and often plays host to live music. The brewery can't make enough of their signature Raquette River Mango Wheat to expand beyond the region for moment, and after our first tasting flight, you can count us as part of the problem.
Treating yourself to a cinnamon donut at The Washboard/Donut Shoppe
The counter at the local laundry mat serves up the confection made daily and customized just how you like. But trust us (and the expert who made ours), the cinnamon is hands-down the best bet.
Be the first to know
Get local news delivered to your inbox!