"Dad, can we fish off the Maid of the Mist?"
This was the question my marine-creature-obsessed son, Nolan, posed after I told him about the boat ride we were going on at Niagara Falls State Park.
Memories of the terrifying boy-falls-over-the-edge scene in "Superman II" notwithstanding, Niagara Falls has been good to me. My wife and I got married on the Canadian side, and our whole family loves the Butterfly Conservatory, which is truly spectacular.
But our 11-year-old daughter, Izzy, had only been there once. And our 6-year-old triplets had never been at all. So it was time for a family adventure at America's first state park, which local leaders including Frederick Law Olmsted worked to establish in 1885.
First, we hit the Aquarium of Niagara—a great experience before we even stepped inside. The California sea lions that greeted us were awesome. They looked relaxed in their pool, observing the kids observing them. Izzy said she wanted to swim with the sea lions.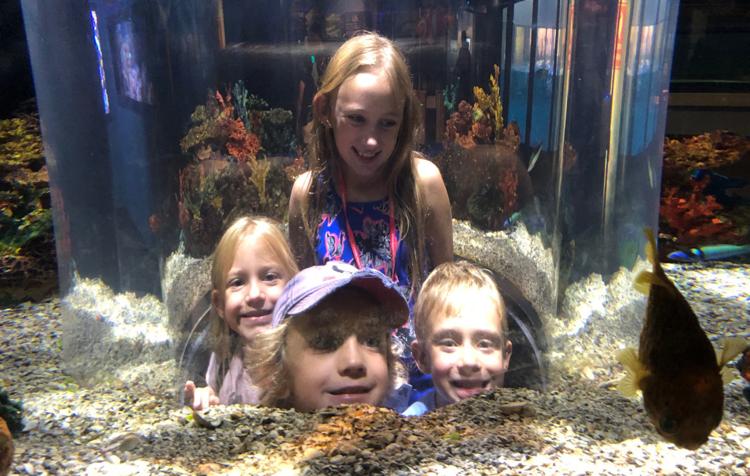 The best exhibit inside is Penguin Coast. I could have watched these guys all day. One penguin was motoring around at a high speed, diving in and out of the pool. We saw sharks and sea horses, and the Aquarium has a few levels to give you different views of it all.
"I enjoyed this," shared Elliott, who spoke for all of us. We definitely could have spent longer at the Aquarium, but we had a lot to squeeze in. Next up: the Maid of the Mist.
Like most things, you should try to see the Falls through the eyes of a child viewing it for the first time. "Whoa, that's amazing," observed Elliott as the Falls first came into his sight. That's the magic of Niagara Falls that Olmsted and others fought so hard to preserve.
We got on our blue ponchos and climbed aboard. Elliott struggled to get his on, shouting, "Where's the arm hole?"
The windy day made for an intense ride, especially as we got closer to the Falls. The kids enjoyed spotting the rainbows. At least I think they did…it was hard to tell because we were packed tightly aboard the ship. Between the wind and water, a lot was happening at once. It was a true sensory experience.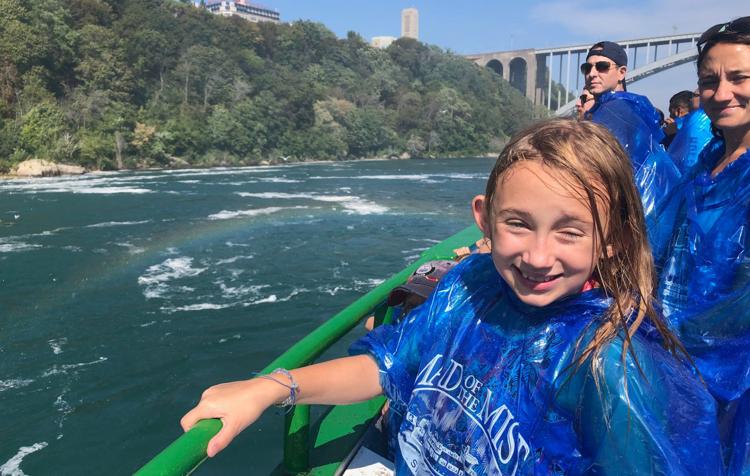 Izzy loved that going near the Horseshoe Falls got us soaked, while Nolan declared it "the funnest thing yet." So our day continued to trend upward.
The Cave of the Winds begins with an educational multimedia experience that Izzy deemed "cool." From there, a long, at-times-slippery corridor leads outside. Then you walk along the bank until you get to the aptly named Hurricane Deck. Here, the water coming off Bridal Veil Falls crashes down on you. There are a number of decks offering incredible views. This is selfie heaven—but a waterproof case for your phone is encouraged.
The closer we got to the falling water, the more our kids loved it. At one point, they were just standing there getting drenched. It was coming down so hard I couldn't tell who was who. I called for Elliott, who didn't answer. Because it was actually Bridget standing there in the center of the downpour, having a ball. "Dad, this is crazy," she exclaimed.
It's hard not to feel like a kid on this attraction, which all four kids rated as the day's best. Some patience is required as the decks get crowded with people taking photos. Annually, more than 9 million visitors come from all over the world explore Niagara Falls. The enthusiasm is understandable, especially for those seeing it for the first time.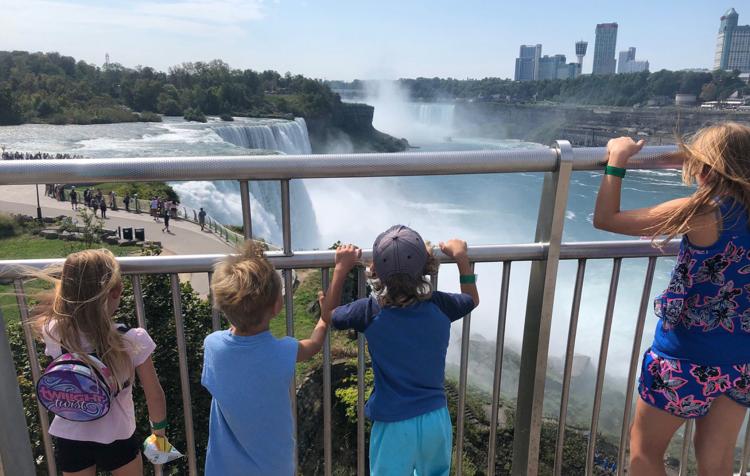 We capped our afternoon at the Top of the Falls restaurant, which offers another terrific view. As we were dining, Elliott got up and headed to the window, announcing that he was "checking on the Niagara River." Observing, "It sure has a lot of mist."
We took in three attractions in just a few hours and walked 6.5 miles. Your surroundings are so awe-inspiring you won't notice you're more than getting your steps in. We didn't encounter any long lines, which makes both the fall and spring a good time to visit.
Hours after we got home, a reflecting Elliott said, "Daddy, today was a fun day." And a few days later, he told me, "I drew a waterfall today at school." Which was pretty cool. Niagara Falls is yours to share.
---
Tickets: $14.95 adults, $10.95 ages 3-12, free 2 and under
Spring opening date dependent on ice conditions, through early November.
Tickets: $22.25 adult, $13 ages 6-12, free 5 and under
Daily, 9 a.m. to 3 p.m.; weather permitting in winter
Tickets: $7 adult, $5 age 6-12, free 5 and under
Be the first to know
Get local news delivered to your inbox!