Ever since reading tennis great Arthur Ashe's 1994 memoir, "Days of Grace," I'd wanted to see the statue of him on Monument Avenue. That was that my very first stop on a temperate September trip to Virginia's Richmond and Hampton areas.
Ashe's statue is one of six along the architecturally impressive street that was inaugurated in 1890 with a monument to Confederate General Robert E. Lee. From there it developed to encompass a 14-block historic district that was eventually named to the National Registry of Historic Places. It's certainly worth penciling in time to walk along the gorgeous tree-lined avenue to admire the many mansions, some dating back to the Gilded Age.
Compared to the Confederate leaders' monuments, Ashe's seemed surprisingly small. I later learned that size was just one of the controversies that surrounded it being included on that avenue. There are proponents who see the statues as a memorial to the state's history and the men who died defending it—and detractors who believe the collection is a monument to white supremacy.
There may be no better city to visit to learn about the country's early black history and African-Americans' contributions to industry, architecture and transportation.
What appealed to me most about this trip was the chance to see and learn about Hampton, on the southeastern tip of the Virginia peninsula, where one of the most shameful chapters in our nation's past began. It's a piece of the community's history that was commemorated last year when leaders marked the 400th anniversary of the first recorded African arrival in English-speaking North America. They came on the first slave ship, the White Lion, after being captured by Portuguese sailors.
There are many ways to learn about this and other parts of Hampton's history—tour bus, shuttle bus, Segway. And we tried them all.
Aboard the double-decker Miss Hampton II, we took a narrated cruise along Hampton Roads (among the world's largest natural harbors) and Chesapeake Bay, seeing local fishing boats, cargo ships, Blackbeard's Point, Old Point Comfort and, in the distance, Norfolk Naval Base. This provided a great foundation for what we'd see over the next day-and-a-half: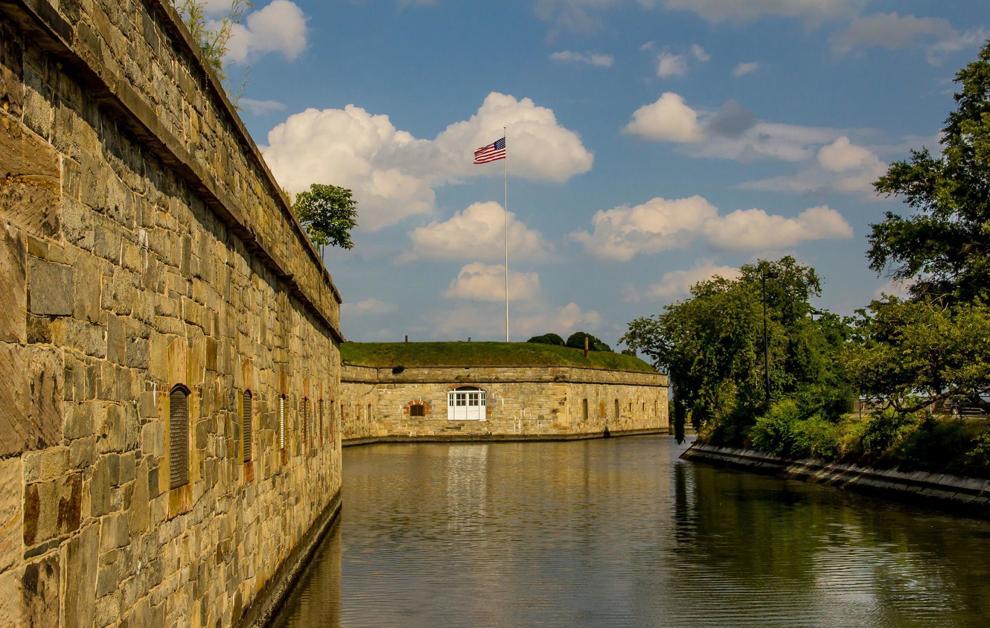 The largest stone fort built in the U.S. and the only one surrounded by a moat. It was nicknamed "Freedom's Fortress" because it became a haven for hundreds of people who escaped slavery during the Civil War. And inside the fort itself…
There's a lot to learn here about the fort, which was built in 1619 to protect Hampton Roads. Most notable is the cell where Confederate President Jefferson Davis was held.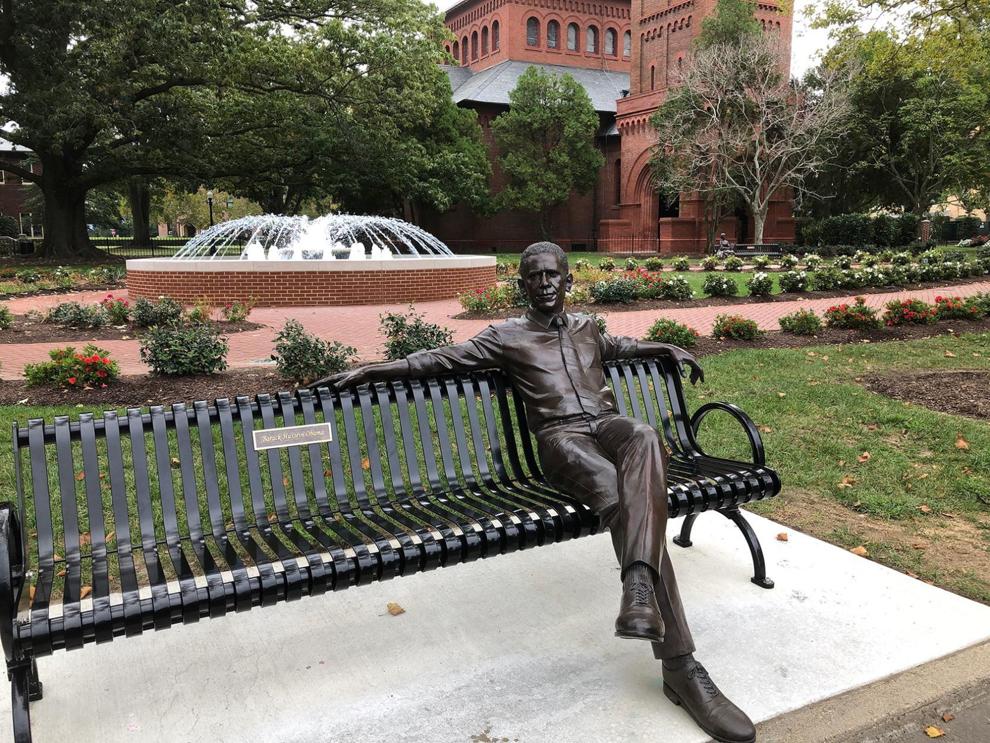 Also inside the fort and founded Northern General Samuel Chapman Armstrong to educate freed blacks. It's home to many sites worth seeing, including its museum, which has more than 9,000 artifacts and features the oldest collection of African-American art in the country. Most visually stunning, though, was Legacy Park, which opened last January. It features life-size sculptures of people who've had an impact on the university, from American presidents and Civil Rights activists to notable students and employees. Each sits on one of 11 park benches surrounding a fountain and overlooking the water. Many tour bus passengers walked the perimeter, stopping to have their picture taken with the bronzed dignitaries. Among the most popular: President Barack Obama, Rosa Parks and Frederick Douglass.
Also on the Hampton University campus. There's nothing like a massive 300-year-old tree to usher you back in time and make it possible to envision all that happened there. The National Geographic Society lists it among the 10 great trees of the world. Many African-American gatherings were held under its canopy of branches which extend more than 100 feet in diameter. Mary Peake, honored on one of the Legacy Park benches, was the daughter of a freed slave and the first to teach lessons under the tree until classrooms were constructed nearby. It is believed to be where the first reading of the Emancipation Proclamation was held in the South in 1863. Helping recreate that event the day we were there was guide Chauncey Brown, who read the document to busloads of visitors.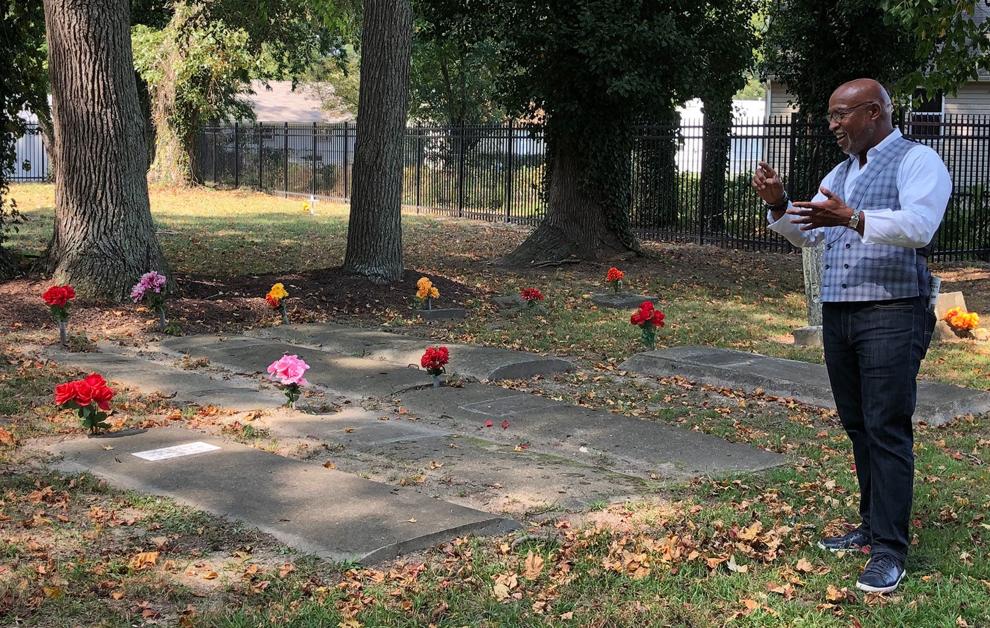 Where we got to meet some of the men and women who believe they may be descended from the first slaves. The Tuckers show visitors around the two-acre site, point out confirmed relatives' graves and talk about the radar scan that showed 107 previously unknown graves, each now marked off with a wooden cross. They enjoy talking about their family and are hopeful that their continuing efforts will one day prove the connection they believe they have.
This was, by far, the most fun way to see the area, much of which we'd driven or cruised past already. But I wasn't an easy sell. I'd read about the death of the company's owner on a Segway and I have a natural aversion to things I can't control, so to say I was nervous would be an understatement.
But, thanks to our guide, Rick, from Patriot Segway Tours, it took only about 15 minutes to get comfortable with the way it worked. I wanted to push with my hands, but the key was to just lean in to go and lean back to stop—and to get enough clearance from curbs that you didn't slam into one. I still stayed to the back of the group to avoid causing a collision that would take out some of my traveling companions.
Obviously, I wasn't Rick's first nervous customer. He said that women are usually leery but listen to what he tells them.
"Men," he said. "They think it's a Harley."
If you've never been on a Segway, it's worth overcoming any apprehensions you may have to give it a try.