Buffalo native Billie Essco, also known as Uptown Chase, is the visionary behind Cafe Czen, a rising brand that has garnered the attention of celebrities and influencers.
Essco is a true creative genius, and Cafe Czen's future is bright. This dynamic rapper, designer, artist, stylist and creative director has pioneered the local #buffalokids scene and travels the world, from Paris Fashion Week to touring with Griselda Records.
Essco's colorful and unpredictable style reflects his creative spirit and willingness to take risks, both in his music and in his fashion. Whether rocking a bright orange Cafe Czen jacket or his signature Cafe hat, he always makes a bold statement.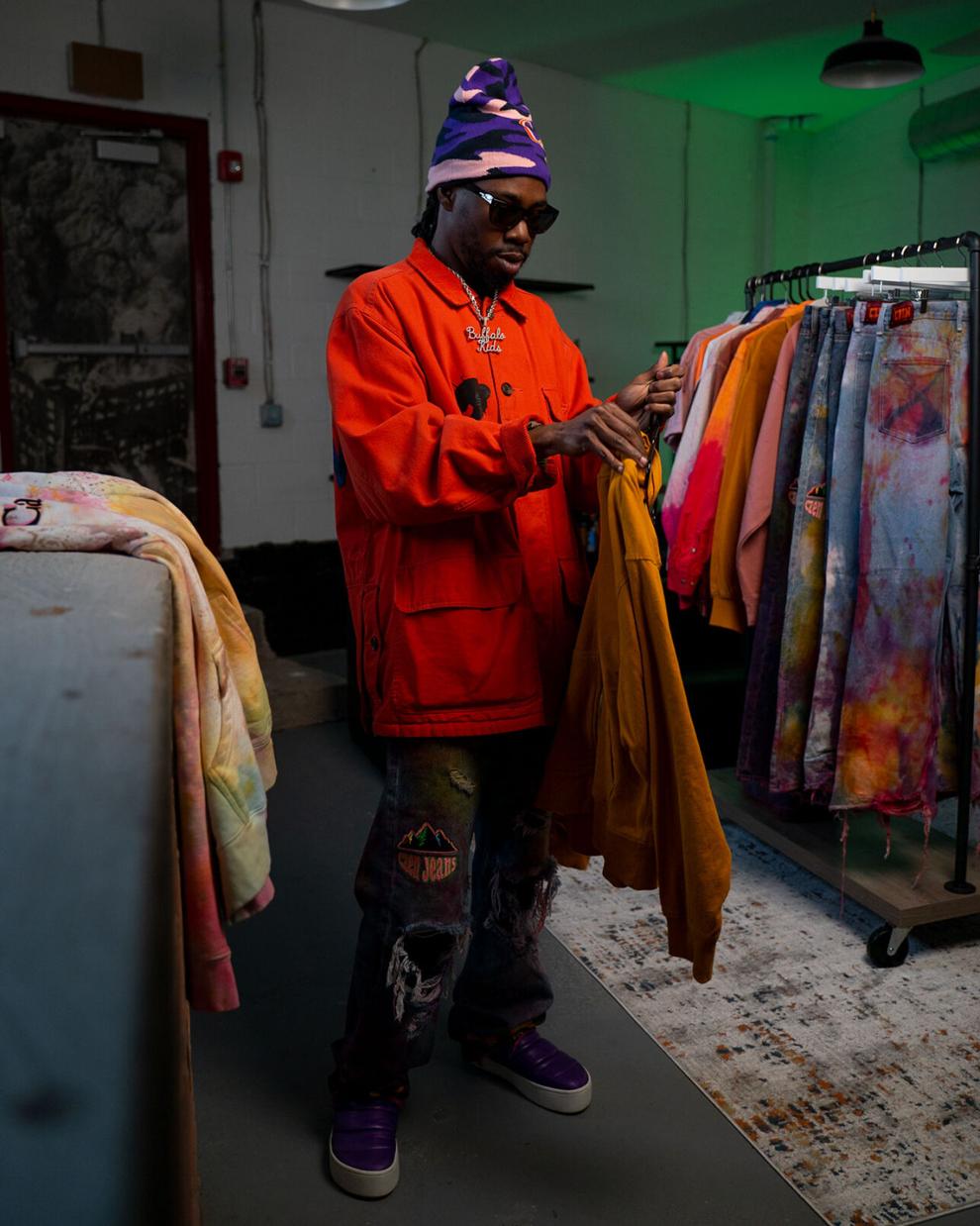 How did your fashion career begin?
In 2010, my best friend Mitch and I started thrifting, and then we created a brand called '1990s.' It was right around the time I ended up getting accepted to Buffalo State's Fashion and Textile Technology program, and it was crazy because I originally went to school for psychology. 
When I started in fashion, I just wanted to learn how to sell my clothes and build my business. Once I started doing runway shows, it taught me about the art of fashion.
I started to recognize that people from New York City and all these other places who thought Buffalo couldn't dress would always come up to me like, 'Are you from New York?' I'm like, 'No! I'm from Buffalo,' which gave me a sense of pride because I was fighting hard to show that we could dress too.
I've always been an early adopter without knowing. Then, it grew; I met my friends Ahmed Musa and Toya Mendez, and they taught me about high design. I followed my heart, and that's really been my journey.
How did you start Cafe Czen?
Once I learned about art history, fashion and different silhouettes and learned the language of clothing, I took a course about Zen Buddhism. This helped me create a connection to my clothing, and I recognized that creating clothing brought me peace. The name is a spin-off of 'seeing Zen' or 'finding Zen.' I truly found my passion, and Czen was born in 2016.
The 'Cafe' part came from going to cafes like Spot Coffee. I took an art history class and learned about African antiquities, particularly the 12th and 16th centuries. The Dark Ages were one of the most prosperous times for Africans. The Moors introduced a lot to European cultures during that time, including cafes. I started researching and seeing pictures of dudes looking like me chilling in cafes socializing, and it connected with me. I wanted to create a cafe.
Initially, it was supposed to be an online store as everything was transitioning to digital. I wanted to create a 'metaphorical cafe,' a space where you could go in your mind and pick and choose what you wanted to learn about fashion and culture.
Cafe became one of my first albums released in 2017, and the brand started as my merch line on tour.
Shout out to my professors at Buff State; as much as I hated school, the professors really kept me going. I didn't realize those lessons until later in life.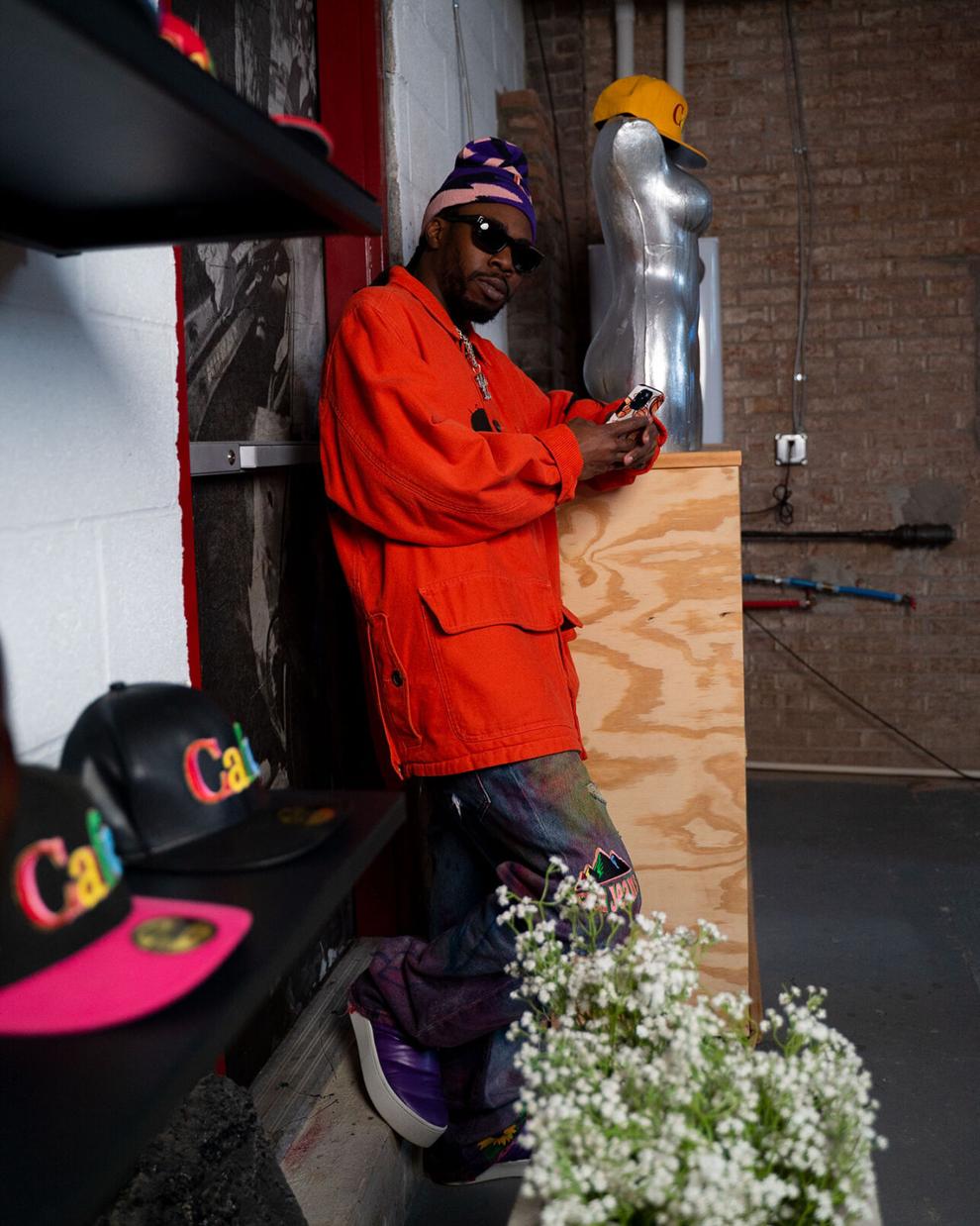 What was Paris Fashion Week like?
Long live Virgil (Abloh, Off-White founder and Louis Vuitton menswear artistic director). I went to Paris in January 2020 on a whim with (rapper) Westside Gunn, right before the pandemic started. I spoke to West on a Monday, got my passport and was on the next flight to Paris within a span of 72 hours.
Literally, on the first day, we went to the Off-White fitting, where I got to style West. None of us had working phones for two days because we didn't have converters. I remember going from finding a beret in a little shop that became a signature-style piece to being on Vogue.com and GQ hours later. Nobody knew we were attending the Louis Vuitton and Off-White shows at Paris Fashion Week until these photos surfaced. It was wild. Every street-style photographer got my picture with a blunt in my hand and photos of West and Virgil, and the moment went viral—that was for my neighborhood.
It's crazy to look back. I've been privy to many opportunities, but I'm not going to lie, sometimes I didn't jump because I was afraid. That was one moment where I was fearless, and it paid off.
It started out like a 'war cry' from shows I would perform at, and I would say 'lo kids.' And it graduated once West got behind it and really stamped it as Buffalo kids, and that was a way to take our city to the masses.
For me, I explain it as trying to identify us together like social signifiers, and West was able to take that and articulate that to the world because he's a great marketing machine. He's selfless in that manner. He knows how to upsell anything and knows how to articulate something's value with no restraint.
West was able to put that voice out, and then as things grew, he grew, and we were able to stamp it and turn it into a conglomerate. We opened a Buffalo Kids store in the Walden Galleria for a year, and it was an experiment. We always try to present things to Buffalo they've never seen before. Having our own rapper open a store in the mall is something that's never been done before, so you know we have many plans to keep it going.
Tell us about your signature Cafe hat.
God is the greatest because this came out of a whim, and so many times I've done things, and I never got to reap the benefits. I'm a very early adopter, so I'll shed things as fast as I come on to them, and Cafe was the first time that I really practiced consistency with one product.
Outside of just seeing people wear it, the biggest glory for me is that I got the logo right. Because, at the end of the day, the logo is what sells the hat. I'm not going to lie; it was hard to transition from selling out and having 100 orders a day to building a team during Covid to having 100 boxes in my bedroom, moving into a storage space and then watching it cool off. So then I also had to learn about a brand post-success because we mostly focus on what it's like to create a successful brand, but no one teaches you what happens when business ebbs and flows.
At the end of the day, this is my divine purpose. I've got something I can pass down to my kids. I brought my mother, father, and sister on board; now, it's a family business.
How would you describe your style?
So, I had this word I coined in 2015, ghetto couture. Ghetto is a very strong word, but you know with us, we change everything. 
For me personally, ghetto couture means literally the best of both worlds. There's a beauty in not having anything and finding a way to make it work, but there is also a luxury of having access to many things and still making it work.
My friend Ahmed and I dress like 'stealth wealth' with no logos. We buy things because of the fabric and the stitching. I'm also Ghanaian, so my whole culture is colorful. I come from a very colorful background and people, so I try to mesh that all together.