The small business resident of The Foundry talks about garbage picking, trusting your gut and more.
Best part of your work?
Creating new objects tends to be cost-driven when produced and end up being of lesser quality. Bespoke objects resonate on such a deeper level in my work and for consumers. In the case of upholstery, a lot of times I'm redoing a family heirloom. It feels good to know I'm not putting junk out into the universe.
Your first project?
I was paid $5 to repaint our backyard picnic table. I think I was 8. I've been a "dumpster diver" fixer, builder, reuser and maker for as long as I can remember. Growing up with a bunch of siblings, everything was a hand-me-down, so making new things out of broken, odd parts or new games from leftovers wasn't unusual.
What inspires you today?
Not being able to find what's in my head out in the world. If it doesn't exist, I'll try to create it. It is very distracting. The list of things I want to make is endless.
Coolest piece you've designed?
My donation to last year's Bid to Build auction to benefit The Foundry was this thrifted wingback I partially recovered in an old, giant black leather trench coat someone gave me. The outer side panels of the chair had functional pockets from the jacket. Also an Eames Lounge Chair redone in electric blue Italian leather.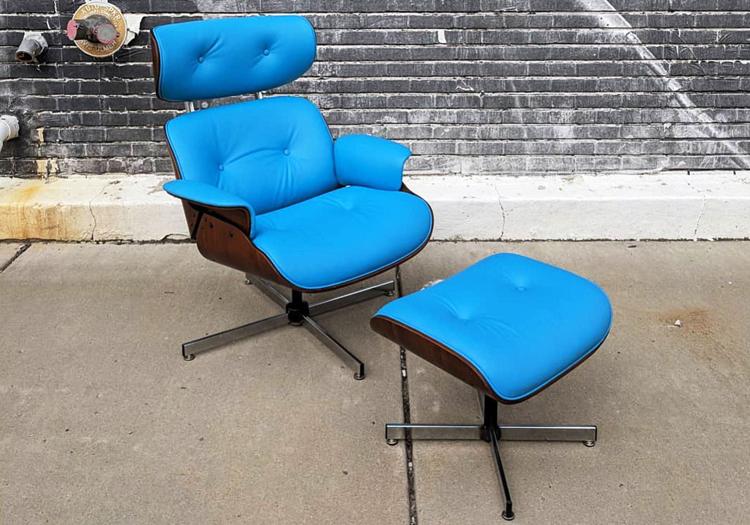 On taking style chances…
People generally steer towards safe or what they already know. To trust a new idea or style direction that your gut is telling you to go with is scary. I say go out on a limb and have some fun with it. This could be an opportunity to create a functional piece of art that makes you smile when you walk into the room.
Favorite local art?
These murals that keep popping up are fabulous! Anything that can bring color into Buffalo for our extended winters. And it's art that's accessible to everyone. I have a bunch of their locations on my Google Maps alerts, so it lets me know when I'm near one so I don't miss it.
Be the first to know
Get local news delivered to your inbox!