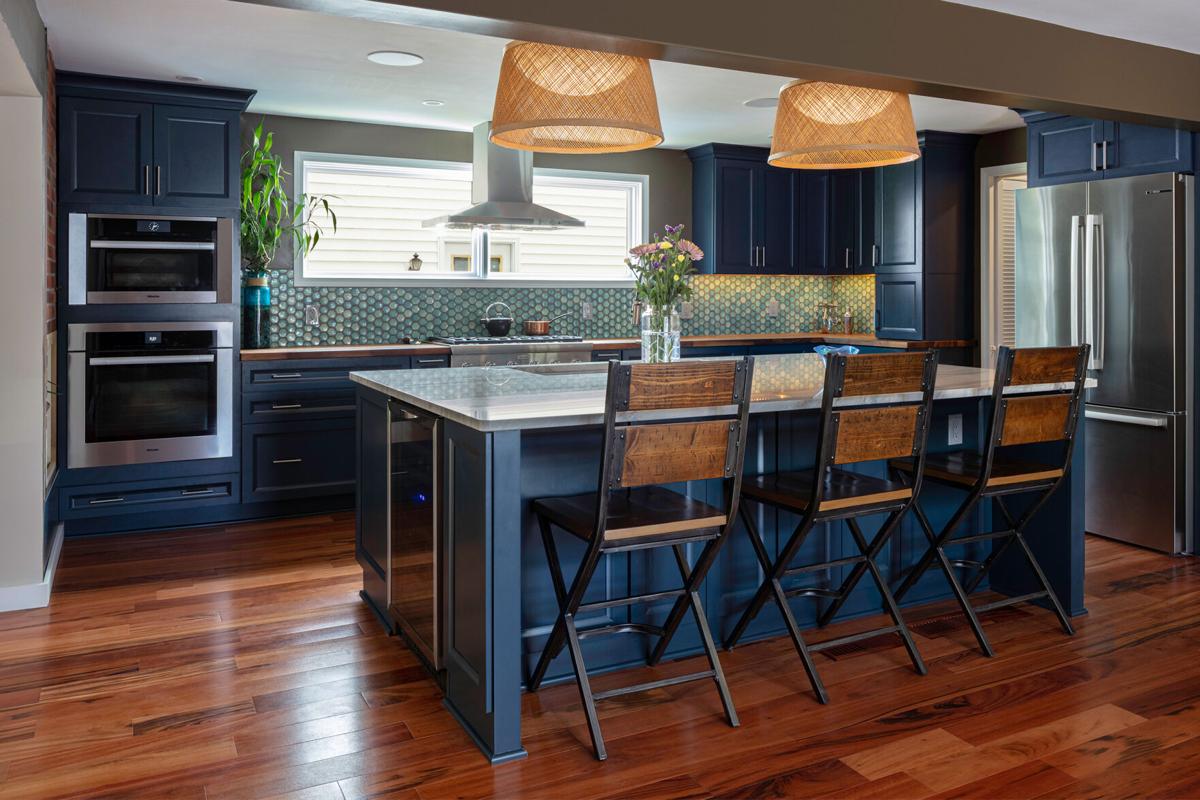 When the husband-and-white duo purchased their Amherst home in December 2019, it was with renovations in mind.
The home was around 60 years old with the kitchen located in the back of the house, isolated from view. So the new owners teamed up with Jennifer Hutton, designer at Artisan Kitchens and Baths, to open up the space—a task that required gutting the entire first floor.
"I think some of the kitchen could've been original to the house," the couple said. "The house was set up in a way for a different era. You could barely see into any other room."
Hutton proposed relocating the kitchen to the center of home—knocking down walls to creating an open flow between the kitchen, dining, family and living room.
"When you're standing in the kitchen, you look out towards the dining room and one side is the living room and the other side is the family room. It's really more like the modern way of living; it's the hub of the home now," the homeowners said.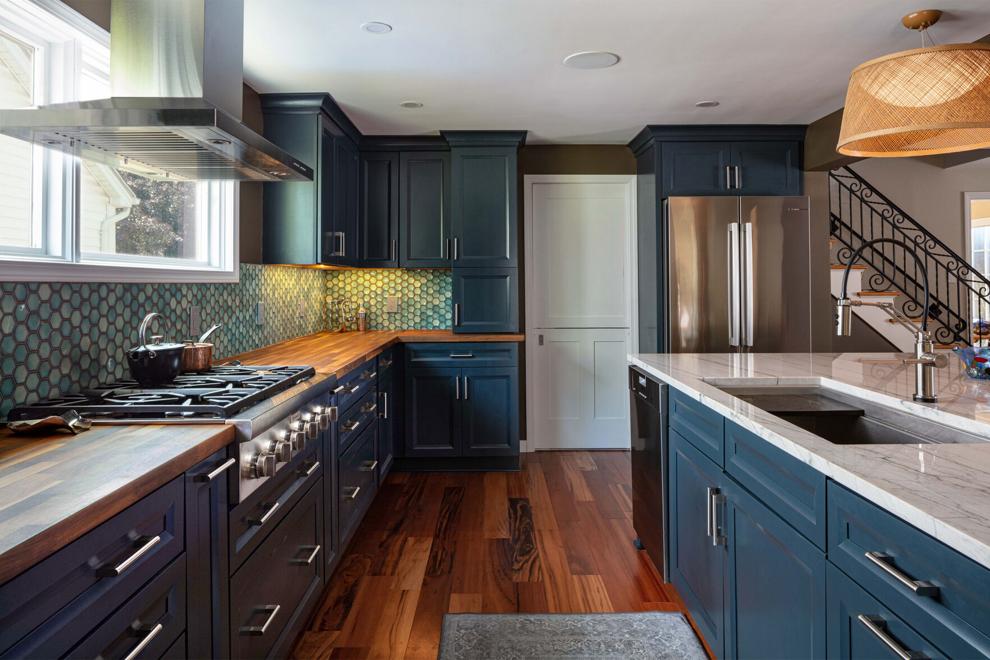 To keep the open concept organized and clutter-free, the couple opted to create a mudroom leading from their garage into the reimaged first floor.
"When you walked in the garage previously, there was barely enough room for two people to stand," they recalled. "We definitely wanted a place that when you came in, you could set your stuff down...without having all of that stuff end up all over the house."
Hutton worked closely with the couple to tailor the mudroom to their current needs while keeping it adjustable for the future.
"Having just enough closed cabinetry, in conjunction with the open shelving, is really going to allow for multi-purpose storage and different utilization of the exact same space, but you get some flexibility out of it as well," Hutton said.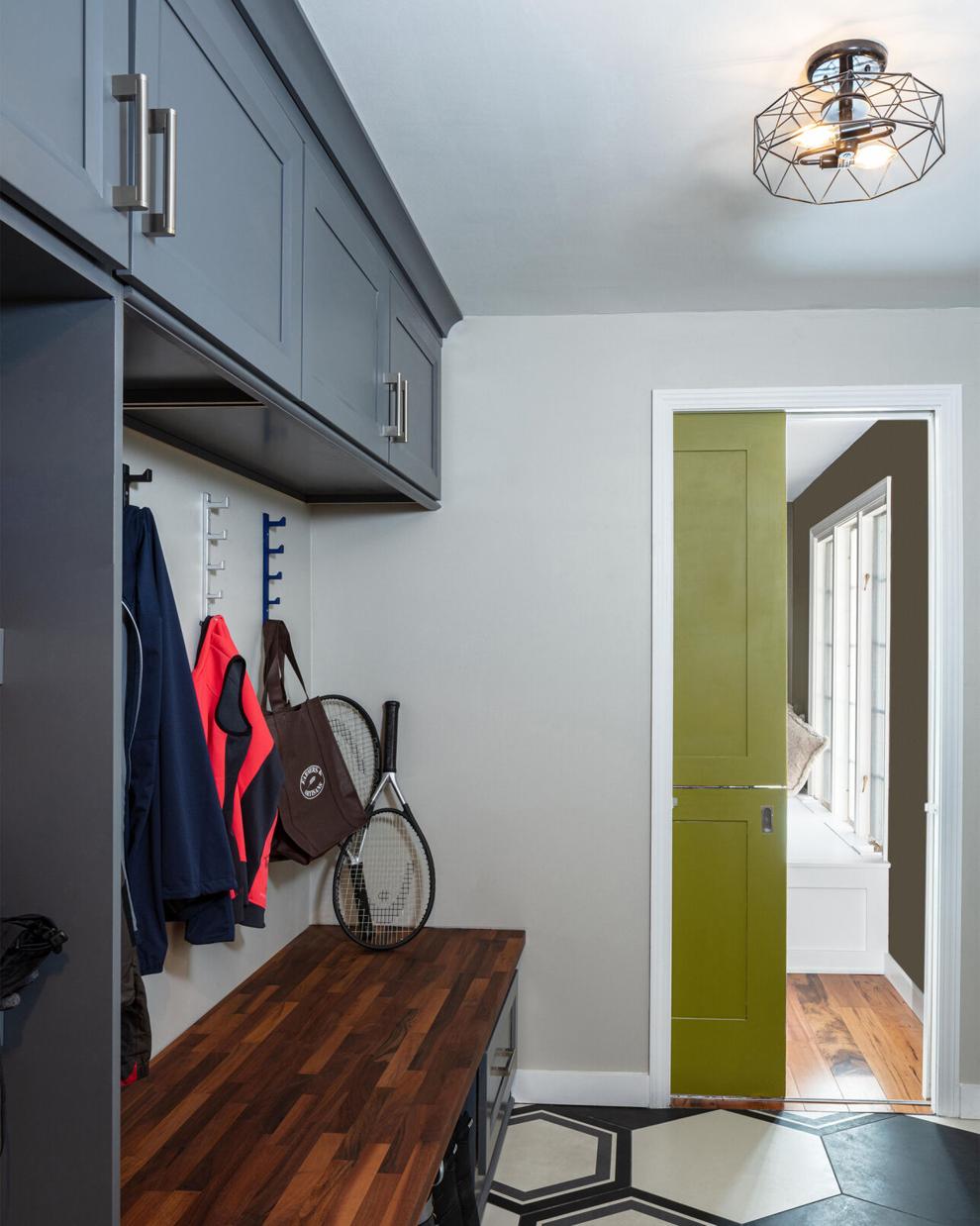 Throughout the new first floor, Hutton worked to combine the couple's differing styles—modern contemporary and French-Country chic—into one cohesive design.
"That farmhouse quality comes out in elements like the natural materials, the butcher block countertop and the natural feature of the lights," Hutton said of the alabaster and woven pendants over the island. "Modern flair is in things like the handles on the cabinetry, which were sleek and stainless steel and very simple."
Hutton also noted the couple's state-of-the-art kitchenware, which includes a Miele steam oven.
"Those are more professional, statement pieces, so you're going to get a lot of that modern feel through some of those metals that you're finding throughout."
Hidden amongst the country exterior is fully tech-savvy first floor, equipped with speakers in the ceiling and adjustable mood lighting.
"I was able to help unify the room, both from one room to the next, but also unify the room with the homeowners in terms of fixtures and finishes," Hutton said. "All of that stuff really starts to come together as one in here."