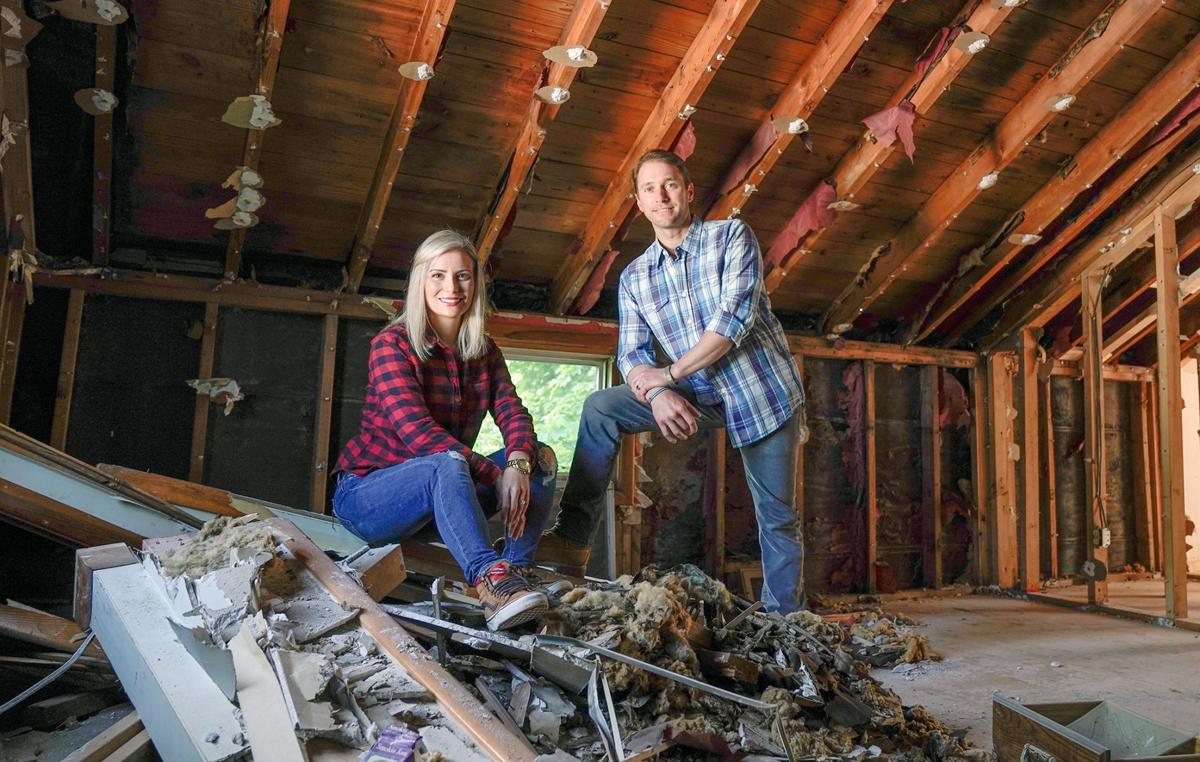 Chris Naugle knows what you are going to ask. When is the show going to air? It was supposed to be in February, then March. Now it's scheduled to premiere June 24 at 2 p.m. on HGTV.
Chris and Lorissa Naugle's Williamsville enterprise has caught fire in Western New York, with local media attention surrounding the debut of their home-flipping TV pilot featuring Buffalo, "Risky Builders."
Navigating the roads and alleyways surrounding television production has been a learning experience for the Naugles. But Chris says he loves the attention it's brought FlipOut Academy. "You basically put rocket boosters under any company that you're doing. Light the wick," he says.
FlipOut is just settling into its new location in the Eastern Hills Mall. The business has two sides. There's the property-investment side, with Lorissa applying her eye to modern renovations with classic charm. Chris handles the education side, offering courses and classes to introduce an army of potential real estate investors to home flipping.
It's a rags-to-riches story, Chris says. Young, attractive and polished, they're the perfect TV couple. Chris speaks quickly and directly, well practiced after years of making his pitch.
But beyond the television series, it's the new location that the Naugles are most excited about. FlipOut has 7,000 square feet for training, events, rental and office space where his entire team can be under one roof in Williamsville.
"You don't even have to pick up the phone. If you need something, you just yell," Chris says.
FlipOut teaches students how to find lucrative off-market deals that are not always in the public's eye. Among its classes are bus tours and workshops, seminars and webinars.
The foundational principle of the Naugles' FlipOut Academy invites the obvious question: why would you create competition for yourself in the local house-flipping market by teaching students your own secrets to success?
Chris Naugle is asked that question frequently, and it comes back to a lesson he learned from a motivational speaker he knew from years back.
"It's the best piece of advice I've ever received," Naugle said. "Always give your best stuff away for free."
Naugle said that for most home-flippers, the secret isn't in learning the tricks of the business. It's applying it effectively. Teaching those skills has only grown FlipOut's network and encouraged more investors to work with them.
And the Naugles' business network has grown so quickly, the best deals are coming to them at this point anyway, he added.
"We're not really creating more competition for ourselves yet," said Naugle. "Down the line? Yeah, maybe. And when that happens I'll be extremely proud of my students."
Be the first to know
Get local news delivered to your inbox!