With any home improvement project, people want the most bang for their buck. But the needs and wants of a couple in their 50s might be completely different than their needs at 70 or 80. Because of this—and the large boomer group that's come of age (and is renovating!)—home designers have coined a new term: aging in place.
The design trend encompasses construction elements that offer evolving functionality—but won't necessarily remind you you're getting older. Think a shallower kitchen sink, or bathroom grab bars that don't look like they came from a hospital.
"They have definitely gotten more attractive," said Jon Fax of New York Kitchen & Bath in Depew, which carries a good-sized selection of grab bars. Most of them come in trendy finishes like brushed nickel and oil rubbed bronze, and look nothing like shiny chrome institutional grab bars.
Some home accessories combine functionality.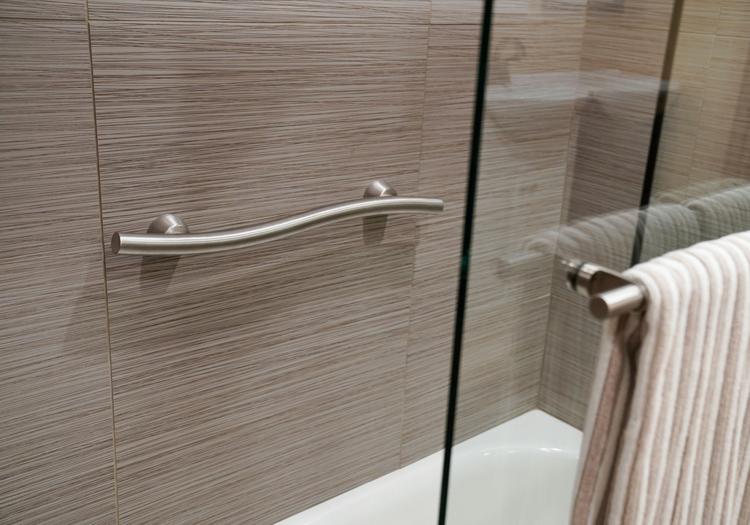 "There are shelves for the shower that serve two functions: acting like a grab bar and as a shampoo shelf, as well as corner cabinets for the shower with supportive bars. Toilet paper holders also have a rounded grab bar on top," Fax said. "They are very decorative, and we have younger customers thinking ahead and incorporating this look."
At any age, non-slip tiles are also worth considering.
"We have textured tiles called the 'rock series'—ceramic tile with a bubble coating—so it has more grip and grit to prevent falling and accidents," Fax said.
With kitchen remodels, aging in place strategies include expanding the distance between the island and cabinets from the standard 36 inches to 48.
"This allows for people to move around comfortably, and [accommodates them] if they are restricted to a wheelchair," said Jon Tober, kitchen designer at Artisan Kitchen and Baths in Buffalo.
Investing in ADA-certified cabinetry is another recommendation. The standard toe-kick for cabinets (the recessed space at the bottom of the cabinet) is 4 to 4 ½ inches. Tober says many cabinet companies now offer "universal cabinetry" with toe kicks that have been increased to 8 or 9 inches.
"It's not a glaring design attribute that screams it's meant for someone aging in place," he said. "In some cases it's more modern looking, but it automatically becomes a nice space for someone in a wheelchair so their feet can fit comfortably under their base cabinetry, and they can get closer. With a traditional toe kick, your feet would be too high in a wheelchair and they will hit the cabinets."
Sliding drawers inside of cabinets—which make it easier to search for items when they pull toward you—are another good investment. Tober also steers his clients away from sinks that are too deep.
"They can be counterproductive," he said. "A shallower sink provides much easier access. Again, if they are shorter or restricted to a wheelchair, it's hard to bend over into a 10-inch sink. A 6-inch deep is much easier."
New appliances should all be at a reachable height, and microwaves should be placed on the counter instead of over the stove. Appliance manufacturer Sharp, for instance, recently came out with a microwave that's installed inside of cabinetry and functions like a drawer.
"Those are really nice, because they get installed in base cabinetry below countertop height. The controls are right there and it's super easy to use," Tober said.
The classic kitchen work triangle should also be smaller.
"Maybe the sink should be placed closer to the stove, so when pots are filled with water there is less distance to travel," Tober said. "It's all about layout."
---
---
Be the first to know
Get local news delivered to your inbox!