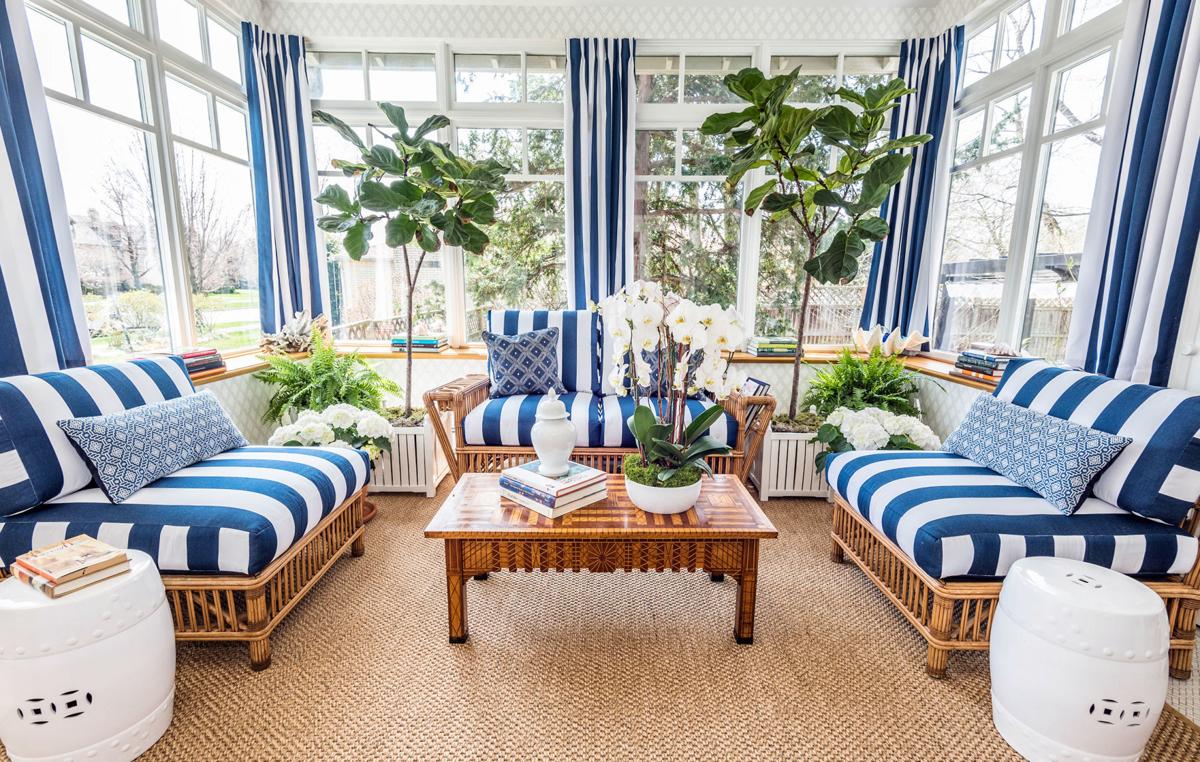 Buffalo's turn-of-the-20th century prosperity gifted the city with an architecturally rich housing stock—many of which endure today, along with their signature craftsmanship. Replete with eye-catching woodwork, grand fireplaces and sprawling floorplans, these stately houses pack period charm in spades.
But turning one of these more than 100-year-old properties into a home that's both beautiful and modern-day functional comes with its own unique set of challenges, as the 2019 Decorators' Show House exemplified. Walls aren't easy to sacrifice in the name of open-concepts and kitchen islands—especially when outfitted in showstopping original wood paneling and built-ins.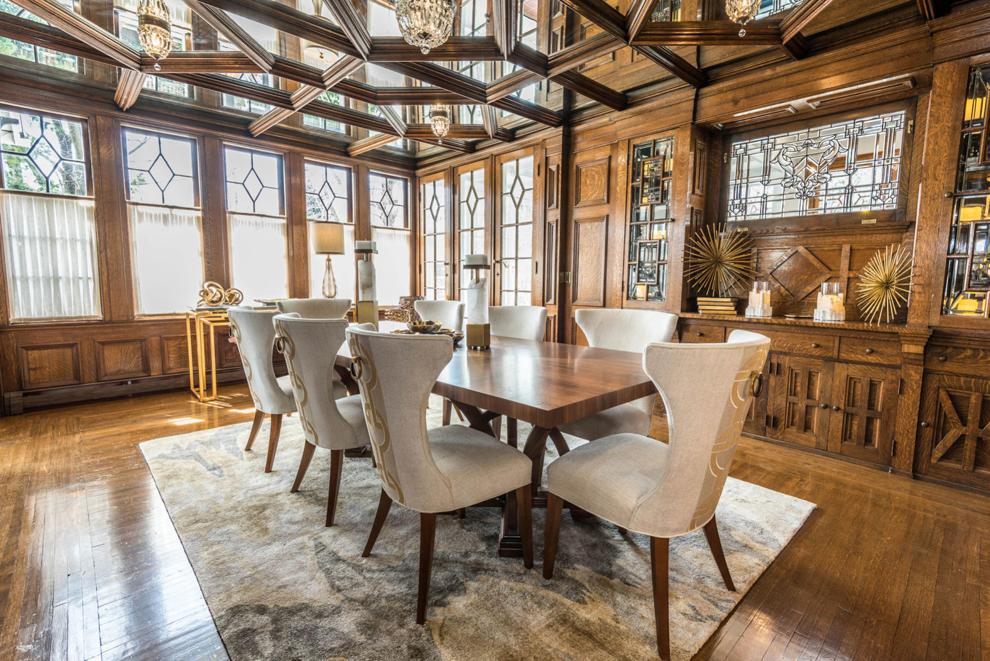 The Palmer Centennial House boasted all the history and coveted detailing, not to mention transformation potential, the Junior League seeks out for its show house properties every two years. The 1910 Arts and Crafts style home set on a corner lot on Lincoln Parkway in North Buffalo featured well-preserved original accents around every corner—and within its 4,269 square feet, there are a lot of them.
With 31 decorated spaces to work with and an edict to create within the parameters of the room instead of redefining it with major construction, a collection of local design professionals took to task with an inspired excitement that shines through. Touring the finished house is a lesson in what a little ingenuity and whole lot of creativity can accomplish.
Blending past and present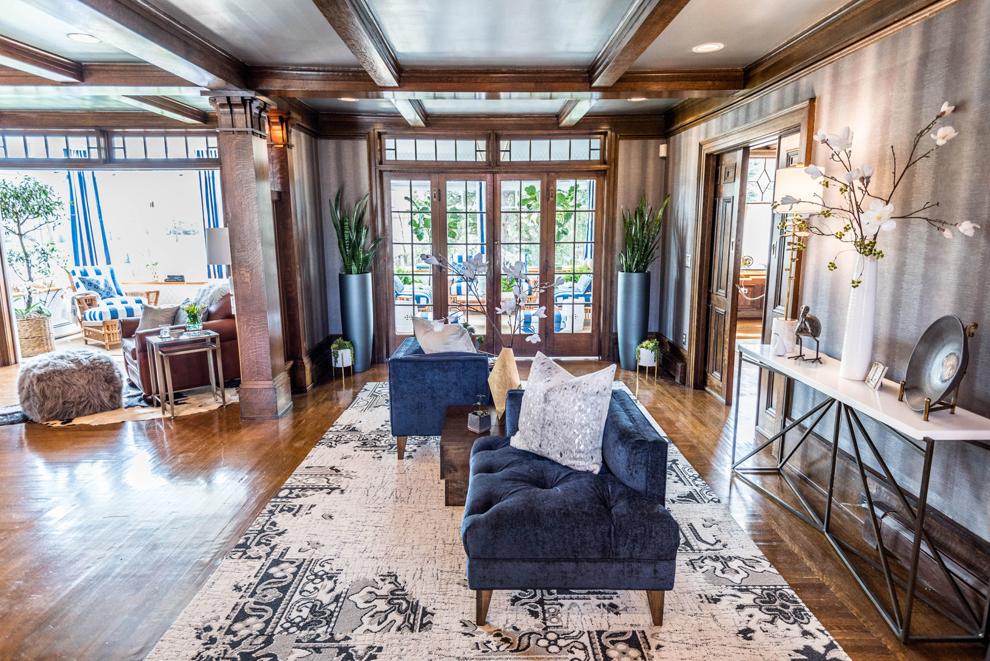 Designers flexed their creative muscle throughout the three stories of the Palmer Centennial House and its landscape, turning to inspired design solutions to address the specific nuances of their space.
The first floor, comprised of nine distinct areas, felt both ambling and divided in its before state. The entry hall was generous, but its long, narrow layout with open flow to the living room begged for purpose. L2K Design maximized this transitional space by defining its dual function for both entry and entertaining.
A fluid seating area now anchors the entry hall. Its two elongated lounge chairs beckon as overflow when hosting a crowd or as a landing spot on the way in or out, while a custom floor mirror balances out its dimensions. "That mirror is really meant to make the space feel wider because it's so long and narrow," says Laura Wax of L2K Design.
The blue-gray hues of the original tile fireplace in the living room served as a serendipitous unifying thread for the main living spaces, which ended up being accidentally cohesive in a way show houses often aren't. (Each room is meant to showcase the style of the designer above all.) The soft cream-and-blue palette offers an airy offset to the abundance of rich wood, letting the beauty of the fireplace take center stage.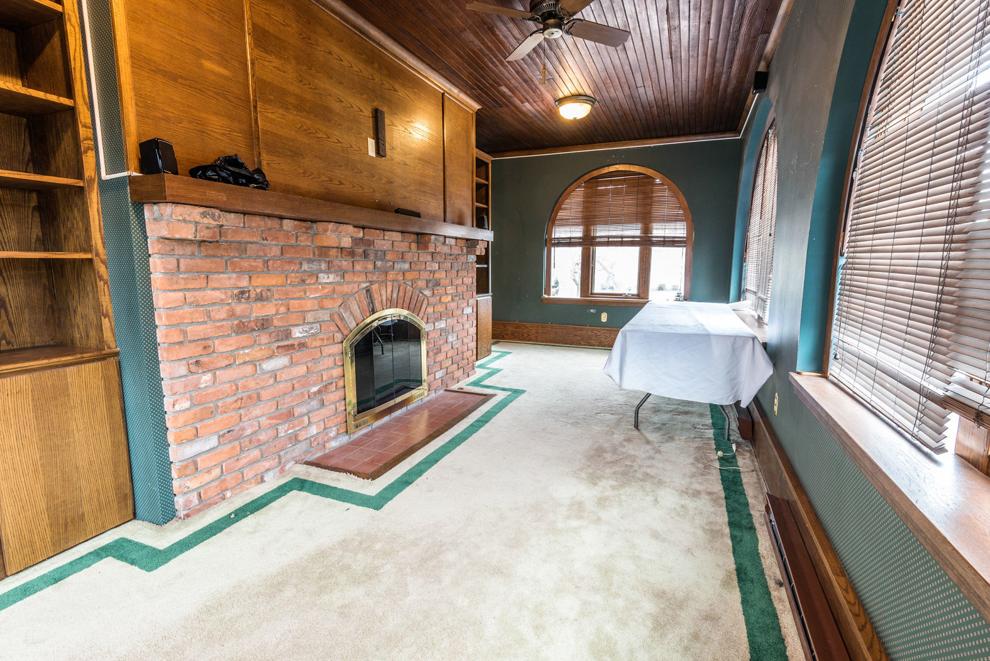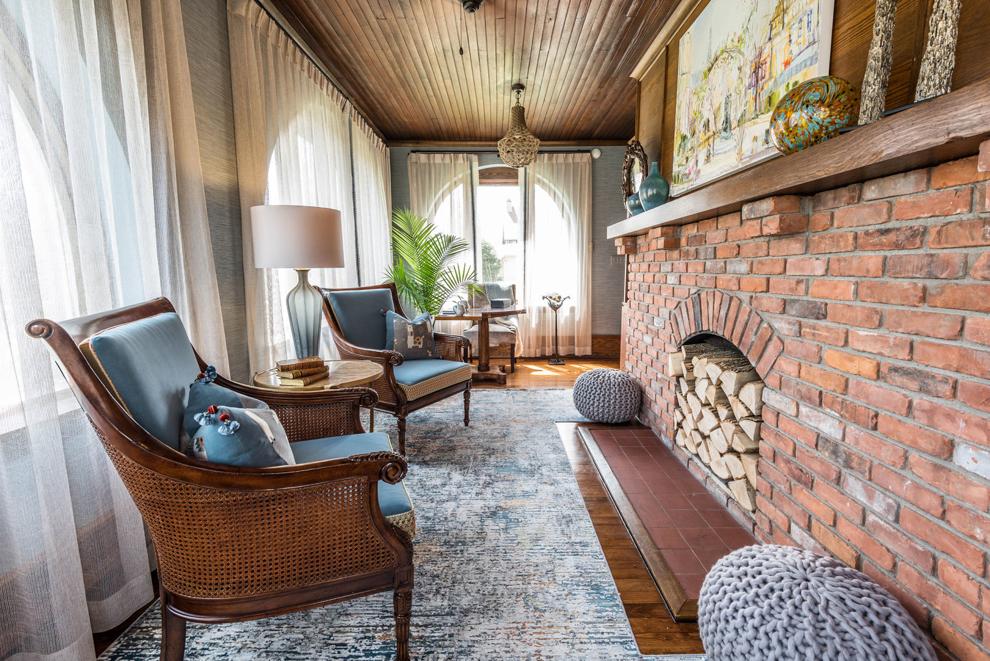 Tucked behind the living room on the other side of the wall sits a second fireplace—a massive brick work with to-the-ceiling wood paneling and built-ins. But that's not the only imposing design feature to work around in the parlor: it also featured a wood beadboard ceiling and series of massive arched windows along its three other walls. Interiors of WNY exposed the original hardwood floors, then used texture in many forms—from opaque patterned curtains to rope chandeliers and poufs—to break up all the deep tones.
In the sunroom, two strategically placed sisal area rugs effortlessly hide two large cracks while showcasing the otherwise delightful original herringbone marble tile floor beneath. The natural rugs also serve as a connecting thread between the two areas of the L-shaped room. In a space that's "essentially a big glass fish bowl, windows and doors everywhere," designer Mark Taylor opted for blue-and-white stripes to bring definition and color to the windows without too much fuss.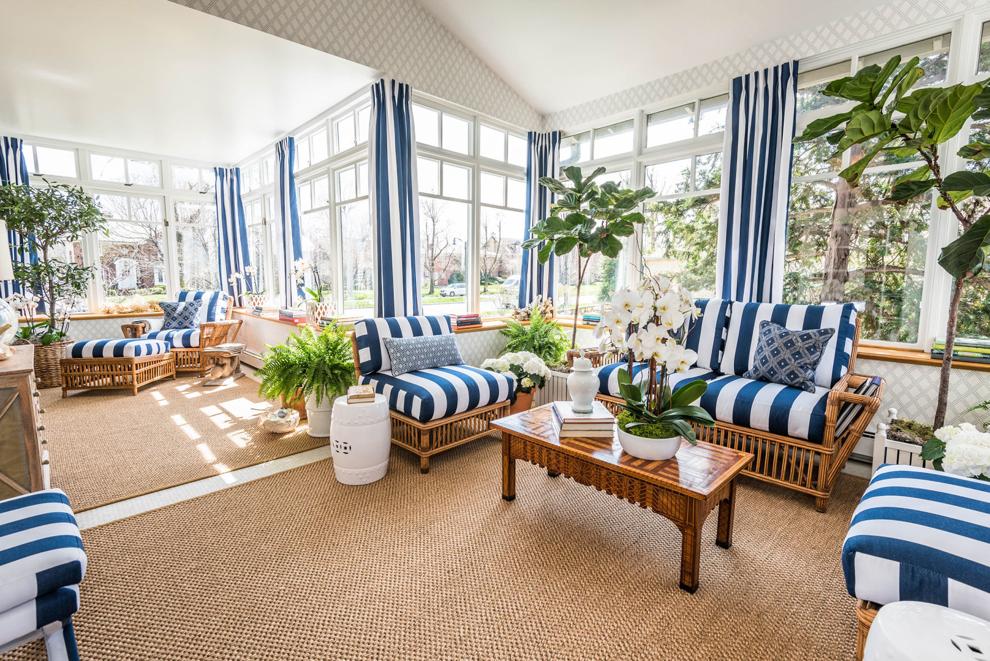 "You have to map out what you want and figure out the best layout for the way you're going to live in the space," says Taylor. "I wanted the one area to be a seating area for a group of people and the one other area a place where you can be alone."
New purpose
Historic homes have layouts indicative of their times—and somewhat counter to ours—with a plethora of divided spaces that can feel fragmented or unnecessary nowadays. Scattered throughout the Palmer Centennial House are clever workarounds that left no space unloved.
The grand staircase, already the showstopper of the house, also became a pop-up gallery that spanned all three floors—and extended to the small butler's stairway to the kitchen. As the main access point for the house, its many walls are the ideal spot to display and experiment with art.
With a lot of rooms come a lot of small closets, and designers transformed a few of these tight spaces to address different needs, like a hotel-style setup outfitted by California Closets in a guest bedroom on the third floor and a hobby space with a slatwall.
An ambling staircase landing between the second and third floor didn't present an obvious use, so the interior design students at Villa Maria College dreamed up an Alice in Wonderland-inspired tea party. "Instead of the seeing the negative in that space, they saw the positives," says faculty advisor Sandra Reicis. "It immediately came to mind to play with scale and proportions to do something whimsical with the space."