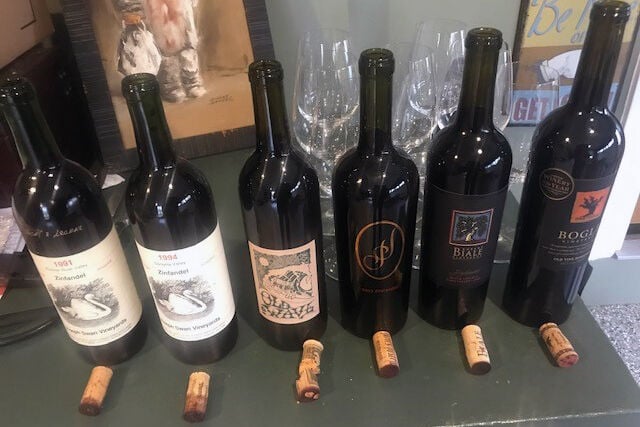 While this is small potatoes compared to the many hardships people have suffered due to the pandemic, I have been challenged to do wine tastings so I can share the favorites we've tried with you.
What's the old saying? Necessity is the mother of invention.
We built our home 24 years ago, and when it was just about complete, we asked ourselves, "Why we shouldn't have a Polish lanai?" Many of you know what this is, but for those that don't, it's basically converting your garage into a great summer room by putting up screens where the door is. Karen is Polish, and we call it this because I'd never seen one until I visited her parents' house, where most of the homes in the predominately Polish neighborhood had this feature.
What a blessing it is now to have a place to socially distance and invite a couple for a wine tasting in our lanai. We also put a firepit in our backyard all those years ago, which works well too providing the weather allows it.
So here begins the wine tasting. We invited our neighbors to our garage. If Dr. Seuss was writing this, he'd start with…
Our neighbors offered to bring food from Asian Star in West Seneca; the restaurant always do an excellent job. The wine was all from my cellar except for one bottle, which I'll get to shortly.
I have written before about how I enjoy Zinfandels with a little age on them—maybe seven to 10 years. My problem is I hate to get rid of some of my favorite old wines and, sometimes, that can spell disaster. The Zinfandels we took out for the tasting go back to 1991.
There is always a story behind the wine, and the first bottle is a prime example. When Karen and I got married 26 years ago, we were having a quiet little get together at the old Warren's Restaurant on Military Road. (I think we ended up with 160 thirsty guests.) We wanted to share our wine collection with all our friends and Mark and Sue Warren helped us set up an amazing wine bar. I brought cases and cases of California Cabernets, mostly from the 1980s. It was awesome. Everyone loved it.
I had a giant champagne bottle and all the guests got to sign it with a special pen that writes on glass. We still have the bottle; what a great memory. Neither Karen nor I needed anything as far as gifts, so our novel idea was to register for wine. How cool. We got cases and cases of individual bottles and each one was marked in special ink so we would remember who gave us the wine. Over the years we would find a bottle to drink and call the friends that gave it to us to thank them again for the wine and the memory. The wedding favor was an imprinted corkscrew that people tell us they still use today.
So that brings me to the first wine: 1991 Joseph Swan Vineyards Zeigler Vineyard Zinfandel. I believe this is the last bottle from our wedding. It was a gift from friend and former colleague Scott Brooks.
All of the wines were still quite drinkable and among the four of us, we each had a favorite of the first five bottles. Considering the age, the wines were surprisingly good. I wouldn't recommend holding Zinfandel as long as the first four bottles, although it was an adventure and a trip down memory lane.
Bottle number five was a 2006 Robert Biale Vineyards Black Chicken Zinfandel. I enjoy drinking Biale wines, and my best friend loves this wine. Black Chicken isn't available all the time, but the current vintages are stocked locally. I think they run about $40.
The sixth wine is one that I went out and hunted down with a mask and gloves, because I wanted to find something for everyone to try now or to put away for several years.
Over the years I have drank many offerings from Bogle and they consistently put out excellent wines at very fair prices. This 2017 Bogle Vineyards Old Vine Zinfandel is a steal at about $12. This wine has power and it has lots of great dark fruit. I liked the way it felt in my mouth and the nice finish as well. Its not easy to find a wine of this quality for this amazing price.
What a lovely, socially distanced evening with our neighbors where none of us had to worry about getting home safely.
Warren T. Colville is Publisher Emeritus of The Buffalo News.