Are Buffalo's summers beautiful? Of course they are. The season's usually so idyllic that it still stands as generations' justification for braving the region's sometimes calamitous winters—and that's no small bargain.
But within the thrill of the summer months, it can be easy to forget that, when weather and football results break the right way, the region's fall can sometimes give summer's reign a run for its money.
The foliage. The beers and ciders. Sunshine-soaked cool that's accommodating to your vast sweater collection, and pumpkins and apples competing to be stuffed into every recipe. It's a gorgeous season when not interrupted by some freak meteorological aberration (see: October Surprise or 2014's Snowvember), and it's important you take advantage of its months in all their autumn splendor.
That's where Ellicottville comes in. Yes, it's optimal for ski crowds once the snow falls, but its rolling backdrop may be most beautiful when the leaves start changing. That's one reason its annual Fall Festival (Oct. 12-13) is so popular, with locals and visitors filling its shops, bars and restaurants for a weekend full of the many activities that celebrate the season.
The occasion provides a calendar reason to head down the 219, but you don't need a festival to visit the cherished Southern Tier village. You simply need a plan for delicious drinks, dining and friendly revelry, and that's where we come in.
Ready to head to the EVL? Here we go...
Stop 1: Drinks at Winery of Ellicottville
14 Monroe St., Ellicottville
After spending the summer months sipping white wines or rosé all day, it might be time to settle into some darker, bolder selections as colder temperatures idle on the horizon.
The Winery of Ellicottville delivers, with Old-World Italian winemaking eliciting flavorful selections off Ellicottville's main thoroughfare. Sam and Bethany Sheehy have operated their locale since 2009, and it's been a cherished spot for those interested in a to-go bottle shop, an intimate barroom to realize the surprising complexity of locally sourced selections or simply as a drink stop for friends exploring surrounding neighborhood offerings.
This past summer, the locale added a second-story outdoor porch for those eager to hoist glasses of the Merlot-Pinot Noir blend, Village Red or award-winning EVL Red—featuring highlights of cherry and vanilla at $14 per bottle—outside over the village buzz below. This fall, that energy will still be prevalent, albeit dressed in more layers.
Stop 2: Dinner at West Rose
23 Washington St., Ellicottville
Seasoned diners across Western New York are familiar with Hamburg's Grange Community Kitchen. Favored for its locally sourced ingredients, inventive farm-to-table menu and ambitious cocktail and beer list, the location was welcomed as a revelation after its 2016 opening in the Southtowns and continues to be a go-to spot of neighborhood denizens and city dwellers—including those ardently against traveling to the suburbs for any reason whatsoever.
Now, these same people will have to make the trek to Ellicottville, as Grange owners Brad and Caren Rowell just opened Grange-sibling West Rose in the heart of the village. Boasting seasonal dining and drink menus meant to take advantage of the plentiful agriculture available in the Southern Tier—as well as a full-service weekend brunch that's sure to be a smash come ski season—the Washington Street spot provides an enviable stop for a friendly or romantic dinner on the neighborhood's main drag.
And for diners wondering whether West Rose appropriately replicates the stylish-hospitable balance of its sister location in Hamburg, never fear. The Grange family has brought its cherished ambiance down south and is thrilled to be a part of the EVL's thriving restaurant and bar community.
Stop 3: Revelry at Finnerty's Tap Room
1 Washington St., Ellicottville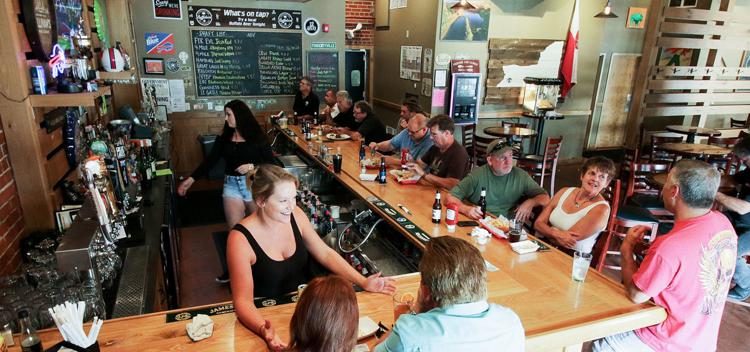 After the introductory culinary experience at West Rose, where can you go to lean, laugh and maybe even sing along to some live music? Skip down the street to Finnerty's Tap Room, crafted especially for this type of classic tavern experience.
Opened by Hamburg native and former J.P. Fitzgerald's bartender Billy Finnerty, the place offers all the spoils of a neighborhood watering hole, emblazoned with Buffalo-area decor and stocked with the requisite lines of local and nationally favored craft drafts. But with spots in the front barroom and its spacious rear dining room—ideal for nights of live music—visitors can find a welcoming spot to end their evening.
Is it with some friendly conversation with locals or fellow visitors, ready to discuss their seasonal love of such an Ellicottville getaway? Is it amid a night of uproarious rockabilly or classic rock covers; or is it over a few amber-hued pints concocted by nearby operations Four Mile, Hamburg or neighboring Ellicottville Brewing Company?
Your call, but all are on the table for your own personal fall fest on the streets of Ellicottville.
Be the first to know
Get local news delivered to your inbox!