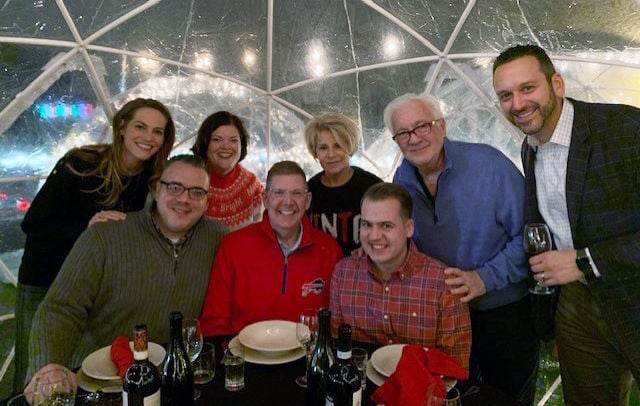 I've had wine in many different places—but I never thought I would drink wine in an igloo.
We heard that Tappo brought back the igloos on their roof again this winter and thought it would be a fun idea to rent one for a mini wine tasting.
There were eight of us that agreed to our adventure. Three couples with Visit Buffalo Niagara ties joined me and Karen for an enjoyable evening in the transparent dome: Karen Fashana, VBN's director of marketing, and her husband Charlie; Lori White, who was with the organization for seven years, and her husband Sean; and Patrick Kaler, president and CEO, with his partner Jonathan Orlow.
We had one of the warm and cozy igloos all to ourselves. It was a clear night, the glow of the downtown skyline in our igloo reminding us were dining on the roof. The city views when you stepped outside the warm barrier were impressive.
I brought some special wine to accompany the family-style meal that we enjoyed. The food was perfect for our igloo and everyone had plenty to eat during the three courses. The two wines I brought might be hard to find in Buffalo but if you see either of these in a store or restaurant, please try them.
2008 Sokol Blosser Goosepen Block Pinot Noir
I actually bought this wine when we traveled there about nine years ago. There were only 185 cases of this wine made. 2008 was a wonderful year for Oregon. This wine is a rock star. Wonderfully delicate cherries, smooth as silk. Elegant. While we enjoyed it with our igloo meal, I can't even imagine how unbelievable this wine would be with wild Alaskan sockeye salmon.
2015 Betz Family Winery Pere de Famille Cabernet
Columbia Valley, Washington
Betz is one of my all-time favorite wineries. They continue to turn out some best-in-class Cabernets and Syrahs. Not to mention they are some of the nicest owners and winemakers that I have ever met. If you want it simple, this is a fantastic wine. There is huge fruit, a slight floral nose and a smokiness that makes this so compelling.
---
Under $20 finds
You don't have to spend a lot of money to get very good wine. I've always found that the folks who help you at wine stores are terrific, and if you kind of tell them what you like and how much you're looking to spend, they'll guide you well.
I wanted to taste a bunch of wines that were relatively inexpensive. These are the ones we liked and would recommend:
2017 Borgo del Mandorlo Primitivo Di Manduria
I have no idea why we tried this wine first, but it was a great choice. Beautiful dense ruby color, lots of dark fruit and body. This wine is drinking nicely, and you should grab a few bottles; it's available locally. I make a wonderful beef stew in my slow cooker and had a bottle of this wine with it and it was so good.
2016 Kuleto Estate Native Son
This is a delicious red blend from Lake County. You should be able to find this in Buffalo for $20, give or take. I really enjoyed this wine and served it at two parties and our guest like it, too. There is plenty of fruit and spice as well. How about a bowl of pasta for a pairing?
Warren T. Colville is publisher and president of The Buffalo News.
Be the first to know
Get local news delivered to your inbox!