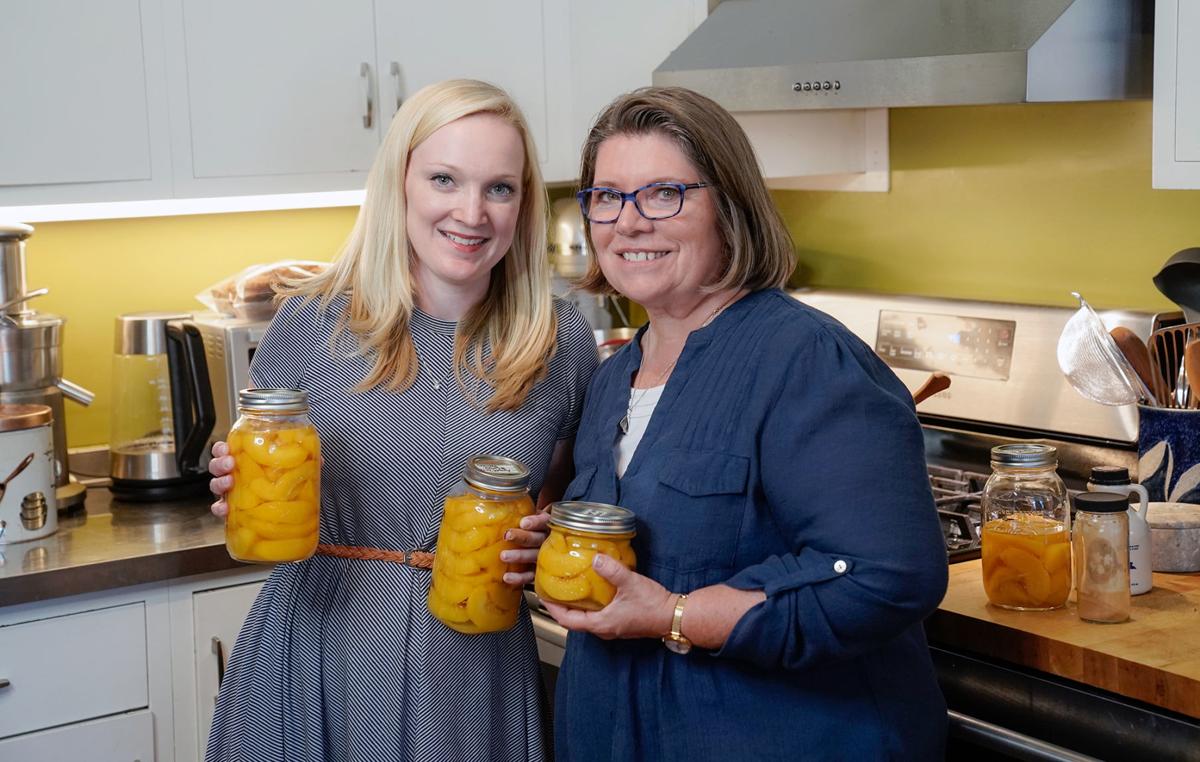 It's an annual tradition that endures. When Noel went into labor early with her younger daughter Laura just as two bushels of peaches hit prime canning ripeness, her friends and neighbors pitched in to finish the job. Baczynski worked through an untimely heat wave in a kitchen without AC to get a batch done one year — her husband, Adam, rigging up a system of fans to help provide relief.
Now the two plan ahead to ensure they can still tackle the project together, as Noel since moved from Hamburg to Connecticut. "We definitely look forward to it every year," says Noel. "It's a special time of the year."
Each batch of canned peaches starts with a trip out to Kappus Farms in Burt, where Baczynski has been going every year since she was a kid, to get a bushel (or two) of freestone peaches. Back home, she lays them out to ripen, placing the peaches upside down on newspaper two inches apart and covering with a second layer of newspaper, just like her great grandmother did. Then comes the hard part: waiting…in a house overtaken with their fresh summer scent.
Some years the peaches hit peak ripeness at the same time — and some years they don't, extending the process. Last year, the peaches sat out a week before they were ready. When it comes time to can, Baczynski and her mom go into autopilot, checking their memory against Betty Crocker's step-by-step instructions. (Baczynski has a 1970s copy of this kitchen classic thanks to Amazon.)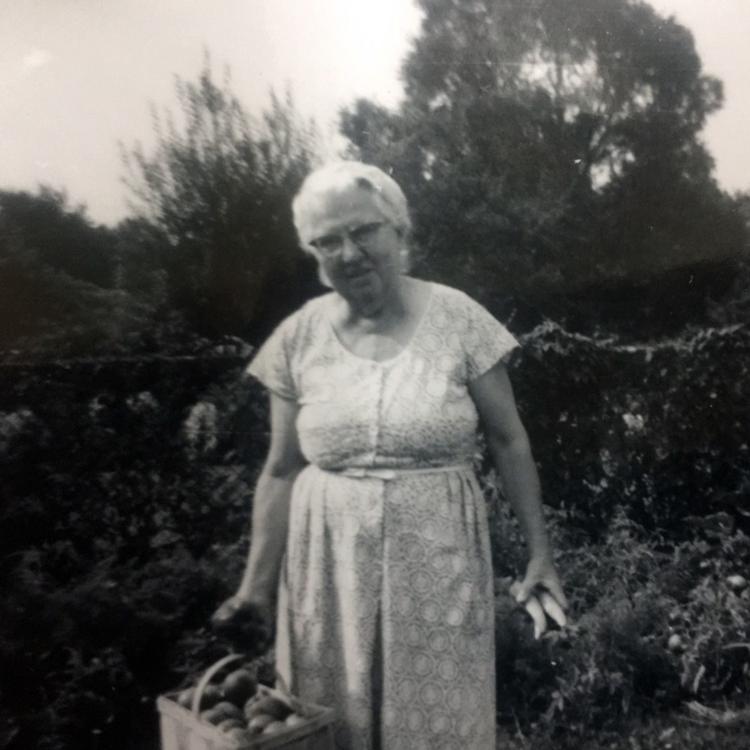 Two bushels of freestone peaches can produce up to 40 jars in a mix of quart and pint. While Baczynski's grandmother — and great grandmother — had dedicated fruit cabinets and rooms to store all their homemade canned goods throughout the year, basement shelving does the trick for Baczynski.
The finished cans are of three varieties: peaches in traditional light syrup, the family favorite, as well as spiced and bourbon. And their applications are endless. When not snacked on straight out of the jar, the homemade peaches make their way into every mealtime. Penny loves them atop waffles — and the whole family craves the fresh-baked peach cobbler.
"I love it because it's really simple," says Baczynski. "What I've done before is put all the dry and wet ingredients together in separate containers, bring it to my mother-in-law's house and assemble there and bake. It's one of the easiest ways to use peaches."
Recipes from Baczynski's kitchen
Peach oats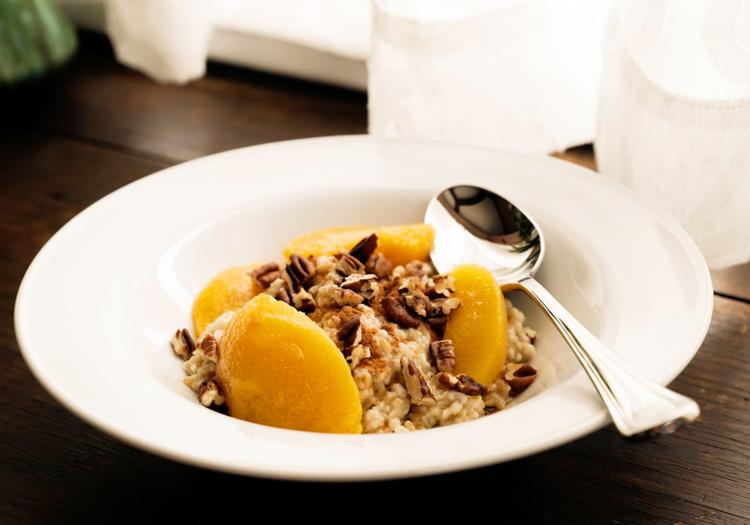 To brighten your morning routine with a breakfast worth getting out of bed for, just add peaches.
3 cups water
1 cup steel cut oats
Canned peaches (homemade, if you have them)
Cinnamon
Maple syrup
Chopped pecans, optional
Bring the water and a dash of salt to boil. Once boiling, stir in the steel cut oats, cover and turn the heat down to low. Simmer for 20 minutes.
Transfer oats to a bowl and top with peach slices, a dash of cinnamon, maple syrup and pecans.
Peach cobbler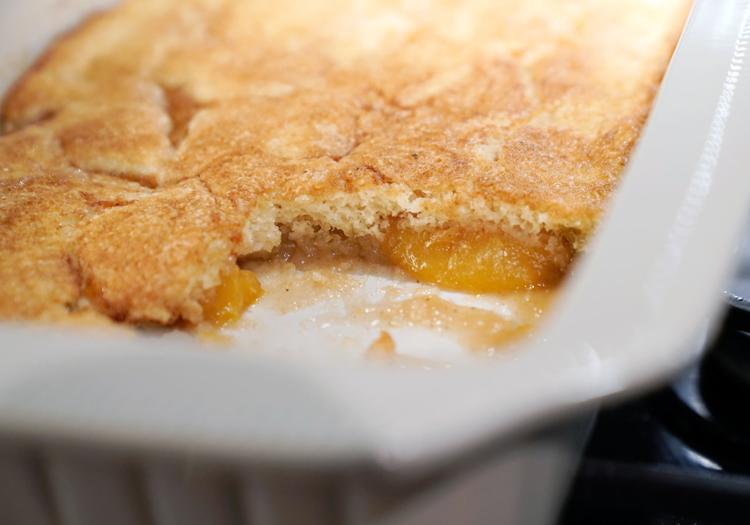 This crowd-pleaser is a compelling reason to make your own canned peaches (or befriend someone who does).
½ cup butter, melted
1 cup flour
1 cup sugar
2 teaspoons baking powder
¼ teaspoon salt
2/3 cup milk, room temperature
1 egg, room temperature
1 28-ounce jar sliced peaches, drained (homemade, if you have them)
½ cup sugar
1 teaspoon cinnamon
½ teaspoon nutmeg
Preheat oven to 350 degrees. Melt the butter in a 9-by-13 inch pan, and set aside.
In a mixing bowl, combine the flour, sugar, baking powder, and salt. Stir in the milk and egg. In a separate bowl, combine the peaches, sugar, and spices and toss until coated.
Pour the batter into the pan evenly over the melted butter. Top with the peach mixture, but do not stir. Bake for 35-45 minutes until the batter rises to the top and is golden brown. Serve warm with ice cream.
Peach bellini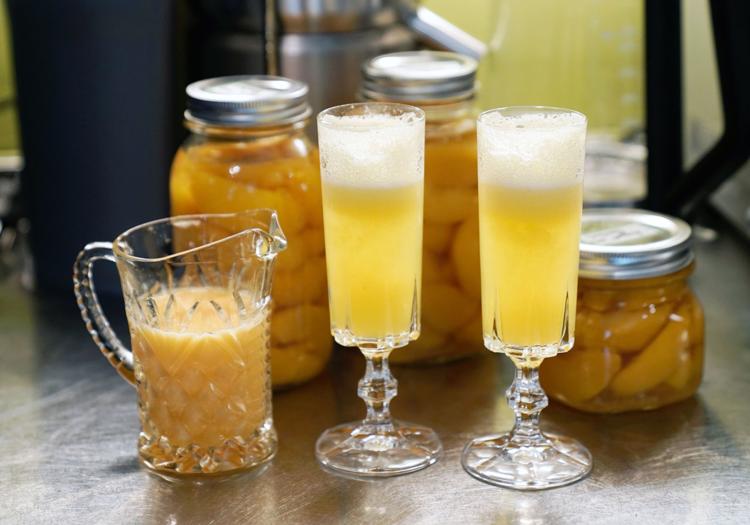 Those slightly bruised peaches that don't cut it for canning are the perfect excuse to make this refreshing cocktail.
3 peaches, peeled and sliced
1 lemon, juiced
1-2 teaspoon sugar, to taste
1 bottle chilled prosecco or dry sparkling wine
Puree the peaches, lemon juice, sugar and a splash of water in a blender or food processor until smooth.
Press the puree through a fine mesh strainer, discarding the solids.
Add one tablespoon of the peach puree to a Champagne flute then slowly top with prosecco.
Be the first to know
Get local news delivered to your inbox!