Given that Lori Walton practically grew up in the kitchen of her parents' restaurant, the highly regarded Protocol Restaurant in Williamsville, it's not surprising she's now cultivated a reputation as a hostess extraordinaire.
Her father opened the Protocol almost 50 years ago when Lori, the youngest, was only 3. The business has always been a family affair—her childhood home was even located on the same lot behind the restaurant. While her four siblings gravitated towards waiting tables and bartending, it was the back-of-the-house that beckoned for Lori. She loved working alongside the chefs while cajoling them to share their techniques. She learned early the value of good food in bringing people together, a lesson that certainly stuck.
Equally comfortable at hosting an intimate dinner for four or a magnificent holiday meal for dozens with her husband, Doug, at their home in Wheatfield, Lori always prepares a spread that leaves her guests wanting more. This works out perfectly as she's known for having restaurant take-out containers at the ready for all to carry home the extras.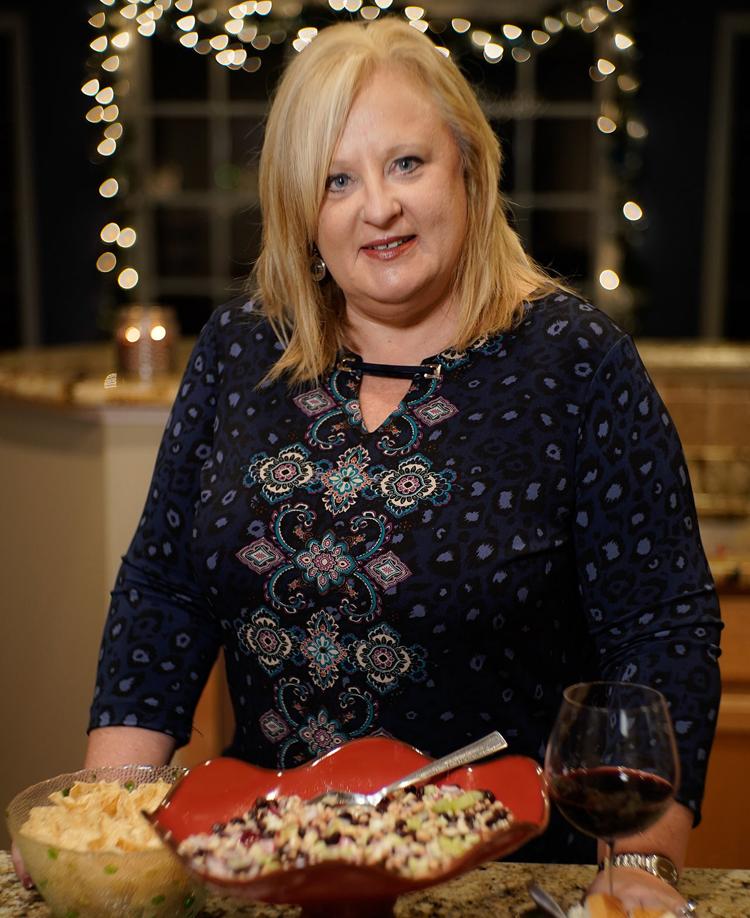 Her demanding career as a revenue director for a hotel management company sees her traveling frequently. Nonetheless, Lori's the woman that steps up to organize the school fundraiser, host her son's baseball team for an impromptu pool party and on a whim decide it's been too long since the neighbors got together and sees that rectified over drinks and snacks at her place. It's the rare week that passes without Lori having some sort of get-together.
As neighbors and friends for 16 years, I've had the good fortune to be included in many of Lori's delightful soirees—even going so far as to just meander over when I recognize the cars lining our street. Elementally gracious, she insists there's always room for one more. I've often observed that there's no part of entertaining she doesn't truly enjoy, going so far as to seem a little puzzled that not everyone shares her unbridled enthusiasm for it.
Beyond the fun times, though, if you're blessed to be in Lori's circle you can expect a multi-course hot meal delivered to your door if ever in need. True story: When I couldn't walk for an extended period following foot surgery, she brought over dinner several nights a week for months. While good food may not solve everything, Lori believes it's as good a distraction as any from what ails you.
When asked for her best entertaining tip, she made a strong case that a selection of scrumptious appetizers is a tasty foundation for a successful gathering—large or small—noting that everyone enjoys these mini previews. Lori loves these tasty nibbles because they help keep guests engaged and entertained while gifting her the precious extra minutes she needs to put the finishing touches on the main course.
Delicious apps truly are her signature and hence when the gang convenes, her oversized kitchen island is always loaded with delicious selections. Coming from someone who's been in the business of entertaining basically her whole life, her approach sounds like a perfect starter.
Texas Caviar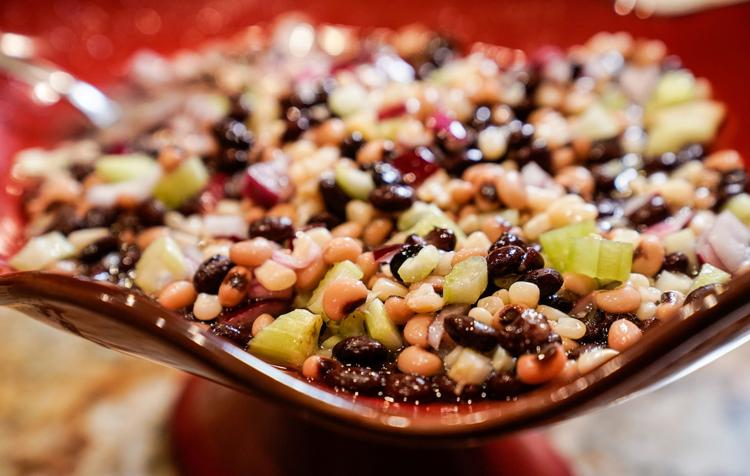 Prepared from a good friend's recipe, Lori suggests keeping the ingredients on-hand to make this easy-peasy nibble when you have to bring a really delish "little something."
• 1 can Green Giant shoepeg corn
• 3-5 stalks celery, chopped
• 1 small can Taco Supplies sliced jalapeno, chopped
• 1 cup good quality olive oil
Combine olive oil, sugar and cider vinegar, mixing until the sugar dissolves. Pour dressing over the bean mixture and let marinate in the fridge overnight. Drain before serving with crackers.
Cordon Blue Toasts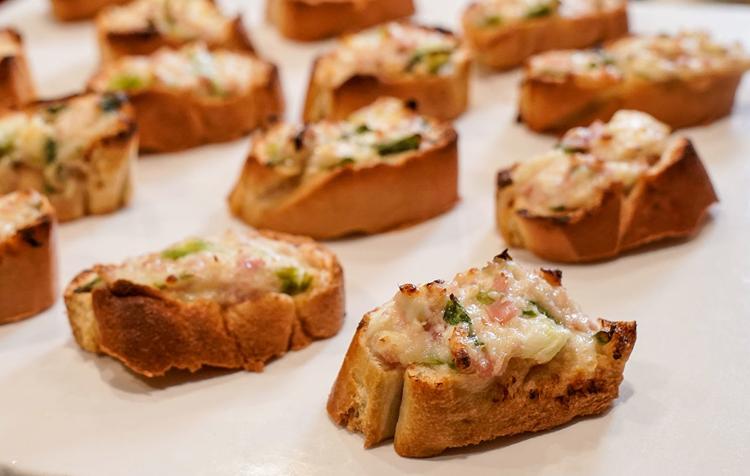 This modification of a Taste of Home recipe is such a crowd-pleaser Lori says guests are typically too impatient to wait for the toasts to cool when they exit the oven.
• 4 oz. cream cheese, softened
• 1 cup (4 oz.) Swiss cheese, shredded
• ¾ cup cooked ham, diced
• ½ cup chives, minced and divided in half
• 18 slices baguette, cut ½ inch thick
Preheat oven to 350 F. Beat cream cheese and mustard in a bowl until smooth. Stir in Swiss cheese, ham and half of the chives. Spread 1 tbsp. mixture on each bread slice. Bake on an ungreased cookie sheet for 13-15 minutes until browned. Top with rest of chives and serve hot.
Mary Alice's Hoagie Dip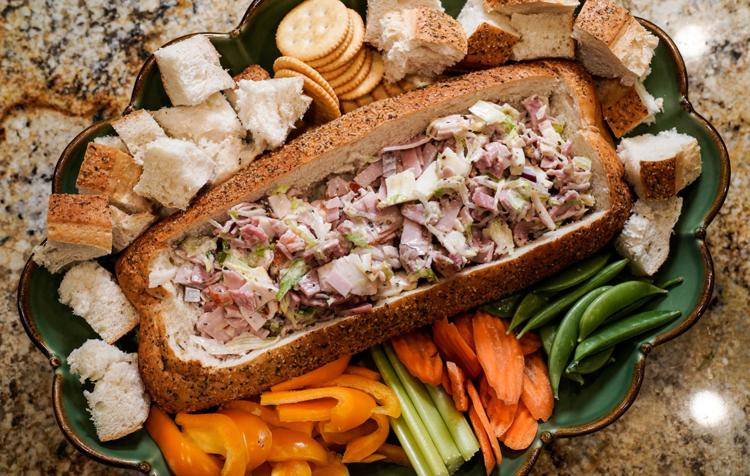 Plucked from the Food Network, this recipe tastes like a delicious submarine sandwich and Lori reports the bowl is always empty by the end of the event.
• 1 medium onion, chopped
• 2 pickled pepperoncini peppers, chopped
• ½ head iceberg lettuce, chopped
• 1 large tomato, seeded and chopped
• ¼ lb. each deli-sliced genoa salami, ham, prosciutto, roast turkey and provolone cheese, chopped
• 1 tbsp. extra virgin olive oil
• ½ tsp. red pepper flakes
• 1 12-inch round loaf Italian bread
• 8 Hoagie rolls, cut into chunks, for dipping
In a large bowl, combine the onion, pepperoncini, lettuce, tomato and deli meat and cheese. Add in mayonnaise, olive oil, oregano, basil and red pepper flakes and stir until thoroughly combined. Cover and refrigerate. Carve out the center of the bread, keeping the bottom. To serve, spoon the hoagie dip into the bread bowl and surround with hoagie roll pieces.
Be the first to know
Get local news delivered to your inbox!