The necessity of a hot cocktail really can't be overstated in Buffalo. When snow starts to pile in streets, we're left with no choice but to venture by foot to the neighborhood bar for a drink that warms from the inside out.
Hot Toddies
The traditional hot toddy is whiskey or bourbon mixed with hot water, honey and spices. Our neighbors to the North have even been known to add maple syrup. The best news? A hot toddy is considered helpful in relieving the symptoms of a cold.
This soccer bar has two toddies to offer: a more traditional take with bourbon, lemon juice, honey-ginger syrup and a dash of bitters, and a bolder approach with tequila, Saki, carrot-ginger shrub, hot cider and ground sugar.
It's a toddy with a twist. Called Fire & Spice, this cocktail still uses bourbon, but the main spirit is Lockhouse Ginnamon (a cinnamon flavored gin) with Pierre Ferrand Dry Orange Curaçao, fresh lemon juice and hot water. If you like your drinks a bit sweeter, they'll happily add in some of their house-made honey syrup, just ask! The cocktail is garnished with a flamed cinnamon stick and a lemon twist.
Likened to a whiskey toddy, the "Winter Onesie" is an herbal, slightly sweet cocktail with Japanese whiskey, root beer cordial, Lockhouse Amaro, cloosterbitter, absinthe (!) and citrus.
Four Roses Bourbon, honey, hot water and a cinnamon stick come together for a traditional toddy.
Mulled Red Wine
A popular drink in many countries during Christmastime, mulled wine is served warm and consists mainly of red wine and spices. It may also be referred to as glowing wine, boiled wine, cooked wine, bishop's wine or burnt wine.
This version features apple cider, Cabernet Sauvignon, honey, club soda, cinnamon sticks, cloves, star anise and orange slices. Alchemy will also be doing pours of port wines in the winter to warm the belly.
A traditional recipe with all local ingredients starring 21 Brix Winery out of Portland, New York.
Hot Buttered Rum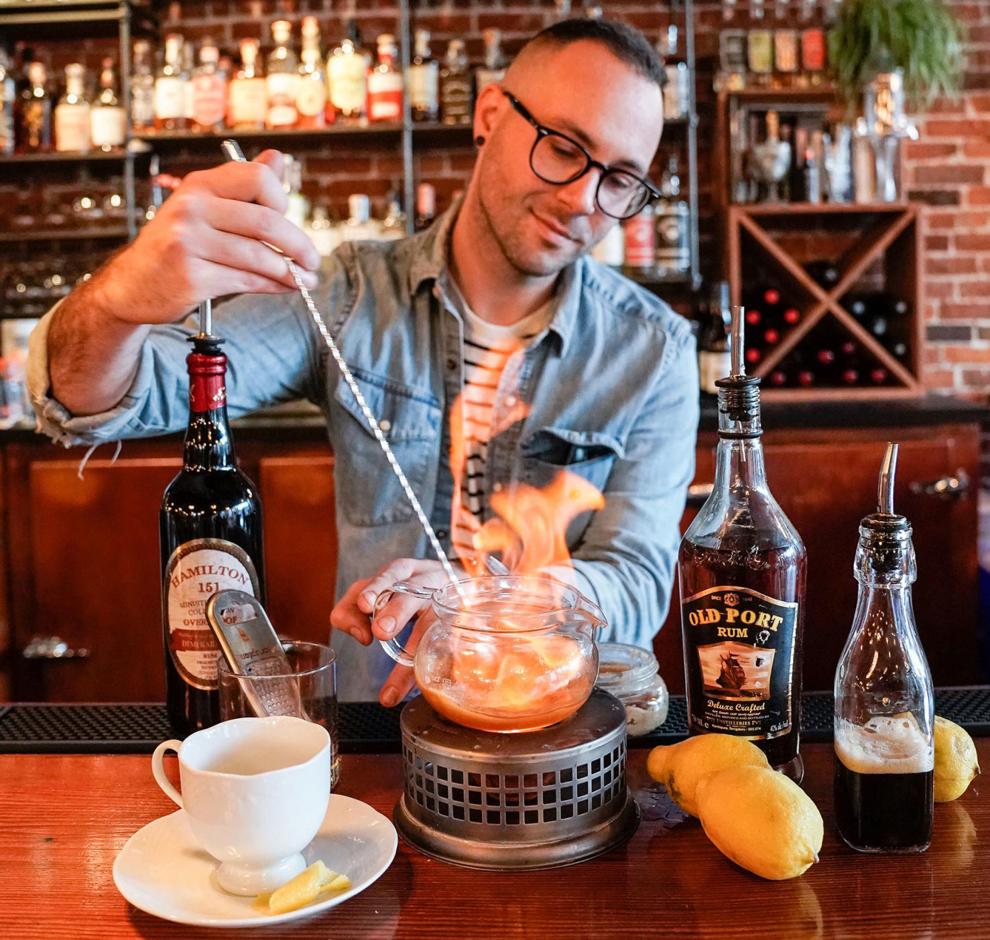 Not to be confused with the five-piece bluegrass string band out of San Francisco, this is a cocktail that, perhaps obviously, includes rum, butter, spices and hot water.
Each drink is made to order in a little glass teapot and never batched. I'm told it's the only way to ensure the drink will be truly hot. Plus, the bar can then accommodate exceptions that way. The Larkinville mainstay also hosts a Bavarian Winterfest at the end of January, where traditional German hot cocktails are served outside—no matter the weather!
Not exactly a hot buttered rum, but close. The Vicki is a creamy vanilla drink infused with a bochet mead (alcohol made by fermenting honey) that tastes like a decadent, sweet bourbon.
Irish Coffee
Cup of Joe meet Cup of Jack—or Kahlúa or Frangelico.
Brewed with their own secret blend of coffee, the French Pub Coffee features Kahlúa, Baileys Irish Cream and Grand Marnier topped with whipped cream and a cinnamon-sugar rim.
In addition to the traditional recipe, the Chocolate Bar also offers the Nutty Irishmen with Frangelico, Baileys and Jameson, and the Kentucky Coffee with Kentucky bourbon, Wild Turkey and honey, among many, many other options.
Dubbed the South Buffalo Coffee, this drink features locally made Black Button Bourbon Cream with Tullamore Dew.
Spiked Hot Chocolate
No elaborate origin story here. Sometimes you just need a little something extra in your hot cocoa.
The offerings here are unsurprisingly vast, including flavors like Frosted Cinnamon Bun, Dulce de Leche, Chocolate Nutella, Coconut Macaroon and Aztec.
Eggnog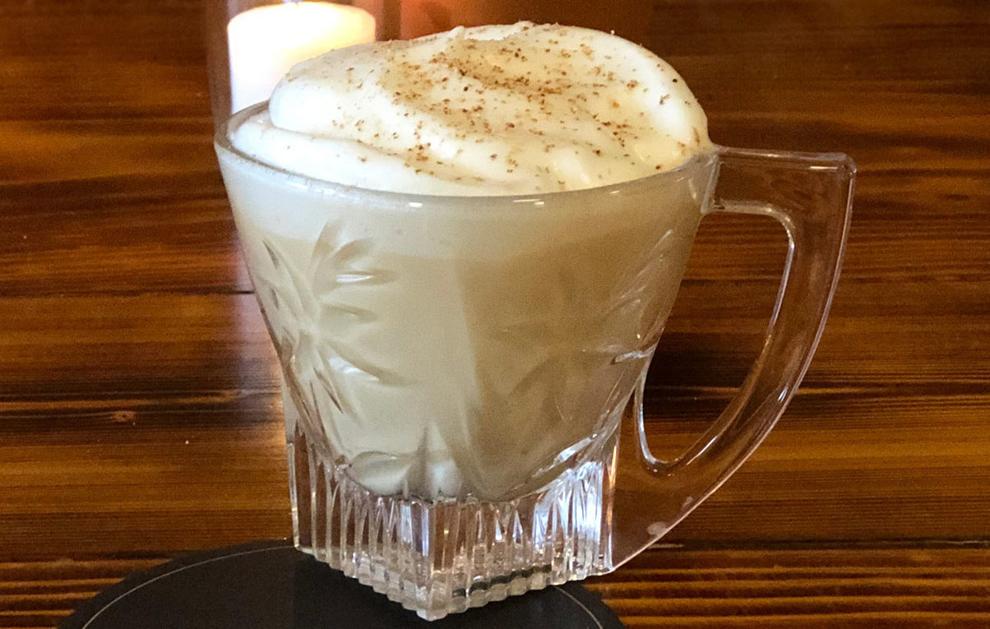 You may remember it from National Lampoon's Christmas vacation, but eggnog was included in "The Modern Bartender's Guide" as early as 1878. Not ideal for the lactose-intolerant, the dairy-based drink is traditionally made with milk, cream, sugar, whipped egg whites, egg yolks and a splash of your distilled spirit of choice.
Bartender Megan created "The Meg Nog," but the recipe is kept under tight lock and key. I'm told it's made from scratch using local cream, milk, eggs and a house blend of aged rums, Amaro liqueur and topped with nutmeg. The meringue is made nightly and folded into the nog behind the bar. This special secret cocktail is offered through December, but there's a limited supply each night.
Tom & Jerry's
Speaking of eggnog, a close relative is the Tom & Jerry, which adds brandy and rum and is typically served in a kitschy miniature mug. It was invented in the 1820s by British journalist Pierce Eagan to promote his stage play, "Tom and Jerry, or Life in London." Which means it sadly has nothing to do with a certain cat and mouse duo of the same name.
This cocktail has been widely embraced locally with countless bars offering their unique take, including:
You'll already be there trying the hot toddy!
Enjoy before or after their fish fry, but never with.
You'll recognize the recipe, shared by The Place.
If you've circled the wagons on more traditional takes, this mead version may spice things up.
---
Stock your bar with spirit
If you'd prefer to cozy up for a night in instead, ready your home bar with these seasonal garnishes to help elevate any drink.
A sprig of rosemary or thyme is the perfect finish for tart drinks. You can also string cranberries on the ends of the branch for a double-duty garnish.
Bartender bonus: "I'm a big fan of using herbs as garnishes and during the holiday season, I most often end up using rosemary or thyme. Burning them, just enough to smoke a bit, creates a great aroma and can really help give your drink that extra festive touch it needs," noted Alyssa George, beverage coordinator at Lockhouse Distillery.
'Tis the season for peppermint! You can use a candy cane as a stirrer or crush it up and dampen your rim with melted chocolate and apply the crushed pieces for a minty tingle with every sip.
Pairs well with hot drinks or specialty coffee drinks.
Marshmallows, chocolate syrup and caramel sauce all make perfect toppers for a mug of spiked hot chocolate.
Santa was onto something. Try it alongside a boozy beverage, too.
Perfect for a warm cider or hot toddy.
And when in doubt, spice it up…
Bartender bonus: "As far spirits go, my go-tos are St. Elizabeth Allspice Dram and of course, Lockhouse Ginnamon. Negronis are a favorite of mine and are also simple to make. Adding as little as a barspoon (1/8 oz.) of either spirits gives the perfect holiday flavor," added George.