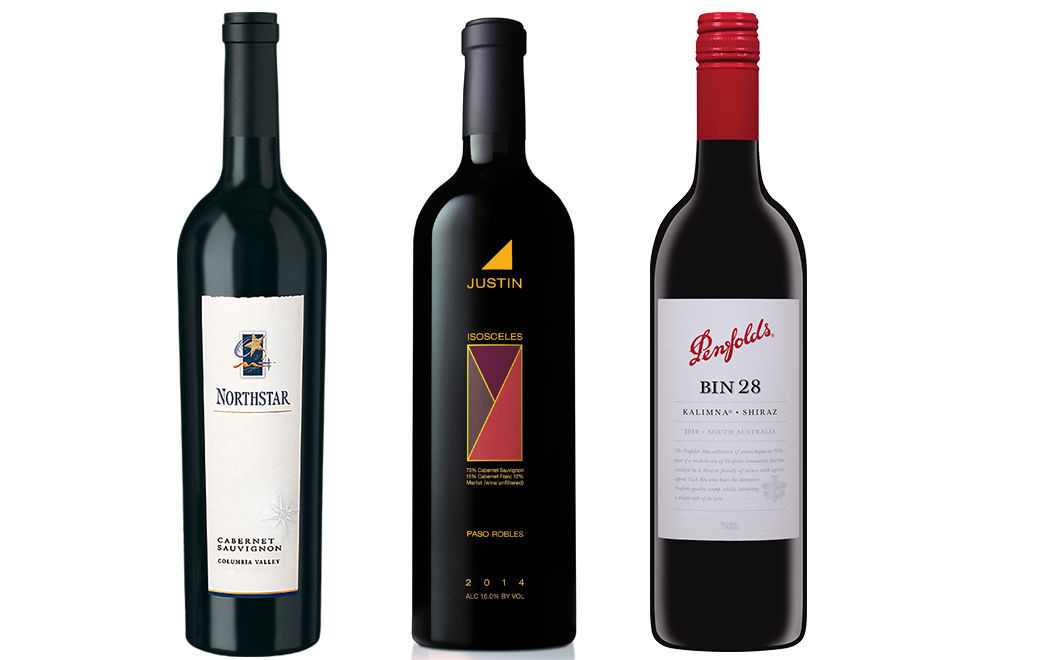 I have written about Northstar several times—it's one of my favorite wineries in Walla Walla, Washington. Their mission was to create great Merlot in Washington and they have done that in spades, but I just love what their winemaker Merf Merfield has done with their Cabernet Sauvignon. For under $50 this is an outstanding Cab that drinks well on release but continues to evolve in the bottle. I promise you won't be disappointed if you get this wine. I've also served this wine to friends on several occasions, and it's always a hit.
The 2014 Northstar Cabernet Sauvignon Columbia Valley is everything you look for in a quality cabernet. This wine is equal in quality to California wines that sell for more than twice the cost. I also believe this wine will age extremely well but I seem to always drink Northstar sooner than I should. Don't overlook the Northstar Merlots either, they're excellent and very fairly priced as well.
Here are more wines I've tried recently that are worth sharing:
2015 Orin Swift Mercury Head Cabernet
A good friend dropped by the house for a glass of wine and to play with our puppies, and brought this wine as a gift. I had no idea that it was $130 a bottle. I tried the wine and I loved it before I knew the cost. (This is a big difference from the time this same friend tried to pawn off a bottle of Two Buck Chuck as a fancy wine in a lovely decanter!) Plenty of dark fruit, especially blackberries, just popped in your mouth. I love it when the chocolate and smokiness add to the taste. I really enjoyed the finish too. This wine will age well for at least 15 years or more.
2013 Penner Ash Estate Vineyard Pinot Noir
I have seen Penner Ash a few times in Buffalo. It produces some of the best Pinots coming out of Willamette Valley, Oregon, and I feel lucky to get a couple of bottles every year. There is plenty of raspberry and cherry flavor and a spiciness too. Try these wines with a piece of wild Alaskan salmon (no farm raised for me). I love Sockeye salmon cooked in my sous vide with lemon slices and then seared in a very hot pan. I also like to make fried rice. Just awesome eating.
2015 Ornellaia Super Tuscan blend
I was out of the country visiting friends and they knew that one of my and my wife's favorite wines is another Super Tuscan called Sassicaia. I was excited to try the wine since I had heard it was as good as the Sassicaia—and I was blown away with this wine. Hedonistic. This is a complex wine with dark berries and cigar smoke. Take your time with this baby, let it open up. A bottle could easily last for 15-20 years. I loved this wine and it proved as good or maybe even better than Sassicaia.
2013 Justin Isosceles blend
I have been drinking Justin wines for many years and they consistently create excellent ones. The Isosceles compete well with wines that are much more expensive. Plenty of fruit to fill your taste buds. Very nice finish. As always, I enjoyed this wine. It should be available locally.
2014 Brandlin Estate California Cabernet Sauvignon
Another wonderful Cab from Mount Veeder. Lots of berries and hint of coffee beans. I never tried this wine before but I'm glad I got the opportunity. Excellent wine.
2015 Paraduxx Napa Valley blend
I like this wine for the price. Very enjoyable with smooth dark fruit. This wine is drinking beautifully and will be good for another 7 years.
2012 Rasa Plus One Cabernet Sauvignon
Not sure if you can get this wine in Buffalo. I bought this when I visited Walla Walla several years ago. Rasa is making amazing wines that have plenty of staying power. This wine is delicious, but I could have waited longer to uncork. The owners Pinto and Billo are really cool guys that are very passionate about making great wine. They never disappoint!
2016 Penfolds Bin 28 Kalimna Shiraz, Australia
You should be able to find this wine in Buffalo, and this is one that is worth seeking out. Penfolds produces many amazing wines, some of which are very expensive. This one is very reasonable considering the pedigree. I just love the spiciness and the cherries in this wine. We love when there is a hint of chocolate, too. This wine is drinking very nicely right now but it will get better with a little time. This wine could last for at least 15 years.
2016 Stag's Leap Wine Cellars Artemis Cabernet Sauvignon
This is a delicious Cabernet should be available locally. It's loaded with dark fruit. I have had many wonderful bottles of Artemis over the years and I've never been disappointed.
Warren T. Colville is publisher and president of The Buffalo News. 
Be the first to know
Get local news delivered to your inbox!