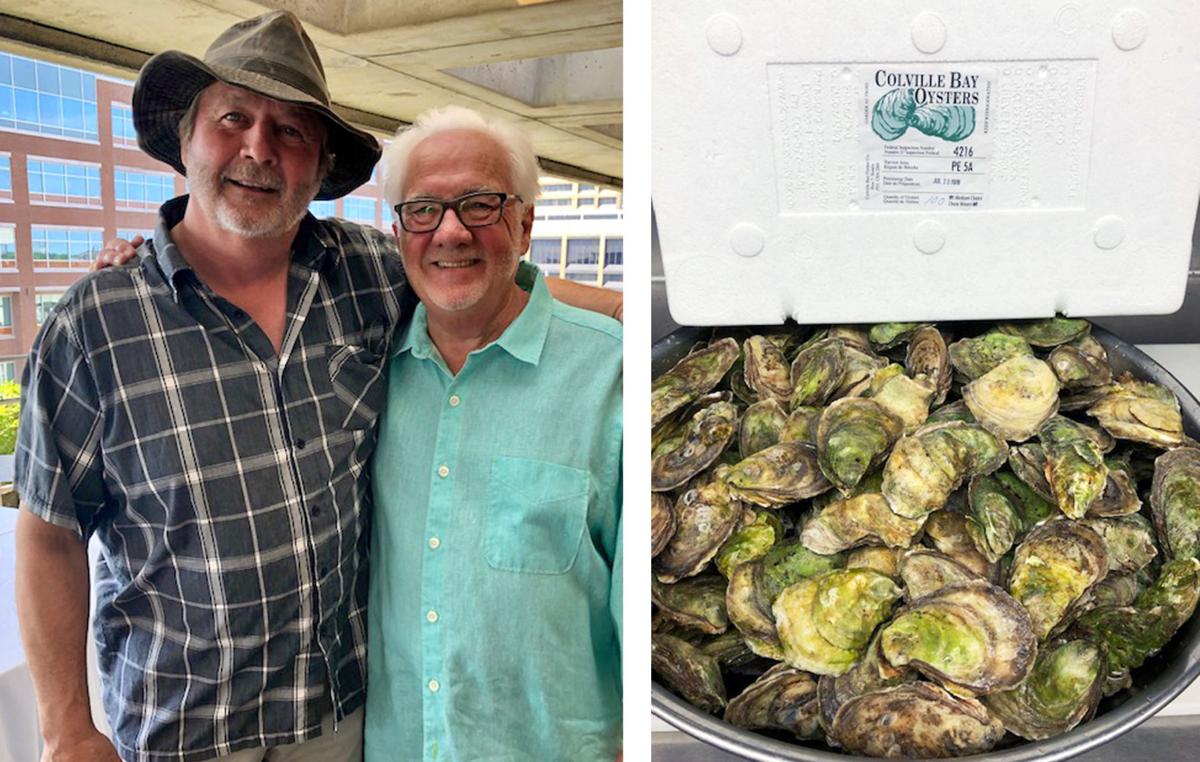 The Colville's have been hosting this oyster party for a decade and we've had a blast. We're blessed to have so many wonderful friends to share these memories—and the many different types of oysters, including East Coast and West Coast challenges.
The three favorites we've tasted throughout the years? The Kumamotos from Washington State, Ninigrets from Rhode Island and, the Grand Champion, the Colville Bay Oysters from Prince Edward Island.
This may be a good or a bad thing, but once I find something that I really want, I'll do whatever it takes to get it. OCD? I'd read about Colville Bay Oysters and, beyond the fact they share my name, they're also lauded as the most sought-after oysters in all of Canada.
Everything I read said these were amazing-tasting oysters, and I loved the picture of an oyster with a green shell. When I reached out to the owner of Colville Bay, Johnny Flynn, I didn't hear back at first. I tried again and finally heard from Johnny, who returned my call intrigued by the fact that his company's name was the same as mine. We got friendly on the phone and Johnny said he'd love to get me some oysters, but he didn't ship to the U.S. I must admit I was discouraged.
One Sunday evening, I received a call from Johnny to tell me he had a friend visiting from Vermont who would bring some Colville Bay Oysters back with him and then ship them overnight to me. Wow was I excited! A hundred oysters safely arrived at our home on Thursday and I called several of my friends for an emergency oyster chow down. It took about 40 minutes to eat all of them. They were the best oysters ever.
Now I was hooked—and more determined than ever to get Johnny's oysters for our summer Ponderoysterfest. Then I had an epiphany. If Johnny didn't ship to the States, I could have him ship within Canada (since I can look out and see it from my office). We successfully arranged to ship to a friendly Canadian and a friend picked them up for me. Truly amazing oysters. We went through 500 last year and 700 this year.
Since this was to be our last fest, I invited Johnny to come on down and party with us. In a million years I never thought he'd come, but he did—18 hours each way, which is mind boggling.
But I almost forgot…this is a wine column. We always have plenty of beer, pop and water, but beside the oysters and plenty of other delicious food, I try very hard to arrange a great selection of wines to drink with the oysters. Many of these are available locally.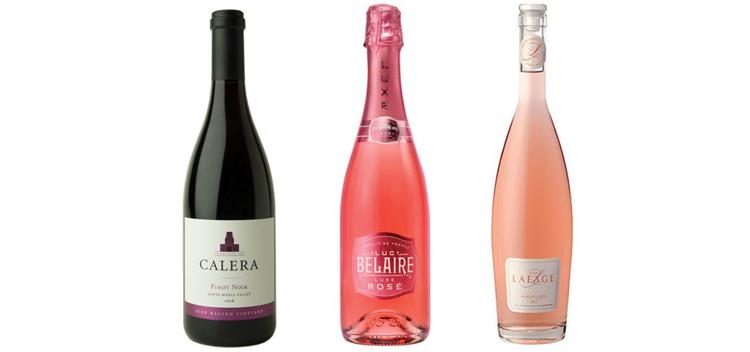 2018 Domaine Lafage Rose Miraflors
Go out and buy this wine today. It is really delicious. This is the third year I've bought this wine and it's always a big hit with our guests. A wonderful summer drink, pretty pink with a delicate citrus and lighter fruit taste. People liked it with the oysters.
2018 Matahiwi Sauvignon Blanc
New Zealand, less than $16
I always buy Savignon Blanc from New Zealand since most experts say it's the best wine to compliment oysters. I like it very much, but I still prefer my red wine with everything. At the price point, this is an excellent wine. I only took a sip of this, but it had plenty of fruit. Citrus, apples, pears and more.
2016 Calera Pinot Noir
Central Coast, California, less than $30
I've been a huge fan of Calera for almost 30 years. Some of their top wines sell for around $80. This is one of their entry-level Pinots and it is really good with plenty of early summer fruits. I like Pinot as my go-to summer wine. Make sure you keep it on the cooler side. I'm going to try this with some wild Sockeye Salmon very soon.
2018 Cloud Chaser Rose
Côtes de Provence, France, about $20
This is another terrific rose that the guests loved and drank every bottle that we had. I tasted it and thought the fresh fruits popped; raspberries and strawberries. It was very refreshing.
Luc Belaire Luxe Sparkling Rose
About $30 (and well worth it)
I must admit that I'm not a big sparkling wine person, but I got a half bottle of this wine and took it home to try prior to the party. It is delicious. I loved the different light fruits tickling my tongue. I had a couple of jumbo shrimp with the wine. Life is good.
Luc Belaire Gold Sparkling
How many wines can you taste at one party? I only heard from my guest how awesome this wine was. By the time I got around to trying it, it was gone. Based on what I heard, I might go and get a couple of bottles.
Luc Belaire Luxe Sparkling, 100% Chardonnay
I found a drop of this in a bottle and had a little sip. I really like this wine, too. It had citrus fruits as well as green apples. Like I said, it was a small taste. This is another one worth going out to pick up a bottle. The price is right.
Warren T. Colville is publisher and president of The Buffalo News.
Be the first to know
Get local news delivered to your inbox!