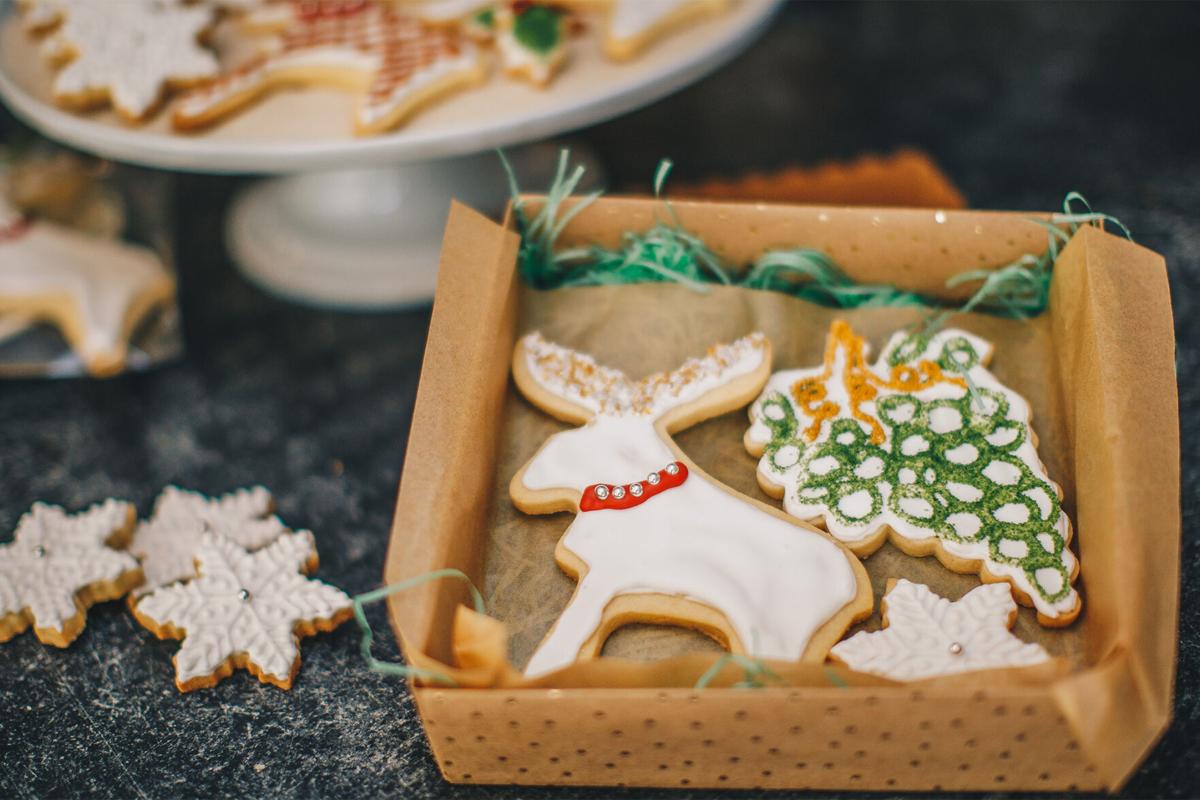 When a woman's water breaks for the first time, understandably her mind might be racing with things to do. For Rebecca Collins, quickly baking two peach pies made the list.
"I had all these peaches I had to use!" she laughed, reminiscing about that day and the bushel of country peaches she could not leave behind.
A stylist for over 20 years and blogger of Every Day Dress, where she shares swoon-worthy food and fashion inspiration from her life, Rebecca's passions switched into high gear once she became a homemaker to six (now adult) children.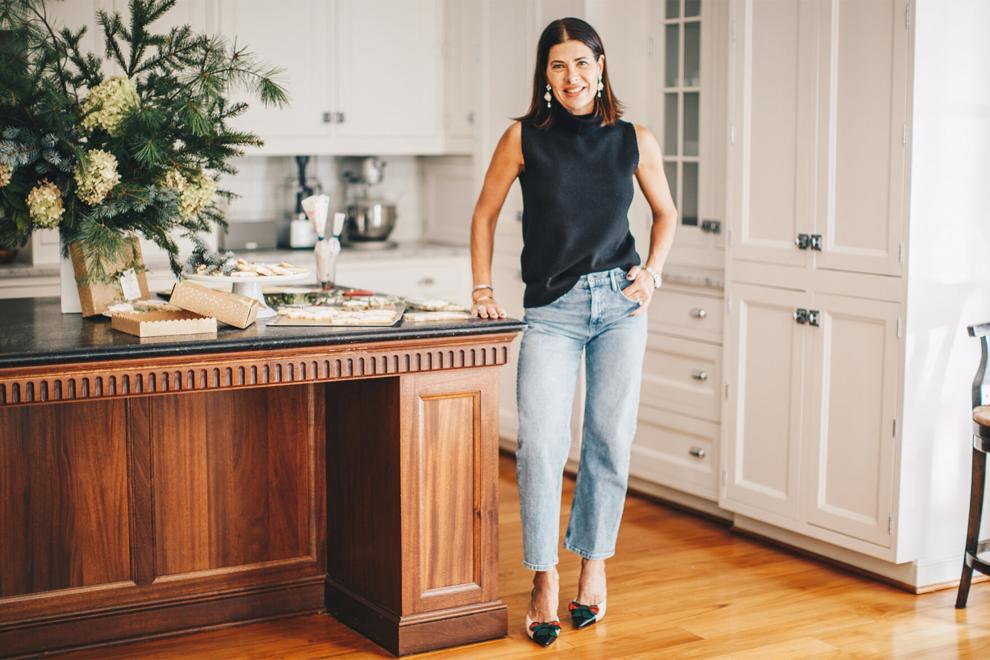 "I always loved clothes and fabrics. I taught myself to sew. I made my wedding dress, and all my bridesmaids' dresses. I used to sew my kids' clothes," shared the stay-at-home mom and trunk-show stylist for brands Lafayette 148 and Anatomy.
Yet mastering the art of cooking took a bit more effort, Rebecca divulged, especially when it came to the holidays.
"My first married Thanksgiving I served a partially frozen turkey," she said. "For my kids, I was trying to create a really nice home environment and I just started teaching myself how to cook and to bake."
Enrolling in online cooking courses with Rouxbe and The French Pastry School over the past eight years helped Rebecca to become the Martha Stewart-like inspiration she is today: cooking home-style meals, like bolognese or whole roasted chicken, for her family weekly. Complete with a beautifully set tablescape.
"I think there's a direct correlation between dressing yourself and feeding yourself and those that you love," says Rebecca. "I think for your wardrobe you should buy the best pieces you can afford and wear them all the time and use them to the end of their lifespan. I think of that when I buy ingredients—buy the best I can get my hands on and try and use it up fully."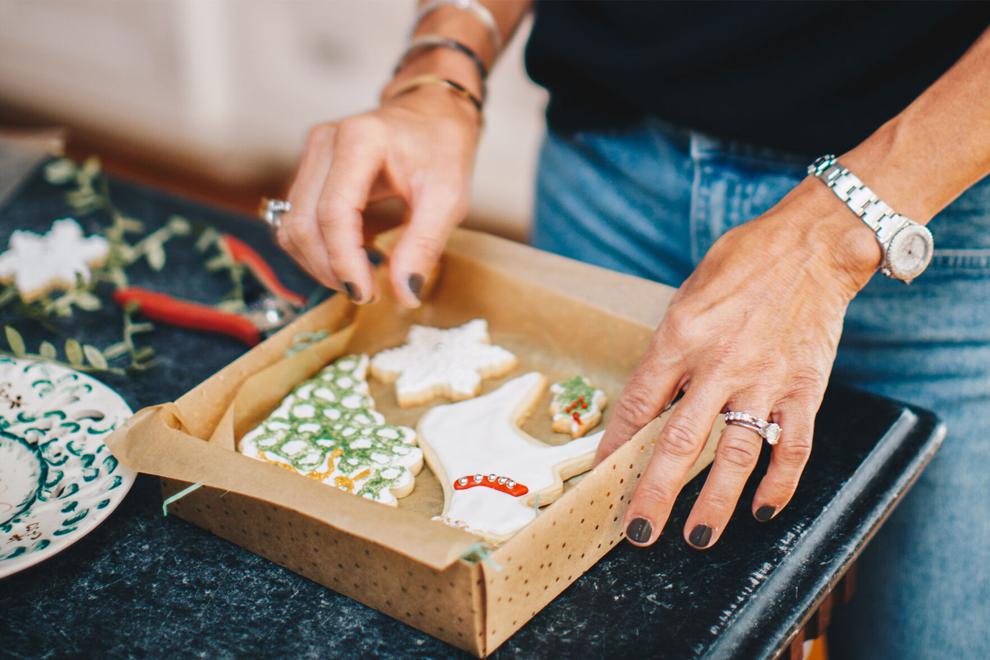 A true hostess, Rebecca's Buffalo home is the hub for her continually growing family each holiday season. She's even begun a special notebook documenting occasions such as these, creating a keepsake to pass on to her children filled with her beloved recipes, guest lists, seating plans and menus she's served.
"This year we'll have three grandchildren at the table," she beamed.
Her cutout cookies are a Christmas family favorite, and one she can't help but share with others.
"I've had actual mini-classes in my kitchen with women talking them through how to make cutouts because I think they can often find them challenging. The technique where you roll them out between layers of parchment paper and refrigerate the dough—they come out pretty perfectly."
No-fail cutouts & royal icing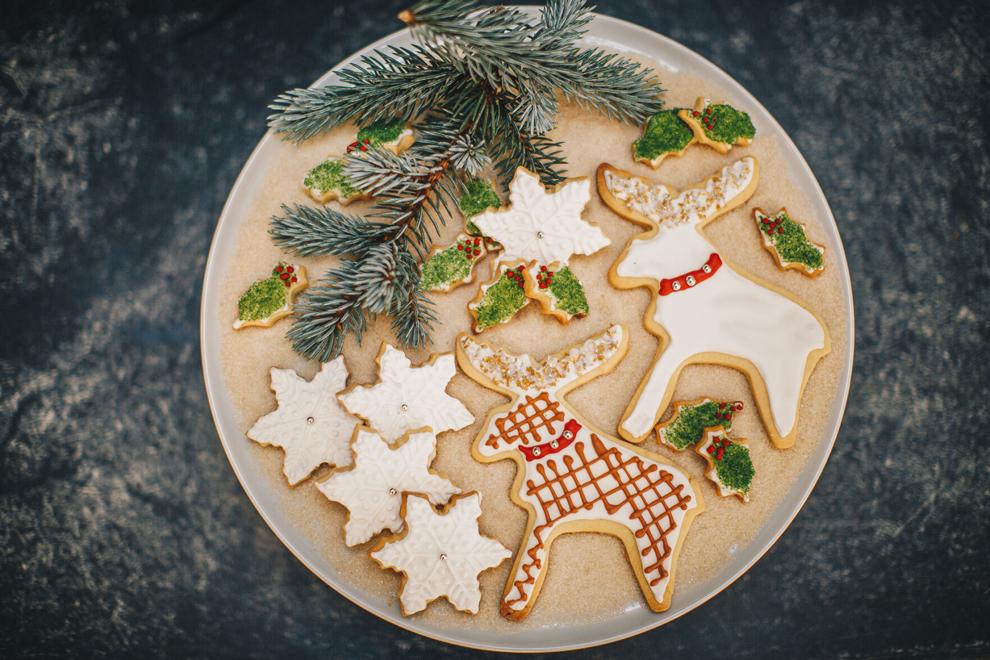 Makes: About 5 dozen, 3-inch cookies (4 lbs. raw sugar cookie dough)
Cutout cookies can be tackled at once or in phases, as you like—I spread the baking and decorating out over at least two days. A KitchenAid stand mixer with a paddle attachment is my equipment of choice for both the cutouts and the icing.
For the dough, I get the best baking results from ¼-inch rolled and use dough-rolling strips for consistent results. I reroll leftover dough and repeat the process, then bake the resulting scraps from the second reroll on a separate cookie sheet for "cookie scraps" (yum!). I've also found that well-refrigerated cutout shapes hold up best when baked. – Rebecca Collins
6 cups flour
3 tsp. baking powder
2 cups unsalted butter, room temperature
2 cups sugar
2 eggs, room temperature
2 tsp. vanilla extract
1 tsp. almond extract
1 tsp. kosher salt
Cream the butter and sugar until light and fluffy. Add the extracts and salt until well combined. Add eggs, one at a time. Mix well.
In a separate bowl, sift dry ingredients together. Adding a little at a time to the butter mixture, mix until flour is completely incorporated and the dough comes together.
Equally divide the dough into four sections. Flatten each into a disk and wrap well. Refrigerate until ready to roll out (at least two hours, but you can keep tightly sealed and refrigerated for up to two days).
Remove dough from the fridge and roll to your desired thickness between two pieces of parchment, immediately placing each rolled section into the fridge. Once all four are rolled, begin cutting out shapes, refrigerating each parchment-lined baking tray.
Preheat your oven to 350 F. Once all shapes are cut and cold, bake cookies for 9 to 11 minutes, or until set and the edges just start to lightly color. Remove from the oven and let cool on a rack. Repeat until all the dough is baked. 
After decades of using egg whites, whole milk and confectioners' sugar, I have come to rely on meringue powder, sifted confectioners' sugar and warm water. It really is a process to get the right consistency for outlining and flooding. It's a five-sense kind of thing: hear, touch, feel, taste, smell! Then I always keep the icing covered.
Half a bag of confectioners' sugar will yield two batches of royal icing, a generous amount to frost and decorate one batch of No-Fail Cutouts.
3¾ to 4 cups confectioners' sugar, sifted (or about half a 2 lb. bag)
3 tbsp. meringue powder
6 to 8 tbsp. warm water
Beat together ingredients for 4 to 5 minutes to reach desired consistency, adding more sugar or water as needed.
Decorating: Once your cookies have completely cooled, frost to your preference. I like to outline the cookies first with a #2 tip and pastry bag, let sit for a bit for the icing to set then flood with thinned-out icing (using a drop or two of water to thin).
After the cookies have been outlined and flooded (usually in all-white royal icing), I again let them sit before embellishing with colored icing or decorative sugars and silver dragees.
Leave cookies to fully set before plating or packaging, about four hours.