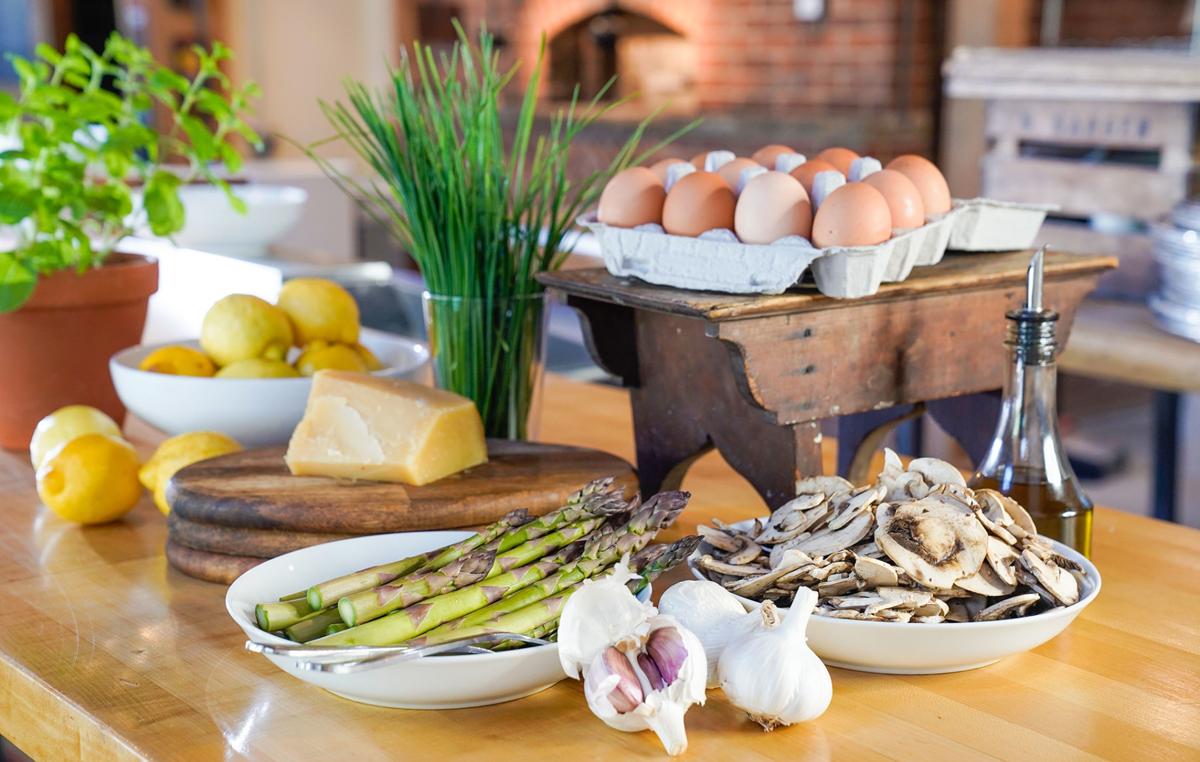 Two local chefs gave us the scoop on their pantry-ingredient essentials—and how to store these ingredients and use them in new ways.
Dishes by the dozen
"If you have a dozen good eggs in your fridge, you have so many meals," Kim DePerno, owner of Elm Street Bakery in East Aurora, told me.
The secret is in the sauce, which is actually the yolk. Simply fry an egg and pair it with toast, pasta or any leafy green for a nutrient-rich surprise when you cut into it, DePerno explained.
So fresh and so green
Fresh herbs can add an earthiness and brightness to any meal. This is your oregano, basil, parsley and rosemary, among others.
"The trick to keeping them crisp and green longer is storing them in a damp napkin while in the fridge," said Max Lewis, head chef at Buffalo Proper.
Fresh herbs are a strong addition to a red sauce alongside oil, lemon and garlic.
Zest it up
When life gives you lemons, store them in the fridge until 20 minutes before use.
"Lemons are ideal at room temperature but will last longer if kept in the fridge. So just take them out before you use them and roll them out to work the membranes and help release the juices," added DePerno.
Whatever you do, don't waste the zest! You can grate that over pasta, grilled meats, vinaigrette and homemade breadcrumbs to help bring out other flavors in the dish.
Go fish…sauce
Fish sauce, a Southeast Asian condiment, can be likened to Worcestershire sauce. It adds a salty umami flavor and complexity to otherwise simple meals.
Stir some into your chicken stock, vinaigrette or fried rice for an elevated kick. But do so conservatively because it can quickly overpower.
"[Fish sauce] should be stored in a dark pantry area. The fridge will dull the flavor," noted Lewis.
Visit the Asia Food Market on Niagara Falls Boulevard or any Wegmans' Asian food aisle for your supply.
Say cheese
A block of Parmigiano-Reggiano should be your new best friend because of its nearly infinite shelf life in the fridge. Plus, it has about that many uses.
"You can grate it on pasta, veggies, salad or potatoes. And the rind can be dropped into a pot of soup and adds so much flavor to a minestrone or vegetable soup," said DePerno.
Sauté away the spoil
I also picked up a vegetable hack, if you're looking to avoid waste. Per DePerno: "If you feel like your vegetables are going to go bad, you can always sauté them in olive oil and garlic. Then they are in your fridge waiting for you to pull them into a pasta, sandwich or omelette."
Be the first to know
Get local news delivered to your inbox!