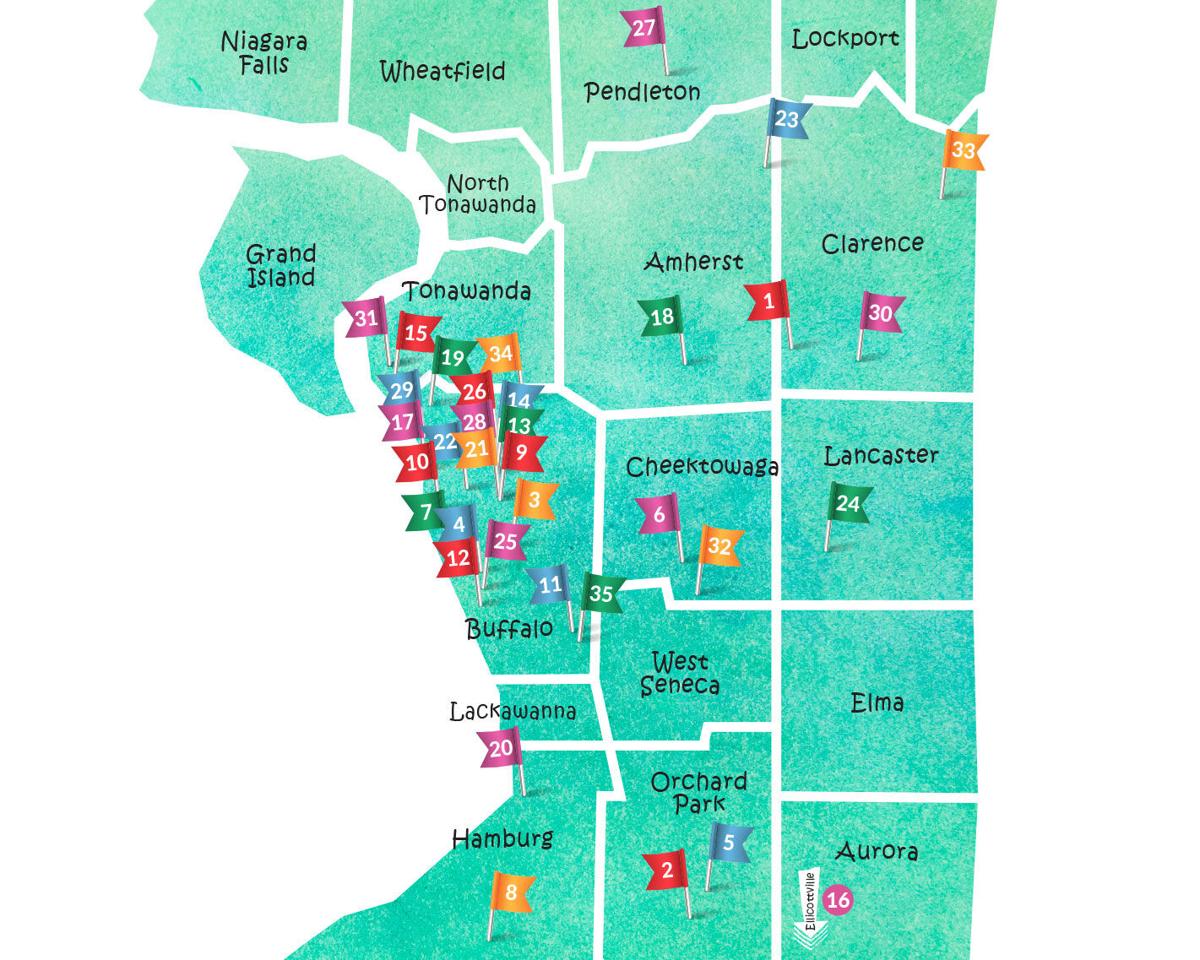 1. Chrusciki Bakery 3-in-1 European Lounge
The Polish-focused bakery added two unique dining experiences to its new location: the upscale Sto Lat Bar and fast-casual Simply Pierogi.
Orchard Park's first brewery pours classics and uniques.
A new fast-casual, plant-based restaurant with vibrant vibes.
A European-style bistro, food market and gin-centered bar—all rolled into one—from the team behind Lucky Day Whiskey Bar and Ballyhoo.
Find beers from around the world at the newest location of this hybrid tasting room and store.
This latest burger mecca featuring over 25 specials.
While the venue isn't new, its weekly supper-club series and brunch service are.
Yay for more cakes! And other decadent specialties like cinnamon buns.
Root & Bloom's transformed fast-casual, plant-based restaurant.
Rhode Island Street's latest, complete with fresh coffees, pies, quiches and tarts.
The destination coffee spot laid down roots in South Buffalo.
Get at this seasonal, fresh oyster spot next summer.
An Elmwood hotspot with inspired small plates.
The new Elmwood location is filled with premium coffees, toasts, sandwiches and sides.
Riverside take-out cooking up traditional and unique Puerto Rican eats.
16. The Banq Cocktails & Lounge
9 Washington St., Ellicottville • @BanqEVL
A revamped bank turned speak-easy in Ellicottville.
An urban tasting room and market with a seasonal, farm-to-table menu.
An upscale restaurant pairing great brews, food and views.
Take-out orders of Southern Indian and Texas barbecue fusion. (Tacos and kolache's also stocked daily at #21!)
Central Texas-style barbecue found in the Southtowns.
Brewing with coffee beans from China's Yunnan province and Ethiopia. Be sure to ask about their coffee soap.
These beloved baked goods have finally found a permanent home in Five Points.
A cool breakfast and lunch spot adorned with horse art.
The small-batch farm brewery and taproom found inside Lilly Belle Meads.
A craft-beer infused custard taproom in the heart of downtown.
Buffalo's longest-standing Indian restaurant opened its second location in North Buffalo.
A family friendly coffee shop where you can chow down on chicken and waffles and pasta bolognese.
The coffee roaster's second location in Elmwood. Inquire after the secret menu.
Hatchets & Hops' daytime operation serving bagels and coffee.
30. Samuel's Seafood House
Samuel's Grande Manor new fresh-fish concept restaurant.
A Middle Eastern-forward menu from new owners of the neighborhood pizzeria.
New Orleans flavor, from the atmosphere to the Southern fare.
A healthy, vegetarian breakfast and lunch spot slicing BreadHive Bakery loaves.
Tap into your inner child at WNY's first cereal café filled with over 70 cereals, 14 ice creams and eight milk options.
Scoop up an authentic ice cream parlor experience with a few cookie twists.