The City of Good Neighbors earned that nickname for a reason: people here don't hesitate to help their fellow citizens and take immense pride in what they're able to accomplish when they come together.
It could be the Rust Belt work ethic, a long history of welcoming those in need or that cold hands really do make warm hearts. Whatever's behind it, that generous spirit means countless non-profits around Western New York can accomplish community-centric missions powered mostly or entirely by volunteers.
In nearly every community, human services organizations feed those in need. Cultural institutions share the area's arts, architecture and history. Animals and pets find safe spaces. First responders put their own safety on the line. Green spaces are spruced for public use.
For some people, volunteering means spending an hour or two here and there helping out. For others, it's part of their daily schedule and identity. Meet five folks who lend their extra energy to improve the lives of others.
Laurlen Parry
"Two puppies are easier than one. They tend to calm each other, sleep better and play together," says volunteer dog foster mom Laurlen Parry. "Three is too many—they go in too many directions, and you can't scoop them all up at once."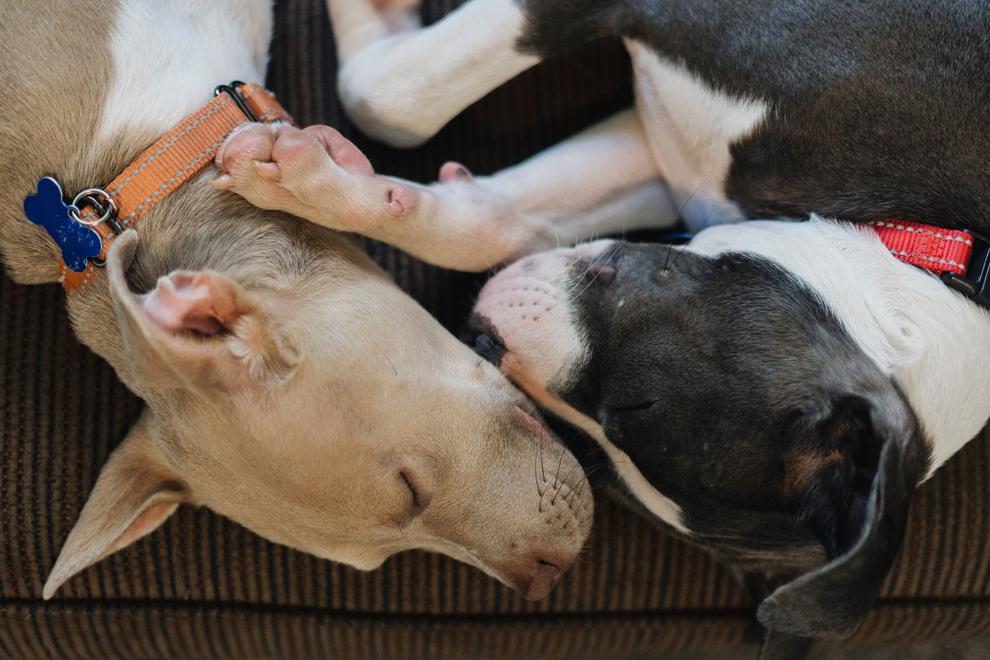 These are just some of the many insights Parry learned through fostering more than 30 dogs through Nickel City Canine Rescue, which has saved almost 600 dogs so far this year, mostly from high-kill shelters down South. As with most of Western New York's many dog and cat rescues, Nickel City relies on volunteers to care for dogs in their homes and help them get adopted into their forever families.
Fosters go through a reference check, home visit and training first, and once approved, they can see pictures and known details of the dogs available so foster families can pick ones that fit into their household. Personally, Parry doesn't have a type—she's taken pitties, puppies, older Goldens and less desirable dogs.
Even though she works full time, vacations with her husband and has a social life, Parry still feels like she still has plenty of time to foster. Each dog stays with her for anywhere from 10 days to two or three weeks until adopted. If she's out of town or busy with work, she opts not to foster until the next group of dogs arrives. It's not always easy, she says, but it's always worth it.
"Watching them go into their forever homes and complete other people's family is such a neat thing," she says. "I cry every time, but I wish I started doing this sooner."
Judy Falkowski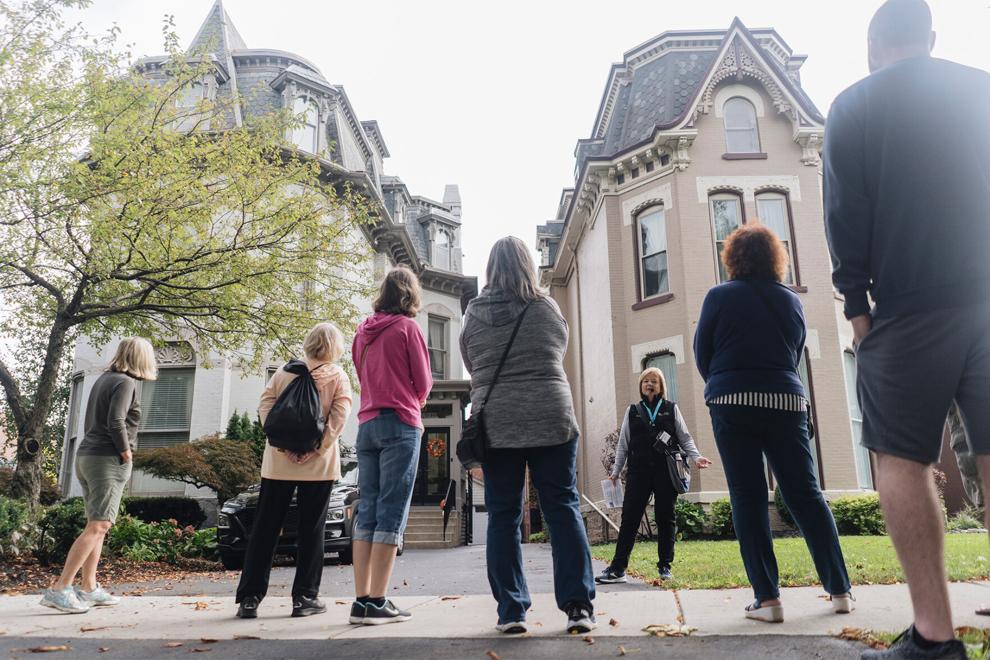 When Judy Falkowski retired from a career as an elementary math and science teacher in 2015, she began looking for new pursuits to fill her time. A friend told her about Explore Buffalo, which leads history and architecture tours all over the city of Buffalo.
Falkowski was excited about the city's renaissance and wanted to play a part in sharing it with visitors and residents. She signed up to become a docent, started studying and led her first tour downtown: Masters of American Architecture.
Since then, she's expanded her repertoire to include several subjects, learning at least one new tour each year. Explore Buffalo's tours take place by foot, kayak and bike, and cover more than 70 destinations and subjects including food, true crime, sacred spaces, murals, neighborhoods and more. Many are researched and created by guides themselves, and new options are always being added.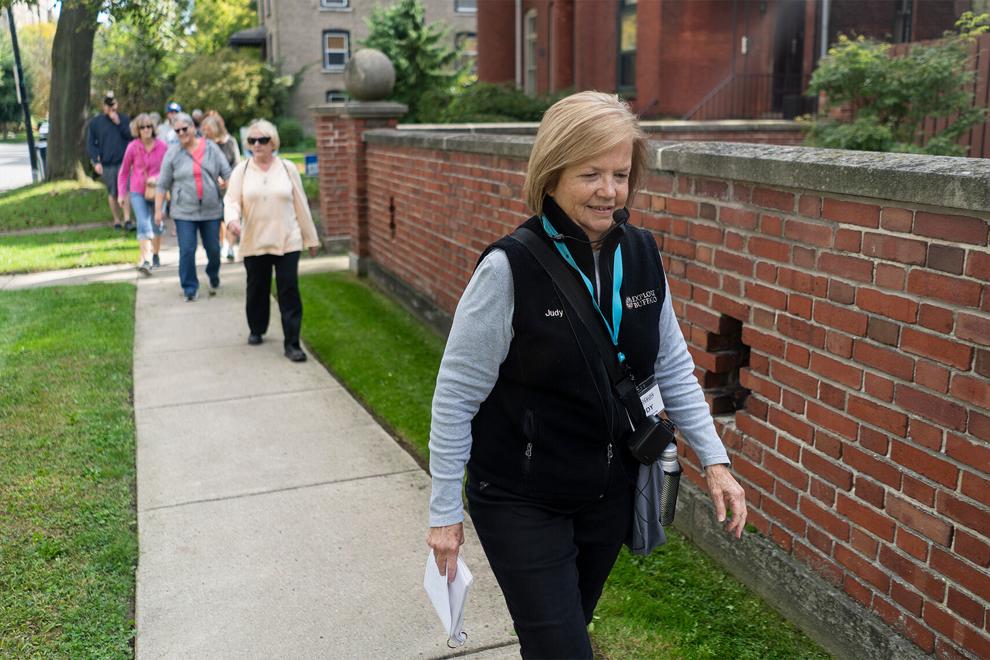 Falkowski usually leads two tours a week in the summer and two per month in the winter. Explore Buffalo sets tour schedules based on guide availability; each person picks their preferred days and subjects, so it's easy to stay engaged and excited about the work.
"I've made some great friends there, and I get more than I give," says Falkowski. "I'm constantly learning new things, even on the tours I give all the time. Two of the homeowners were outside during a Victorian tour recently, and they came out and answered a lot of questions from the group. I learned a ton of new things about the house!"
Kristian Reiber
What started as a desire to improve his own outdoor experience led Kristian Reiber to a whole community of like-minded stewards who keep trails clear for all to enjoy.
"I've been a mountain biker since 1989," says Reiber. "I started doing volunteer trail work out of frustration with going out to ride and having the trails be a mess without anyone maintaining them. But I saw that when more people helped, all of a sudden there was more access to more well maintained trails."
He's been a regular fixture at trail maintenance days organized by the Western New York Mountain Biking Association, an all-volunteer group that maintains about 125 miles of shared-use trail for hikers, bikers and cross-country skiers throughout Western New York. The volunteer crews clear blown-down branches after storms, repair structures, trim overgrown brush, pick up litter and constantly work to improve drainage to prevent water erosion.
While there are plenty of volunteer roles for people with varying levels of skill and fitness (or none at all), Rieber prefers the heavy stuff.
"It's a heck of a workout," he says. "Swinging a McLeod around, carrying rocks. You get dirty. There are many days where I choose to do that work instead of riding because I get so much out of it. There's satisfaction that trail is in good condition for others, and from simply being outside."
Sue DeJoseph
The time that passed between when Sue DeJoseph first heard about FeedMore WNY's meal delivery program and when she signed up can be measured in minutes.
"I belong to the Lions Club, and someone from FeedMore came as a speaker in January," she says. "Listening to her talk about it made it seem like it was made for me, and I signed up right away."
Now DeJoseph delivers meals to homebound residents two days per week, one with other Lions Club members and another route by herself. She leaves the house at 10:30 a.m., drives to the nearby senior center in Lewiston to pick up 10 hot meals, makes her rounds to both regular and new clients and gets home by noon.
FeedMore WNY, the combined Food Bank and Meals on Wheels, is always looking for help. Every weekday, 400 to 500 volunteers visit houses and apartments throughout the Buffalo-Niagara region to provide a nutritious meal and a friendly visit. In 2020, FeedMore delivered 1.3 million meals to the homes of 5,535 neighbors.
It's the people she visits, says DeJoseph, that she loves the most.
"All of the people are just so friendly," she says. "I joined to keep myself busy after I retired. This seemed like something I could do to help—go to people's houses, give them food, see if they need anything. It puts a smile on my face the whole day, and it puts a bounce in my walk. It gives me self confidence, a sense of pride and life satisfaction for doing something so wonderful."
Colin Hess
While most 15-year-olds are preoccupied with the pursuit of a driver's license and a car, Colin Hess was already training to pull people out of motor vehicle accidents. He's now been a first responder with Harris Hill Volunteer Fire Company for nine years, inspired by watching neighbors rush to the firehall to answer calls when he was little.
Most towns and villages rely on all-volunteer fire companies to protect residents' lives, homes and livelihoods; only bigger cities employ full-time, paid departments. Volunteer firefighters serve their communities 24/7, 365 days a year. To stay ready, they run drills three or four times a month, perform work detail like keeping the trucks in order and train with other companies.
Hess says that it takes a lot of dedication and middle-of-the-night calls, but the company understands that volunteers have other duties, families and jobs, and maintaining a balance is fairly easy for people who are dedicated. While Harris Hill does offer a pension program, college tuition reimbursement and a nice workout facility, it's the comradery and purpose that keep Hess on call.
"People are calling us on their worst days, and I'm personally grateful that I can do this to help," says Hess. "I've met some of my best friends through the firehall, both ours and others. It's a brother and sisterhood, family mentality. Everyone is there for the same reasons, and everyone is making sure we're all safe."