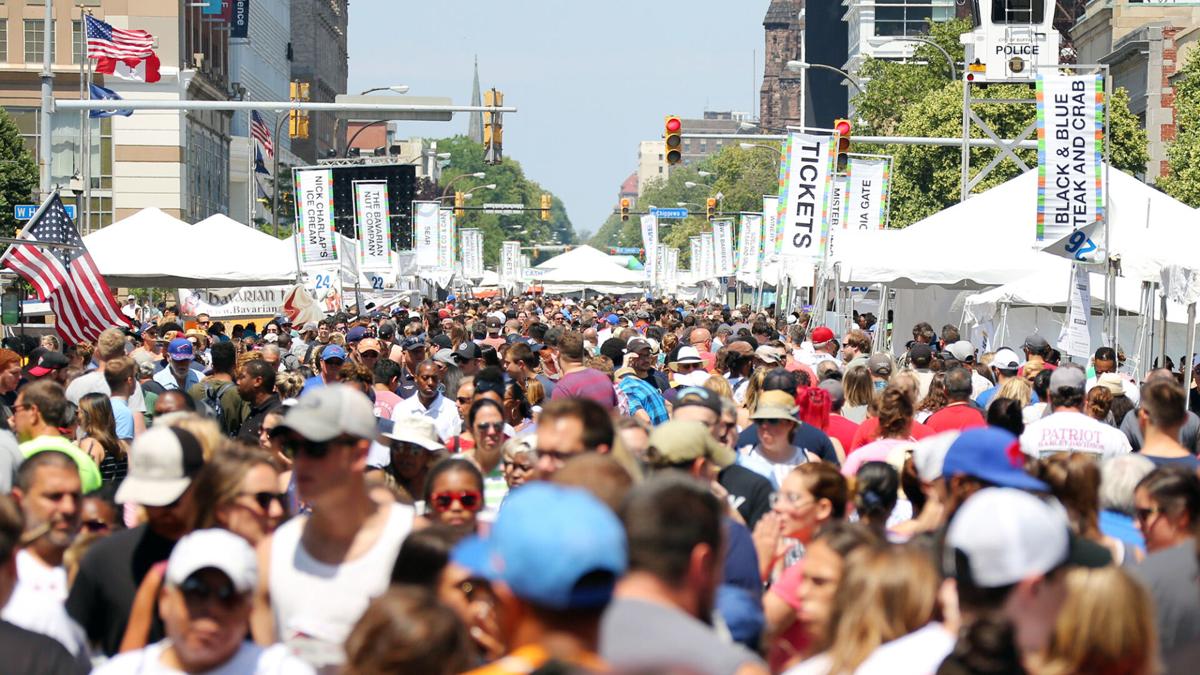 This year marks the 38th annual Taste of Buffalo, a food festival so ingrained in our summers that we take for granted casually holding deep-fried peanut butter and jelly in one hand and jerk chicken in the other while strolling down Delaware Avenue—and before that Main Street—with thousands of our closest friends.
In actuality, the Taste is the second largest two-day festival in the nation. More than 60 local restaurants participate. Celebrity chefs (Paul Prudhomme being the first in 1993) and political hopefuls (Hillary Clinton in 2000 while campaigning for a seat in the U.S. Senate) attend. This is a major event—all made possible by volunteers who meticulously manage thousands of little details.
I spoke with four major players who have been involved in the Taste of Buffalo for a combined 89 years to get the inside perspective:
Tom Mahoney started in 1991 as a teenager helping his father's electrical company power the festival. Now he co-chairs the Logistics Committee, which is responsible for mapping out the entire footprint and providing power to every single tent.
Kelly Jacobbi, owner of Carmine's, has been participating with her restaurant since 1996.
Connie Wendling of Sell-utions Inc., the Taste of Buffalo's promotional marketing and event agency of record, has been involved since 2002.
Erin Collins started volunteering with the Taste in 2006, joined the board in 2008 and served as the 2020 Chairperson for the festival's first virtual event.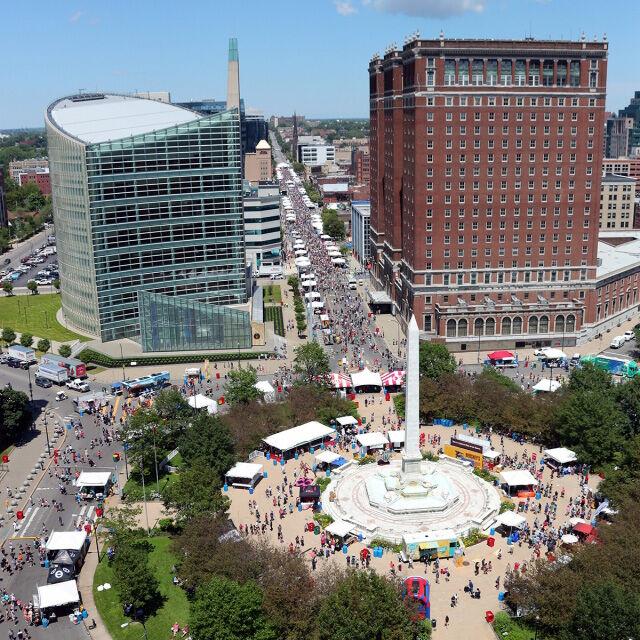 The first bite
Today fryer grease runs through their veins, but how did this group get their start at the world's greatest eating extravaganza?
Collins: I've always been a foodie, so when I was younger going to the Taste was an exciting family activity. As I got older, I have memories of going with my friends and collecting all of the different color beer cups and listening to music and spending the day there. This eventually inspired me to volunteer in the hospitality tent, which led to my seat on the board.
Mahoney: I was just a teenager when I started—basically being an extra set of hands. Who would have thought I'd still be helping power the festival?
Jacobbi: When we first began participating, Carmine's was a newer restaurant on the scene. We knew it would bring us great exposure and have more people trying our food.
"I always refer to it as setting up dominoes."
Planning this two-day event is a year-round endeavor handled by 11 different committees using a divide-and-conquer philosophy. There's a Beverage Committee that coordinates all beer tents, Coke stands and ice delivery. The Entertainment Committee books all of the bands, the Kid Zone programming and the cooking demonstrations. Every committee has a job to do.
Mahoney: As far as the Logistics Committee goes, I always refer to it as setting up dominoes. We start coordinating with our annual vendors in the new year. That's for our electric needs, tents, water barrels, pedestrian barriers and Porta Johns.
Collins: The cutoff for restaurant applications is January. We start with the veteran restaurants and many of those places renew early to guarantee their spots. Then based on that number determine how many spaces we have for new restaurants.
Mahoney: By March, we need preliminary maps and the event footprint completed. We need to submit those to the City, the Health Department and so forth for permit purposes. There's got to be around 50 permits.
Collins: Part of the Restaurant Committee's responsibilities is to recruit new places. So, they will go out in the community and visit restaurants that people recommend or a place that they've always wanted to try and approach them about getting involved in the Taste of Buffalo.
Mahoney: There are a lot of factors in who will go where. It's windier by City Hall, you'll notice all of the food trucks go there because they can handle the elements better than a tent. We also build in some empty space outside the Statler, so people can take a breather from all of the people.
But can any restaurant serve at the Taste?
Collins: Outside of food trucks, a regular restaurant has to be open to the public, offer seating and be open year-round. Those are the main requirements. So, it means we can't accept a catering company or a place that's only open seasonally. You have to be open year-round in Western New York.
"That is a 12-hour story right there..."
Every year, excluding last year's virtual event and this year's modified event, between 60 and 65 restaurants line Delaware Avenue. This involves careful consideration and a whole lot of strategy on the part of the Taste of Buffalo and the participating restaurants.
Mahoney: By April, the participating restaurants are starting to shake out. It becomes a big electrical calculation. Because we need to figure out what each tent will be serving, what their utility requirements are going to be, as far as water, power and access to ice so we can start working towards a finalized map of the event. Most of our power comes from the buildings downtown, whether it's the city or New Era or Avant, just about every building has worked with us over the years to provide us a power source. It's just a matter of who gets what from who.
Restaurants think hard about what to serve and how their fare will be consumed.
Jacobbi: For us, the key is it has to be easy to eat while walking. You don't want to have to cut anything with a knife. It should be very hand-held. Shrimp is always really popular though. We try to have a shrimp option every year. That all started with our award-winning Crab Cake Stuffed Shrimp.
Wendling: The addition of carry trays was a big success. Guests had a difficult time moving around the festival trying to juggle their food and drinks. The trays provide a sturdy way to carry their purchases. They also double as a mini lap table so that people can sit down on the grass and eat comfortably.
Collins: The menu items have to be something that can be made in mass quantities. The worst thing is a long line. And sometimes restaurants will go out on a limb and introduce something really different and that can go one of two ways. But I think people, especially at an event that's been around for as long as we are, are always looking for what's new.
Jacobbi: Our food prep starts three days before the big weekend. It's an all-hands-on deck situation. I try to make it fun and get as much family and friends involved as possible. But we do about 20 hours of prep work.
Planning accounts for every foot of space, space which recently expanded beyond its historic bounds.
Wendling: After years of not being able to cross over Chippewa Street, we were able to expand the festival past Chippewa to West Tupper. It took months and months of additional planning and meetings with city officials and agencies, and it finally became a reality in 2018.
Mahoney: The Thursday before the event is when we mark the streets. It takes us over three hours to do that. The electrical cables are then laid out during the night. And every water barrel.
Mahoney: We start closing the streets Friday at noon. Then those dominoes really start falling. Because every tent needs to be anchored by water barrels. But water barrels are light and if they aren't instantly filled, they will roll away. So, the Buffalo Fire Department comes in with three or four fire trucks, which allows us to attack the event at the exact same time. It sounds crazy, but that is a 12-hour story right there and there's no room for error.
"It's just really special…"
The public descends upon Delaware Avenue starting Saturday at 11 a.m. All of the painstaking planning comes to a screeching halt as it becomes "Go time."
Jaccobi: I never have to worry about the food getting cold because as soon as you hand it to a guest a new one appears.
Mahoney: I often feel like I'm putting on a huge wedding. You have all this dialogue. You consider every detail. We need food. We need beer. We need music. Then you set it all up, and then it's just, boom, it happens so fast and it's over.
Jaccobi: When we returned to the Taste of Buffalo after our restaurant burned down in 2015, the support we saw from the community was tremendous. People coming up to our tent and asking how we were doing and where they could find us now. It was something we will never forget and we are so happy to be a participant year after year.
Collins: It's really exhilarating to see everything come together and to feel like the Taste of Buffalo takes over the heart of Downtown Buffalo for two days every July. We get hundreds of thousands of visitors and so many people love the event so much. It's just really special to get to be a part of that. n
The Taste of Buffalo is planning for an in-person festival for July 10 and 11, 2021. For up-to-date information on safety protocol and capacity, visit tasteofbuffalo.com.