For Jalonda Hill, biking is more than a recreational hobby—it's an act of resistance.
The creator of Colored Girls Bike Too, a grassroots organization turned nonprofit, Hill integrates her passion for wellness and efforts as an activist to challenge the status quo in Buffalo.
With a focus on supporting Black women who ride across the city, CGBT has become a resource to support and aid Buffalo's underserved communities.
"I see the bike as a cool way to … gain access to mental wellness, find a sisterhood that I didn't have at that time, but then also to disrupt systems," Hill says. "I thought, what a great way to take up space in a world where I don't feel seen, where I don't feel heard, and also a free way to have a better hold on my own mental health."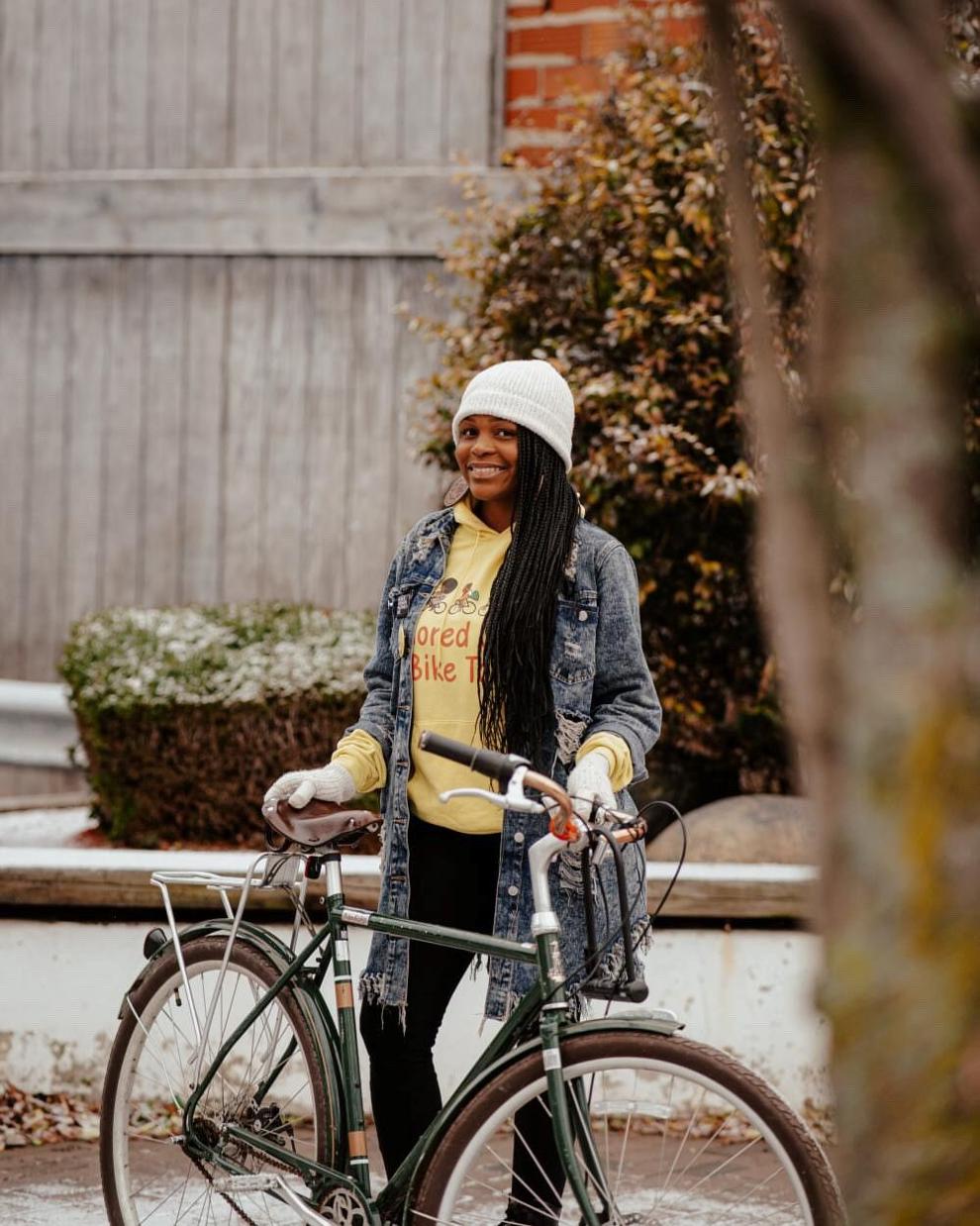 Hill's wellness journey began in 2016 when she moved back to Buffalo and rediscovered her love of biking. (The Rochester native lived her college years at the University at Buffalo and briefly moved to Charlotte, N.C.) Yearning for community, she created a Facebook group to connect with Black bike riders in Buffalo.
"Biking is liberating," she says. "It can be a way for Black people to be seen in the city where we often are ignored … and I think Black joy is resistance."
Leading the CGBT board along with members Shyana Broughton and Shauntel Douglas, Hill's initiatives for wellness and equity in the Black community have manifested in multiple ways. From informational cycology classes to commemorative group bike rides to protesting, the organization has maintained a unique approach of holding systems accountable while holistically healing their communities. Most recently, CGBT "Spin, Sauna and Heal" sessions have become a hot commodity; the monthly indoor cycling class is followed by a sauna session and a healing circle.
"Our idea with the sauna is to … give women access to a spin class to hopefully help transition them into being everyday bike commuters," Hill says. "And think about alternative ways to travel around the city."
Recognizing the range of transportation and mobility disparities that exist, CGBT is also working on expanding its services through in-person connection points. Plans for a holistic mobility hub are underway, with its capital campaign launching this year, as well as a brick-and-motor headquarters. It'll be used mainly as a mobility hub with bike repair, housed with wheelchairs, bikes and scooters accessible to the community—all in the effort to give people of color year-round access to transportation.
"One of our biggest and main goals is to continue fighting systemic oppression, systemic racism—using our bicycles as a tool to raise awareness about these issues," Hill says.