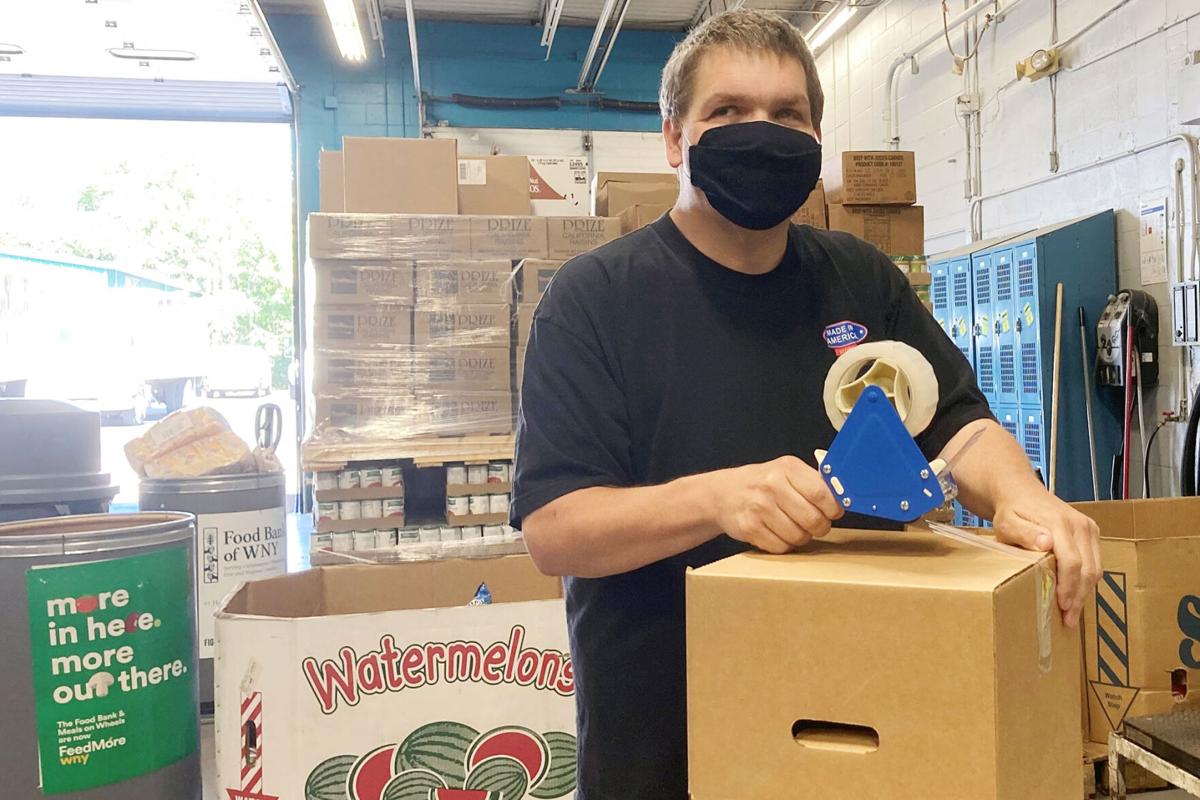 Call it a Corona conundrum.  In the era of Covid-19, people are seeking out things to fill their days, especially true for those who are not entirely comfortable venturing out. Every sector of our communities, though, need more support than ever in these uncertain times.
In a style reflective of the generosity of big-hearted Western New Yorkers, small acts of kindness and care have burst through the strange days in which we now live.
Inspiration flows from many sources.
"I read about a Blessing Box on Facebook and knew I had to do a similar thing here," said Michele Pellette, a parishioner of Orchard Park Presbyterian Church. With her pastor's blessing, quite literally, Pellette found a friend to build the boxes and placed them in front of her North Buffalo Road church.
"We started with one box but soon realized it wasn't enough, so my neighbor built an additional box," she said. The boxes are stocked with everything from cereal, soup, granola bars and juice boxes to pet food and the top request, canned pasta, because the flip-top makes it easy to eat out of the can.
"There's an illusion of prosperity in Orchard Park, but I see the need every day here. Recently a woman pulled up as I was placing food in the box," recalled Pellette. "She started sobbing and said she'd starve without this help."
Many of the goods are donated and supermarket gift cards are often sent to Pellette. "The support has been overwhelming," she said. "Friends will walk by the box and send me pictures of items that need to be replaced."
While the gratitude is thanks enough, Pellette said that a young girl sent a hand-drawn thank you note to her. "When I saw that, it reinforced how this Blessing Box has become my calling."
While the Blessing Box is centered in the Southtowns, FeedMore WNY has distributed 6.6 million pounds to agencies throughout the region since March, a 54 percent increase from that same time period a year ago. That food needs to be sorted and packed in boxes and bags before it can be shared.
"We couldn't make this happen without our compassionate, dedicated volunteers," said Catherine Shick, Feedmore WNY communications director. One individual does not let anything, including a pandemic, slow him down.
Andrew Pieczynski, 48, lost his vision seven years ago. "I am totally blind, but want to be busy, not stand around and look pretty," the Hamburg resident said with a chuckle. "Assembling the bags and reloading racks may not be glamorous, but it allows the next steps to take place."
Pieczynski, who travels independently to the FeedMore warehouse twice a week on NFTA Paratransit vehicles, said he is grateful for the opportunity to help people even with his own challenges. "I'm treated like family here. Volunteers come from all over and come in all ages and occupations," he said. "It's a big family here, a very uplifting place."
Sycamore Street in Buffalo has been a beehive of volunteer activity this summer and the results are apparent in myriad projects: painting porches, planting flower gardens, mowing lawns. At the helm is Elizabeth Triggs, who was inspired by the dedicated volunteers during past United Way Day of Caring.
"Because of Covid, that didn't happen this year, so I decided to organize my own projects," she said. "I'm not going to let it die because of some pandemic."
More than 30 people volunteered to clean basements, weed and plant at 17 gardens on the East and West sides and in cemeteries, paint porches, trim bushes and mow lawns.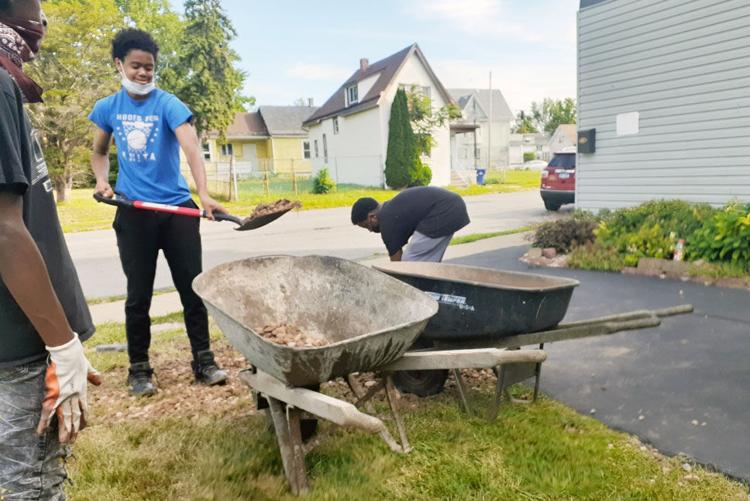 "Some are so skilled, it looks like a professional landscaper did the work," said Triggs, noting that volunteers hail from the city and suburbs and range in age from teens to senior citizens.
"Even during this hot summer and having to wear masks, no one complained, everyone showed love and respect to one another. It shows kids that we can all co-exist."
With that summer heat becoming a mere memory, Jodi Benson was determined to wrap people in the warmth of a new blanket.
For the past few years, she spearheaded a drive to collect new blankets from multiple local hotels. "I proudly say we've received and distributed 1,400-plus new blankets since 2018," said Benson, who lost her job at a local hotel due to Covid-19.
She recently pivoted from this initiative to raising funds for "WRAP our Community" to help comfort people in need now during the pandemic.
"We partnered with The Goodness Project of WNY to raise dollars so that they can build and provide complimentary blankets/care packages to folks who may need a hospitable hand right now," Benson noted. "Our hospitality industry has been hit hard, but we still have the power in small ways to comfort so many."
Be the first to know
Get local news delivered to your inbox!