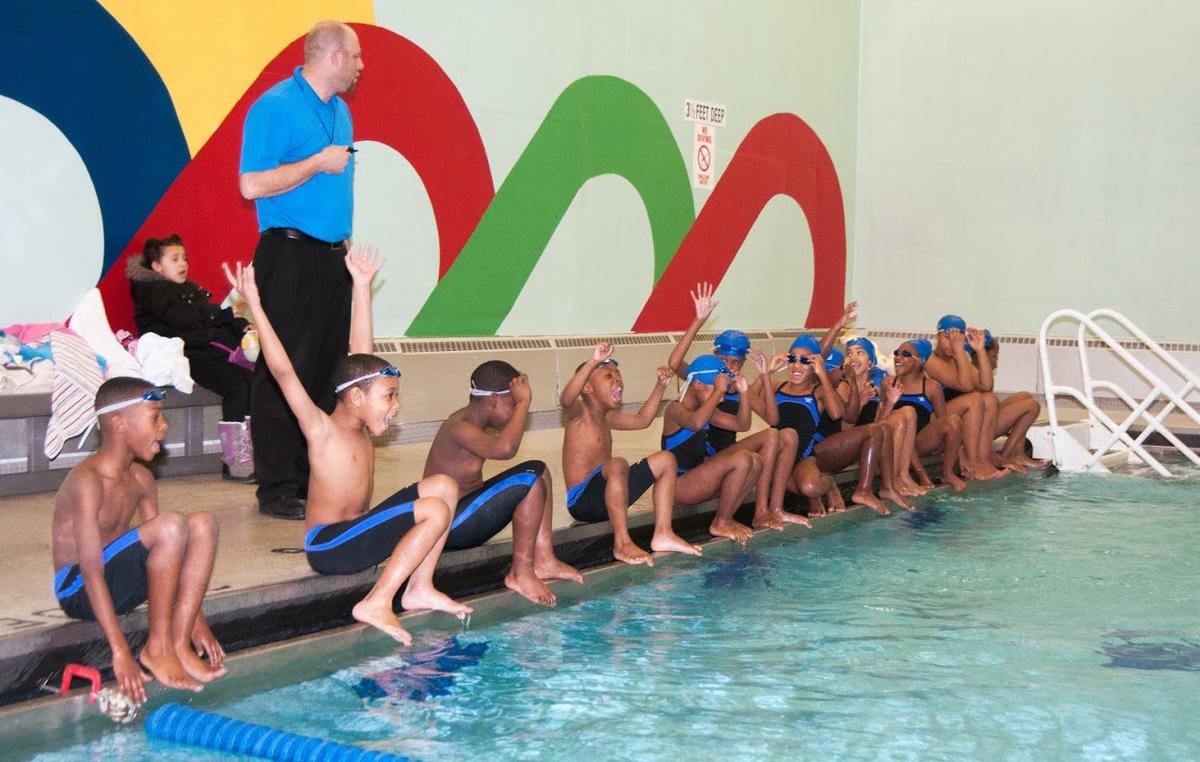 One of my favorite summer sounds is children splashing about in a pool. If sunny weather, leisure time and high spirits had a soundtrack, that would indeed be it, and Buffalo City Swim Racers (BCSR) is working to make that joy accessible to families all over Buffalo.
Coach Michael Switalski was approached back in 1997 by public school #57 in the Broadway/Fillmore district to see if he could get the kids at this almost all black school interested in swimming in their unused pool.
The Center for Disease Control found that fatal drownings for black children occurred more than three times as often as white children. A 2008 study showed 64% of America's black children didn't know how to swim. Over 70% of children from any low-income home didn't know how, and 90% of kids with parents who never learned usually didn't either.
They expected it to be a tough sell—but were immediately inundated with over 500 permission slips from eager entrants. Using grades and attendance, they whittled the initial group down to 15.
The effort expanded to three other public schools in Lovejoy, Southside and on Hertel Avenue. Expectations were fixed for the kids to remain eligible: Coaches set up homework tables and sought feedback about their classroom behavior. One year saw the average GPA for participating students at a school rise from 79 to 90.
BCSR falls under the auspices of USA Swimming, the governing body that tracks and qualifies Olympic swimmers. Families that fall within specific income guidelines (qualifying for government housing assistance, for example) have their participation fees reduced to almost nothing. That includes their swim gear and registration fees for competitive swim meets against other sanctioned area clubs like the Tonawanda Titans and the Sweet Home Aquatics. Membership alone to those swim clubs usually runs $1,000 to $2,000 annually.
Last year, with backing from big-name local charitable foundations, BCSR provided year-round swimming instruction to over 300 children as young as three at South Buffalo's Cazenovia Park pool, the William-Emslie YMCA on the East Side and West Hertel Academy.
As is usually the case with sports, it's about so much more than swimming itself. Coach Mike recalls David Tatum, who started as a tot at School #94, qualified for the state high school championships and went on to swim for Alfred State College. He's seen kids get certified and go on to be employable summer lifeguards. Water safety classes have yielded four-year-olds who can do CPR compressions with perfect technique.
"That's really the big achievement of this program," says Coach Mike. "We're the only sport that if you know how to do it, the biggest takeaway is it could save your life."
Jose Rivera's daughters Isabella, 10, and Evangeline, 7, have been with BCSR for almost four years, and the one-month hiatus they took evidenced the startling difference swimming has had on Eva's asthma. Clement Hutchinson is glad his son Josiah, 7, is learning "not to be afraid of the water. Like driving a car, learning to cook, it's a survival skill."
Swimming also helps Josiah burn off some of his natural energy. Lateha Summers' 12-year-old twins Antoine and Antoneo qualified for their respective schools' swim teams after just a few months with Coach Mike. Antoneo is also autistic. "I see it helping him be more engaging with people," adds his mom.
Coach Mike is anything but a taskmaster. He knows from personal experience that sometimes even when you lose, you win. He made a bet with his swim kids to elicit a high grade on a project, which they reached. His recompense was an hour of basketball with them. The teacher who chaperoned them down to the gym was Kim—who is now his wife.
Be the first to know
Get local news delivered to your inbox!