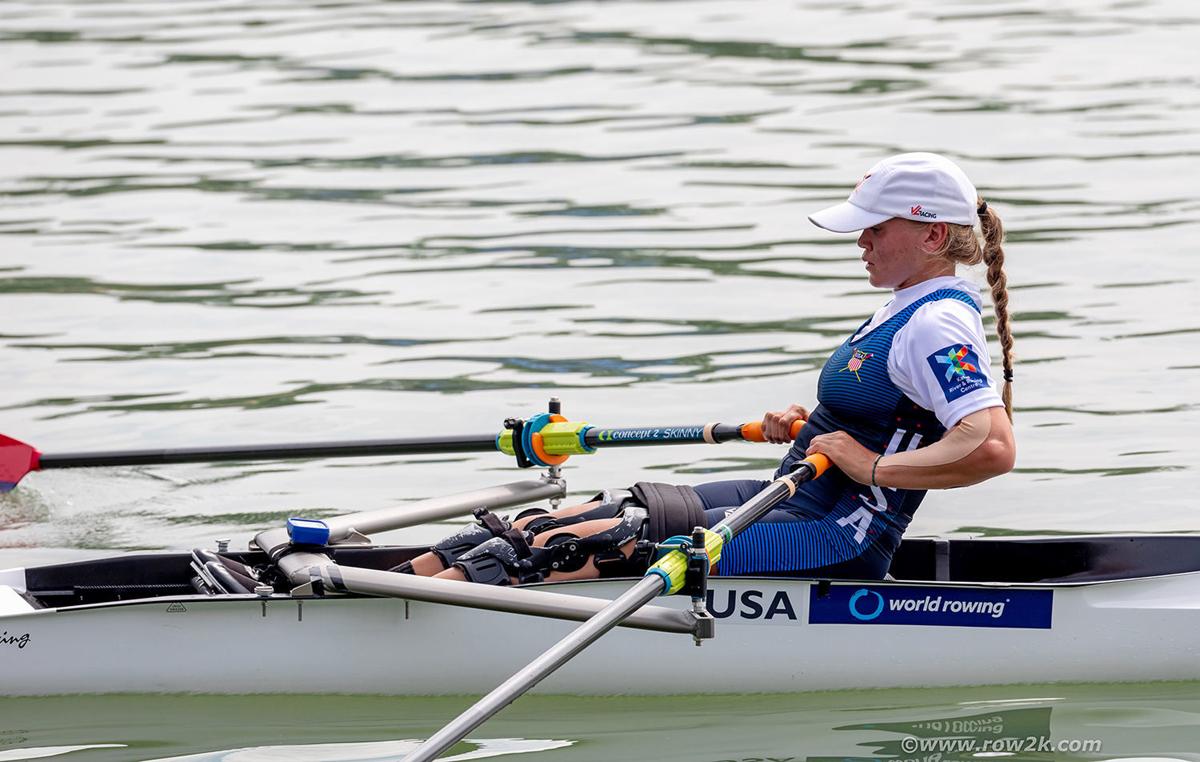 Editor note: This story appeared in our April issue. Since it went to print, the 2020 Summer Paralympics and its trial have been postponed due to COVID-19.
Work hard, achieve success.
It's a simple formula that has propelled 17-year-old Maddy Eberhard to become an advance placement student at Sacred Heart and an athlete who has already competed internationally in not one but two sports—sled hockey and rowing—before she was old enough to vote.
This unfettered approach to accomplishment has earned Eberhard an invitation to try out for the U.S. Rowing Team for the 2020 Summer Paralympics in Tokyo this August. She and her mixed double rowing partner, Isaac French of Saratoga, fly to Miami this month to vie for their spot among the best athletes in the world.
To prepare for the Paralympic trials, Eberhard practices five days a week—two strength training days, three shore-based rowing workout days at West Side Rowing Club until they can get back on the water in late spring—plus Saturdays, a day that's still shared with hockey. Sunday is for resting, studying and homework.
Given her dedicated training, a handful of individual rowing titles, an impressive showing at the 2019 World Rowing Championships last August in Austria and a solid shot at making it to the Paralympics this year, it's surprising to know that Eberhard has only been rowing for two years. It started as a way to get stronger for sled hockey, a sport she began playing at age 9. Eberhard was born with a genetic joint disorder called Larsen syndrome, which limits use of her legs. But by age 13, she had already become one of the youngest players ever on the U.S. women's national sled hockey team, which won gold International Women's Para Ice Hockey World Cup in the Czech Republic last May.
"Hockey taught me how to be the best at what I'm doing," explains Eberhard matter-of-factly. "So with rowing, I already knew how much you had to train to be good."
"I think Maddy is very mature for her age," says Mike Cute, director of rowing and head coach at West Side Rowing Club. "She doesn't complain. She understands the work you have to put in to achieve whatever goals you have. She's very determined and if she has something she wants to do, she's going to do it full force. Being a two-sport athlete helped her have that team mentality and that solo inner drive."
Eberhard seems unfazed by all of this, but not in a typical non-plussed teen kind of way—more like someone whose reality has simply consisted of excelling in sports and school for more than half of her life. She politely acknowledges that others think her achievements are a really big deal, but you quickly get the sense that Eberhard would rather stop fussing over all of it and just get back to work. But when pressed, she'll admit that she is a mix of excited and nervous about the potential of making the 2020 Paralympic team.
"We're the underdog team, and younger than most of the other teams going to the trials," she says. "But the hockey experience helps. I've been traveling on my own since I was 13 and feel independent doing it. It forces you to talk to people you don't know, get used to new time zones, and learn how to try new foods in other countries but not mess up your training."
Not only has international competition shown Eberhard a bigger-picture view of the world, it has also given her a broader context to view how athletes with disabilities are portrayed.
"You don't see many kids or people with disabilities in the news," says Eberhard. "Paralympic athletes aren't well known as much, especially internationally. I saw sled hockey women in other countries give the sport their all but not be recognized by their own countries. The assumptions need to change, and the industry needs to grow."
The focus, she says, shouldn't be on the fact that athletes are disabled, but instead frame the incredible athletic accomplishments themselves.
"People in any Paralympic sport aren't doing anything special," she says. "They're doing what they love. But there's too much focus on the excellence with the disability, not just the excellence alone. It's like telling a female basketball player who can run circles around any guy on the court that's she's pretty good for a girl. She's good, period."
A key to better coverage and understanding of adaptive sports is more people playing them, Eberhard explains. She says that Buffalo does have good options for kids' adaptive sports, but many younger students don't know the opportunities exist. Plus a lot of people don't start playing adaptive sports until their 20s or 30s when their disabilities are likely a result of injury (especially veterans). In Western New York, horseback riding, sled hockey, lacrosse, basketball and skiing programs are among the options for adaptive athletes.
"I really want to try skiing," says Eberhard. "But I don't think my parents would be ok with a third sport."